Brooklyn Nets:

Chris Paul
May, 30, 2013
5/30/13
3:08
PM ET
By
Mike Mazzeo
| ESPNNewYork.com
Deron Williams
and
Chris Paul
seem to have more in common now than ever.
As is well-known, the superstar point guards were taken a pick apart -- D-Will third overall and CP3 fourth overall -- in the 2005 draft.
Paul has garnered more individual accolades than Williams, but D-Will has advanced further in the playoffs, reaching the Western Conference finals in 2006-07 with the Jazz; CP3 has never made it out of the second round.
Now, both point guards are without a head coach after the Nets and Clippers were both bounced in the first round of the playoffs this season. Paul is slated to be a free agent, but is expected to re-sign with the Clippers.
That would mean several more years of D-Will and CP3 being the star players on teams that are "the other team" in their respective markets.
Both point guards -- assuming Paul re-signs -- are surrounded by good talent. But perspective coaches might need to be wary of coaching either player.
Fairly or unfairly, Williams has developed a reputation as a "coach killer" because of the Jerry Sloan and Avery Johnson situations. Meanwhile, there are reports that Paul played a significant role in Vinny Del Negro being let go in Los Angeles.
All that being said, if you were a coach, which point guard would you rather coach: D-Will or CP3? Let us know in the comments section below.
2012-13 stats:
D-Will:
18.9 ppg, 7.7 apg, 3.0 rpg, 44.0 fg, 37.8 3-pt fg, 20.38 PER
CP3:
16.9 ppg, 9.7 apg, 3.7 rpg, 48.1 fg, 32.8 3-pt fg, 26.43 PER
November, 23, 2012
11/23/12
12:11
PM ET
By
Mike Mazzeo
| ESPNNewYork.com
Deron Williams
and
Chris Paul
are two of the NBA's best point guards.
They were also selected within a pick of one another in the 2005 draft (D-Will third, Paul fourth), so comparisons are going to be inevitable -- and unavoidable.
"It's a part of the game. And I think it'll follow them pretty much their whole careers ... they've had some pretty terrific games against one another," Nets coach Avery Johnson said at morning shootaround prior to Friday night's game against the Clippers. "I think I've said it before with the
Kyrie Irving
-Deron matchup, this is another one I'll pay to see, because those guys are that good."
For what it's worth, D-Will is 13-4 in his career against CP3.
"I enjoy playing against him, but I don't circle these games any more than I do the next," Williams said. "But I do enjoy playing against him. I think he brings out the best in me, because I know I have to be ready to play a good 48 minutes of basketball."
Johnson isn't concerned that the game will turn into a 1-on-1 battle between the two All-Star floor generals.
"No, I doubt it. I think they're two smart guys. Deron with our situation, it's all about us winning. He wouldn't want to look at a stat sheet and see that he had more points or a better game than Chris and we not win the game," Johnson said. "I think at this stage in their careers, it's all about winning.
Added Williams: "That's what you want to do, you want to win games. It's not about the stats or anything like that, it's about wins and losses."
D-Will is averaging 17.5 points and 8.2 assists for Brooklyn (6-4) this season, but is shooting just 41.4 percent from the field and 26.8 percent from 3-point range. He has been plagued by various injuries.
Did the day off on Thanksgiving help him out at all?
"A little bit," Williams replied.
March, 8, 2012
3/08/12
12:40
AM ET
By
Mike Mazzeo
| ESPNNewYork.com
From the moment the ball left his right hand,
Jordan Farmar
had no doubt. It was going in.
"I would've felt hurt if it went out," the Nets' backup point guard said.
The Nets had already blown an 18-point lead to the Clippers on Wednesday and were in danger of losing their eighth straight game at home. So when Farmar caught an "on-time, on-target" bounce pass from
Deron Williams
and let a wide-open 3-pointer fly from the right wing with less than a second remaining and the Nets down two, almost everyone in the sellout crowd at Prudential Center -- from the players to the coaches to the fans -- desperately needed it to fall.
With 0.2 ticks left, it did. And the building erupted.
Just like that, a 30-point drubbing in Miami the previous evening had been forgotten.
Brick City had upset Lob City.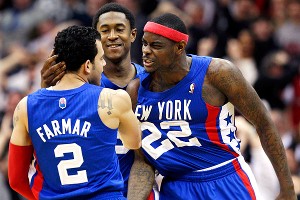 AP Photo/Mel EvansAnthony Morrow and MarShon Brooks celebrate with Jordan Farmar after his game-winning 3-pointer.
"Jordan made probably one of the biggest shots on the court for us this year," Nets coach
Avery Johnson
said after his team prevailed 101-100 over the Clippers and improved to 4-13 at home -- their first victory at The Rock since Feb. 1.
"In this situation at home in front of a great crowd -- we had a big lead at one point -- but the way this win happened was perfect."
Imagine what he would've said if it hadn't.
A little over eight seconds earlier,
Shelden Williams
inexplicably fouled
Chris Paul
(22 points, 10 assists, six rebounds) 30 feet from the basket, and the Clippers point guard drilled a pair of free throws to put Los Angeles in front.
"Chris Paul is just dynamite, man," Johnson said. "He basically got me fired in Dallas, if you remember that playoff series, so I had some bad flashbacks."
But "Why Shelden? Why?!" quickly turned into "Thank goodness for Jordan!"
On the ensuing Nets possession, Johnson ran an isolation play for D-Will, but he was trapped and the ball was kicked out of bounds. The Nets got the ball back to their All-Star point guard again and he was thinking about driving, but saw Paul cheating over to help.
Farmar was open. So D-Will fed him the ball -- and Farmar did the rest.
"That was a huge shot from deep," said Williams, who finished with 21 points, 10 assists and six rebounds and improved to 13-4 vs. Paul in his career. "He had ice in his veins."
"I had just passed one up," Farmar said. "I told myself if I get another shot, I'm gonna make sure I shoot it."
He did. He made it, too.
"They were cheating a bit and taking [Deron's] space away. He had to bounce it, and he put it in the perfect spot," Farmar said. "I was a little deep, but I just wanted to keep an eye on the rim and stay with my follow-through."
The Nets held an 80-71 lead entering the fourth quarter, but it quickly evaporated because they couldn't buy a bucket. In all, they went 3-for-16 in the final period after shooting a scintillating 58.3 percent in the first half, but made 14 of 18 free throws to stay in it.
And when it was all said and done, they finally gave their fans something to cheer about.
"The Clippers drew a big crowd. It was a home-court environment. It felt like a big game. It was fun to play in." Farmar said. "When it's dead in here and there's not that many people in the crowd, it gets tough at times -- especially when we don't play well, it's hard to keep that energy to get back in the game. But it was a full crowd, the game was going back and forth, and it was fun to be a part of."
"This is the best our fans have been in a long time, and they're definitely part of the win," D-Will added.
Jay-Z
and his over-the-top gold chain, Giants wide receiver
Victor Cruz
, right tackle
Kareem McKenzie
and kicker
Lawrence Tynes
, and Ravens running back and Rutgers product
Ray Rice
were all sitting courtside.
And they were treated to a dandy.
The third quarter alone featured 11 straight points by D-Will, three dunks by
Blake Griffin
(28 points, 17 rebounds) -- including a two-handed alley-oop flush and a baseline reverse throwdown -- and one ridiculous rejection by
Kris Humphries
to prevent another Griffin oop.
"I needed that," said Humphries, who played physical inside with Griffin all night and both were assessed technicals with 9:08 left in the third. "He snuck one by me at the rim earlier [on the reverse]. It felt good. I think we fed off that and just kept it going."
The Nets are 13-27, but they've beaten Philadelphia in Philadelphia, New York in New York, Chicago in Chicago, Dallas in Dallas and now the Clippers in New Jersey and trail the Knicks by 5½ games for the eighth and final playoff spot in the Eastern Conference with 26 contests remaining. They may be decimated by injuries, but it didn't matter on Wednesday night.
Shelden Williams -- inserted into the starting lineup after
Brook Lopez
sprained his ankle, causing him to miss at least three weeks -- gave them 15 points, 10 rebounds and a 9-for-11 performance from the free throw stripe.
MarShon Brooks
-- despite foolishly fouling
Randy Foye
on a three-point play that knotted the game at 98 -- poured in 19 points. Humphries added 12 points and 11 rebounds, while Farmar contributed 16 of the team's 34 bench points -- and the biggest shot of the game, if not the season.
"I've been on the bench. I haven't been in game-winning situations too much," Farmar said. "I'm just happy I got the opportunity and it went through for me."
December, 11, 2011
12/11/11
12:35
PM ET
By
Mike Mazzeo
| ESPNNewYork.com
Nets point guard Deron Williams called NBA commissioner David Stern a "bully," and said it made him "smile" when he heard Magic center Dwight Howard had requested a trade to play with him in New Jersey.

"He knows he's a bully, ain't no secret," Williams told reporters Sunday, when asked about Stern. "Everybody knows that."

Williams was responding to a question about Stern's nixing a three-way blockbuster trade that would've sent Hornets point guard Chris Paul to the Lakers for a package of players. The Hornets are owned by the NBA, and Stern said more pieces needed to be added to make the deal acceptable. The Lakers eventually pulled out of the trade and moved in a different direction.

"You're fighting a bully. ... David Stern's a bully," Williams said. "You can't really go up against him.

"I think every owner of every big business is a bully," Williams continued. "That's how they become successful."

Reports have surfaced, since denied by the NBA, that some team owners were upset about the deal and had complained to Stern about the possibility of yet another small-market team losing an All-Star to a big-market team.

Williams had expressed his shock Friday after hearing that the deal had been called off.

The Hornets were to receive Luis Scola, Kevin Martin, Lamar Odom and Goran Dragic from the Lakers and Rockets. Houston was supposed to get Pau Gasol.

Williams has kept his mouth closed when asked about trade rumors surrounding the Nets and their possible pursuit of Howard. But this time, he didn't hide his feelings about the possibility of teaming up with Howard to form arguably the most dynamic center-point guard tandem in the league.

"It makes me smile a bit," Williams said.