Brooklyn Nets:

Dallas Mavericks
March, 23, 2014
Mar 23
11:53
AM ET
By
Mike Mazzeo
| ESPNNewYork.com
Jason Kidd will coach his first game in Dallas on Sunday night, when the
Brooklyn Nets
face the
Dallas Mavericks
at American Airlines Center. Here's what we'll be watching for:


Back on the road:
The Nets (36-31) went 3-0 on their three-game homestand, and have won 11 straight games at Barclays Center. But now they're back on the road, and tipping off a three-game trip in Dallas. Brooklyn has an away record of 13-20. The Nets, though, are 9-2 in March. Kidd was drafted by the Mavericks and won his only championship as a player there in 2011. Wonder if Mavericks owner Mark Cuban will fire a couple more shots at Nets owner Mikhail Prokhorov.
D-Will goes home:
Deron Williams
grew up in suburban Dallas. The Mavericks courted him in the summer of 2012. We know how that went. We know what their owner said. Anyway, Williams should have plenty of family and friends at the game, and he'll probably be motivated. Last season, Williams had 31 points in Brooklyn's victory in Dallas. In his previous three games, Williams is averaging 19.7 points and 6.0 assists on 65.6 percent shooting. The Nets are plus-38 with him on the court in that span.
Dirk and the Mavs:
The Nets beat the Mavericks by one on Jan. 24. Containing
Dirk Nowitzki
is going to be key, and it's going to have to be a team effort. Nowitzki is averaging a team-high 21.5 points per game. Dallas likes to take a lot of 3-pointers, so Brooklyn is going to have to close out and run them off the arc.
January, 24, 2014
Jan 24
12:43
PM ET
By
Mike Mazzeo
| ESPNNewYork.com
EAST RUTHERFORD, N.J. -- It seems all is well between
Brooklyn Nets
coach Jason Kidd and
Dallas Mavericks
owner Mark Cuban.
Asked what his relationship is like with Cuban, Kidd said, "Good. Good. We've been emailing each other the last couple months, just checking in on each other, making sure everybody's good."
Cuban told the Star-Telegram: "I'm happy for J-Kidd. I've actually kept in touch with him. I want him to get his [butt] kicked when we play him [Friday night in Brooklyn]."
Cuban had been upset with Kidd after the point guard gave a verbal commitment to re-sign with the Mavericks, only to change his mind and leave to ink a free-agent deal with the
New York Knicks
before the 2012-13 season.
But Cuban said back in November that his grudge against Kidd is over.
Mavericks coach Rick Carlisle, who won a championship with Kidd in 2011, isn't surprised his former player became a coach so quickly.
"A lot of things about it made perfect sense," Carlisle said. "At this point, it's pretty clear they did the right thing hiring him. He's doing a fantastic job. Early, they just had a lot of health problems. That's just hard."
Asked what's the toughest part of transitioning from player to coach, Kidd said, "I don't have the ball in my hands. I can't take a shot. I can't make a pass."
• Kidd said "everyone's good to go," so that means
Paul Pierce
, who missed Thursday's practice due to illness, will play Friday.
Deron Williams
has said he'll come off the bench for a third consecutive game. There is no timetable for him to return to the starting lineup.
• Williams was asked about the team's blue and grey short-sleeve alternate jerseys, which will be worn March 21, March 28, April 4, April 11 and April 15.
"I like the jerseys, personally. I like the concept. I like the Brooklyn Dodgers aspect of it, kind of paying homage to them," he said. "As far as the sleeves, I'm not completely sold on them. But it's just different. I've played in sleeveless jerseys all my life. It's kinda weird to throw them on after 20 years of playing basketball."
• Williams said he is paying attention to the standings now, something he didn't want to do earlier in the season when the team was struggling.
He said no one has talked about obtaining the No. 3 seed in the Eastern Conference, but obviously it's a goal. He figures it would be very difficult for them to catch the
Miami Heat
, since they're 11-1/2 games ahead of the Nets.
The Nets (18-22) are 3-1/2 games behind Atlanta (22-19) for third place.
Bryan Gutierrez of ESPN Dallas contributed to this report.
May, 27, 2013
5/27/13
11:58
AM ET
By
Mike Mazzeo
| ESPNNewYork.com
Over the weekend, Mavericks owner Mark Cuban was asked whether he intentionally sabotaged his team's efforts to sign point guard
Deron Williams
, who eventually re-upped with the Nets, because he preferred to make a run at free agents available this summer.
"Did you see that episode of 'Shark Tank' I filmed that day. It was amazing," Cuban replied on ESPN Dallas 103.3 FM.
Williams ended up choosing the Nets over the Mavericks, in-part because Cuban never showed up to their free-agent meeting because he was filming "Shark Tank."
Cuban said back in March he was glad the Mavericks didn't add Williams because they would've lost all their cap flexibility.
"It's not about signing a maxed-out player," Cuban said. "It's about building a championship team. If you just add $75 million to your payroll, you're stuck, and I didn't want to be stuck. That's the position we didn't want to be in."
And that's exactly the position many believe the Nets are in, capped out with little wiggle-room to improve. Still, if the Mavericks come up short in the
Chris Paul
/
Dwight Howard
sweepstakes this summer -- and they'll have a lot of competition for those two players -- it'll probably feel a lot like when the Nets tried and ultimately failed to add
Carmelo Anthony
and D12.
Now for some questions:
What do you think of Cuban's comments? Is his team in a better position because it didn't sign D-Will? Which roster would you rather have: the Nets or Mavs? Let us know in the comments section.
March, 20, 2013
3/20/13
3:44
PM ET
By
Mike Mazzeo
| ESPNNewYork.com
Dallas native
Deron Williams
is expecting a different reception from the hometown crowd at American Airlines Arena on Wednesday night.
"I usually get cheers here," the Brooklyn Nets point guard said. "Now that'll probably stop."
Williams grew up in a Dallas suburb, The Colony, but decided to re-sign with the Nets (five years, $98 million) rather than leave for the Mavericks in the offseason.
"It's just another game for me," Williams said. "I'm glad my family and friends get a chance to come out and see the game. I'm glad I got a chance to spend a couple of days here and see people. But other than that, it's just another game."
ESPN Dallas has the full story
on D-Will's reaction to playing in Dallas for the first time since his offseason decision.
March, 20, 2013
3/20/13
1:32
PM ET
By
Mike Mazzeo
| ESPNNewYork.com
The
Brooklyn Nets
are in Dallas Wednesday night for Game 2 of their eight-game circus road trip.
Tipoff is slated for 8 p.m. ET on ESPN. Here's what we'll be watching for:
D-WILL RETURNS TO BIG D:
Deron Williams
, who grew up in the Dallas area, flirted with the idea of signing with Dallas in the offseason before signing a five-year, $98 million max deal to remain with Brooklyn.


Mavericks owner Mark Cuban, who was too busy filming "Shark Tank," didn't attend his organization's meeting with D-Will during free agency. If Cuban had been at the meeting, D-Will admitted, maybe things would've turned out differently. Cuban was flattered, but called out Williams for throwing the Nets' organization under the bus. Cuban also said the Mavericks were better off without Williams.
Williams is making Cuban eat those words right now, averaging 23.5 points on 47.6 percent shooting from the field since the All-Star break. The Nets (39-28) are on the verge of playing in the postseason for the first time since 2007. Meanwhile, the Mavericks (32-35) are on the outside of the Western Conference playoff picture looking in.
Wonder if the two will have a chat Wednesday night.
"Usually, I get cheers," Williams said of playing in Dallas, according to Newsday. "Now I'll probably get booed. I don't know why. I didn't leave. I never said I was going to go there."
Tim MacMahon of ESPNDallas.com wrote that
D-Will doesn't deserve to be booed
. Cuban wouldn't tell MacMahon he wants the fans to boo Williams. He also didn't make the trip to Brooklyn the last time the two teams played because "I don't need to be on the back page of the New York Post."
THE AVENGERS:
The Mavericks beat the Nets 98-90 on March 1 at Barclays Center.
Dirk Nowitzki
and
Vince Carter
each had 20 points, and D-Will committed a season-high seven turnovers.
Brooklyn has lost six of its past seven against Dallas. The Nets are also 23-4 against sub-.500 opponents. The Mavericks have made the playoffs in each of the past 12 seasons.
INJURY UPDATE:
Keith Bogans
(ankle) will play, the team announced.
Kris Humphries
(back) is a game-time decision. Humphries has not played in the past seven games since being pulled from the rotation.
February, 28, 2013
2/28/13
2:42
PM ET
By
Mike Mazzeo
| ESPNNewYork.com
EAST RUTHERFORD, N.J. --
Deron Williams
wanted no part of rehashing the offseason, when he chose to stay in Brooklyn over heading back home to Dallas.
"There's no reason to even go down that lane. That's behind me. I'm part of the
Brooklyn Nets
," Williams said Thursday. "There's no reason to even revisit that."
Williams will face the Mavericks for the first time this season when the Nets host Dallas on Friday night at Barclays Center.
"It's just another game," Williams said.
[+] Enlarge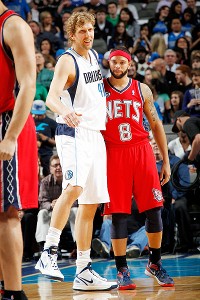 Glenn James/NBAE/Getty ImagesDirk Nowitzki and Deron Williams as teammates? It would've been intriguing, but it didn't happen.
Williams, 28, met with both teams during free agency. Given that he is from Dallas, it was a difficult decision. Ultimately, he decided to re-sign with the Nets for five years and $98 million.
Williams said the team's acquisition of
Joe Johnson
swayed him to pick Brooklyn. When Williams met with the Mavericks, owner Mark Cuban wasn't at the meeting because he was filming an episode of the reality television show "Shark Tank."
"A lot of the questions that me and my agent had for them really didn't get answered that day -- you know, pertaining to the future," Williams said in October. "And I think if (Cuban) was there, he would have been able to answer those questions a little bit better. Maybe would have helped me."
Cuban then fired back: "I'm a big D-Will fan, but I'm kind of surprised that he would throw his front office under the bus like that by saying that I would make a difference. I would have expected him to say -- like I'd expect one of our guys to say -- 'Hey I'm so thrilled with the front office and the moves we made and our team that it wouldn't have mattered what he did.'
"He's a superstar point guard, but my goal is to build a team. ... I'm flattered that he thought my presence would have made more of a difference than what the Nets' management did."
Williams said he hasn't spoken with Cuban since.
"It wasn't really a back-and-forth thing, anyway," Williams said Thursday.
Nets interim coach P.J. Carlesimo, who joined the Nets in December 2011 as an assistant coach, said he was worried about the possibility that the franchise point guard might leave.
"Until he re-signed, I was concerned," Carlesimo said. "Clearly, being from Dallas and Dallas having a pretty good roster -- they just won a championship a couple years ago -- I thought it was a viable option. My opinion was he was always going to stay just because he seemed very, very comfortable here. And his relationship with Avery Johnson and
Billy King
was such that I was confident he was going to stay here. But was I worried? Yes, I was worried."
As has been well-documented, this season hasn't been easy for Williams, who has battled injuries, fatigue, confidence problems and becoming acclimated with an offensive system that isn't best-suited for his game. In 55 games, he's averaging 17.3 points, 7.7 assists and 2.9 turnovers and shooting 41.7 percent from the field.
An All-Star from 2010 to '12, Williams wasn't selected to participate this season.
"I know I belong out there regardless of watching (the All-Star Game on TV) or not," Williams said. "It's just the fact that this year I wasn't having an All-Star year, so I wasn't in the game. I'll look to get back there next year, play better, hopefully be healthy."
Since the All-Star break, Williams -- who has already had three sets of cortisone shots in both ankles -- is averaging 22.8 points, 8.4 assists and 3.6 turnovers while shooting 45.1 percent from the field and 51.5 percent from 3-point range. He says he'd like to cut down on his turnovers, but otherwise feels good about his game.
The Mavericks currently find themselves five games out of the eighth and final playoff spot in the Western Conference. The Nets, meanwhile, are on track to qualify for the playoffs for the first time in five seasons.
Looks like D-Will made the right choice -- if this season is any indication, anyway.
October, 8, 2012
10/08/12
5:15
PM ET
By
Mike Mazzeo
| ESPNNewYork.com
It wasn't just the
Joe Johnson
trade that swayed
Deron Williams
to pick the Nets over the Mavericks this offseason.
On July 2, Williams met Mavericks brass in New York. He just never met with their owner, Mark Cuban.
Cuban was in California shooting an episode of "Shark Tank," so D-Will never got a chance to ask him any questions about the organization's future.
Meanwhile, Nets GM Billy King had told the free-agent point guard of his plans to acquire Johnson, among other moves. So D-Will decided to stay in Brooklyn, rather than bolt for Dallas.
"Of course," Williams responded when asked if Cuban's absence affected his decision, according to the Daily News' Stefan Bondy. "My top four when I was coming out of high school was Illinois, Georgia Tech, Tennessee and Maryland.
"Maryland told me they wanted me to come on a visit, but Gary Williams wouldn't be there. So I told them, 'It's okay. I'd rather not go.' So that was that. It's similar."
Continued D-Will:
"I think (Cuban) would have been able to answer a lot of the questions me and my agent have for him that really didn't get answered that day pertaining to the future. And I think if he was there he would have been able to answer those questions a little bit better. It maybe would have helped me.
"(I wanted to hear about) the direction of the future of the team, other than Dirk (Nowitzki). Players they were thinking about. Everything was basically just their track record, trust their track record, which is, you know, I can honor that, because they do have a good track record but it's not enough for me, especially when Billy was updating me daily."
Williams tweeted that he was staying with the Nets on July 3.
Cuban has since said that the Mavericks, who signed
Darren Collison
,
Elton Brand
,
Chris Kaman
and
O.J. Mayo
in free agency, are better off without D-Will.
Granted, the Nets feel they're better off with D-Will than say
Steve Nash
or
Goran Dragic
.
February, 28, 2012
2/28/12
1:19
PM ET
By
Tim MacMahon, ESPN Dallas
DALLAS -- Two words immediately come to
Rick Carlisle's
mind when he thinks of
DeShawn Stevenson
, who will become the latest ex-Maverick to receive his championship ring Tuesday night.
"Ultimate pro."
That's not exactly how Stevenson was perceived when he arrived in Dallas as a throw-in with
Caron Butler
and
Brendan Haywood
in the 2010 All-Star break blockbuster deal with the Wizards. At the time, well, folks didn't know quite what to think of the two-guard with tattoos from his forehead to his feet.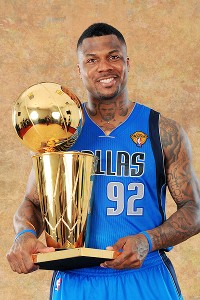 Jesse D. Garrabrant/NBAE/Getty ImagesDeShawn Stevenson helped the Mavs win the Larry O'Brien Trophy.
There was a strong suspicion that Stevenson, whose claim to fame had been a high-profile playoff trash-talk war with
LeBron James
, was a wee bit crazy. That turned into an appreciation around these parts for Stevenson's unique personality after he played the biggest role of any of the ex-Wizards in the Mavericks' first title.
"I had a bad rap of being a loose cannon," Stevenson said Monday night after his new team, the Nets, practiced at SMU. "I think it's a different type of crazy. It's a crazy where I'm going to go out there and fight for my teammates and do the right thing. I'm kind of misunderstood, but that's what I try to do and I won a championship doing it."
Stevenson's style and work ethic earned him immense respect in the Mavericks' locker room.
The Mavs' veteran leadership trio of
Dirk Nowitzki, Jason Kidd
and
Jason Terry
twice lobbied Carlisle to insert Stevenson into the starting lineup. Carlisle listened on both occasions, once near the beginning of the season and the second time just before the playoffs began.
The Dallas vets embraced the nasty tone that Stevenson -- who usually got the most difficult defensive assignment among the opposing guards and small forwards -- set along with big man
Tyson Chandler
.
"Just a tough, tough guy that we miss," Nowitzki said. "I'm happy for him that he gets his ring and he's going to get a standing ovation. He brought a toughness and grittiness to our club last year that we needed."
In between his successful stints as the starting lineup's defensive stopper, Stevenson fell out of the rotation while his minutes went to
Rodrigue Beaubois
. Stevenson never complained, continuing to prepare the same way, a persistence that paid off in the playoffs.
Stevenson's professionalism was never more apparent than Game 4 of the NBA Finals. After Stevenson started the first 18 games of the postseason, Carlisle decided to replace him in the lineup with
J.J. Barea
, in part because the Mavs wanted to make sure that
Shawn Marion
or Stevenson was always available to defend James.
Instead of pouting about a perceived demotion, Stevenson responded with his best performance of the playoffs. Stevenson outscored his old adversary LeBron, 11-8, playing lockdown defense and knocking down three 3-pointers.
"He kept himself ready and always answered the bell," Carlisle said. "Always."
Stevenson was ready to return to Dallas for the repeat attempt. However, he said he felt like he had done too much with the Mavericks to accept an offer for the minimum salary and moved on by signing a one-year, $2.5 million deal with the Nets.
Stevenson will return to the American Airlines Center with mixed emotions. He looks forward to finally seeing the championship banner and getting his ring. (He's seen plenty of pictures of the 31-diamond spectacles, including one fellow free agent departure Barea texted him the night of the ring ceremony.)
But Stevenson admits that he wishes he could stay in Dallas and move back into the locker now occupied by
Delonte West
.
"We just had a special team," Stevenson said. "It's just sad how it went down. It's tough. It's the business part, but I'm always a Mavericks guy until the day I die."
February, 28, 2012
2/28/12
1:16
AM ET
By
Tim McMahon, ESPNDallas.com



DALLAS -- All-Star point guard Deron Williams doesn't want to address the subject of possibly playing in his hometown on a permanent basis during this trip to Dallas, but his coach acknowledged that the Mavericks are a major threat to sign the free agent-to-be.

New Jersey Nets coach Avery Johnson believes that because of the respect he has for his former boss, billionaire Mavs owner Mark Cuban, who has teamed with Dallas president basketball of operations Donnie Nelson to give the Mavs the financial flexibility this summer to attempt to sign Williams and/or Orlando Magic center Dwight Howard.

"He's a threat, OK?" Johnson said of Cuban after the Nets' practice Monday night at SMU. "I know the guy. I think because of the success he's had -- and I know he got criticized a lot for quote-unquote having all those years where he didn't win a championship -- but he's had some great success here that rivals any situation. So that's a threat."

Williams, whose team plays the Mavericks on Tuesday night, pretended to not be aware that the Mavericks would have enough salary-cap space to be major players in free agency this offseason. He made it clear that he had no intention of discussing the possibility of joining Dirk Nowitzki in Dallas next season.

"I'm just going to play out this season and look at my options after this season," Williams said, repeating several variations of that statement during a five-minute session with the media.

But Williams, a native of Dallas suburb The Colony who attended several Mavs playoff games during last year's championship run, acknowledged that he enjoys playing in the American Airlines Center.

"I've always liked playing here," Williams said. "This is one of my favorite arenas to play in, probably my favorite arena to play in. I just enjoy playing in it. I enjoy playing in front of my friends and family. It's always good for them to get the chance to see me play."

Williams, who has averaged 22.3 points on 50.3 shooting in 10 career games at the American Airlines Center, said he likes the shooting background in the arena. He also appreciates the atmosphere.

"It's always good when an arena has a lot of energy," Williams said. "Ours doesn't have too much energy."

The Nets hope that changes when they move into the Barclays Center in Brooklyn next season. They also hope that Williams will be the face of the franchise when that happens.

"For us, we don't make any assumptions until we get Deron signed on the dotted line," said Johnson, who played 55 games for the Mavs late in his career and was the head coach in Dallas from 2005-08. "The main thing is we keep doing what we're doing. Deron's been a major part of what we're doing behind the scenes. He's been a major part of what we're doing with the new Barclays Center, so we're saying he's doing all of that with the intent that he's going to remain with us in the future."

However, Johnson is also saying that he's aware that Cuban's Mavs will be serious competition for Williams' services this summer.
January, 22, 2011
1/22/11
9:49
PM ET
By
Mike Mazzeo
| ESPNNewYork.com
Recap
|
Box score
|
Photos
WHAT IT MEANS:
The New Jersey Nets' chances of winning three straight games for the first time since Jan. 31-Feb. 7, 2009, were washed away with one unfriendly roll on the rim.
Dirk Nowitzki
, who was just 7-for-24 from the field, got a fadeaway jumper to fall with six seconds left. And it proved to be the difference in an 87-86 Dallas Mavericks' win on Saturday night over the resilient Nets at the Prudential Center.
New Jersey, which fell to 5-2 with owner
Mikhail Prohkorov
in attendance, is still stuck on 12 wins. The Nets could've won, but they botched their final possession badly and it resulted in
Jordan Farmar
not being able to get his desperation attempt off in time. Nowitzki finished with 24 points to lead the Mavericks (28-15).
STAR OF THE GAME: Brook Lopez
. The 22-year-old center did his usual strong work offensively, finishing with a team-high 24 points on 10-for-15 shooting despite having to sit for much of the third quarter in foul trouble. He only grabbed six rebounds, but that's typical for Lopez at this point of the season. He played 29 minutes.
TURNING POINT:
The Nets trailed 82-75 with 4:43 remaining, but Lopez sparked an 8-0 run with five consecutive points.
Sasha Vujacic
capped the burst with a 3 to make it 83-82 with 2:33 left.
Jose Juan Barea
hit a jumper to put Dallas back in front, but Lopez responded with a a pair of free throws with 1:31 remaining that gave the Nets the lead.
Devin Harris
pushed the New Jersey advantage to 86-84 by splitting a pair at the stripe.
Tyson Chandler
had a chance to tie it, but he only made one of two attempts at the line. Harris airballed a jumper on the Nets' ensuing possession, setting up Nowitizki's heroics.
HUG IT OUT:
Mavericks owner
Mark Cuban
was invited into Prohkorov's luxury suite. No word on what the two billionaires discussed -- or if there was any trash-talking involved.
KIDD RETURNS:
Former Nets great
Jason Kidd
returned once again. He talked a lot about
Carmelo Anthony
and the MeloDrama with the media pregame, then went out and had five points, eight assists and five rebounds in 34 minutes.
CELEB SUMMIT:
At the end of the third quarter,
Kim Kardashian
and "Jersey Shore" star
Snooki
met at midcourt. It was like a dream come true for the paparazzi, who proceeded to snap photos of the duo. The fans in attendance also seemed enamored with the scene.
UP NEXT:
The Nets wrap up their five-game homestand with games against the Cleveland Cavaliers on Monday and the Memphis Grizzlies on Wednesday.