Brooklyn Nets:

Dirk Nowitzki
June, 10, 2013
6/10/13
8:11
PM ET
By
Mike Mazzeo
| ESPNNewYork.com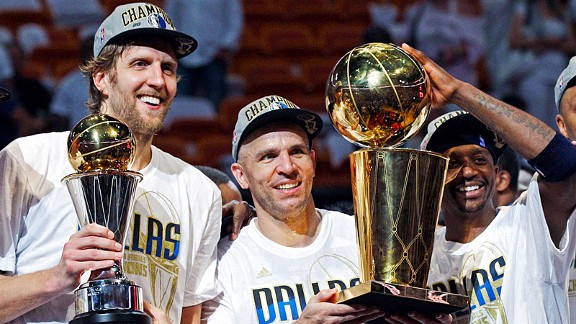 AP Photo/David J. PhillipDirk Nowitzki and Jason Kidd won a NBA tittle together in 2011.
Add
Dirk Nowitzki
to the growing list of NBA players, coaches and executives who believe Jason Kidd would make a fine head coach.
"Jason Kidd as a head coach, it's tough for me, right from player to coach," Nowitzki, who won a championship with Kidd in Dallas, told the Fort-Worth Star Telegram on Monday. "That's tough, but I think if one guy can do it, it's him.
"I obviously played with him numerous of years and there's stuff he came up with every year. [Kidd would say] 'Hey, why don't we try this, why we try that.'
"He's got an unbelievable mind for basketball. There's stuff he sees out there it's almost like a coach already. Like I said, that's a tough transition, but if anybody can do it I think it's him."
Nets power forward
Reggie Evans
also weighed in on Kidd to ESPNNewYork.com's Jared Zwerling.
"I think Jason would be a good coach one day, whenever that day comes," Evans said.
But Evans isn't thinking too much about who the team's next head coach will be.
"For me personally, I'm only focused on when we go to training camp really. I'll let Billy King take care of all that and stuff," Evans said. "I've got a lot of faith in knowing that Billy King is going to do the right thing and stuff like that. Right now, i's all about when it's time to work out, work out, and when the time comes for training camp, we'll see what we've got out there and we'll do what we've got to do to win a title."
January, 22, 2011
1/22/11
9:49
PM ET
By
Mike Mazzeo
| ESPNNewYork.com
Recap
|
Box score
|
Photos
WHAT IT MEANS:
The New Jersey Nets' chances of winning three straight games for the first time since Jan. 31-Feb. 7, 2009, were washed away with one unfriendly roll on the rim.
Dirk Nowitzki
, who was just 7-for-24 from the field, got a fadeaway jumper to fall with six seconds left. And it proved to be the difference in an 87-86 Dallas Mavericks' win on Saturday night over the resilient Nets at the Prudential Center.
New Jersey, which fell to 5-2 with owner
Mikhail Prohkorov
in attendance, is still stuck on 12 wins. The Nets could've won, but they botched their final possession badly and it resulted in
Jordan Farmar
not being able to get his desperation attempt off in time. Nowitzki finished with 24 points to lead the Mavericks (28-15).
STAR OF THE GAME: Brook Lopez
. The 22-year-old center did his usual strong work offensively, finishing with a team-high 24 points on 10-for-15 shooting despite having to sit for much of the third quarter in foul trouble. He only grabbed six rebounds, but that's typical for Lopez at this point of the season. He played 29 minutes.
TURNING POINT:
The Nets trailed 82-75 with 4:43 remaining, but Lopez sparked an 8-0 run with five consecutive points.
Sasha Vujacic
capped the burst with a 3 to make it 83-82 with 2:33 left.
Jose Juan Barea
hit a jumper to put Dallas back in front, but Lopez responded with a a pair of free throws with 1:31 remaining that gave the Nets the lead.
Devin Harris
pushed the New Jersey advantage to 86-84 by splitting a pair at the stripe.
Tyson Chandler
had a chance to tie it, but he only made one of two attempts at the line. Harris airballed a jumper on the Nets' ensuing possession, setting up Nowitizki's heroics.
HUG IT OUT:
Mavericks owner
Mark Cuban
was invited into Prohkorov's luxury suite. No word on what the two billionaires discussed -- or if there was any trash-talking involved.
KIDD RETURNS:
Former Nets great
Jason Kidd
returned once again. He talked a lot about
Carmelo Anthony
and the MeloDrama with the media pregame, then went out and had five points, eight assists and five rebounds in 34 minutes.
CELEB SUMMIT:
At the end of the third quarter,
Kim Kardashian
and "Jersey Shore" star
Snooki
met at midcourt. It was like a dream come true for the paparazzi, who proceeded to snap photos of the duo. The fans in attendance also seemed enamored with the scene.
UP NEXT:
The Nets wrap up their five-game homestand with games against the Cleveland Cavaliers on Monday and the Memphis Grizzlies on Wednesday.
NBA
NHL
COLLEGE BASKETBALL
MLB
MLS