Brooklyn Nets:

Doc Rivers
December, 13, 2013
Dec 13
2:07
AM ET
NEW YORK –- A month before he would open his first training camp as coach, Jason Kidd attended a September coaching seminar filled with a who's who in the business.
Phil Jackson, Pat Riley and Gregg Popovich were among the coaching behemoths at the camp. But there was one featured speaker whom Kidd naturally gravitated toward -– Doc Rivers.
When Rivers spoke to the coaches, Kidd felt as if the Clippers coach was talking directly to him.
"I have that power when I talk to people," Doc cracked to reporters. "Don't you guys feel that way?"
If there is one former player turned coach whom Kidd wants to and needs to emulate the most, it has to be Rivers. If the Nets are going to contend for a title this season, Kidd has to become something close to Doc and has to do it by April.
[+] Enlarge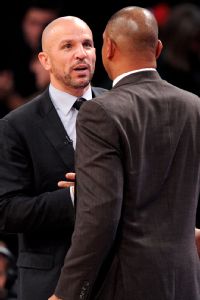 Maddie Meyer/Getty ImagesJason Kidd, left, should take a page out of Doc Rivers' book if the rookie coach wants to bring Brooklyn a championship.
On a night when
Paul Pierce
and
Kevin Garnett
both faced their old coach for the first time on the court (they missed the first meeting against the Clippers last month due to injuries), the duo's new coach came away with a 102-93 victory over Rivers and the Clippers. Doc's road-weary team was playing for the third time in four days and for the sixth straight time on the road.
Kidd, though, has the Nets playing their best basketball after a tumultuous and injury-ravaged start. He has his first three-game winning streak, and the Nets look like a completely different team than were even just a week ago, when they had their doors blown off by the Knicks.
Deron Williams
is back playing with the confidence of an elite point guard and even had
Chris Paul
on his heels on a few plays. The Nets are playing better defense, and they just look like a team slowly gaining confidence and piecing things together.
"For the first time in a long time, I can honestly say every guy is trusting the [defensive] schemes," Garnett said of what has changed.
December, 10, 2013
Dec 10
2:03
PM ET
By
Mike Mazzeo
| ESPNNewYork.com
Doc Rivers, it appears, thinks
Kevin Garnett
and
Paul Pierce
are being restricted by their minutes restrictions.
"He can score anywhere," Rivers said of Pierce, according to bleacherreport.com. "I think he was more uncomfortable with the short minutes that they were [playing him], like they did with Kevin. And that's not Paul. Paul doesn't work under those type of minutes -- at least, in my opinion he doesn't. He's a guy that needs a rhythm to play. In Kevin's case, on a 20-minute restriction, of course his numbers are going to be down. So I think at some point, he probably is going to have to play more minutes to improve, so he can get a better rhythm himself."
Garnett and Pierce, who played for Rivers in Boston, are both having a tough time of it in their first season in Brooklyn. Pierce is averaging just 12.4 points on 36.8 percent shooting in 29.1 minutes per game, while Garnett is averaging just 6.4 points and 7.5 rebounds in 22.7 minutes per game.
Nets coach Jason Kidd has felt it would be prudent to manage Pierce and Garnett's minutes in order to keep them fresh throughout the duration of the 82-game season. But the Nets have stumbled out to a 6-14 record at the quarter pole.
September, 5, 2013
Sep 5
1:32
PM ET
By
Mike Mazzeo
| ESPNNewYork.com
Former Celtics coach Doc Rivers said he wasn't surprised that
Kevin Garnett
decided to waive his no-trade clause and join the Nets.
However, Rivers added, KG did so reluctantly, though the future Hall of Fame power forward since warmed up to the idea of playing in Brooklyn.
"I just thought it was a tough one for him," Rivers, now the coach of the Clippers, told WEEI radio in Boston Thursday. "If he has one fault as a player ... he doesn't really allow anyone to get to know him, and Kevin hates change. Hates it. [He's] extremely loyal. At the end of the day, he felt like Paul [Pierce] was gone, I was gone,
Jason Terry
was leaving, and that he was doing it for the right reasons. Not necessarily that he wanted to go, he just thought this was something that [Celtics general manager] Danny [Ainge] wanted. Danny wanted to rebuild, reload and he just felt like he was doing the right thing."
"I don't necessarily know if he wanted to go. But he went and now when you talk to him ... he's excited. He's excited about his new team and he really believes they have a chance of knocking Miami off in the East."
Garnett is currently in China promoting his sneaker-line. Nets CEO Brett Yormark is also in the country on business.
"Great dinner with kg tonight. He is excited and ready to bring his game to brooklyn," Yormark tweeted Wednesday.
July, 28, 2013
Jul 28
11:22
AM ET
By
Mike Mazzeo
| ESPNNewYork.com
Brooklyn Nets
have a chance to dethrone the two-time defending champion
Miami Heat
this season.
Rivers, now with the
Los Angeles Clippers
, coached Nets newcomers
Kevin Garnett
and
Paul Pierce
for several seasons in Boston, winning the championship in 2008.
"That will be strange for me [seeing them in another uniform]. I want them to do well," Rivers told the Boston Globe. "For a lot of reasons I want them to do well, they could knock off Miami. But it will be interesting."
Click here to read the entire story.
With the addition of two of the best players he ever coached, Doc Rivers thinks the
June, 10, 2013
Jun 10
1:53
PM ET
By
Mike Mazzeo
| ESPNNewYork.com
Doc Rivers' future with the
Boston Celtics
is uncertain.
Rivers is
not yet ready to commit to a return
to the team, he told the Boston Globe in a text message.
The Nets were denied permission last month to talk to Rivers, who still has three years remaining on his contract, sources told ESPNBoston.com.
This week, the Nets will interview
Jason Kidd
and Brian Shaw for their head-coaching vacancy, sources told ESPN.com.
If you were in Brooklyn's upper management, would you consider waiting to see what happens with Rivers, should he decide to leave the Celtics? Let us know in the comments section.
May, 17, 2013
May 17
12:41
PM ET
By
Mike Mazzeo
| ESPNNewYork.com
The Brooklyn Nets reportedly won't be able to talk to Doc Rivers.

Boston Celtics GM Danny Ainge told the Boston Globe Thursday that Rivers will be their coach next season.

"Yeah [he'll be back], Doc and I are talking about our team next year," Ainge said. "[No suspense] from my perspective. We've got a great coach. We've got a coach everybody would love to have and he's got three years left on his contract and I think Doc likes Boston, too. Coaches get tired, though. It's a hard job."

Rivers was thought to be a candidate for the Nets' head coaching vacancy if he had been granted permission to speak with them.