Brooklyn Nets:

Gregg Popovich
February, 11, 2013
2/11/13
1:09
AM ET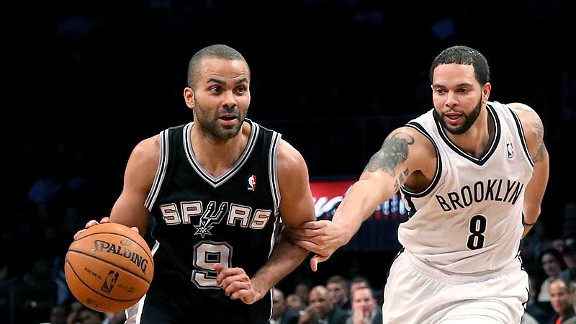 Anthony Gruppuso/USA TODAY SportsDeron Williams attempts to guard Tony Parker, who finished with 29 points and 11 assists.
The
Brooklyn Nets
couldn't stop
Tony Parker
on Sunday night.
Parker abused the Nets all evening in the pick-and-roll, amassing 17 points in such offensive sets on 7-for-13 shooting, according to ESPN Stats & Information.
"I don't think there is anybody in the league playing better than Tony Parker,"
San Antonio Spurs
coach Gregg Popovich said after Parker finished with 29 points, 11 assists and no turnovers in San Antonio's 111-86 rout of Brooklyn at Barclays Center.
"He is beyond an All-Star. He's carrying us."
Parker carried the Spurs to victory despite the fact that they were without both
Tim Duncan
and
Manu Ginobili
due to injury.
"He keeps getting better year after year,"
Boris Diaw
said of Parker, who improved to 8-6 since the start of 2002-03 in games when Duncan and Ginobili don't play. "He is doing everything on the court. I have watched him for years now and he just gets better. He is very consistent. I don't know when he's going to stop getting better."
Parker outscored
Deron Williams
10-0 in the third quarter. The Spurs ended up outscoring the Nets 30-14 and taking control in the frame. Williams finished with just five of his 15 points in the second half.
• The Nets committed 18 turnovers that led to 30 points, while forcing just seven turnovers, which they converted into six points.
• The Nets allowed 110-plus points for the fourth time this season (1-3).
• The Nets are 15-8 under interim coach P.J. Carlesimo.
February, 10, 2013
2/10/13
7:45
PM ET
San Antonio Spurs
coach Gregg Popovich had mixed feelings about the coaching change in Brooklyn.
On one hand, his former point guard, Avery Johnson, had been fired, perhaps, at least looking at it as an outsider, unfairly. On the other, his former assistant, P.J. Carlesimo was getting another opportunity to be a head coach.
"I wasn't thrilled to have a friend lose a job like Avery, and it was something at the time I thought was a little short-sighted or a bit impatient," Popovich said prior to Sunday's Nets-Spurs game. "But it's not my business, I'm not there and I didn't know what the circumstances were. You just hate to see it. So it was odd to have one good friend get fired and another good friend take over.
"You make one call to one, then you call the next one and it's a strange feeling. But I love them both and now I wish all the best for P.J. and hope it works out."
In Carlesimo's third game as interim coach, the Spurs beat the Nets 104-73 on New Year's Eve in San Antonio and outscored them 30-5 in the third quarter.
"We kicked (P.J.'s) ass. We just drilled him. And we loved it," Carlesimo joked. "We just made jokes at each other the whole game. He's done a good job. They've reacted well to him, and seem to believe in what he's doing. I don't know what the hell he's doing. I didn't know what the he was doing when he was with the Spurs.
"But we sure had a good time together, and he was very important to our program. And we miss him all the time, and I'm thrilled that he got this opportunity."
Carlesimo is 15-7 since taking over for Johnson, who went 14-14.
February, 12, 2012
2/12/12
12:42
AM ET
All the recent "Linsanity" over Knicks point guard Jeremy Lin? Blame it on the Big Apple, ex-Net Richard Jefferson says.

"It's New York, it's New York. It's New York City. You do it in the Garden, in New York City against the Lakers, you're doing it for the Knicks," the Spurs small forward said prior to his team's 103-89 victory over the Nets on Saturday night at Prudential Center.

"He'd be getting a lot of attention if he was doing it any place, but doing it in the Garden, doing it for the Knicks makes it that much more special."

Lin went off again on Saturday night in Minnesota, as the Knicks extended their winning streak to five. He needed 24 shots to score 20 points, but drained the go-ahead free throw late. The legend of Lin continues.

Nets coach Avery Johnson has been impressed with what the undrafted Harvard grad has accomplished -- seemingly out of nowhere.

"I think it's great," Johnson said. "I think it's great for the NBA, any time a guy is an underdog and basically is about to get cut, again, and makes it."

Spurs coach Greg Popovich feels the same way.

"It seems strange, it seems out of the blue where all of the sudden this guy's kicking everybody's butt and no one can stop him," Popovich said. "He's helping a team to win with some of its stars that are out, and it just seems improbable, and that's why the story is so great and everyone is in enjoying it."

Povovich claims he isn't surprised. He's probably the only one. Could you really have seen this one coming? Lin has been living on his brother's couch, after all.

"No. In today's world, are you serious?" Popovich said to a reporter, laughing. "There's gazillions of your type everywhere, just waiting for a story. And when something like that happens, its upbeat, it's a win-win for everybody. Everybody's jumping on it. It's an international story. … It's great."

Jefferson is happy for Lin. The two became friendly after they met during pregame chapel sessions.

"It couldn't happen to a better person," Jefferson said. "He's a firm believer that god puts you where you need to be when you need to be there. Like I said, he's a good kid and I'm happy for him."

Johnson thinks Lin is the perfect role model for everyone -- including his son, Avery Jr., who is currently a sophomore in high school.

"For me it's a good argument because I've been trying to encourage my son to go play basketball at an Ivy League school," Johnson said. "My daughter attends an Ivy League school, but he thought you can't go to the NBA from an Ivy League school."

Yes, Jeremy Lin is the American Dream. Most Americans dream of graduating Harvard. But starring in the NBA, too? C'mon now! That's Linsanity!