Brooklyn Nets:

Indiana Pacers
February, 1, 2014
Feb 1
9:50
PM ET
Gritty, but not good enough.
The
Brooklyn Nets
fought hard in the second half of an extremely difficult second leg of a back-to-back Saturday night in Indiana, but fell to the
Pacers
97-96 at Bankers Life Fieldhouse.
What it means
: The Nets (20-25) lost all four of their regular-season meetings against the Pacers (36-10) this season. Brooklyn has now lost three games in a row overall.
Paul Pierce
(15 points, five rebounds, five steals) came up short in his attempt to tie the game with a corner 3-pointer with four seconds left.
Joe Johnson
was open at the top of the key, but Pierce didn't see him, firing up an airball with
Lance Stephenson
contesting.
When it came down to it, Brooklyn just couldn't come up with a critical stop or rebound when it needed to.
The Nets, who lost by 25 to the
Oklahoma City Thunder
Friday night, are 2-8 in the second half of back-to-back sets this season.
Deron Williams
' return to the starting lineup didn't go well: He shot 3-for-12 from the field, missing 10 of his first 11 attempts.
Shaun Livingston
stepped up for the second straight night, scoring a season-high 24 points on 10-for-18 shooting. Livingston scored eight straight points in the third, igniting his team's comeback from an 11-point deficit.
A night after recording the fewest rebounds in a game in NBA history (17), the Nets were outrebounded 46-27 by the Pacers.
Indiana turned the ball over a season-high 24 times. Brooklyn recorded a season-high 15 steals.
Kevin Garnett
, who was held scoreless for the first time since his rookie season Friday night, had 12 points and 10 rebounds.
Johnson had 16 points on 6-for-14 shooting. The crowd chanted "Not an All-Star!" at Johnson during the game.
His nemesis, Stephenson, who felt like he deserved to make it over Johnson, had 14 points, seven rebounds and four assists. Stephenson jawed with Brooklyn's bench during the game.
All-Stars
Roy Hibbert
and
Paul George
each had 20 points for Indiana.
David West
added 17.
Dealing with injuries
: The Nets were without
Andrei Kirilenko
(sore right calf) and
Andray Blatche
(bruised left hip). Their bench scored just 16 points.
Up next
: The Nets are off Super Bowl Sunday and then take on the
Philadelphia 76ers
Monday night at Barclays Center.
July, 24, 2013
7/24/13
8:00
AM ET
Do the
Brooklyn Nets
have the best starting five in the NBA?
ESPN analyst and former coach Jeff Van Gundy thinks so.
"If they play well and remain healthy, which is always a challenge for an older team, I think they have the best starting-unit talent in basketball," Van Gundy said recently.
[+] Enlarge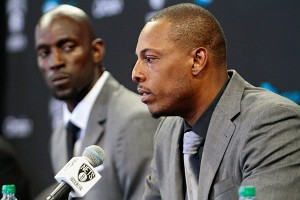 AP Photo/Jon GerbergKevin Garnett and Paul Pierce are focused on bringing a championship to Brooklyn.
Let's take a look at the Nets' projected starting five by games missed last season:
PG
Deron Williams
: 4 (dealt with ankle and wrist issues for first 50 games)
SG
Joe Johnson
: 10 (plagued by plantar fasciitis at end of season)
SF
Paul Pierce
5 (plagued by elbow injury in playoffs)
PF
Kevin Garnett
14 (plagued by bone spurs in ankle and foot)
C
Brook Lopez
8 (underwent third foot surgery in 18 months in offseason)
As Van Gundy said, if they can stay healthy, and that's a pretty big "if," the Nets, at least on paper, do have one of the best starting fives in the league.
Let's take a look at some of the other elite projected starting units:
Memphis Grizzlies
Mike Conley
,
Tony Allen
,
Tayshaun Prince
,
Zach Randolph
,
Marc Gasol
Golden State Warriors
Stephen Curry
,
Klay Thompson
,
Andre Iguodala
,
David Lee
,
Andrew Bogut
Chicago Bulls
Derrick Rose
,
Jimmy Butler
,
Luol Deng
,
Carlos Boozer
,
Joakim Noah
Indiana Pacers
George Hill
,
Paul George
,
Danny Granger
,
David West
,
Roy Hibbert
Houston Rockets
Jeremy Lin
,
James Harden
,
Chandler Parsons
,
Omer Asik
,
Dwight Howard
San Antonio Spurs
Tony Parker
,
Danny Green
,
Kawhi Leonard
,
Tim Duncan
,
Tiago Splitter
Oklahoma City Thunder
Russell Westbrook
,
Thabo Sefolosha
,
Kevin Durant
,
Serge Ibaka
,
Kendrick Perkins
Los Angeles Clippers
Chris Paul
,
J.J. Redick
,
Jared Dudley
,
Blake Griffin
,
DeAndre Jordan
Miami Heat
Mario Chalmers
,
Dwyane Wade
,
Shane Battier
,
LeBron James
,
Chris Bosh
Do you agree with Van Gundy? If not, where do you think the Nets stack up? Let us know in the comments section.
July, 2, 2013
7/02/13
9:52
AM ET
By
ESPN.com news services
C.J. Watson
, backup point guard for the
Brooklyn Nets
, agreed to a two-year contract with the
Indiana Pacers
, sources confirmed to ESPN The Magazine's Chris Broussard.
Watson's agreement was earlier reported by HoopsWorld.
Watson tweeted "keep up with the pace" on Monday, in an apparent nod to his choice of teams.
Watson, 29, had a player option for $1.1 million but opted out to become an unrestricted free agent.
He likely will replace unrestricted free agent
D.J. Augustin
as the main backup to starting point guard
George Hill
in Indiana.
In 80 games last season, Watson averaged 6.8 points and 2.0 assists for Brooklyn.
February, 11, 2013
2/11/13
9:52
PM ET
WHAT IT MEANS:
Tyshawn Taylor
had the first clutch performance of his NBA career.
The rookie point guard stepped up in the absence of
Deron Williams
(
out due to inflammation in both ankles
), delivering a pair of key buckets in overtime, and the
Brooklyn Nets
gutted out
a huge win
over the
Indiana Pacers
, 89-84, on Monday night at Bankers Life Fieldhouse.
Taylor finished with a career-high 12 points in a career-high 34 minutes.
The Nets (30-22), who had lost six of nine, have won their past nine overtime games, and improved to 4-0 in OT games this season. They are now 12-20 against .500-or-better teams (at time of game played). The Pacers (31-21) dropped to 20-5 at home.
Reggie Evans
grabbed 22 rebounds, while
Brook Lopez
outplayed
Roy Hibbert
, scoring 25 points and snagging eight boards of his own. Lopez is now 3-9 against Hibbert in his career, 2-0 this season.
The Nets trailed 78-77 in overtime before Taylor hit a 20-footer and then drove inside and somehow got a no-look bank shot to go.
C.J. Watson
, who started for Williams, went 0-for-7 from the field.
In what was an ugly game, the Nets outshot the Pacers 38.8 percent to 34.4 percent.
STRETCH RUN:
The Nets held a six-point lead midway through the fourth quarter, but then didn't hit a field goal for six minutes, as the Pacers ripped off a 12-2 run to take a 76-72 lead. But
Joe Johnson
(6-for-17, 17 points), who missed eight of his first 10 shots, tied the game on an isolation drive with 13 seconds left to send it into the extra period.
TURNING IT AROUND:
The Nets trailed 52-51 late in the third quarter, but went on a 10-2 run bridging the end of the third quarter and the beginning of the fourth to go in front, 68-64.
MarShon Brooks
hit a pair of clutch shots during the surge.
SECOND IS THE WORST:
The Nets were outscored 27-15 in the second quarter. In their past six second quarters, the Nets have been outscored 164-98 -- an average of minus-11 per game.
FIRST THING IS D:
The Nets held the Pacers to just 13 points and 24 percent shooting in the first quarter.
UP NEXT:
Nets versus Nuggets on Wednesday night at 7:30 p.m.
February, 11, 2013
2/11/13
10:59
AM ET
The
Brooklyn Nets
are struggling and the schedule isn't doing them any favors. A day after getting throttled at home by 25 points versus the
San Antonio Spurs
, who were without Tim Duncan and Manu Ginobili, the Nets are in Indiana to take on the Central Division-leading Pacers.


Nets point guard
Deron Williams
will miss the game because of ankle problems. Tipoff will be at 7 p.m.; here's what we'll be watching for:
(ALL-STAR) BREAKING OUT?
The Nets (29-22) get the Pacers and
Denver Nuggets
(Wednesday) before the All-Star break. Not exactly the perfect set of games for a struggling team that has lost six of its last nine.
Indiana won all three games of a back-to-back-to-back before losing to Toronto in overtime on Friday, which snapped the Pacers' 15-game home winning streak. The Pacers have had three days off since. Uh-oh. This one has disaster written all over it. Then again, that's why they play the games.
WHERE ARE YOU, STARS?
Williams and
Joe Johnson
combined for 34 points on Sunday night, but didn't play as well as their stat lines indicated -- just 11 of those points came after halftime.
The Pacers (31-20, 20-4 home) have the NBA's second-best defense, allowing just 90.2 points per game. Brooklyn beat Indiana on Jan. 13 at Barclays Center, but the Pacers have beaten the Nets five straight times in Indianapolis. In their past nine games, the Nets are shooting just 43 percent and averaging 88.2 points per game.
D IT UP:
Unlike the Spurs, the Pacers are known to have scoring lapses. Still,
David West
should be able to exploit the Nets out of the high post.
Paul George
(17.8 PPG) has emerged as an All-Star in
Danny Granger
's absence.
On Sunday night, the Spurs made 58.9 percent of their shots and went 12-for-19 from 3-point range. The Nets are going to have tighten it up on defense. As D-Will and
Gerald Wallace
said, they need to trust each other more.
January, 14, 2013
1/14/13
2:21
PM ET
Interim coach P.J. Carlesimo gave the
Brooklyn Nets
a Monday off.
They earned it by playing arguably their best fourth quarter of the season Sunday night against the
Indiana Pacers
.
[+] Enlarge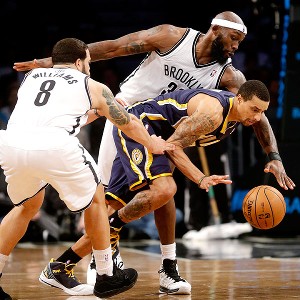 AP Photo/Seth WenigD-Will, Reggie Evans and the Nets didn't allow George Hill's Pacers room to move in the fourth.
The Nets, who shot just 37.3 percent through the first three quarters, trailed the Pacers 77-69 with 10:57 remaining. But they scored 17 unanswered points to take control, and came away with a hard-fought 97-86 victory at Barclays Center.
The Nets will carry a season-high six-game winning streak into Tuesday night's game against the
Toronto Raptors
, their longest winning streak since 2006.
During the 17-0 run on Sunday, the Pacers missed eight straight shots as the Nets ratcheted up their intensity on the defensive end. Brooklyn held Indiana to just 11 points -- the fewest points it has allowed in the fourth quarter this season -- on 3-for-22 shooting. Unexpected, considering tenacious defender
Gerald Wallace
sat out with bruised ribs.
The Nets, meanwhile, scored 28 points in the fourth and shot 57.1 percent.
"We stepped our defense up," said point guard
Deron Williams
, who scored 22 points, dished out nine assists and grabbed five rebounds. "We talked about it in the huddle. Going into the fourth, we needed to up our defense and be dedicated to getting stops, and that's what we did."
Williams (four points),
Joe Johnson
(six points) and
Brook Lopez
(10 points, 1-for-8 coming into the fourth) combined for 20 points in the final period -- including 15 of the 17 unanswered points.
Sunday night's game tipped off a stretch of eight of 11 for the Nets against above-.500 teams. They are 14-0 on the season against sub-.500 teams, but just 8-15 against teams with winning records.
"This was a big game for us," Williams said. "We had won five in a row, but most of them have come against teams with below-.500 records.
"This was a good test for us, a good challenge against a good team, and we came ready and stepped up our game in the fourth quarter."
January, 13, 2013
1/13/13
8:26
PM ET
WHAT IT MEANS:
The
Brooklyn Nets
extended their winning streak to six games for the first the first time this season.
The Nets scored 17 straight points early in the fourth quarter to rally back for a 97-86 victory over the
Indiana Pacers
on Sunday night at Barclays Center.
Brooklyn (22-15) is now 8-1 under interim coach P.J. Carlesimo, 8-15 against .500 or better teams (at time of game played).


The Nets outscored the Pacers 28-11 in the decisive fourth. It was the fewest points the Nets have surrendered in the final period this season.
D-WILL:
Carlesimo said before the game that
Deron Williams
(right thigh contusion) probably shouldn't play with his injury. But D-Will wanted to anyway. Good move. Williams finished with 22 points on 7-for-18 shooting in 41 minutes. He added nine assists and five rebounds. He has made 32 straight free throws, his longest streak as a Net. His backcourt mate,
Joe Johnson
, added 20 points, including 14 in the second half.
INJURY UPDATE:
Gerald Wallace
(bruised ribs) did not play.
Kris Humphries
(sore left ankle) returned to score 10 points and grab nine rebounds.
Jerry Stackhouse
(sore hamstring) also returned.
Mirza Teletovic
(illness) did not.
BROOK-LYN:
Brook Lopez
struggled for a second straight game -- until the fourth quarter (10 points), anyway scoring -- 15 points on 5-for-14 shooting and grabbing nine rebounds. Lopez didn't record his first field goal until there were 45.8 seconds left in the second quarter. He is 2-9 in his career against
Roy Hibbert
(opponent season-high five blocks). His backup,
Andray Blatche
, fared much worse (five points on 1-for-8 shooting).
CAN'T STOP THEM:
David West
destroyed the Nets from mid-range all evening long, finishing with 27 points. Former Net
Gerald Green
also had his way, adding 15 points off the bench.
THIRD IS THE BAD WORD:
After playing their best two third quarters of the season in their previous two games, the Nets trailed by as many as 12 in the frame on Sunday night. They entered the fourth quarter shooting just 37.3 percent.
BAD SECOND:
The Nets were outscored 28-19 in the second quarter as the Pacers took a 49-46 lead to the locker room. Brooklyn shot just 36 percent in the frame. D-Will went 1-for-5.
STARTING STRONG:
The Pacers started off by hitting eight of their first 10 shots and taking a 17-11 lead. But the Nets fought back, using a 16-1 run to go in front after Indiana missed nine straight shots. D-Will had 12 points in the first quarter on 5-for-7 shooting, 2-for-2 from 3-point range.
WHO'S IN THE HOUSE?
Jake Gyllenhaal, Willie Randolph
UP NEXT:
Nets versus Raptors on Tuesday at 7:30 p.m.
February, 6, 2011
2/06/11
2:43
PM ET
Recap
|
Box score
|
Photos
WHAT IT MEANS:
To paraphrase New York Jets linebacker
Bart Scott
, the New Jersey Nets' defense couldn't stop a nosebleed on Super Bowl Sunday. The Nets allowed the Indiana Pacers to shoot 47 percent from the field and score 42 points in the paint in a 105-86 drubbing at the Prudential Center.
When the Pacers weren't bombing from distance (nine 3-pointers), they were getting to the rim and finishing with authority. The Nets have lost to the Pacers six straight times. New Jersey (15-37) has also dropped five of its last six games. Indiana (21-27) is now 4-0 under interim coach
Frank Vogel
.
TURNING POINT:
When
Paul George
decided he was going to jump out of the gym. The Nets were down by nine with 4:27 left in the second quarter, but George made it 13 with a left-handed flush and an emphatic two-handed alley-oop dunk.
Mike Dunleavy
eventually capped off the 7-0 mini-spurt with a 3-pointer, ballooning the Pacers' cushion to 16 with 2:46 remaining.
STAR OF THE GAME:
Hard to say from a Nets' perspective, but point guard
Devin Harris
is our guy. Harris scored eight-straight points during a third-quarter surge which allowed New Jersey to pull within single digits. Of course, that comeback was short-lived. Harris finished with 13 points and a game-high seven assists.
Harris, a Wisconsin native, will now transition from player to fan on Sunday night, rooting on his beloved Green Bay Packers in Super Bowl XLV. Harris was shown on the Jumbotron predicting the Packers to beat the Pittsburgh Steelers 35-27, behind four touchdown passes by quarterback
Aaron Rodgers
.
FIRST-QUARTER WOES:
And to think, head coach
Avery Johnson
harped on coming out and playing a strong opening stanza. So much for that. The Nets allowed the Pacers to torch them in the first quarter. Indiana shot 65 percent from the field and 5-for-8 from downtown as it opened up a 33-24 lead after the first 12 minutes.
STAT OF THE DAY: Johan Petro
. Yes, Johan Petro, led the Nets with eight first-half points. Why? The game wasn't even six minutes old and both
Brook Lopez
and Harris had been assessed two personal fouls apiece. Harris had no field goals in the first half.
OFFENSIVELY INEPT:
That's been the Nets identity all season. And it continued on Sunday as the NBA's penultimate scoring offense mustered 86 points on 41.7 percent shooting from the floor.
BIRTHDAY BOY:
Power forward
Kris Humphries
turned 26 years old on Sunday. And with girlfriend
Kim Kardashian
sitting first-row baseline, he turned in another yeoman's effort off the bench, scoring six points and adding nine rebounds in 22 minutes.
UP NEXT:
The Nets will play host to all-world point guard
Chris Paul
and the New Orleans Hornets on Wednesday night.