April, 11, 2013
4/11/13
12:41
PM ET
By
Mike Mazzeo
| ESPNNewYork.com
Jay-Z, the soon-to-be ex-minority owner of the Brooklyn Nets, has broken his silence ... well, cryptically, in a rap song released Thursday.

Jay-Z must sell his stake in the Nets -- a .067-percent (1/15th of one percent) share that is reportedly worth $350,000 -- to become a sports agent.

Here are some lyrics from his newest track, "Open Letter."

Woulda brought the Nets to Brooklyn for free
Except I made millions off it, you f------ dweeb
I still own the building, I'm still keeping my seats
Y'all buy that b-------, you better keep y'all receipt.

For the record, dictionary.com defines "dweeb" as a slang term for "nerd," "wimp."

Jay-Z does say that he'll still keep his stake in the Barclays Center, as well as his courtside seats.

But I don't think he'll be wearing Nets paraphernalia to games anymore.

QUESTION: Who do you think Jay-Z is calling a "dweeb?" Let us know in the comments section below.

April, 9, 2013
4/09/13
7:44
PM ET
By
Mike Mazzeo
| ESPNNewYork.com
Brooklyn Nets
minority owner Jay-Z has begun the process of selling his stake in the team so that he can become an NBA agent, according to a Yahoo! report.
ESPN's Darren Rovell tweeted that Jay-Z's 0.067 percent (1/15th of a percent) stake in the Nets is worth around $350,000, and he could sell it tomorrow if he wanted to.
Jay-Z is required to relinquish his Nets' stake in order to represent NBA clients as an agent. Rovell reports that the league told him he had to sell once he announced his desire to become an agent.
"It would be disappointing [if he left]," Nets interim coach P.J. Carlesimo said. "I'd be disappointed.
"He had an enormous amount to do with the rebranding of the team; I wasn't close to it at all, but from what I've seen, it would be hard to overstate his importance in this all. I like his involvement in the team; he's at the games, and maybe he's around more than I realize behind the scenes, but he's an excellent fan, one that wasn't just around this year, but a lot in the past too, which is very telling to me."
Nets CEO Brett Yormark would not comment.
Jay-Z's Roc Nation recently partnered with Creative Artist Agency (CAA) and landed
New York Yankees
second baseman
Robinson Cano
as his first client.
April, 2, 2013
4/02/13
3:25
PM ET
By
Mike Mazzeo
| ESPNNewYork.com
Jay-Z failed to land
LeBron James
in the summer of 2010, but the
Brooklyn Nets
minority owner did land
Robinson Cano
.
On Tuesday, the Yankees second baseman left long-time agent Scott Boras for Jay-Z's new Roc Nation entertainment company.
Sources told ESPN.com that Jay-Z is planning to become an agent himself, first in baseball and eventually in basketball and football. In order to represent clients in basketball, he would have to give up his small share of the Nets.
Click here to read the full news story
.
• Over the weekend,
Jerry Stackhouse
told FOX Sports he's likely to retire after the season to take on an increased role in the NBA Player's Union.
"It's not completely sold that I don't get the bug to play again," Stackhouse said. "But, really, I think this is an opportune time to kind of step to the forefront to do something with the union and try to make sure we select the right executive director."
"I want to be a guy that will be able to deliver the information that we deal with on a day-to-day basis with our union and get the message back out to the players and get their feedback," said Stackhouse, who currently serves as the NBAPA's first vice president, right behind president
Derek Fisher
.
"I've played in all these eras, been through all these lockouts 1998-99 and last season. I've seen them all. The search is on for an executive director. We're going to find that right person to help build a union that our body can really be proud of."
November, 23, 2012
11/23/12
12:44
PM ET
By
Mike Mazzeo
| ESPNNewYork.com
Los Angeles Clippers
point guard
Chris Paul
says Nets minority owner Jay-Z is "like a big brother."
"I seek him out for advice all the time about different types of things," Paul said during morning shootaround prior to Friday night's game at the $1 billion Barclays Center. "He's passionate about this team (just like) I'm sure just like their front office is, now that they've got a great product that they can put on the floor."
Asked what his impression was of the new arena, Paul replied, "Nice. It's nice. Very, very nice. I think they did a great job, Brooklyn being a prime location. I talk to Jay pretty often and I know he's happy with it. I definitely can see his little touches around here too."
Is CP3 surprised?
"No. I'm not surprised by it at all," he said. "Everything Jay touches is like gold."
Paul is very good friends with Nets point guard
Deron Williams
. The two were selected within a pick of one another in the 2005 NBA Draft. Comparisons between the two are inevitable and unavoidable.
"We always will be (compared), and we're really close. We talked on my way here this morning," Paul said. "It's good to see D-Will healthy and playing well.
"I'm really happy for him. He couldn't be in a better situation with the team moving to Brooklyn. I know he's happy. He loves it here. He's gonna be here for a long time."
Funny: D-Will and CP3 are both cornerstones on teams that are considered the "other one" in their respective markets.
"I never thought about that. I don't think about it," Paul said. "I think me and D-Will have been playing pretty well in the league. We're not too bad ourselves. So I doubt anytime me and him are on a team, we're gonna be an afterthought."
October, 17, 2012
10/17/12
2:11
PM ET
By
Jared Zwerling
| ESPNNewYork.com
[+] Enlarge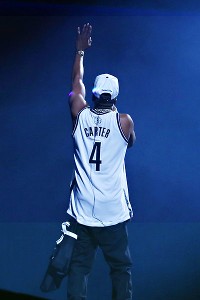 Courtesy of NBA Jay-Z
Jay-Z wore his own No. 4 Nets jersey for his sold-out concerts at the brand-new Barclays Center.
Later this month, you can rock one of the 10 limited-edition jerseys he wore during his performances.
From Oct. 17-31, they will be auctioned off at Auctions.NBA.com, with the proceeds benefiting the Shawn Carter Foundation and the advancement of the Shawn Carter Scholarship Foundation.
Jay-Z's mission through his foundation is to help individuals facing socioeconomic hardships further their education at institutions of higher learning. Since 2003, it has distributed more than $1.4 million in scholarship money to help people attend college.
You can follow Jared Zwerling on
Twitter.
September, 29, 2012
9/29/12
12:40
AM ET
By
Mike Mazzeo
| ESPNNewYork.com
[+] Enlarge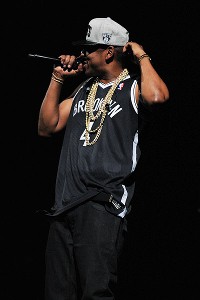 Errol Anderson, Barclays CenterJay-Z
They're finally here!
Brooklyn Nets minority owner Jay-Z opened his concert Friday night by wearing the team's new road jersey on stage at the Barclays Center.
The Nets will wear white (home) and black (road) jerseys that feature "Brooklyn" in the front and "herringbone tape running vertically along the sides, matching the team's court design," according to a team news release.
The Nets open their first season in Brooklyn at their brand-new $1 billion arena on Nov. 1 against the rival Knicks.
Friday night marked the first of eight sold-out concerts that Jay-Z will perform.
August, 27, 2012
8/27/12
7:54
PM ET
By
Mike Mazzeo
| ESPNNewYork.com
The New York Times has an article talking about the rusty exterior of the Barclays Center, which is described as "
rusty and rugged
."
Thelaunchmagazine.com interviewed New York Times writer David Halbfinger about his profile of Nets minority owner Jay-Z, which was published a couple weeks ago. You can
read the interview here
.
August, 17, 2012
8/17/12
3:21
PM ET
By
Mike Mazzeo
| ESPNNewYork.com
Jay-Z
owns "part" of the Nets ... part being the operative word.
According to the New York Times, the hip-hop mogul owns 0.06 percent of the team -- or 1/15th of a percent.
ESPN business reporter
Darren Rovell
tweeted that Jay-Z's stake in the Nets, based on Forbes' latest evaluation, is worth $214,000.
Click here
to read the Times profile on Jay-Z.
August, 15, 2012
8/15/12
10:08
PM ET
By
Jared Zwerling
| ESPNNewYork.com
Courtesy of 2K SportsThe 1992 Dream Team is featured for the first time in the NBA 2K video game series.
In the past several years,
Jason Argent
, vice-president of marketing for 2K Sports, heard from fans of the NBA 2K series, through letters, online forums and social media, asking when the 1992 Dream Team would be in the game.
That opportunity didn't come about for 2K Sports until this year, when music mogul and Nets minority owner
Jay-Z
became the executive producer of NBA 2K13. During a media conference call on Tuesday, Argent said that Jay-Z influenced 2K Sports to strike a deal with USA Basketball and individually with
Charles Barkley
, who's not part of the National Basketball Retired Players Association. (
Scottie Pippen
isn't either, but he wasn't able to reach an agreement with 2K Sports.) Afterward, the video game company was allowed to return to the creative lab to incorporate the '92 Dream Team and 2012 Olympic squad into 2K13, which is on its finishing touches.
"The Dream Team wasn't going to happen this year for us without Jay's involvement and assistance upon doing it," Argent said, "and we're obviously very happy that he did that."
Argent said that while the realistic simulation aspect of 2K13 is most important to the franchise, he and his team have placed more of an emphasis on infusing more entertainment into the game to match the NBA's growth in that area. With 2K13, they wanted to take it even further, and that's why Jay-Z jumped on their radar.
"Obviously the core of the game is always what happens on the court, but we're trying to bring more of the truer picture of the NBA to what it is as an entertainment product," Argent said. "You've seen some of the things we've done in the past with our soundtracks and the bands, so when we sat down after launching last year's game, that was a primary directive for us, and we said, 'How do we do that?' We started to put that list together of things that helped achieve that, and Jay-Z kept rising to the top of that list."
Argent said that when 2K Sports first approached Jay-Z last fall, the popular rapper didn't just want to be involved; he wanted to play a legitimate role in the development of the game.
"He said, 'I want in, I love this game, I want to be involved. But if I'm involved, I want to be involved for real,'" Argent said. "So it's been a very solid collaborative effort. Primarily, our development team clearly knows what they're doing, but from a presentation standpoint -- music, art and culture -- that's obviously Jay's wheelhouse, so he's been able to add that."
Argent also said that Jay-Z being the minority owner of the Nets added more value to 2K series' legacy.
"That was part of the full package," Argent said. "From an authenticity standpoint, Jay loves the game of basketball. He clearly does as an honor of the Nets, and that's important to us from a credibility and authenticity standpoint. He's also added quite a bit to the game beyond presentation."
That starts with Jay-Z's hand-picked soundtrack for 2K13, which includes
24 tracks
that are currently available on Spotify (they could eventually be sold on iTunes as part of an album). The rest of his personal touch will be announced in the coming weeks.
Here are 2K13's top-five most improved features:
The Control Stick: For the first time ever, all dribble moves have been mapped to the right analog stick, as well as shooting, passing and post moves. There are around 50 authentic player moves in the game, all motion captured by real NBA players at 2K Sports' Visual Concepts studio in San Francisco.
Dynamic Shot Generator: Shots are now dynamically created on the fly with collision physics created in real-time.
Signature Skills: Each player has unique abilities that can alter the course of a game. They're modeled to impact the game in their own unique way, from Derrick Rose as a "Floor General" to Kevin Durant being "The Closer."
Revamped Passing System: Improved fast-break passing gives players more control, where they can fire a bounce pass to a cutting teammate or go "Lob City" in transition.
Kinect Ready (Xbox 360 only): Gamers can act as their team's floor general by calling out plays and strategies using 2K13's voice recognition. Even foul language can lead to a technical foul.
Overall, the attention to detail during game play in 2K13 is unbelievable. Here are several examples: signature sneakers worn by the top players; PA announcer calls, fan chants and arena sounds unique to each team; real overheard shots of the city and arena where the game is being played; reflections on the court from the lights and moving ads above the court; players sitting down by half court in their warmup uniform awaiting to sub in; authentic player pregame routines, like when
LeBron James
throws chalk in the air; and player reactions to contact, such as a guy putting a hand on his face after a hard foul there, and there's even some flopping.
The video game will be available for Xbox 360 and PlayStation 3 for a suggested retail price of $59.99. It will also be available on the Wii, PC and PlayStation Portable. In addition, the upcoming Nintendo Wii U system will carry the game.
When asked if there could be an actual video game matchup between the Dream Team and 2012 Olympic squad, Argent said, "I'll tell you what: We've got a lot of announcements we're making in the upcoming weeks, but I will say I like that idea."
You can follow Jared Zwerling on Twitter.
December, 23, 2011
12/23/11
5:13
PM ET
By
Christopher Hunt
| ESPNNewYork.com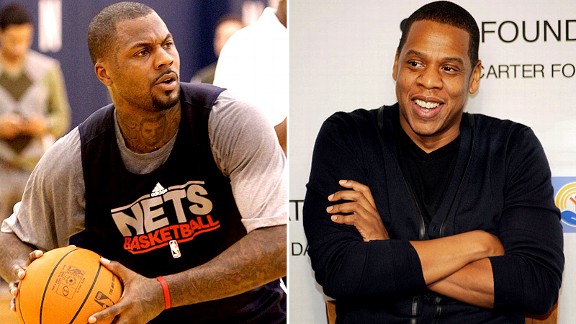 Getty ImagesJay-Z is now one of DeShawn Stevenson's bosses. Awkward?
EAST RUTHERFORD, N.J. –
DeShawn Stevenson
didn't think it was weird to play for an owner who once made a dis record about him.
"Not really," said Stevenson, who signed with the Nets on Friday. "I think it's fun and games. At the time, there was a lot of gimmicks going on with the Wizards and a lot of gimmicks going on with the Cavaliers. I think with that past, I think everybody moved on. I won a championship."
And that's one more than
LeBron James
, whom Stevenson had called overrated back in 2008 when Stevenson was a forward in Washington and James was the King in Cleveland. James then said that his responding to Stevenson would be like
Jay-Z
-- a part-owner of the Nets -- responding to lesser-known rapper
Soulja Boy
.
The verbal warfare prompted Jay-Z to drop a freestyle called "Blow the Whistle" in which he took a couple of his own shots at Stevenson, including referencing Stevenson as a "pawn."
The beef is long over. Stevenson went on to win an NBA title with Dallas last season against James and the Miami Heat. Stevenson could still laugh about the record.
"I take it as an honor that he even made a song about me," Stevenson said. "He doesn't even do that for rappers. So obviously, [if I saw Jay-Z] I would say 'What's up' to him."
In terms of basketball, Stevenson said the Nets were a "good fit" and that
Deron Williams
was a large part of why he decided to sign with New Jersey. He did recognize that he is coming from a championship team to a squad that's in constant flux, having just lost its starting center,
Brook Lopez
, to an injury.
"It'll probably be tough, coming from the team where I came from," Stevenson said. "At the same time, it's a challenge. It's a challenge to win a championship, and this is a different type of challenge. Like I said, to play with an All-Star point guard is a special thing. I played with a Hall of Famer [
Jason Kidd
, in Dallas] so it's just a new period of my life."
Even Stevenson's former team can be considered a team in flux. The Mavs acquired
Lamar Odom
from the Lakers but have lost five free agents:
Tyson Chandler
(Knicks),
J.J. Barea
(Minnesota),
Caron Butler
(Clippers), Stevenson (Nets) and
Peja Stojakovic
(retired).
The landscape of the Western Conference appears much different than last year, and although the Mavericks are expected to be contenders, there isn't much talk of back-to-back titles.
"That's what happens when you let a lot of people go," Stevenson said.
September, 23, 2011
9/23/11
3:13
PM ET
By
Jared Zwerling
| ESPNNewYork.com
Last month, hip-hop mogul
Jay-Z
sent shock waves around the world with the release of his highly-anticipated collaboration album with
Kanye West
called "Watch The Throne." This coming Monday, Jay-Z will be stepping up to a different stage to create another big stir -- this time as Nets minority owner.
At 10 a.m. on the plaza at Atlantic Terminal, located at Fort Greene Place and Atlantic Avenue overlooking the upcoming Barclays Center, Jay-Z will be making "major announcements" regarding the new arena and Brooklyn's future NBA team. The event will be attended by Brooklyn Borough President
Marty Markowitz
, Forest City Ratner Companies Chairman and CEO
Bruce Ratner
and Barclays Center CEO
Brett Yormark
.
Perhaps Jay-Z will be informing fans that he'll be opening up his New York City 40/40 club in the Barclays Center? Or maybe speculation that the Nets will change their name upon their move to Brooklyn will become a sure thing? Could that also include an unveiling of the Nets' new jersey? Turns out, Jay-Z's advertising and branding firm, Translation, is helping position the team for their address change.
Let's get the drum roll going ...
You can follow Jared Zwerling on
Twitter.