Brooklyn Nets:

Jeff Van Gundy
December, 4, 2013
12/04/13
6:54
PM ET
Jeff Van Gundy said he was caught off guard when he found out Jason Kidd had a falling out with Lawrence Frank and demoted his lead assistant.
"I am truly surprised and it really is a disappointing thing," Van Gundy said on "The Mike Lupica Show" on ESPN New York 98.7 FM. "Not only did they share a great bond as a player and coach, I think they were truly great friends. And to let a professional thing come between friendships, I think it really is too bad."
Kidd told reporters reassigned Frank to "doing daily reports," citing "different philosophies." However, sources say Kidd and Frank's
relationship soured
after assistant Joe Prunty was named the interim head coach for the first two games while Kidd served a suspension, and the rift widened after a blowup between the two coaches.
Despite Kidd and the Nets feeling so strongly that Frank was the perfect mentor for the rookie coach that they signed him to a six-year, $6 million deal, Kidd and the organization decided the right move was to demote Frank.
"I know this about Lawrence Frank, he is an outstanding basketball coach who I think any head coach would be happy to hire him," Van Gundy said. "I couldn't respect a guy more than him, and I feel for him today because obviously this has got to be a tough period. Everybody I think has followed his career path and for Kidd to make such a move so quickly in his tenure just gives more perception that this thing is not running smoothly."
Van Gundy said the Frank episode and the Nets' disappointing 5-13 start has to have been "a very rude awakening to the coaching profession" for Kidd.
"I wasn't as concerned with the learning curve as I was, does he know what he is about to get into and is he truly ready for a change in his professional life?" Van Gundy said. "You go from being a player and three weeks later you are a head coach, you are still in basketball but the job descriptions are so much different ... That is why I think it is always beneficial to be an assistant coach first. So that you know is this coaching life for me.
"Is this something I want to be worried about 24 hours a day, 365 days a year?" Van Gundy said. "Do I want to worry about
Tyshawn Taylor
and
Reggie Evans
and [Kevin] Garnett and [Paul] Pierce ... So I guess my biggest concern was did he know what he was getting into and would he like what he had gotten himself into after the season started. I don't know Kidd at all, so I don't know the answers. But this has been I'm sure a very rude awakening to the coaching profession and how dependent you are on your best players to set the right tone and right attitude and right culture for your team."
Van Gundy says the toughest thing about the Kidd-Frank divorce is a fractured friendship.
"I really feel for Lawrence and Kidd," the ESPN analyst and former Knicks and Rockets coach said. "As you know, if you can have a couple of good friends, that is great. When you lose a friend, that's really disappointing."
June, 28, 2013
6/28/13
9:12
PM ET
By
Ian Begley
| ESPNNewYork.com
ESPN analyst Jeff Van Gundy gave Nets owner Mikhail Prokhorov major credit for shelling out the money to bring
Paul Pierce
and
Kevin Garnett
to Brooklyn.
In an interview on ESPN New York 98.7 FM's "The Michael Kay Show," Van Gundy said Prokhorov and the Nets have put together the best starting five in the NBA. Pierce, Garnett,
Brook Lopez
,
Deron Williams
and
Joe Johnson
will start for Brooklyn in 2013-14.
"I do think they're a championship-caliber team," Van Gundy said. "If they play well and remain healthy, which is always a challenge for an older team, I think they have the best starting-unit talent in basketball."
The Nets will have to pay a hefty luxury tax to afford all of the multimillion-dollar contracts. Van Gundy believes fans should credit the outspoken Prokhorov for his willingness to spend.
"In this case, the Nets ownership put personnel of their team way ahead of profits and if you're a fan you have to understand how rare that is and you have to be excited about the opportunity," Van Gundy said. "Now whether it turns out to be this championship run or not, you have to be excited about an ownership that will put the personnel of your team ahead of the profits for that same team."
Van Gundy believes Garnett, 37, has at least two good seasons left.
"Last year he played very effective basketball," Van Gundy said. "He's certainly better than what they had by a long shot. And he brings a different edge and a different seriousness for every team he's ever touched. People rave about what he did for a loose Celtics locker room. Immediately upon his arrival, he turned it into a serious locker room. That wasn't Paul Pierce and that wasn't
Ray Allen
; it was Kevin Garnett.
"I think he has two effective years left. And I hope for his sake, because he's been such a credit to the game, that it's a great experience for him there."
June, 7, 2013
6/07/13
1:34
PM ET
By
Mike Mazzeo
| ESPNNewYork.com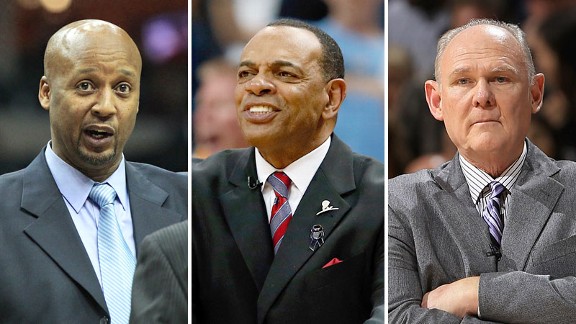 USA TODAY Sports, Getty ImagesBrian Shaw? Lionel Hollins? George Karl? Will any of these guys fulfill the Nets'
five-
two-year plan?
Who will the Nets hire as their next head coach?
Seeing as how the organization has been extremely quiet on that front, let's take a look at where things appear to stand as of now:
Brian Shaw:
Shaw, an assistant in Indiana, is at the top of Brooklyn's list to replace P.J. Carlesimo, according to ESPN and other media reports. Shaw is expected to interview with the Clippers as soon as Monday, and is also seen as a front-runner for their job. While Nets players said on breakup day that they wanted a head coach with experience, Shaw doesn't have any, but he was voted the top assistant in the league in a recent poll of NBA GMs. If the Nets are looking for a "fresh face" as the Daily News reported Friday, Shaw could very well be their guy.
Lionel Hollins:
The Nets have been granted permission to interview Hollins, ESPN.com reported earlier this week, but Brooklyn has not spoken to him. Hollins did a terrific job in Memphis this past season, guiding the Grizzlies to the Western Conference finals. Still, it seems like he's not as high on the Nets' list as Shaw. Hollins could have interest from the Clippers and Nuggets as well.
George Karl:
A league source told ESPNNewYork.com that it's "highly unlikely" that the Nets will reach out to Karl, who won Coach of the Year honors, about their vacancy. Karl's 80-105 career playoff record isn't very intriguing to the Nets, who have their sights set on winning a championship and fulfilling owner Mikhail Prokhorov's five-year plan, which has been reduced to two. Perhaps the veteran coach ends up in Los Angeles or Memphis.
Other big names:
The Nets reached out to Jeff Van Gundy and reportedly Larry Brown, but there doesn't appear to be any traction there.
Shooting for the stars:
The team's coaching search began with a call to Phil Jackson, but the 11-time coaching champion said thanks but no thanks. Then the Nets tried to call the Celtics for permission to talk to Doc Rivers, but were rebuffed.
Mystery candidate:
Maybe the Nets decide to make a run at someone whose name hasn't surfaced yet, perhaps a coach overseas or another assistant like Shaw. At this point, nothing would surprise us. The draft is in two weeks, but the Nets don't feel any pressure to hire a coach by then.