Brooklyn Nets:

Joakim Noah
April, 22, 2013
4/22/13
10:59
PM ET
The
Brooklyn Nets
had no answer for the
Chicago Bulls
' tenacious defense.
And just like that, we're even.
The Nets shot just 35.4 percent from the field and went four for 21 from 3-point range in a 90-82 loss to the Bulls in Game 2 of the Eastern Conference quarterfinals on Monday night at Barclays Center.


The best-of-seven series is now tied 1-1.
Brooklyn shot 55.8 percent and committed just eight turnovers in its 106-89 victory in Game 1. Well, the Bulls adjusted, making things tough for the Nets (12 turnovers, outscored 42-30 in the paint) on seemingly every possession. And Brooklyn failed to match Chicago's sense of urgency from the opening tip.
Consider this a missed opportunity for the Nets.
M.I.A.:
Deron Williams
(one for nine from the field, zero for five from 3-point range with eight points and 10 assists) and
Joe Johnson
(six for 18, 15 points), Brooklyn's $190 million starting backcourt, combined to go seven for 27 from the field. D-Will missed his first six shots, while Johnson disappeared in the second and third quarters. Iso Joe hit a pair of 3-pointers to get the Nets within four in the final period but couldn't hit a third to make it a one-point game. Williams and Johnson combined for 38 points in Game 1.
CRASH VS. DENG:
Gerald Wallace
, who scored 14 points in Game 1, scored just two in Game 2 on 1-for-7 shooting. Wallace got in foul trouble because of a questionable second personal, which probably should've counted as a block.
Luol Deng
, who went three for 11 in Game 1, had a team-high 15 points and 10 rebounds in Game 2.
THE GOOD:
Brook Lopez
had 21 points and five rebounds. He probably sat too long to begin the fourth quarter.
C.J. Watson
was arguably the best Net of the night, notching 10 points off the bench against his former club.
THIRD IS THE BAD WORD:
Things fell apart for Brooklyn in the third quarter. No surprise there. The Nets, who have struggled all season coming out of halftime, missed their first seven shots of the period -- and went two for 19 from the field overall. Meanwhile, the Bulls were able to extend the lead to as many as 12. In all, Chicago outscored Brooklyn 24-11 in the third.
COULD'VE BEEN WORSE:
The Nets shot 57.1 percent in the second quarter and trailed just 47-46 at the half, thanks to Watson's corner 3-pointer that beat the buzzer. Brooklyn got down by as many as seven before rallying back when their big three returned midway through the period. Lopez had 10 points in the second, as he found a sweet spot from about 19 feet away at the top of the key.
U-G-L-Y:
The Nets trailed only 20-17 after the first quarter despite turning the ball over six times -- they had just eight turnovers in Game 1 -- and not converting their first field goal until the 6:48 mark. Overall, the Nets went six for 18 from the field in the first as the Bulls ratcheted up their defensive intensity. Brooklyn led 25-14 after one in Game 1.
T'D UP:
Nets assistant Popeye Jones got a technical foul in the third quarter for arguing that the shot clock shouldn't have been reset during a Bulls' offensive possession, which resulted in a
Joakim Noah
bucket. Speaking of Noah, he looked much better on the court after playing just 13 minutes in Game 1. Despite a foot injury, he finished with 11 points and 10 rebounds in 26 minutes in Game 2 and made several clutch plays down the stretch.

WHO'S IN THE HOUSE?
Mikhail Prokhorov, Justin Tuck and Michael Strahan.
UP NEXT:
Game 3 is on Thursday night at 8:30 p.m. ET at the United Center.
April, 18, 2013
4/18/13
1:54
PM ET
Brooklyn Nets
center
Brook Lopez
has never participated in the NBA playoffs.
That'll change Saturday night when the Nets face the
Chicago Bulls
at Barclays Center in Game 1 of their first-round series.
"I can't wait," Lopez said Wednesday. "I've been very anxious, waiting for it while playing through these last few games. And now that it's on the horizon, I'm very excited about it."
And to think: Just three seasons ago, Lopez was a member of a 12-70 New Jersey Nets team. The franchise spent two more playoff-free years in the Garden State before moving to Brooklyn this season.
"It's really been an amazing journey," Lopez said. "It's very surreal to think back to the PowerPoint presentations that they'd show us, when management would come in and show us renderings of the Barclays Center and all the little factoids about how big Brooklyn is.
[+] Enlarge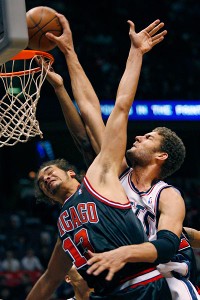 Tim Farrell/USA TODAY SportsBrook Lopez will match up with Chicago's Joakim Noah in a clash of All-Star centers.
"To finally be here and now and be on the verge of the playoffs, it's pretty incredible."
Lopez, 25, played just five games last season due to a foot injury. There were concerns about his health, along with his ability to rebound and defend.
He was involved in several trade discussions for
Dwight Howard
, but a deal never materialized. And with their pursuit of Howard over, the Nets elected to lock up Lopez, re-signing him to a four-year, $60 million contract.
He has proved his worth ever since. Lopez, who averaged a team-high 19.4 points and 2.1 blocks per game, was Brooklyn's most consistent player this season. He finished fifth in the NBA in player efficiency rating (24.81) -- only
LeBron James
,
Kevin Durant
,
Chris Paul
and
Carmelo Anthony
were better -- and made his first All-Star team.
"It's been great," Lopez said of his first season in Brooklyn. "It's been more than I can ask for. I think that's due to my teammates around me and the fans we've had."
"I've learned so much from playing with
Deron [Williams]
,
Joe [Johnson]
,
Reggie [Evans]
, Dray [
Andray Blatche
], guys like that," he added.
What have Lopez's veteran teammates told him about what to expect in the playoffs? "They're a whole 'nother level," Lopez said. "They're very physical, and electricity in arenas is a completely different scale."
Lopez is looking forward to the matchup with fellow All-Star
Joakim Noah
.
"He's great," Lopez said. "He elevates the Bulls to another level when he's on the floor, and he does so many things as a center. He really does everything very well."
Noah averaged 11.9 points, 11.1 rebounds and 2.1 blocks for the defensive-minded Bulls. But he is battling plantar fasciitis, so Lopez may be able to exploit him in the post.
Said Lawrence Frank, who coached Lopez in New Jersey for two seasons: "Brook has always had really good offensive ability. He's developed a really good back-to-basket game. He's always been a good face-up perimeter shooter and he's got great hands.
"Now what he's added is the defensive portion, and that takes time. If you look at what he's done in terms of blocking shots and his rebounding, [it] has been up from what they were last year. And his character is off-the-charts high. Great, great person."