Brooklyn Nets:

Kebin Garnett
September, 29, 2014
9/29/14
4:00
PM ET
EAST RUTHERFORD, N.J. --
Kevin Garnett
and Derek Jeter may share the same number -- 2 -- but the
Brooklyn Nets
power forward says that is where the comparisons between the two future Hall of Famers end.
"He's been on one team," Garnett said Monday of the New York Yankees captain, who played the last game of his 19-year career on Sunday in Boston. "He's done unbelievable things for the Yankees and just sports in general. If you want to say that's similar or parallel (between us), sure. But with all due respects to what Jeter has done for sports period, I'm just so happy for him and that he went out the way he wanted to, which is not always the way that some athletes get to go. So salute to my man."
Garnett, 38, is entering his 20th -- and perhaps final -- season in the NBA. He has pondered retirement the last three summers. At this point, it doesn't appear that Garnett will have a Jeter-like retirement tour since he declined to say whether this season would be his last.
Last summer, Garnett had to be convinced by longtime teammate
Paul Pierce
and coach Jason Kidd to leave Boston for Brooklyn. This summer, he says, was different.
"I prepared myself this offseason like I have, not last year because I was in decisive in what I wanted to do with the decision-making," Garnett said. "This year, I knew exactly what I wanted to do and I did that throughout the whole summer. So I'm in more better spirits because I know what I'm here to do this year and I'm here to enjoy this. You never know when it's going to be your last. Watching Jeter and his whole thing has been inspiring and what I took from it is to enjoy this because you never know when it's going to be your last."
Asked to expand, Garnett said: "Just because I knew I could do better and just motivated. That's it. Plus I knew contractually I knew I had to come in here and do that. I'm a person that wants to run through the finish line if you will and I'm happy to be here. So that's what it is." He is in the final year of his contract and will earn $12 million in 2014-15.
Garnett, who was his usual vocal self at practice Monday, says he is aware that he will become just the fourth player in league history to play for a 20th season:
Kevin Willis
,
Kareem Abdul-Jabbar
and Robert Parrish are the others.
"I told
Kevin McHale
when I came in here (to Minnesota) after my first practice -- to be not cute or not you know kinda smart -- but he kinda cracked a joke that I had a buncha ice on me. I was just turning 19 and I was hurting and I told him that I wanna be in this league for half my life. And he kinda just giggled," Garnett said, later acknowledging his appreciation and love for McHale. "But he never knew what was inside so 19 years later here we are. ... I'm motivated and I've always been motivated. I've never had a problem with that."
[+] Enlarge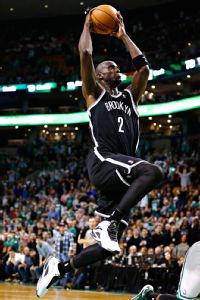 Mark L. Baer/USA TODAY SportsGarnett is in the final year of his contract and will earn $12 million in 2014-15.
Last season, Garnett had to become acclimated with a new team in a new environment. He says he feels more comfortable with his surroundings now.
"Being honest, I know what to expect this year, living in New York -- let me explain that -- and coming to the Brooklyn Nets. I'm coming from Beantown, didn't really know what to expect. First year, having Jason (Kidd), didn't know where I fit in at," Garnett said. "Obviously, I understood coming in here I knew I wasn't going to be primary, and what I mean by that is big minutes, play calling. So I wanted to facilitate. Help Brook (Lopez) as much as I could and what I know. Other guys, Mason (Plumlee) and so on and so on. This year, coming in with a little more edge, with a little more assertiveness, kind of deferring back to obviously when I came into this league and hat I created for myself. I'm going to be a lot more aggressive, but then letting the coach know that I'm not 18. If you can, let's be on the same page as far as minutes and stuff like that, just so I have something to give."
Garnett was asked what it would mean to him to finish with a strong season.
"To finish the season strong, to be able to look back and say I've enjoyed not only the guys, but the opportunity and because it's so many things play into it with the injuries and so many different things play into just how players are moved or just how players maneuver," Garnett said. "So I set small goals for myself, but more importantly team goals and team goals are always going to trump my own personals. So I'm just glad I'm able to be out here. Good Lord knows Lionel [Hollins] is totally old-school. He's kicking our a-- in here, got us running around like a chicken with their head cut off. But it's all good. It's all good. He's working us and we are trying to meet the standard of which he wants and I feel like we are giving it to him. So far so good. Talk to me in five more days and see what the f--- I look like, all right?"
Garnett said he doesn't want to be a coach when his playing carer is over. "Hell nah," he said, laughing.
Last season, Garnett openly said he hated playing center. Now, he's back to his normal power forward spot.
"But now I got used to playing five and now I gotta get used to playing the four. Man it's terrible right now," Garnett joked. "But as long as I'm able to be on the floor and contribute, that's what's most important."
August, 18, 2014
8/18/14
11:32
AM ET
Last season, the Nets finished second-to-last in both rebounds per game and rebound rate (the percentage of missed shots that a team rebounds). Only the
Los Angeles Lakers
were worse in those categories.
Former coach Jason Kidd was asked about his team's inability to rebound all year long, but the problem never went away. The Nets, who began thriving when they went small/long, were able to somewhat overcome that weakness because of their ability to force turnovers, but it definitely hurt them.
So how did they go about fixing their rebounding problem this summer?
[+] Enlarge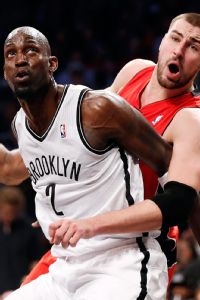 AP Photo/Kathy WillensKevin Garnett led the Nets in rebounding in 2013-14, averaging just 6.6 rebounds per game.
Umm ... Well ... they didn't.
Therefore, it's going to have to be rectified internally. The hope is that new coach Lionel Hollins can help in the rebounding department.
In his final three seasons in Memphis, the Grizzlies finished second (2009-10), tied for ninth (10-11) and 11th (11-12) in rebounding rate.
The difference, of course, is that Hollins no longer has board-snatchers like
Zach Randolph
and
Marc Gasol
at his disposal.
Kevin Garnett
, who is expected to return for his 20th season in 2014-15, averaged just 6.6 rebounds per game last season, which led the team.
Brook Lopez
, who is coming off foot and ankle surgery, averaged 6.0 rebounds in just 17 games.
Andray Blatche
(5.3) and
Paul Pierce
(4.5) are gone.
The onus, then, falls on Lopez, who has never been a great rebounder,
Mason Plumlee
(4.4) and
Andrei Kirilenko
(2.3), who was hurt most of last season, to really step up and grab some caroms next season. Perhaps rookie Corey Jefferson figures in the mix as well.
We asked ESPN Stats & Information (via the Elias Sports Bureau) to provide some perspective on Garnett being the team's leading returning rebounder given his low average.
Garnett's average (6.6) was the lowest among leaders in the NBA (min. 50 games played). It was also the lowest by a team leader in a season since the shortened 2011-12 season (min. 40 games played):
Bismack Biyombo
, Charlotte (5.8) and
Tristan Thompson
, Cleveland (6.5).
Rebounding is obviously a key aspect of basketball. Hollins is known to utilize more traditional two-big-men lineups, which should help. And if Lopez and Plumlee improve and Kirilenko stays healthy, that should help as well.
But this rebounding problem is definitely something that could haunt the Nets if they don't fix it.
April, 29, 2014
4/29/14
3:54
PM ET
EAST RUTHERFORD, N.J. --
Kevin Garnett
and
Paul Pierce
say they feel for what their former coach, Doc Rivers, is going through now as he tries to navigate the Clippers through unprecedented controversy.
"Definitely, it's a tough situation," Pierce said. "Your owner is labeled as a racist. You're a head black coach, head president. It's a tough situation to work for somebody like that so it's hard to be in that situation this time of the year, so much on the line.
"But I know Doc is very headstrong and he'll work it out."
Garnett said he has sent his support to Rivers.
"I think it's important for obviously players to be unified," Garnett said. "The Sterlings of the world obviously exist. Sports brings cultures together. We need to focus on that.
"If any coach can deal with it, he can," Garnett added. "Doc is one of the most resilient coaches I've ever played for. Not just helped me out as a player but helped me out as a young man, helped me as a better father and a better person. I hope that he is able to spread some of that to his players and his organization."
As things have turned out, Garnett might be glad he didn't end up a Clipper last summer.
Garnett was mentioned in a potential side deal to Rivers' pact to join the Clippers last year. In the end, only Rivers ended up with the Clippers while former Celtics Garnett and Pierce became
Brooklyn Nets
.
Garnett was asked if he would've wanted to become a Clipper and follow Rivers knowing what he knows now about owner Donald Sterling, who was banned for life by NBA commissioner Adam Silver on Tuesday.
"I'm a Net," Garnett said after Nets practice. "I don't focus on almost. In high school, I never dealt with the chick that almost wanted to go out with me."