Brooklyn Nets:

Keith Bogans
June, 27, 2013
6/27/13
11:54
PM ET
NEW YORK -- The
Brooklyn Nets
are going all-in to win the NBA title.
The Nets on Thursday agreed in principle to a blockbuster trade with the Celtics in which they'll receive
Kevin Garnett
,
Paul Pierce
and
Jason Terry
.
The Celtics will receive
Kris Humphries
,
Gerald Wallace
,
Keith Bogans
,
MarShon Brooks
,
Kris Joseph
and three first-round picks (2014, 2016, 2018).
The trade can't officially be consummated until July 10, when the annual league-wide moratorium on signings and trades is lifted.
WHAT IT MEANS:
The Nets just became one of the most formidable teams in the NBA. Their projected starting lineup has a combined 35 All-Star selections: Garnett (15), Pierce (10),
Joe Johnson
(6),
Deron Williams
(3) and
Brook Lopez
(1). Throw in rookie head coach Jason Kidd, and it's 45. The
Miami Heat
are still the team to beat in the Eastern Conference, but the Nets just might be able to knock them off.
REMEMBER WHEN:
The Nets lost 70 games in 2009-10. They were the laughingstock of the league. But after going through a three-year rebuilding process, they moved to Brooklyn and won 49 games last season. They're even better now, and well-positioned to possibly fulfill owner Mikhail Prokhorov's five-year championship plan in Year 4. Remember when Prokhorov said before the playoffs that the Nets were a player and patience away from being in the company of the upper-echelon teams? Well, they just added two future Hall of Famers.
CITY BRAGGING RIGHTS:
The Nets may not have the history and the fan base of the Knicks, but they may be better positioned to win a title. They are now a team full of stars with a star coach on the bench. Prokhorov has to love this. And the Knicks have to hate it.
MONEY, MONEY, MONEY!
The Nets' payroll this season is going to be through the roof. Johnson is due $21.5 million in 2013-14; Williams $18.5 million; Lopez $14.7 million; Pierce $15.3 million and Garnett $12.4 million. That's $82.4 million committed to their starting lineup alone! Good thing Prokhorov is a multibillionaire.
LEADERSHIP AND TOUGHNESS:
The Nets were lacking in these areas last season. Suffice to say Garnett and Pierce bring them in abundance.
WHAT THEY LOST:
Not much in terms of talent. Wallace and Humphries had down years. The future first-round picks might come back to haunt the Nets, but again, they're in win-now mode.
WIN-NOW TIME:
Look at these ages: KG (37), Pierce (35), Terry (35), Johnson (31), Williams (29), Lopez (25). The Nets are clearly built to win now. Their window is going to be a short one.
April, 19, 2013
4/19/13
4:25
PM ET
EAST RUTHERFORD, N.J. -- Ex-
Chicago Bulls
C.J. Watson
and
Keith Bogans
both mostly downplayed facing their former team in the first round of the Eastern Conference playoffs.
"It's just another game, another series. It's a team we're facing in the playoffs, and we've gotta win," Watson said.
Said Bogans, who was cut during training camp two seasons ago after starting all 82 games for a Bulls team that won 62 games: "I'm definitely motivated. Like I said, just for me to be back on the floor is the most motivating factor to me. I'm just happy to be playing again, and the fact that it's against the Bulls in the first round of the playoffs, it doesn't get any better that."
Was Bogans surprised that the Bulls let him go?
"It doesn't surprise me. It's a business," he said. "I've been around long enough. I was a little hurt at first, because I played there and started all 82, but now I've been a Net for the last two years. I don't even think about that anymore."
Bogans suffered a serious season-ending torn deltoid ligament and fractured left ankle shortly into his tenure with the Nets.
"Once the doctor told me how bad my injury was at the doctor's office, I pretty much got up and walked out of there rather than hearing what he had to say," Bogans said. "He had to talk to (trainer) Timmy (Walsh). For the rest of the time I was so upset, but I'm blessed. I'm just happy to be playing. I couldn't be happier."
Bogans worked his way back and has become a key contributor off the bench for the Nets this season. He is one of the team's best perimeter defenders and shoots 34.3 percent from beyond the 3-point line.
"If I can play defense on one end and knock down an open shot on the other, it's going to be hard to take me off the floor," Bogans said.
Watson's tenure with the Bulls ended in terrible fashion last season.
In Game 6 of the first round, Watson had the ball with seven seconds left and Chicago ahead by one. But instead of backing it out and getting fouled, Watson, an 80 percent free-throw shooter, passed to
Omer Asik
, a 46 percent free-throw shooter. Asik missed both of his attempts at the stripe, and the Sixers ended up winning the game and eliminating the Bulls.
Watson ended up receiving death threats from angry fans on Twitter. He signed with the Nets in the offseason, and has become a great 3-point shooter. In his last 30 games, Watson is shooting 53.2 percent from beyond the arc.
"Just staying in the gym, staying confident and then getting a lot of open 3s from Deron [Williams], Joe [Johnson] and Brook [Lopez] because they're doubling, so they make it easy," Watson said.
April, 9, 2013
4/09/13
11:47
AM ET
EAST RUTHERFORD, N.J. --
Brooklyn Nets
shooting guard
Joe Johnson
will be a game-time decision for Tuesday night's game against the
Philadelphia 76ers
, the team announced.
Johnson continues to deal with a sore left heel. The 31-year-old veteran is 9-for-27 from the field in two games since returning to the lineup after missing five games due to injury.
"I think it's a good chance I will play, but I don't know, I can't read their minds," said Johnson, who is averaging just 13.3 points on 40.9 percent shooting in his last 12 games. "So we'll have to see when I get to the arena tonight."
Reserve guard
Keith Bogans
is out due to a tight lower back, and is likely to miss Wednesday night's game against the
Boston Celtics
as well, according to interim coach P.J. Carlesimo.
The Nets (44-32) and five other Eastern Conference playoff teams close the regular season with six games in nine days. Brooklyn leads the
Chicago Bulls
(42-34) by two games in the race for the No. 4 seed.
Carlesimo said he wants to place more of a priority on health rather than homecourt advantage.
"I looked at the schedule, and it's really surprising to me. Six of the eight of us that are in the playoffs have six games left in nine days, which is, to me, astounding," Carlesimo said.
"We have three (games) in four (nights) and then three in four going into the playoffs which shocked me. But six of the eight teams have the same thing. Boston only has five and Atlanta has four.
"Again, the No. 1 priority is Joe. First of all we've got see see can Joe go tonight, and if he can go, how's he feel. He probably was a little stiff in the fourth quarter the other night, so we need to manage Joe.
"Secondly, we need to keep winning games. We literally may reach a point where we say hey, it ain't worth stretching out minutes, it ain't worth stretching out guys that are injured. If it costs us homecourt, it costs us homecourt. I don't wanna go there but, I'm concerned getting through this six and nine first of all health-wise in terms of getting Joe and Bogs and right now, even Gerald (Wallace). I think (Gerald's) worst is behind him, but I want to make sure he stays good, and I don't want to tax his minutes.
"I think we're gonna look at other people perhaps a bit more or not go big, big minutes at least in back-to-backs. If we go big minutes tonight, we're probably not going to go big minutes tomorrow. It would be great if we could get through tonight and have something in the tank for tomorrow, but I really think we've gotta go day-to-day. I'm looking at it very cautiously and I'm very concerned with what we have left."
February, 22, 2013
2/22/13
11:10
PM ET
Tensions escalated in the second quarter of Brooklyn's 106-96 loss to the
Houston Rockets
on Friday night at Barclays Center.
[+] Enlarge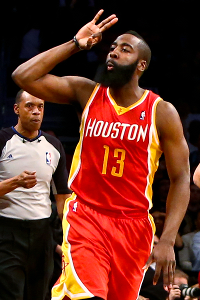 Debby Wong/USA TODAY SportsHouston's James Harden exchanged words with Keith Bogans on Friday night.
Nets small forward
Keith Bogans
and Rockets shooting guard
James Harden
exchanged words and had to be separated at the 4:42 mark of the period.
As the Nets were bringing the ball up the floor, Bogans pushed Harden and was called for an offensive foul. Harden responded by clapping his hands.
As the two players were walking toward the other end, Bogans began barking at Harden, which caused the Rockets shooting guard to turn around and face up to him.
According to YES Network play-by-play announcer Ian Eagle, Bogans told Harden, "Don't cry to the refs."
Both were assessed technical fouls.
"It was just getting physical," Bogans said. "We were going back and forth at each other and started to talk a little bit. It really wasn't personal or anything. We were just playing basketball."
Bogans said he was able to calm down because interim coach P.J. Carlesimo made it real easy by pulling him from the game.
"I didn't lose my cool, and it is just part of the game," he said.
Harden said, "Frustration, that's it."
February, 22, 2013
2/22/13
9:56
PM ET
WHAT IT MEANS:
The
Brooklyn Nets
clearly missed
Joe Johnson
in the fourth quarter.
Without Johnson, who sat out his first game of the season due to
a sore left heel
, the Nets failed to complete what would've been an incredible comeback and lost to the
Houston Rockets
for the 13th straight time,
106-96
, on Friday night at Barclays Center.


The Nets (33-23) had their four-game winning streak snapped but remain just a game behind the
New York Knicks
, losers in Toronto on Friday, in the Atlantic Division.
The Rockets took control with a 13-0 run spanning the end of the third and the beginning of the fourth quarter, which turned a two-point edge into a 15-point lead. The Nets got within three, but
Keith Bogans
missed a potential game-tying 3-pointer with 2:10 left. Brooklyn would never get any closer.
The Nets ended up shooting 10-for-30 from 3-point range, while allowing the Rockets (31-26) to shoot 53.2 percent from the field and drain 16 treys. Brooklyn is 15-21 this season against .500-or-better opponents.
HANGOVER GONE:
Brook Lopez
, who had gone 9-for-30 in the first two games since making his first All-Star appearance, finished with a game-high 27 points on 13-for-21 shooting. He added six rebounds and even got to play substantial fourth-quarter minutes.
WONDER REMEDY:
After receiving a third set of cortisone shots in both of his ankles on Thursday,
Deron Williams
had his third straight quality showing of the second half, scoring 15 points and dishing out a game-high 13 assists for his first double-double since Jan. 26. He shot just 5-for-17 from the field, though. His counterpart,
Jeremy Lin
, who received more cheers than D-Will during pregame introductions, had nine points and six assists.
JOE'S REPLACEMENT:
C.J. Watson
, starting in place of Johnson, finished with 17 points on 7-for-15 shooting. The Nets fell to 8-1 when Watson scores at least 11 points.
NOT SO HARD-EN, IS IT?
James Harden
, who had been averaging 34.8 points in his previous five games, was held to "just" 22 points on 7-for-14 shooting. He did close the third on a personal 7-0 run to give Houston a nine-point lead heading into the fourth. He also had a huge three-point play in the final period.
FIRST-HALF RECAP:
The Nets got to 25 points combined for Lopez and Williams, but the Rockets shot 58.1 percent, went 8-for-15 from 3-point range and put up 61 points to take an eight-point lead into the break. Houston led by as many as 10.
TENSIONS ESCALATE:
Bogans and Harden had to be separated after jawing at each other following a timeout with 4:24 left in the second quarter. Both were issued technical fouls. According to the YES Network, Bogans told Harden, "Don't cry to the refs."
ALLEY-OOP:
Lopez put home an alley-oop pass from Williams in the third quarter. It is believed to be just Brooklyn's third alley-oop conversion of the season.
WHO'S IN THE HOUSE?
Mikhail Prokhorov, Jay-Z, Questlove
UP NEXT:
Nets versus Grizzlies on Sunday at 7 p.m.
December, 27, 2012
12/27/12
12:34
PM ET
Before the 2012-13 campaign began, Nets owner Mikhail Prokhorov, who spent $330 million in the offseason, was asked what would constitute a successful season for his team.
"Our plan is maybe the conference finals," Prokhorov responded.
Nearly two months later, the Nets are 14-14 -- 3-10 in December.
Something has to change. But what? Let's take a look.
Fire Avery Johnson
: It seems like ages ago that Johnson was named Coach of the Month for October and November. His Nets, once a team that thrived playing lockdown defense and grind-it-out offense, have regressed significantly. Recently, Johnson's isolation-heavy system was questioned by his star player,
Deron Williams
. He is in the final year of his contract.
As the old saying goes, a coach is only as good as his players. That may very-well be the case here -- at least somewhat, anyway. Still, even if it is, the coach often takes the fall.
Why it could work: Bringing in a new coach could rejuvenate the roster. The Nets have talent and might benefit from a new voice and a new system.
Why it won't happen: The organization loves Johnson. He had horrible teams his first two years at the helm. As a result, he deserves more time to right the ship. They'd have to pay Johnson and his replacement.
Make a trade
: Johnson continues to tinker with the rotation, but to no avail. It might not be a bad idea for GM
Billy King
, known for his aggressiveness, to shake things up. Many of the players on the roster have massive contracts, but
MarShon Brooks
, who barely plays, is young and still has plenty of value given his low contract and potential.
Kris Humphries
, currently out because of a strained abdominal muscle, has recently fallen out of the rotation and could be another chip. There's always future first-rounders too. The Nets are built to win now, so why not?
Why it could work: The Nets could acquire a valuable piece(s) for two players that aren't going to figure prominently in the rotation.
Why it won't happen: Humphries is due $24 million over two years. Not exactly the most favorable contract. He's not eligible to be traded until Jan. 15 per CBA rules. Brooks makes just $1.16 million this season and won't be a restricted free agent until 2015-16. It's not easy to deal a player like that straight-up and get maximum value.
Change from within
: It's still early. But D-Will, who missed Wednesday night's 15-point loss in Milwaukee due to a bruised right wrist, is having the worst year of his career and is playing hurt. The Nets' season took a downward turn when
Brook Lopez
, who was playing his best basketball ever, got hurt and missed seven games due to a sprained foot. He hasn't been the same dominant player since returning.
Joe Johnson
has been valuable albeit inconsistent. The bench is no longer producing the way it once was. It might be worth a shot to start
Andray Blatche
or give Brooks and
Tyshawn Taylor
more playing time. What's the harm?
Why it could work: Blatche has thrived as a starter before and deserves more minutes. Avery Johnson has said his biggest issue is finding time to sit Joe Johnson because the Nets are much worse when he's off the floor. The statistics show as much. Brooks wanted to be Sixth Man of the Year. He finished second in the Rookie of the Year voting last season. Regardless of his occasional defensive lapses, he deserves an honest chance. So does Taylor, who played well Wednesday night.
Why it won't happen: Blatche has been tremendous with the second unit. Johnson loves playing veterans
Keith Bogans
and
Jerry Stackhouse
, but has been reluctant to put in Brooks, while Taylor is just a rookie.
July, 19, 2012
7/19/12
6:18
PM ET
The Nets have re-signed veteran guard Keith Bogans, the team announced Thursday.

Bogans, 32, played five games for the Nets before suffering a season-ending ankle injury Feb. 8 vs. Detroit.

The 10-year veteran has averaged 6.7 points and 2.9 rebounds per game, making stops in Orlando, Charlotte, Houston, Milwaukee, San Antonio and Chicago.
July, 16, 2012
7/16/12
9:36
PM ET
Keith Bogans will re-sign with the Nets, according to a New York Daily News report.

Bogans signed with the Nets as a free agent last season, but played in just five games before breaking his foot.

Assuming Bogans does sign, the Nets will have 11 players under contract.

February, 1, 2012
2/01/12
11:51
PM ET
The Nets had just eight healthy players going into Wednesday night's game -- and they needed every one of them to eke out a 99-96 victory over the flailing Pistons at Prudential Center.
"We went out there before the game and went into our little huddle, and I was like, 'Where's everybody at?'" said
Deron Williams
, who had 18 of his game-high 26 points in the second half, shot 12-for-21 from the field and added nine assists in 43 minutes.
"And they're like, 'This is it.' It's kind of hard to do layups before the game. You get tired because you're just running around and around."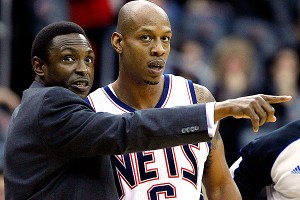 AP Photo/Julio CortezAvery Johnson had to put newly signed Keith Bogans to work immediately.
The Nets (8-15, 3-6 home) were supposed to have nine healthy players --
Johan Petro
was already ruled out with flu-like symptoms -- but about an hour before tipoff,
Anthony Morrow
was scratched with a sore left ankle.
Just like that, they were down to eight. And if you count
Keith Bogans
-- who hadn't played a game all season prior to being signed by the injury-depleted Nets on Wednesday after working out for the team on Tuesday -- it was more like 7¼.
"I told them they were the Great Eight," coach
Avery Johnson
said. "We normally give a set of nets to the guy that's most valuable player of the game, but we kind of cut it up in eight pieces tonight, because each one of them deserved it. Everybody contributed."
Johnson wasn't kidding.
• The Nets needed D-Will's first and only 3-pointer of the game with 4:47 left that put them up 93-88, along with his tenacious defense on Detroit's final possession, which ended with
Brandon Knight
missing a jumper from downtown that would've tied the game.
• They needed all 14 points
Kris Humphries
scored in the second half -- including the pair of free throws he knocked down with 5:22 remaining that put them ahead to stay.
• They needed all 11 points
Shawne Williams
scored in the second quarter.
• They needed all seven rebounds
Shelden Williams
grabbed in the first quarter.
• They needed all eight points
Jordan Farmar
scored in the fourth quarter.
• They needed all eight points
Sundiata Gaines
scored in the third quarter.
• They needed each and every one of
Jordan Williams
' career-high nine points and eight rebounds in a career-high 21 minutes.
• And perhaps most importantly of all, they needed Bogans' layup with 1:17 left -- his first two points as a Net and his only two points of the night -- that gave the team a 98-92 lead.
Bogans wasn't even close to being in game-shape. He didn't even know what town he was staying in after the game ended. After all, he'd been chilling in Orlando for the first third of the NBA season, waiting for a call.
But when the Nets had to have a basket, Bogans cut to the rim, and D-Will found him for a deuce.
"We hadn't had a cut like that to the basket all year," Johnson said.
"I just saw guys standing around, saw Deron with his back to the basket. He's been telling guys to cut all game, so I did, and he hit me," said Bogans, who ended up playing 17 minutes -- five more minutes than Johnson wanted to play him.
Ultimately, the Nets barely beat a 4-20 Pistons squad that has lost seven straight and became the first team in the NBA this season to lose all three games of a back-to-back-to-back stretch.
But the Nets were playing with just eight healthy players, so they'll take it.
Brook Lopez
remains out with a broken right foot.
Damion James
won't be back for the rest of the season after undergoing right foot surgery. Rookie
MarShon Brooks
is out indefinitely with a broken toe and was seen wearing a walking boot out of the team's locker room.
DeShawn Stevenson
will miss at least the next two weeks with a right knee injury. And
Mehmet Okur
won't return until late this week or perhaps early next week due to a sore lower back.
The Nets have obviously had plenty of reason to make excuses this season, from an assortment of injuries to a lack of continuity to a lack of talent. On Wednesday night, they went with their 12th different starting lineup in their first 23 games.
They nearly blew a 12-point lead, but managed to win the rebounding battle 44-31 while holding the Pistons to 5-for-18 from 3-point range. And when the final buzzer sounded, they walked off the court with a win, something that had eluded them in their previous two games.
"If you wanna be a good team, you gotta win the ones you're supposed to," said D-Will, who had his midrange fadeaway jumper going all night long and is now averaging 29 points and 8.6 assists in his last five games.
"They had a couple of key guys out as well. It was an important game for us at home, where we've been struggling so much, and this is a team that's been struggling, so we had to take advantage of that."
They did. And now they'll get some rest.
After playing 14 of their first 22 games on the road, the Pistons game started a stretch of six of eight at home -- a place where the Nets have struggled.
They took care of business there on Wednesday night, though, and they're going to have to continue to do so if they want to stay in the playoff hunt.
February, 1, 2012
2/01/12
10:02
PM ET
Recap
|
Box score
|
Photos
WHAT IT MEANS
: Eight was enough. The short-handed Nets -- who had just eight healthy players because of injuries -- barely took care of the lowly Pistons, winning 99-96 on Wednesday night at Prudential Center to snap a two-game losing streak.
The Nets (8-15, 3-6 home) shot 48.1 percent from the field, went 8-for-23 from the 3-point line and won the rebounding battle, 44-31. The Pistons (4-20) have now lost seven in a row and became the first NBA team this season to all three games of a back-to-back-to-back stretch.
Brandon Knight
missed a 3-pointer at the buzzer that would have tied the game.
D-WILL
: After a quiet first half,
Deron Williams
began to take over in the third quarter. The All-Star point guard scored 18 of his game-high 26 points in the second half -- using his unstoppable crossover dribble to set up his dazzling array of midrange pullups. He also added nine assists and shot 12-for-21 from the field.
TURNING POINT
: D-Will's 3-pointer that put the Nets up 93-88 with 4:47 left in the fourth quarter. Later, he found
Keith Bogans
for a key layup -- Bogans' first two points in his Nets debut -- with 1:16 left to make it 98-92.
THREE-WILL
:
Shawne Williams
had all of his season-high tying 11 points in the second quarter. He hit three 3-pointers, and the Nets closed the first half on a 13-5 run to take an 11-point lead into the locker room.
Shelden Williams
had seven of his 11 rebounds in the first quarter, while rookie
Jordan Williams
set career highs in points (nine), rebounds (eight) and minutes (20).
NOT-SO-FUN FACT
: The Nets have used 12 different starting lineups in their first 23 games.
STAT OF THE NIGHT
: Seven Nets scored at least nine points.
UP NEXT
: Nets vs. Timberwolves, 7:30 p.m. Friday.