Brooklyn Nets:

kevin durant
October, 6, 2014
Oct 6
3:45
PM ET
By
Mike Mazzeo
| ESPNNewYork.com
How might the
Brooklyn Nets
benefit from the announcement of the NBA's new television deal?
Let's take a look with some help from
Grantland's Zach Lowe
.
In a detailed breakdown that is well worth your time, Lowe writes that the salary cap is likely to increase significantly ahead of the 2016-17 season.
Durant
Why is that important? Because
Kevin Durant
, assuming he hasn't re-signed with Oklahoma City by then, will become an unrestricted free agent.
And because the Nets, armed with a boatload of cap space, are going to be all-in on a Durant pursuit, assuming he's available.
Assuming that Durant hits free agency under an $80 million-plus cap Lowe writes: The Nets, even with Deron Williams's atrocious contract still on the books, could suddenly find themselves with two maximum cap slots -- enough for Durant and a costar.
It is, of course, important to note that the entire NBA will be after Durant should he hit the open market, which means the Nets could have plenty of competition -- basically any team with the requisite cap space.
The Nets 2016-17 books look like this:
" Williams $22.3 million (early termination option)
"
Jarrett Jack
$6.3 million ($500,000 guaranteed)
"
Bojan Bogdanovic
$3.6 million (final year of his deal)
"
Sergey Karasev
$2.5 million (team option)
"
Mason Plumlee
$2.3 million (team option)
The Nets have made a conscious effort to create cap space for the summer of 2016. Now it's just a matter of seeing how much they have to spend and who is available.
Williams, if he returns to All-Star form, could have an interesting decision on whether or not to opt out and try and seek a long-term deal on the open market.
Same for
Brook Lopez
, who has a $16.7 million player option for 2015-16. It could make more sense for Lopez to opt in and become a free agent in 2016-17, the first year of the new TV deal.
Both players have an injury history, which may factor into their decision as well.
The Nets, of course, tried to set themselves up to get
LeBron James
in the summer of 2010. It didn't work, granted they were in New Jersey then.
They play in the $1 billion Barclays Center now and are projected to move into a $45 million practice facility in Brooklyn next season.
Given their connection to ex-minority owner Jay-Z, who happens to represent Durant, the Nets could have a chance. The summer of 2016 may be far away, but the chatter about Durant's future has only just begun.
January, 31, 2014
Jan 31
10:50
PM ET
By
Mike Mazzeo
| ESPNNewYork.com
NEW YORK -- And you thought the
Brooklyn Nets
had a good month.
Kevin Durant
capped off a dominant January with 26 points on 10-for-12 shooting in 31 minutes, leading the
Oklahoma City Thunder
to a 120-95 blowout win over the Nets on Friday night at Barclays Center.
Durant's game-by-game point totals in January: 24, 48, 21, 48, 30, 33, 37, 36, 54, 30, 46, 36, 32, 41, 33 and 26. His string of consecutive games with at least 30 points ended at 12 -- likely only because he didn't play the fourth quarter with the outcome already decided.
He is the first player to average at least 35 points, six rebounds and six assists in a month since
Michael Jordan
did it in November 1988.
Durant, who ended up averaging 35.9 points in the month of January, put on his show with President Bill Clinton sitting courtside.
WHAT IT MEANS:
Shaun Livingston
(16 points -- 10 in the first quarter) was in Durant's socks all night, defending him seemingly as tough as one can. Didn't matter. Durant dominated, hitting several shots with Livingston's hand in his face.
Serge Ibaka
went a perfect 12-for-12 from the field and chipped in 25 points, clearly benefiting from all the attention Durant was receiving.
The Nets (20-24) wrapped up January with a 10-3 record but were outclassed Friday night. And it won't get any easier Saturday night, when they take on the
Indiana Pacers
(35-10).
The Thunder (38-10) have won 10 straight. They shot 63.6 percent from the field and led by as many as 32.
The Nets turned their season around Jan. 2 in Oklahoma City -- Durant had "just" 24 points in that game on 8-for-13 shooting -- but looked very much like they did in 2013: disjointed. They were booed in the third quarter.
Deron Williams
(14 points, 1 assist in 31 minutes) was frustrated for much of the night. He had three turnovers in the first half. Will he move back into the starting lineup after coming off the bench for a sixth straight game?
All-Star
Joe Johnson
(nine points) and
Kevin Garnett
(no points, 0-for-4) were nonfactors.
Marquis Teague
made his Brooklyn debut in the fourth quarter.
THE LOOK:
All Nets coach Jason Kidd could do was close his eyes and shake his head as he looked at Durant near the Brooklyn sideline during a stoppage of play. Greatness acknowledging greatness is what it was.
INJURY STATUS:
The Nets missed long defender
Andrei Kirilenko
(right calf) and lost
Andray Blatche
(bruised left hip) in the second half. Williams was seen favoring his left knee/thigh. Have to see about their statuses for Saturday night.
UP NEXT:
Nets at Pacers on Saturday night.
January, 31, 2014
Jan 31
6:00
AM ET
By
Mike Mazzeo
| ESPNNewYork.com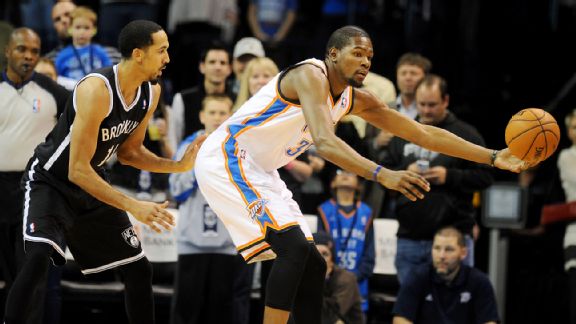 Mark D. Smith/USA TODAY SportsShaun Livingston on guarding Kevin Durant: "We gotta be ready to step up and take the challenge."
Using NBA.com's stats tool, I looked at each of
Kevin Durant
's 13 field goal attempts Jan. 2 and compiled his (unofficial) shooting splits based on which Brooklyn Net was guarding him each time:
Shaun Livingston
: 4-for-9
Andrei Kirilenko
: 3-for-3
Wide open: 1-for-1
Durant, who was in foul trouble, finished with just 24 points in 34 minutes that night, and the Nets were able to turn their season around in Oklahoma City with a 95-93 win over the Thunder on
Joe Johnson
's buzzer-beater.
Livingston also caused or helped force three turnovers by Durant.
"Honestly, it was a team effort. I just tried to get up and make him feel uncomfortable," Livingston said. "Russell [Westbrook] had just went down, so they were trying to figure it out. It was kind of circumstances, but they're a totally different team and he's a totally different player right now."
Durant, of course, is playing out of his mind right now, averaging 38 points on 54.4 percent shooting in his past 12 games.
"Anything over half court, it's like, an option [for him to score]. It's like a video game right now," said Livingston, who feels Durant is the best offensive player in the NBA. "But, again, it's a team effort, whether it's me, Alan [Anderson] or Kirilenko. We gotta be ready to step up and take the challenge."
The Nets are 10-2 in January, and their improved defense is one of the main reasons; they are giving up 5.8 fewer points per 100 possessions than they did in their first 31 games.
Brooklyn has gone to a smaller, longer starting lineup featuring Livingston (6-7), Anderson (6-6), Johnson (6-7),
Paul Pierce
(6-7) and
Kevin Garnett
(6-11).
"You just wanna always keep a body on a guy like that at all times, so like when we do switch, it's not that easy -- like coming off a screen wide-open because of our type of pick-and-roll coverages," Livingston said. "We're switching and we're up. And so now if it's not me, he has to go around, it's KG, Paul or somebody."
You really can't give Durant any room to operate.
"Showing [on pick and rolls], getting the ball out of his hands, putting pressure on him and, late game, making him find his teammates," Livingston said. "Because we know he can beat us, but trying to make his teammates -- not to say that they're not capable, but if you gotta pick, I'm gonna roll my dice on them."
In case you missed it:
Deron Williams
probably won't start Friday, AK-47 underwent an MRI and
Andray Blatche
is eyeing a spot on the Filipino national team.
Visiting a friend:
Mason Plumlee
,
Marquis Teague
and Matt Riccardi went to visit
Brook Lopez
. Looks like Lopez (season-ending foot injury) is in good spirits.
Stat of the day:
This season, the Nets have outscored their opponents by 47 points with D-Will on the court. Without him, Brooklyn has been outscored by seven points. Their offense rating is 108.8 (points per 100 possessions) with Williams, 83.7 without him. Field goal percentage splits: 49.2 with/43.2 without. Credit to ESPN Stats & Information for these.
Up next:
Nets versus Thunder
.
January, 30, 2014
Jan 30
10:00
AM ET
By
Mike Mazzeo
| ESPNNewYork.com
EAST RUTHERFORD, N.J. -- Right now,
Kevin Durant
is playing like few other players have ever played, scoring like few other players have ever scored.
And the 6-foot-9, 240-pound Durant, who looks like a power forward but plays like a shooting guard, continues to elicit comparisons to some of the NBA's all-time greats.
"He is
George Gervin
and
Dirk Nowitzki
all mixed into one,"
Brooklyn Nets
coach Jason Kidd said Thursday of Durant. "He's [6-9] and he can put it on the floor. He's shown he can pass and rebound, so he's shown he has the total package."
[+] Enlarge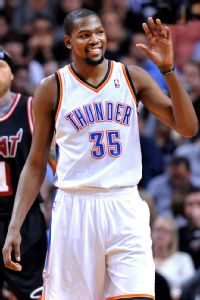 Steve Mitchell/USA TODAY SportsYou can't stop Kevin Durant. So the Nets hope to contain him Friday night.
Especially recently.
Ever since sidekick
Russell Westbrook
went down with yet another knee injury, Durant has turned into the best one-man show in the league, putting the
Oklahoma City Thunder
on his back and carrying them to the top of the Western Conference standings.
Just look at his point totals without Westbrook: 34, 33, 37, 24, 48, 21, 48, 30, 33, 37, 36, 54, 30, 46, 36, 32, 41 and 33.
He's scored 30 or more points in 12 straight games, averaging 38.0 points, 6.3 rebounds and 5.8 assists on 54.4 percent shooting in 39.8 minutes over that span.
On Wednesday night, 1B got the best of 1A, as Durant scored 33 points to lead the Thunder to a 17-point win over
LeBron James
and the
Miami Heat
. James may be the player you'd pick to start your franchise with, but Durant has emerged as the favorite to capture the 2013-14 MVP award.
Asked if Durant is the best offensive player in the NBA, Nets point guard
Deron Williams
simply responded, "Yeah."
"He's a 6-9 shooting guard. He's quick, fast, good in transition. When you contest his shot it doesn't really effect him," Williams replied when asked to expand. "He can post-up. He just doesn't have a lot of weaknesses in his game offensively.
"His numbers are crazy. It takes a special player to put up those types of numbers."
The Nets, who are expected to pursue Durant with an all-out full-court press in the summer of 2016, assuming he becomes a free agent then, as expected, have the "pleasure" of facing the 25-year-old phenom and the Thunder Friday night at Barclays Center.
Brooklyn is one of the few teams that have been able to contain Durant during his recent run of dominance, "holding him" to 24 points on 8-for-13 shooting in 34 minutes on Jan. 2 in Oklahoma City. With Durant in foul trouble, the Nets turned around their season that night, having gone 10-2 since getting off to a 10-21 start in 2013.
Long defenders
Shaun Livingston
and
Andrei Kirilenko
were able to contain Durant as best they could -- and it was more than good enough when
Joe Johnson
stuck yet another game-winning buzzer-beater.
"Well, he's one of those players, as I said, we probably have like 10 superstars in the league who are impossible to guard 1-on-1, and you have to work as a team to guard them, so he's one of those," Kirilenko said. "Lately he's been hot, making a lot of shots, shooting a great percentage, so all you need to do is just break his percentage. It's easy to say, but it's hard to do."
So how, exactly, do you contain Durant?
"He's seen everything: from long guys to short guys to fast guys to tall guys," Kidd said, "so it's just a matter of trying to give him different looks and get him off balance. But right now, the stretch he's going through is like you can put two or three guys on him and he'll find a way to score."