Brooklyn Nets:

Kobe Bryant
February, 6, 2013
2/06/13
2:40
AM ET
By
Mike Mazzeo
| ESPNNewYork.com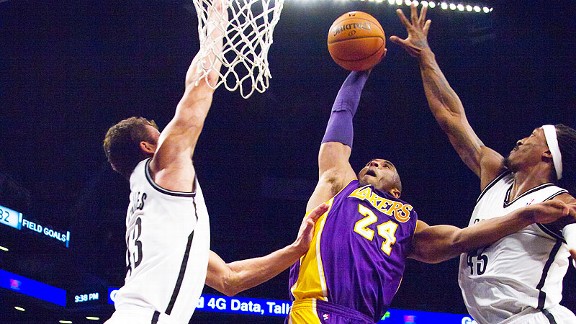 Nathaniel S. Butler/NBAE/Getty ImagesKobe Bryant had 21 points, eight rebounds and four assists in his first visit to the Barclays Center.
It didn't take long for
Los Angeles Lakers
superstar
Kobe Bryant
to transform the Barclays Center into his house.
In his first-ever visit to Brooklyn, Bryant took over in the fourth quarter and heard "MVP!" chants at the end of his team's 92-83 victory over the
Brooklyn Nets
on Tuesday night.
"From my perspective, it's pretty damn cool," Bryant, who finished with 21 points, eight rebounds and four assists in 37 minutes, said of the chants. "I enjoy it immensely.
"There's a lot of energy in the building and you can feel it. It's kind of good electricity in the air. I like playing here. This building, it's a pretty good building to play in."
Bryant, now in his 17th NBA season, gave the sellout crowd of 17,732 -- many of them Lakers fans -- a performance they won't soon forget. He executed a smooth ankle-breaking crossover on
Gerald Wallace
before hitting a pull-up jumper in the third quarter. Then, late in the fourth, Bryant drove the lane and finished off an emphatic one-handed dunk over Wallace and
Kris Humphries
to give the Lakers an 82-80 lead.
"I was surprised the lane was so wide open... It parted like the Red Sea," Bryant said. "I was feeling like Moses."
The 34-year-old capped off his night with a driving layup and a steal in the final 1:42.
"Like I said, the fans here really appreciate the game," Bryant said. "You get a lot of 'oohs' and 'ahs' from crossovers and things like that. It's a fun place to play."
The Nets have enjoyed a better home-court advantage in Brooklyn (18-9 at Barclays Center) than they did in New Jersey -- especially during their lame-duck years in Newark (granted, they weren't winning).
But on Tuesday night -- with all the yellow and purple in attendance -- that was somewhat easy to forget.
"I've played a lot of games with the Lakers in Salt Lake City and that arena was always very good for Utah,"
Deron Williams
, who scored just four of his 15 points in the final three quarters, said. "But when the Lakers came to town, there's something about them, they have fans that really travel well.
"I didn't really notice that it that much to be honest. I didn't think that was a big deal."
February, 5, 2013
2/05/13
3:10
PM ET
After losing 10 of their first 12 games in 2013, the Lakers have won five of their last six heading into Tuesday night's matchup against the Nets at Barclays Center.
The Lakers will be without
Dwight Howard
(back) and
Metta World Peace
(suspension) on Tuesday, but they're still feeling pretty good about themselves right now.
[+] Enlarge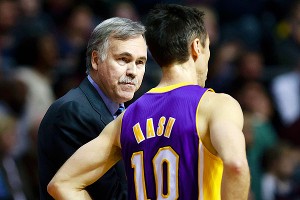 Rick Osentoski/USA TODAY SportsEx-Knicks coach Mike D'Antoni makes his second trip to the Big Apple since taking the Lakers job.
"We're starting to figure it out a little bit," coach Mike D'Antoni said after his team's shootaround Tuesday morning in Manhattan.
"We're playing very well,"
Kobe Bryant
said. "I think we've found a pretty good groove."
"We feel much better,"
Steve Nash
said. "We feel more positive. But we still have a ways to go."
The Lakers defeated the Nets in their previous meeting this season, 95-90 in Los Angeles on Nov. 20, and have won nine straight games in the series. But Bryant expects a tough game Tuesday night.
"They've been playing very well since the coaching change," Bryant said of the Nets, who are 14-5 since P.J. Carlesimo took over for Avery Johnson. "Playing with a lot of energy, playing very well at home, and coming off a big win against Chicago. ... It's gonna be tough, but we're looking forward to it. It's a good test to see where we are."
February, 4, 2013
2/04/13
8:43
PM ET
By
Mike Mazzeo
| ESPNNewYork.com
EAST RUTHERFORD, N.J. -- Kobe has morphed into "Magic Mamba."
In the past six games,
Los Angeles Lakers
superstar
Kobe Bryant
has averaged 10.2 assists while never scoring more than 21 points. The Lakers are 5-1 over that span.
[+] Enlarge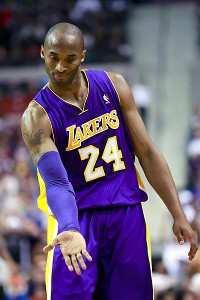 Rick Osentoski/USA TODAY SportsKobe Bryant has been lending a helping hand.
"He's always had the ability," Nets interim coach P.J. Carlesimo, whose team will play host to the Lakers on Tuesday night, said of Bryant's recent run of assists.
"His game is such that he can can play at least three positions, easily point, 2 or 3, without any problem," Carlesimo said. "He's had games where he's had tons of assists, tons of rebounds, tons of points.
"Kobe is easily one of the most versatile players in the league with the things he can do with the basketball, so no, I am never surprised. Kobe could have a game where he has 17 assists and they win going away, and he doesn't get double-digit points. It won't happen too often, but he can be that kind of facilitator if it's needed."
For his career, Bryant has scored 30,813 points, while dishing out 5,677 assists. He averaged a career-high 6.0 assists per game in 2004-05.
Nets guard
MarShon Brooks
always looks forward to matching up against Bryant, the player he idolized growing up.
"I don't think I'll ever get over that, you know?" Brooks said. "Just looking forward to it."
January, 7, 2013
1/07/13
3:36
PM ET
By
Mike Mazzeo
| ESPNNewYork.com
EAST RUTHERFORD, N.J. --
Brooklyn Nets
center
Brook Lopez
responded to the latest trade speculation surrounding himself and
Los Angeles Lakers
center
Dwight Howard
the same way he has the past two seasons.
"It is what it is," Lopez said after Monday's practice. "I've said how I've dealt with it before. Even when this was a nonissue for the months or whatever the season has gone on, I didn't read any of the media stuff that anyone put out."
[+] Enlarge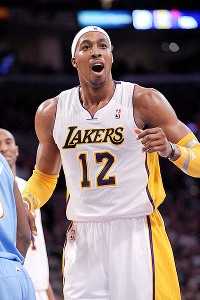 Noah Graham/NBAE/Getty ImagesDwight Howard and the Lakers fell to 15-18 with their loss to Denver on Sunday.
"I don't really know what to say that would be new, honestly," Lopez added. "It's the same old for me, you know?"
A
report
in Monday's Daily News speculated that the Nets and Lakers could begin trade talks surrounding Lopez and Howard because sources told the newspaper that Howard nearly came to blows with teammate
Kobe Bryant
recently. But two Lakers sources disputed the report to ESPNLosAngeles.com, with one source telling Ramona Shelburne, "it's simply not true."
On Monday,
Bryant tweeted a photo
of him and Howard pretending to square off, with a smiling Mike D'Antoni separating them. The tweet read, "The mamba vs d12 !! It's on lol."
Nets point guard
Deron Williams
was surprised to hear that a trade report had resurfaced, saying, "Are you serious?"
Asked how the team would handle it, he responded, "I don't know. Hopefully it doesn't become an issue."
Lopez, 24, is having the best season of his career, averaging 18.9 points, 7.4 rebounds and 2.3 blocks per game.
"I just think he's confident," Williams said. "He's not looking over his shoulder every five minutes thinking he's gonna get traded, which definitely will help as far as his focus and him mentally being ready to play. I think he's just being so aggressive on both ends and that's something that we love to see."
Howard, 27, who is coming off back surgery, is having a down year, averaging 17.3 points, 12.4 rebounds and 2.6 blocks per game for the struggling Lakers. He will miss at least a week with a torn labrum in his right shoulder. He will become a free agent at season's end.
Howard wanted to come to Brooklyn during the offseason, but the Nets and
Orlando Magic
couldn't agree on a trade; Howard was eventually dealt to Los Angeles.
ESPN.com's Chad Ford has reported that Howard still wants to play in Brooklyn, but at this point, it would be difficult for the Nets, given their cap situation, to get him unless they made a trade. During the offseason, King offered Lopez,
Kris Humphries
,
MarShon Brooks
and four first-round draft picks to Orlando for Howard. But Magic GM Rob Hennigan rejected it. It is unknown if the Lakers might accept a similar proposal, should King decide to engage them in trade talks.
Nets interim coach P.J. Carlesimo is off to a 5-1 start and all indications are he'll likely finish out the season. But if the Nets are serious about targeting 11-time NBA champion Phil Jackson to fill the position on a permanent basis next season, a roster built around Howard, Williams and
Joe Johnson
might be more appealing in an effort to convince Jackson to come out of retirement.
December, 12, 2010
12/12/10
6:34
PM ET
By
Mike Mazzeo
| ESPNNewYork.com
The difference between the defending NBA champion Los Angeles Lakers and the New Jersey Nets didn't become apparent until the final 2 minutes, 44 seconds Sunday afternoon at Prudential Center.

That was when Kobe Bryant decided he'd had enough.

Black Mamba was finally ready to close.

Bryant's dribble-drive penetration led to assists on consecutive layups by Pau Gasol and Lamar Odom, sparking an 8-0 run that broke an 87-87 deadlock and sent the Nets to their seventh consecutive loss -- a season-worst -- by a final of 99-92.

"Kobe Bryant. That's the difference." Nets head coach Avery Johnson said. "They throw him the ball. And he just made some plays. He beat some of our coverages. He made the correct pass at the right time.

"At the end of the day, he's a great closer."

During his postgame press conference, Johnson spoke highly of his young and inexperience team. He raved about how the Nets held the Lakers to just 41.5 percent shooting, limited Gasol to 6-of-19 from the floor and scored 58 points in the paint, despite going 4-of-20 from 3-point range. He was proud of the way they fought back from a double-digit second-half deficit, eventually forging an 87-87 tie with 2:44 left.

But from that point on, the Nets went 2-of-10 from the field. And that's when the Lakers -- carried by their superstar -- took over.

In the end, the difference wasn't youth and inexperience. It was personnel -- and namely Bryant.

"Today, we did a good job spacing out, particularly when I had isolations," said Bryant, who overcame a 1-of-6 first half to drop in a game-high 32 points -- 25 of which came in the second half -- on 9-of-19 shooting. "Guys were cutting. They weren't just standing around."

After Gasol put the Lakers up 88-87 with a free throw, the Nets stood watched Harris try to create space for himself and flip up a running jumper that clanged off the iron. Then, after Bryant got inside the paint and fed Gasol for an easy deuce, it was Harris again on an isolation, this time bricking a contested fadeaway jumper. Bryant followed by orchestrating another drive and dish -- this one to Odom -- and all of a sudden the disparity was five. A turnover by Brook Lopez led to an Odom 3-pointer from the top of the key seconds later.

Just like that, the gap was eight. And just like that, the game was over.

"I can't get down on our guys," said Johnson, whose team dropped to 6-18. "Our personnel is what it is. These guys have been battling since Sept. 25."

There's only so much battling, though, that a team full of supporting cast members can do. Because when it comes down to it, championship teams have the personnel to be able to close out games. And looking up and down the Nets' roster, which features 11 new players from last season's 12-70 campaign, there aren't any true closers.

"I think they have a lot of players that do the same thing, in essence," Bryant said. "When you're rebuilding, you've got to find pieces of the puzzle and put them together. Mix and match until they fit. And have versatility. On our team here, we have players that do all different things, so the pieces fit extremely well together."

Between the veteran Devin Harris (16 points, 10 assists), emerging 22-year-old center Brook Lopez (25 points, nine rebounds), explosive 19-year-old rookie Derrick Favors (eight points, five rebounds) and versatile 23-year-old swingman Terrence Williams (seven points, four rebounds, three assists), the Nets have several players they can build around.

But they still lack a go-to option like Bryant they can defer to in crunch time.

In the offseason, they'd hoped that option would eventually be LeBron James. It didn't happen. And now, it appears that a Carmelo Anthony trade/extension isn't going to happen either.

So, just as it's happened earlier in the season with the game on the line, the Nets are going to be finishing second and ending up with the consolation prize, rather than claiming the winner's hardware. They are just 5-10 in games decided by 10 or fewer points and 3-8 in games decided by five or fewer points.

Still, Johnson holds out hope that they'll eventually be ready to close games.

When? He doesn't know.

"Don't get me wrong, I don't like consolation prizes, I don't coming in second," But I like maximum effort. We're not ready to close these types of games yet. Hopefully we'll get there one day."

They won't if they don't have a Bryant, James or Anthony type on their roster.

That much is certain.
NBA
NHL
COLLEGE BASKETBALL
MLB
NBA
NHL
COLLEGE BASKETBALL
MLB