Brooklyn Nets:

Lionel Hollins
June, 10, 2013
Jun 10
7:58
PM ET
By
Mike Mazzeo
| ESPNNewYork.com
June, 7, 2013
Jun 7
1:34
PM ET
By
Mike Mazzeo
| ESPNNewYork.com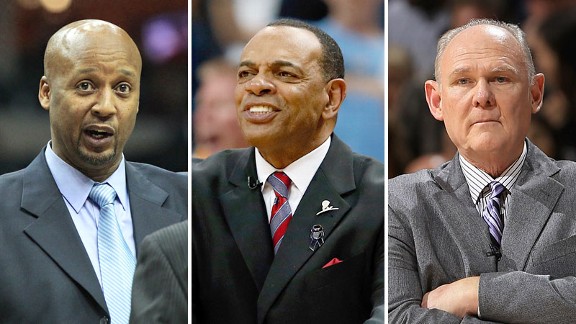 USA TODAY Sports, Getty ImagesBrian Shaw? Lionel Hollins? George Karl? Will any of these guys fulfill the Nets'
five-
two-year plan?
Who will the Nets hire as their next head coach?
Seeing as how the organization has been extremely quiet on that front, let's take a look at where things appear to stand as of now:
Brian Shaw:
Shaw, an assistant in Indiana, is at the top of Brooklyn's list to replace P.J. Carlesimo, according to ESPN and other media reports. Shaw is expected to interview with the Clippers as soon as Monday, and is also seen as a front-runner for their job. While Nets players said on breakup day that they wanted a head coach with experience, Shaw doesn't have any, but he was voted the top assistant in the league in a recent poll of NBA GMs. If the Nets are looking for a "fresh face" as the Daily News reported Friday, Shaw could very well be their guy.
Lionel Hollins:
The Nets have been granted permission to interview Hollins, ESPN.com reported earlier this week, but Brooklyn has not spoken to him. Hollins did a terrific job in Memphis this past season, guiding the Grizzlies to the Western Conference finals. Still, it seems like he's not as high on the Nets' list as Shaw. Hollins could have interest from the Clippers and Nuggets as well.
George Karl:
A league source told ESPNNewYork.com that it's "highly unlikely" that the Nets will reach out to Karl, who won Coach of the Year honors, about their vacancy. Karl's 80-105 career playoff record isn't very intriguing to the Nets, who have their sights set on winning a championship and fulfilling owner Mikhail Prokhorov's five-year plan, which has been reduced to two. Perhaps the veteran coach ends up in Los Angeles or Memphis.
Other big names:
The Nets reached out to Jeff Van Gundy and reportedly Larry Brown, but there doesn't appear to be any traction there.
Shooting for the stars:
The team's coaching search began with a call to Phil Jackson, but the 11-time coaching champion said thanks but no thanks. Then the Nets tried to call the Celtics for permission to talk to Doc Rivers, but were rebuffed.
Mystery candidate:
Maybe the Nets decide to make a run at someone whose name hasn't surfaced yet, perhaps a coach overseas or another assistant like Shaw. At this point, nothing would surprise us. The draft is in two weeks, but the Nets don't feel any pressure to hire a coach by then.
June, 6, 2013
Jun 6
8:33
AM ET
Negotiations between the
Memphis Grizzlies
and representatives for head coach Lionel Hollins have gone dormant since the team granted Hollins permission Sunday to speak to other teams, Ramona Shelburne of ESPNLosAngeles.com reported Wednesday night, citing a source with knowledge of the situation.
The Grizzlies granted permission to the
Los Angeles Clippers
to speak with Hollins on Tuesday night, sources told ESPN. The
Brooklyn Nets
have also been informed by the Grizzlies that they have permission to interview Hollins, sources said, but Brooklyn has not asked again after its initial request was rebuffed after Memphis' playoff elimination.
Hollins is still under contract with the Grizzlies through June 30. Then, assuming he doesn't re-sign with Memphis, Hollins can become a free agent.
Click here for the full news story.
June, 5, 2013
Jun 5
6:02
PM ET
A source confirmed to ESPN The Magazine's Chris Broussard that the
Brooklyn Nets
were denied permission to speak with
Memphis Grizzlies
coach Lionel Hollins. The source told Broussard the Nets are unsure whether they'll ask to speak to Hollins again.
Hollins is still under contract with the Grizzlies through June 30. Then, assuming he doesn't re-sign with Memphis, Hollins can become a free agent.
Yahoo! Sports reported that the Nets have been granted permission to speak with No. 1 target Brian Shaw about their vacancy.
Click here for the complete news story.
May, 29, 2013
May 29
3:38
PM ET
By
Mike Mazzeo
| ESPNNewYork.com
May, 28, 2013
May 28
1:55
PM ET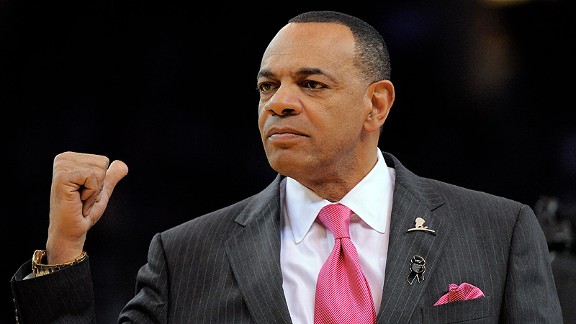 Kyle Terada/USA TODAY SportsNow that the Grizzlies are out of the NBA playoffs, could coach Lionel Hollins land in Brooklyn?
The Memphis Grizzlies were eliminated from the playoffs on Monday night.
Let the Lionel Hollins sweepstakes begin. Hollins won't become a free agent until after June 30.
From
ESPN.com's Marc Stein
:
The Brooklyn Nets and Los Angeles Clippers have not yet formally requested permission to interview Memphis Grizzlies coach Lionel Hollins for their respective coaching vacancies.

But it will happen shortly.

Possibly as early as Tuesday.

The Grizzlies' stunning four-game elimination from the Western Conference finals means Hollins' uncertain future is finally going to be resolved, with the Nets and Clippers -- especially Brooklyn -- known to have serious interest in the 59-year-old coach.

A big-money offer from Nets billionaire owner Mikhail Prokhorov, according to industry sources, is seen in Memphis as the worst-case scenario that would prevent the Grizzlies from keeping their occasionally cantankerous coach.
May, 27, 2013
May 27
12:41
PM ET
By
Mike Mazzeo
| ESPNNewYork.com
The Grizzlies trail the Spurs 3-0 in their Western Conference finals series, meaning Memphis coach Lionel Hollins is essentially a loss away from becoming a free agent.
The Nets and Clippers are expected to reach out to Hollins in order to gauge his interest in their head-coaching vacancies.
Before L.A. decided it wasn't going to bring back Vinny Del Negro, many believed the Brooklyn job was best opening in the league. Even Phil Jackson said it was the best offer he received recently.
It's hard to give the Clippers the nod over the Nets with Chris Paul's future in limbo, but assuming he re-signs, which team would you rather coach?
According to basketball-reference.com, the Clippers have $47.6 million committed in salaries next season; Paul,
Lamar Odom
,
Chauncey Billups
,
Matt Barnes
,
Ryan Hollins
and
Ronny Turiaf
are all free agents. The Nets have about $84 million in salaries already committed in 2013-14;
Andray Blatche
,
C.J. Watson
,
Keith Bogans
and
Jerry Stackhouse
are all free agents.
Owner Mikhail Prokhorov is committed to winning a championship -- his five-year plan has been reduced to two -- and his spending reflects that. Still, would a coach want to deal with what P.J. Carlesimo referred to as unrealistic expectations given that the roster is a quality one but perhaps not a title caliber one? Meanwhile, Donald Sterling doesn't have a good reputation around the league, but Paul is arguably the league's best point guard and
Blake Griffin
is only 24.
So again, which coaching job do you think is more attractive: the Nets or the Clippers? Let us know in the comments section below.
May, 10, 2013
May 10
4:19
PM ET
By
Mike Mazzeo
| ESPNNewYork.com
Couple interesting notes on the Brooklyn Nets' coaching search:

• Colleague Chris Broussard tweeted Thursday that the Nets would be interested in Lionel Hollins if he doesn't re-sign with the Memphis Grizzlies after the season.

• Regarding Doc Rivers' possibly trying to get out of his contract to coach the Nets next season, Boston Celtics GM Danny Ainge told WEEI radio, "I think Doc will be coaching the Celtics next year."

ESPN colleague Stephen A. Smith has reported that the Nets are expected to ask the Celtics for permission to talk to Rivers.

February, 24, 2013
Feb 24
6:50
PM ET
By
Mike Mazzeo
| ESPNNewYork.com
Memphis Grizzlies
coach Lionel Hollins says he wasn't trying to embarrass the
Brooklyn Nets
by leaving his starters in late in the fourth quarter of his team's 101-77 victory on Jan. 25 -- he was just trying to win the game.
Hollins also offered a less than heartfelt apology to Nets power forward
Reggie Evans
, who was upset that the Grizzlies elected to re-insert center
Marc Gasol
(20 points and nine rebounds) leading by 22 with 3:21 left in the game.
"Apologies to Reggie Evans, but I wasn't thinking about the Nets and trying to embarrass them and all that stuff," Hollins said prior to Sunday night's Nets-Grizzlies game at Barclays Center.
"If Reggie Evans wants to take umbrage at what happened with 11 minutes go in the fourth quarter at the start of the fourth quarter when they take all their guys out and we leave our guys in, you know, that's on him. By the way, Reggie Evans has played great against us every time we've played him."
Evans said following the 24-point loss: "We won't be forgetting. ... We're definitely going to look forward to when that day comes where we play (Memphis again)."
Evans wasn't fired up on Sunday morning, though, saying, "To be honest with you, I haven't really been thinking about that junk because we got beat by Houston the following day."
Hollins explained his decision to leave his starters in.
"We were beat by 20 three times in a row. The other team can do what they want when they're up by 20 points. It doesn't matter," Hollins said. "We don't deserve any kind of courtesies, and I wasn't trying to leave my starters in the game. It just so happened they were in the game and we couldn't get them out. I don't know. Respect comes from going out there and battling and doing your job and competing and being in the game.
"We've been out of the game and can't say anything about what anybody does to our team. They want to dance and do whatever they want to do, we should've stopped them on the court and that would've stopped all the dancing."
Evans said the unwritten rule during his days as a player is when the losing team pulls its starters, so does the team that's way ahead on the scoreboard.
"We were 21 down in Philly two years ago, we came back from 27 down in the third quarter, we come back and win the game going away," Hollins said. "You have to do what you have to do as a coach."