Brooklyn Nets:

London 2014
January, 14, 2014
1/14/14
2:45
PM ET
By
Mark Woods | Special to ESPNNewYork.com
LONDON –- The last time
Andrei Kirilenko
walked off the court at The 02 arena, he had an Olympic bronze medal around his neck.
For the
Brooklyn Nets
forward, London has been a happy hunting ground.
[+] Enlarge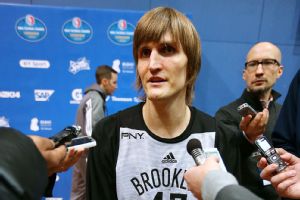 Nathaniel S. Butler/NBAE/Getty ImagesAndrei Kirilenko has some fond memories of London.
"I played here [in the Euroleague] against London Towers," recalls the Russian. "I still remember those games. Every year I come back on vacation, so I have a lot of good memories here."
Ideally, he would like to make one more in Thursday's game here when the Nets play the
Atlanta Hawks
.
For the league, it is the fourth regular-season game in Europe, following in the path of the Nets' doubleheader against Toronto in 2011 and last year's clash between the Knicks and the
Detroit Pistons
.
But amid the talk of whether the NBA could expand to Europe, another intriguing debate bubbles on: How would the best teams on this side of the Atlantic fare if they were thrown into battle against the best from across the pond?
Kirilenko is better-placed than most to judge. During the abbreviated lockout season of 2011-12, he stayed home to play in the Euroleague for CSKA Moscow, taking them to the final while being named MVP.
Their lineup then also included ex-Nets center
Nenad Krstic
, current
Minnesota Timberwolves
guard
Alexey Shved
and a posse of Euro vets.
Could they, or one of the present-day giants, be competitive in the NBA?
"If you look at the two exhibition games CSKA played in the USA this season, they beat Minnesota in overtime and lost by two or three points to San Antonio," Kirilenko told ESPN.com.
"It's very close level-wise. The problem is the length of the season. In Europe, you play two games a week. In the NBA, you might play five games a week. This is the huge difference. From the physical standpoint, it's going to be very difficult to sustain that season."
Kirilenko -- who confirmed he will not play for Russia in September's FIBA World Cup in Spain -- will catch up this week with a group of friends who have flown in from his native land to see him in action.
He'll likely also get a rare reunion with Nets principal owner Mikhail Prokhorov, who is scheduled to attend.
"I haven't seen him; I think he was only in [Brooklyn] for one game," Kirilenko said.
"If he sees us, we'll see him."
PRUNTY RE-UPS:
Nets lead assistant Joe Prunty has agreed to a new deal to remain as the head coach of Great Britain's national team for this summer's EuroBasket qualification round.
Team sources confirmed that approval has been granted for him to take the helm for a second campaign after guiding an inexperienced side to the brink of the second round of the finals in Slovenia in September 2013 -- without the services of
Luol Deng
of the
Cleveland Cavaliers
and
Joel Freeland
of the
Portland Trail Blazers
.
British Basketball has called a press conference Wednesday to formally announce the return of Prunty, who was an assistant in Cleveland before coming to Brooklyn last summer.
January, 14, 2014
1/14/14
12:28
PM ET
By
Mark Woods | Special to ESPNNewYork.com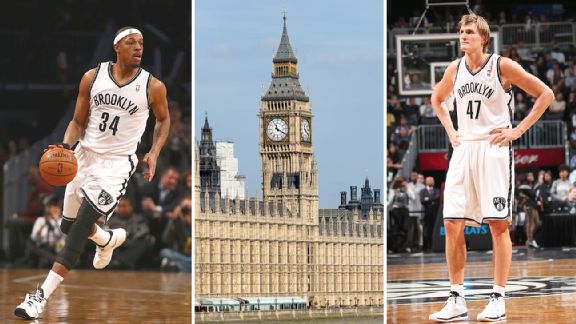 Getty ImagesPaul Pierce plans some sightseeing as Andrei Kirilenko & Co. try to get in gear for Thursday's game.
LONDON –- No sleep till Brooklyn? Try no sleep in London.
The Nets went straight into practice Tuesday morning after their trans-Atlantic trip, and more than a few members of the contingent confessed to fatigue as they prepare for Thursday's game with the
Atlanta Hawks
in the British capital.
But, said
Paul Pierce
, shut-eye can wait.
The veteran has made this long-distance journey before, for a preseason matchup with the
Boston Celtics
in 2007. Although some might privately grumble about having to divert overseas in the middle of what has become a tougher than expected season, Pierce's sightseeing schedule is already mapped out.
"You cherish every time you get to be places you don't know," he said. "Even though I've been a couple of times, it's been six, seven years since I was here. I probably will go to the London Eye, check out Big Ben, take a couple of pictures."
There is little opportunity to be idle. The NBA will use what has become an almost annual trip to press the flesh with sponsors and roll out the kind of offcourt activities normally reserved for the All-Star Game.
That means VIP receptions, a NBA Cares clinic and assorted events designed to promote the league to a British audience that still ranks basketball far below soccer on the popularity list.
Yet this game -- at the 19,000-capacity 02 Arena -- sold out within 24 hours, a quicker pace than on the Nets' last visit to face the
Toronto Raptors
in 2011.
And there is still talk that, one day, there will be a European Division with franchises in cities like London, Paris, Madrid and Moscow.
"The growth of the international fans has come because of the international players," Pierce said. "The more and more players you see from international parts of the world, the more the fan base of the NBA grows. That's really the biggest part of it; you have players from China, from Germany, from all over the world.
"When you have that type of culture in the NBA, it spreads. I can't even tell you how many players from different countries there are in the NBA. Just in this team alone, we have four, five, six. That says a lot about the way the game's going."
Still, some remain skeptical about the concept of fulfilling what was a long-term vision of outgoing NBA commissioner David Stern by adding teams outside North America.
Nets owner Mikhail Prokhorov has extensively promoted the Brooklyn brand in his native Russia, mirroring much of the outreach undertaken by the
Houston Rockets
when
Yao Ming
opened a door into China.
One-off regular-season contests, TV deals, jersey sales? Simple. But frequent flyer miles to Europe? Not so fast.
"I don't think it's realistic only because of the traveling," Nets forward
Andrei Kirilenko
said. "Maybe if it's going to be a whole division, like the Euroleague is a division for the NBA, like the West or Eastern Conference -- so once a year you go to another continent and play three games there and then come back and adjust, maybe it's going to work.
"But it's definitely not going to work coming to London then coming back. It's physically impossible."
ALL BUSINESS:
Rested or not, Jason Kidd put his team through a light practice Tuesday at London's Imperial College at what was the equivalent of breakfast time in New York in a bid to get his team quickly acclimated to British time (five hours ahead of Eastern Standard Time).
Neither
Brook Lopez
nor
Deron Williams
have joined the traveling party with assistant coach John Welch (personal reasons) also remaining in the United States.
Williams will continue to get treatment on his injured ankle, but Kidd has yet to determine whether the All-Star will be available when Brooklyn returns to face the Knicks on Monday at Madison Square Garden.
"He's going through his rehab, and we'll see where he's at when we get back," the Nets head coach told reporters.
With five wins out of their past six, the one thing Kidd will hope his players have not lost en route is that momentum as they look to match their victory over Atlanta on Jan. 6.
Their loss Saturday to the Raptors apart, there is a feeling among the coaching staff that greater consistency in the rotation will be vital in making up lost ground in the Eastern Conference playoff race.
And,
Joe Johnson
added: "We've kind of figured out some minor things and to roll with what we've got. And we've been doing a pretty good job of guys helping one another on both ends of the floor. We're just trying to develop some kind of cohesiveness, just trying to string some wins together."
The role of
Shaun Livingston
in filling the void left by Williams' latest injury could prove vital.
The eighth-year guard struggled against the Raptors, notching just eight points and three assists, but he has been a steady hand during Brooklyn's resurgence, featuring alongside Johnson, Pierce and Kirilenko at various times as Kidd has shuffled his lineup.
"It's been fun because he's a different threat," Johnson said. "He's a different point guard, a big point guard who's pass-first but who can really score the basketball.
"He has a mismatch every night, and he helps us all out with it because he draws so much attention by getting in the paint and making easy plays, making the guys around him better."