Brooklyn Nets:

Mark Jackson
June, 30, 2014
Jun 30
4:00
PM ET
Jason Kidd is gone to Milwaukee
. The Nets now need a new coach for the second time in a year.
Who will be the next head coach of the
Brooklyn Nets
? Let's take a look at five potential candidates:
1. LIONEL HOLLINS

Skinny:
The former Grizzlies coach led Memphis to three consecutive playoff appearances in his last three years there. In 2012-13, they won 56 games and advanced to the Western Conference finals before being swept by San Antonio. Hollins' contract was ultimately not renewed reportedly due to "philosophical differences" he had with management.
Why it could be him:
A league source told ESPNNewYork.com's Ian O'Connor that Hollins has emerged as a "very serious candidate."
"In a lot of ways, he makes the most sense," the source said. "He represents stability, and stability is very important right now. He rules with an iron fist and gets a lot out of his players, so he'd be very high on the list right now, and likely the leader."
One potential downside to this hire is that it's a safe but not sexy pick. Hollins isn't a marquee name to draw fans to Brooklyn. Ownership may want to make more of a splashy move like they did last year by hiring Jason Kidd.
2. ETTORE MESSINA
Skinny:
The Nets could take a look at European coaches and Messina is regarded as one of the best coaches in Europe, having won four Euroleague championships. He also served as an assistant coach/consultant to the Lakers in 2011-12. There were recent reports that Messina was leaving CSKA Moscow to join the
San Antonio Spurs
' coaching staff. Spurs GM R.C. Buford denied it.
Why it could be him:
Messina is a contender, sources told ESPN.com. He has a strong relationship with Mikhail Prokhorov, having coached CSKA Moscow while Prokhorov owned the Russian team. But would
Kevin Garnett
and
Paul Pierce
want to play for someone who hasn't been a head coach in the NBA?
3. MARK JACKSON
[+] Enlarge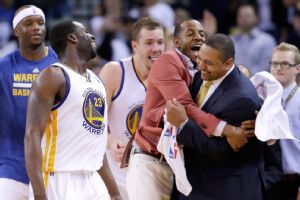 AP Photo/Marcio Jose SanchezMark Jackson was very successful with Golden State; would that translate to Brooklyn?
Skinny:
Brooklyn's own Mark Jackson attended Bishop Loughlin and starred at St. John's before successfully enjoying a long and successful NBA career, including time with the Knicks. He was a TV color commentator for the Nets and ESPN before becoming the coach of the
Golden State Warriors
. Jackson, who is currently an NBA analyst for ESPN, was there for three seasons, making the playoffs in the last two. However, he had a messy split from Golden State after reportedly clashing with ownership.
Why it could be him:
All indications are Jackson was beloved by his players and he could command the respect of veterans like Garnett and Pierce, should both return. However, he's strong-willed, opinionated and was a staunch supporter of Kidd which all could make the Nets shy away after their divorce with Kidd. If Jackson gets a sit-down with the Nets, though, he has the charisma and personality to dazzle and win an interview.
4. GEORGE KARL
Skinny:
Karl has 25 years of head-coaching experience in the NBA. He recently guided the
Denver Nuggets
to a 57-win season and was named Coach of the Year in 2012-13. He led the Nuggets to the playoffs in all nine of his seasons there, but only once got past the first round. The two sides ultimately parted ways. Karl currently works as a TV analyst for ESPN.
Why it could be him:
He's respected throughout the league, and fits the bill as an experienced, win-now coach for a veteran, win-now team, if the Nets decide to go in that direction. He's great with the media, but also not shy about expressing his opinions.
5. THE COLLEGE RANKS
Skinny:
The Nets will likely take a look at what possibilities exist on the college level, where the big names include Florida's Billy Donovan and Connecticut's Kevin Ollie.
Why it could be one of them:
Donovan has been a hot name for years whenever there's a pro opening. Ollie's stock is on the rise and he's one of the hottest coaching prospects there is. Ollie is a former Net, as well. Both won NCAA titles. But luring a championship college coach away from school is a difficult and challenging prospect and this may be an unlikely avenue for the Nets. Also, veterans like Pierce and Garnett may not want to play for a coach who will be coaching on the pro level for the first time.
June, 29, 2014
Jun 29
11:51
AM ET
By
Mike Mazzeo
| ESPNNewYork.com
If Jason Kidd leaves, in stunning fashion, as widely expected, the
Brooklyn Nets
could go in a number of directions.
But only one direction makes sense: With a win-now roster, the Nets need to hire a win-now coach.
Brooklyn native Mark Jackson, George Karl and Lionel Hollins, candidates ESPNNewYork.com's Ohm Youngmisuk and ESPN.com's Marc Stein reported the team would be interested in, all fit that description.
It would be up to one of those guys to help convince
Kevin Garnett
that he needs to keep playing and
Paul Pierce
that he needs to stay.

Garnett, 38, slated to make a guaranteed $12 million in 2014-15, is expected to return for his 20th season, but it's unknown how this development will affect his decision.
Pierce, 36, will become an unrestricted free agent July 1. The Nets can pay him more than any other team because they hold his Bird rights, but a reunion with his former coach Doc Rivers in Los Angeles could be extremely appealing. Pierce and Kidd are both represented by power agent Jeff Schwartz.
The Nets already have $88.5 million committed to nine players, so they have far exceeded the salary cap. As a result, they need to keep Garnett and Pierce, since they cannot replace them with comparable talent.
Jackson, Karl and Hollins all seemingly have the accolades and pedigree required to garner respect from the likes of Garnett and Pierce, who are both headed to the Hall of Fame once their prolific playing careers are over.
Garnett and Pierce may not have much left in the tank, but they provide so much in the form of defense and leadership.
Shaun Livingston
, who had a career season, is also an unrestricted free agent. The Nets have been bracing for his departure because they cannot pay him as much as other teams. Livingston proved to be a key cog in the team's turnaround after he stepped into the starting lineup in 2014. Livingston is also represented by Schwartz.
Garnett, Pierce and Livingston all loved playing for Kidd, who helped persuade Garnett to waive his no-trade clause to come to Brooklyn and pushed for management to sign Livingston.
Joe Johnson
,
Deron Williams
and
Brook Lopez
are all owed massive amounts of money. Nets GM Billy King is expected to at least gauge what type of return Williams and Lopez could fetch on the trade market, but both players are coming off surgery, which diminishes their value.
Ultimately, the Nets may be better off without Kidd, who had just completed his first season as coach. Plus, they are expected to be compensated by the Bucks in some form assuming he does leave for Milwaukee.
However, Brooklyn would be worse off without Garnett and Pierce -- even with both players being in the final stage of their careers.
It wouldn't be a surprise if the Nets go with an out-of-left-field candidate. After all, they have done it before by hiring Kidd.
The Nets took a chance by bringing in the best player in franchise history, and it blew up in their faces. Kidd's No. 5 jersey hangs in the rafters at Barclays Center, and he holds an extremely minuscule ownership stake.
If Kidd were to stay, it would create an awkward dynamic between himself and King, given that Kidd pushed to have more power than the GM.
The Nets need to get this hire right -- and it needs to be a win-now coach for their win-now roster.
June, 18, 2013
6/18/13
4:46
PM ET
By
Ian Begley
| ESPNNewYork.com
Jason Kidd feels like Mark Jackson's success in Golden State helped Kidd land the Nets job.
[+] Enlarge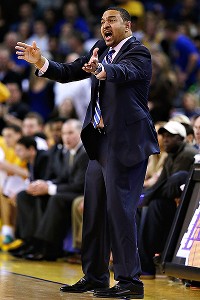 Ezra Shaw/Getty ImagesMark Jackson
Jackson, who went from player to coach with no prior experience -- albeit with some broadcasting in-between -- was asked by the San Jose Mercury News on Tuesday if he deserved credit for paving the way for Kidd to make the quick transition.
"No. I think at the end of the day Jason Kidd is an all-time great player who I've got a lot of respect for," Jackson replied to the newspaper.
"I've talked to him often. He reached out and thanked me and we've had great dialogue. I just think he's going to do very well. I'm happy for him. I think it was a great hire for the Nets.
"That being said, I think it's now up to Jason to open the door for the next guy to prove that the naysayers are wrong.
"What I don't want is for people to say this doesn't work or that does work. ... There's been success stories with former players, straight out of the booth or straight from playing, success stories with people out of college or retread coaches.
"And there's been failures across the board.
"We've got to look at each situation and judge it from that. I have a lot of respect for Jason Kidd, think he's going to do great. To me, it meant a lot he reached out and I think it's great for Brooklyn."