Brooklyn Nets:

Memphis Grizzlies
July, 24, 2013
7/24/13
8:00
AM ET
Do the
Brooklyn Nets
have the best starting five in the NBA?
ESPN analyst and former coach Jeff Van Gundy thinks so.
"If they play well and remain healthy, which is always a challenge for an older team, I think they have the best starting-unit talent in basketball," Van Gundy said recently.
[+] Enlarge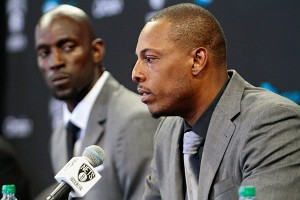 AP Photo/Jon GerbergKevin Garnett and Paul Pierce are focused on bringing a championship to Brooklyn.
Let's take a look at the Nets' projected starting five by games missed last season:
PG
Deron Williams
: 4 (dealt with ankle and wrist issues for first 50 games)
SG
Joe Johnson
: 10 (plagued by plantar fasciitis at end of season)
SF
Paul Pierce
5 (plagued by elbow injury in playoffs)
PF
Kevin Garnett
14 (plagued by bone spurs in ankle and foot)
C
Brook Lopez
8 (underwent third foot surgery in 18 months in offseason)
As Van Gundy said, if they can stay healthy, and that's a pretty big "if," the Nets, at least on paper, do have one of the best starting fives in the league.
Let's take a look at some of the other elite projected starting units:
Memphis Grizzlies
Mike Conley
,
Tony Allen
,
Tayshaun Prince
,
Zach Randolph
,
Marc Gasol
Golden State Warriors
Stephen Curry
,
Klay Thompson
,
Andre Iguodala
,
David Lee
,
Andrew Bogut
Chicago Bulls
Derrick Rose
,
Jimmy Butler
,
Luol Deng
,
Carlos Boozer
,
Joakim Noah
Indiana Pacers
George Hill
,
Paul George
,
Danny Granger
,
David West
,
Roy Hibbert
Houston Rockets
Jeremy Lin
,
James Harden
,
Chandler Parsons
,
Omer Asik
,
Dwight Howard
San Antonio Spurs
Tony Parker
,
Danny Green
,
Kawhi Leonard
,
Tim Duncan
,
Tiago Splitter
Oklahoma City Thunder
Russell Westbrook
,
Thabo Sefolosha
,
Kevin Durant
,
Serge Ibaka
,
Kendrick Perkins
Los Angeles Clippers
Chris Paul
,
J.J. Redick
,
Jared Dudley
,
Blake Griffin
,
DeAndre Jordan
Miami Heat
Mario Chalmers
,
Dwyane Wade
,
Shane Battier
,
LeBron James
,
Chris Bosh
Do you agree with Van Gundy? If not, where do you think the Nets stack up? Let us know in the comments section.
June, 6, 2013
6/06/13
8:33
AM ET
Negotiations between the
Memphis Grizzlies
and representatives for head coach Lionel Hollins have gone dormant since the team granted Hollins permission Sunday to speak to other teams, Ramona Shelburne of ESPNLosAngeles.com reported Wednesday night, citing a source with knowledge of the situation.
The Grizzlies granted permission to the
Los Angeles Clippers
to speak with Hollins on Tuesday night, sources told ESPN. The
Brooklyn Nets
have also been informed by the Grizzlies that they have permission to interview Hollins, sources said, but Brooklyn has not asked again after its initial request was rebuffed after Memphis' playoff elimination.
Hollins is still under contract with the Grizzlies through June 30. Then, assuming he doesn't re-sign with Memphis, Hollins can become a free agent.
Click here for the full news story.
February, 24, 2013
2/24/13
6:50
PM ET
Memphis Grizzlies
coach Lionel Hollins says he wasn't trying to embarrass the
Brooklyn Nets
by leaving his starters in late in the fourth quarter of his team's 101-77 victory on Jan. 25 -- he was just trying to win the game.
Hollins also offered a less than heartfelt apology to Nets power forward
Reggie Evans
, who was upset that the Grizzlies elected to re-insert center
Marc Gasol
(20 points and nine rebounds) leading by 22 with 3:21 left in the game.
"Apologies to Reggie Evans, but I wasn't thinking about the Nets and trying to embarrass them and all that stuff," Hollins said prior to Sunday night's Nets-Grizzlies game at Barclays Center.
"If Reggie Evans wants to take umbrage at what happened with 11 minutes go in the fourth quarter at the start of the fourth quarter when they take all their guys out and we leave our guys in, you know, that's on him. By the way, Reggie Evans has played great against us every time we've played him."
Evans said following the 24-point loss: "We won't be forgetting. ... We're definitely going to look forward to when that day comes where we play (Memphis again)."
Evans wasn't fired up on Sunday morning, though, saying, "To be honest with you, I haven't really been thinking about that junk because we got beat by Houston the following day."
Hollins explained his decision to leave his starters in.
"We were beat by 20 three times in a row. The other team can do what they want when they're up by 20 points. It doesn't matter," Hollins said. "We don't deserve any kind of courtesies, and I wasn't trying to leave my starters in the game. It just so happened they were in the game and we couldn't get them out. I don't know. Respect comes from going out there and battling and doing your job and competing and being in the game.
"We've been out of the game and can't say anything about what anybody does to our team. They want to dance and do whatever they want to do, we should've stopped them on the court and that would've stopped all the dancing."
Evans said the unwritten rule during his days as a player is when the losing team pulls its starters, so does the team that's way ahead on the scoreboard.
"We were 21 down in Philly two years ago, we came back from 27 down in the third quarter, we come back and win the game going away," Hollins said. "You have to do what you have to do as a coach."
February, 24, 2013
2/24/13
1:23
PM ET
The
Brooklyn Nets
will look to snap the
Memphis Grizzlies
' six-game winning streak on Sunday night (7 ET, ESPN) at Barclays Center.


Here's what we'll be watching for:
NO JOE:
The Nets (33-23) are coming off a 106-96 loss to Houston on Friday night, which snapped their four-game winning streak. They'll be without
Joe Johnson
, who will miss his second straight contest due to a sore left heel.
C.J. Watson
will once again start in his place. Watson is averaging 17.5 points in his past four games.
The Nets struggled in the fourth quarter without Johnson, their go-to guy down the stretch.
Deron Williams
said he needs to be more aggressive in the fourth. Will he look to shoot instead of pass if the score is close?
PAYBACK TIME:
Reggie Evans
wasn't happy that the Grizzlies left their starters in late in the fourth quarter of Brooklyn's 101-77 loss in Memphis on Jan. 25. Evans didn't want to talk about it when asked about the incident on Sunday morning, but the Nets would love to get some payback in the form of a victory.
KEY TO WINNING:
The Nets won't win this one unless they can contain
Zach Randolph
and
Marc Gasol
on the interior. In that Jan. 25 game, Memphis scored 62 of its 101 points in the paint. Gasol had 20 points and nine rebounds in just 34 minutes.
February, 24, 2013
2/24/13
12:47
PM ET
EAST RUTHERFORD, N.J. -- Upset that Memphis kept its starters on the floor late in a 101-77 blowout victory over Brooklyn on Jan. 25, Nets power forward
Reggie Evans
said he was looking forward to playing the Grizzlies again.
[+] Enlarge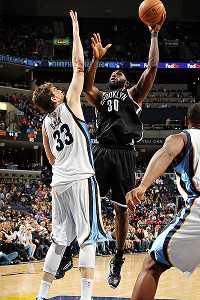 Joe Murphy/NBAE/Getty ImagesReggie Evans was irked when the Grizzlies put Marc Gasol back into the game on Jan. 25.
That may have been the case then. But with the two teams slated to face one another on Sunday night at Barclays Center, Evans wasn't anywhere near as fired up as he once was.
"To be honest with you, I haven't really been thinking about that junk because we got beat by Houston the following day," Evans said.
Even though the Grizzlies were ahead by 22 with 3:21 left, their coach, Lionel Hollins, elected to re-insert center
Marc Gasol
into the game, which baffled Evans.
"That was the point where it was like, wow. I was shocked. I was real shocked to see him come back in," Evans said then. "We won't be forgetting, though. ... We're definitely going to look forward to when that day comes where we play (Memphis again)."
Point guard
Deron Williams
said the Nets noticed what the Grizzlies were doing and "didn't understand it," but they've moved on.
"Every coach has a reason for what they do," Williams said. "I don't really get into it. I haven't really thought about it since, so it's not like it's been bugging me. It's no big deal."
Said interim coach P.J. Carlesimo: "I've never been one to react on what happens at the end of a game. To me, when you're down that much, you've got enough problems worrying about what your own team's doing than worrying about what the other team is doing."
January, 26, 2011
1/26/11
11:09
PM ET
NEWARK, N.J. -- After being outscored 32-16 by the Memphis Grizzlies in the first quarter, the New Jersey Nets were in desperate need a lift.
They got one from their bench.
The Nets' reserves combined to outscore their Grizzlies counterparts 56-12 and ultimately came away with their fourth victory in their last five games, 93-88 Wednesday night at the Prudential Center.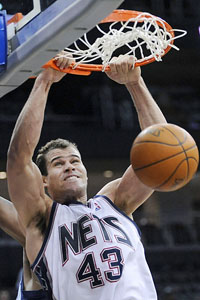 AP Photo/Bill KostrounKris Humphries came off the bench to score 14 points and grab seven rebounds.
Anthony Morrow
led the way with a team-high 19 points, while
Sasha Vujacic
and
Kris Humphries
each finished with 14 points off the pine.
"Our bench was special," head coach
Avery Johnson
said. "They were really good tonight. Our starters needed a lift and we've been talking about our bench and them getting their own identity. They take it really personal in practice when they play against the starters, which is really fun to watch now. It was good to see their production. That was an area we thought we could win the battle."
Morrow inflicted much of his damage in the first half, and Vujacic and Humphries ignited the Nets in the second half.
Morrow's 12 second-quarter points helped the Nets stay in the game. They went to the locker room down 53-42, but, if not for Morrow, it could've been worse.
He missed his first three shots from the floor, but ended up connecting on five straight, finishing the first half with 14 points.
"We don't want to tinker with anything," Johnson said of Morrow, who will continue to come off the bench after returning from a hamstring injury which caused him to miss 17 games. "We're feeling pretty good. This was a good homestand for us."
The Nets trailed by eight with 9:12 remaining, but Vujacic ignited an 8-0 run with a 3-pointer that brought the Nets back to even.
Morrow drained a crucial 3-pointer that put the Nets up 84-77 with 3:23 remaining. And Humphries -- aside from playing great defense on
Zach Randolph
, who went 3-for-8 in the final 12 minutes -- made two key free throws with 2:45 left to keep Memphis at bay.
Humphries had 12 points and five rebounds in the second half on a perfect 5-for-5 shooting and 2-for-2 from the stripe. Meanwhile, Morrow and Vujacic combined to hit six of the Nets' nine 3-pointers.
"We had a full team effort tonight," point guard
Devin Harris
said. "I thought we got out to a lethargic start and I thought the bench came in the second quarter and really gave us a boost."
January, 26, 2011
1/26/11
9:35
PM ET
Recap
|
Box score
|
Photos
WHAT IT MEANS:
The New Jersey Nets capped their five-game homestand just like they started it:with a W. The Nets overcame a 16-point first-quarter deficit to persevere, 93-88, over the Memphis Grizzlies in front of 8,866 fans who braved the snow to attend the Wednesday night game at the Prudential Center. Now 14-32 overall, the Nets closed their homestand 4-1, and would've been undefeated had they not lost by one to the Dallas Mavericks.
TURNING POINT:
The Nets who trailed 32-16 after the first quarter, were down by nine early in the fourth quarter. It was 73-65 with nine minutes left, but
Sasha Vujacic
sparked an 8-0 run with a 3-pointer and the Nets eventually tied the game at 73 apiece on a 3-pointer by
Devin Harris
with 7:31 remaining. Harris gave the Nets their first lead since 2-0 shortly thereafter, slicing to the bucket for a finger roll that put the Nets up 77-75 with 6:05 left.
They led 88-81 with 1:45 remaining, only to see Memphis fight back with a 6-0 burst to make it a one-point game. But Harris drilled two free throws to give the Nets a 90-87 lead with 10.6 seconds left.
Rudy Gay
was fouled attempting an alley-oop off a set play out of bounds on the Grizzlies' ensuing possession, but missed the back end of a pair from the stripe. Vujacic had a chance to ice the game away, but he missed his second from the stripe. Luckily,
O.J. Mayo's
desperation 3-pointer clanged off the back iron and the Nets could exhale.
STAR OF THE GAME: Anthony Morrow.
The 25-year-old shooting guard finished with a team-high 19 points off the bench. After missing his first three shots from the field and getting hit below the belt in a collision with
Marc Gasol
, Morrow knocked down his next five -- two of them 3-pointers -- helping the Nets cut a 16-point deficit to seven in the second quarter. He finished with 14 of his points in the first half. Morrow's most crucial shot -- a 3-pointer from the corner with 3:23 remaining -- proved to be the dagger. It gave the Nets an 84-77 cushion.
RUDY! RUDY!
Gay showed the Nets what they're missing, scoring a game-high 22 points -- including 10 in the opening stanza. The Nets were interested in the dynamic swingman's services in the offseason, but the Grizzlies locked him up the restricted free agent to a max contract on July 1, the first day of free agency. Good decision.
OF NOTE:
The Nets went 9-for-15 from the field in the fourth quarter. They had five players score in double figures. The Grizzlies outscored the Nets 52-40 inside the paint. The Nets went 9-for-17 from 3-point range.
UP NEXT:
The Nets play back-to-back road games. They'll be in Indiana to face the Pacers on Friday night before heading to Milwaukee to play the Bucks on Saturday night.