October, 18, 2014
Oct 18
1:46
PM ET
By
Mike Mazzeo
| ESPNNewYork.com
EAST RUTHERFORD, N.J. -- Now in his third preseason with the
Brooklyn Nets
, stretch forward
Mirza Teletovic
looks much more comfortable and confident.
"I think everything in life is experience," Teletovic said Saturday. "Year to year, if you keep playing for a team, you always understand more. You're gonna learn more, and for me I really feel comfortable -- especially because I've been playing now for three years with Joe [Johnson], with Deron [Williams], with Brook [Lopez]. And KG [
Kevin Garnett
] this is my second year with him. They really make it easy for me, they talk to me, they have a lot of experience, so whatever I have trouble with I can ask them. And Coach [Lionel] Hollins is unbelievable. I talk to him every time and if I make a mistake, he tells me, 'You did it now but just try to get better at it.'"
[+] Enlarge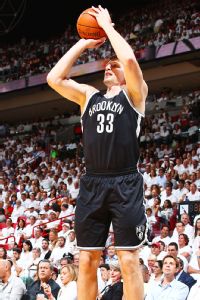 Nathaniel S. Butler/NBAE/Getty ImagesMirza Teletovic admits it was tough adjusting to the NBA's longer 3-point line.
Starting in place of Garnett (rest), Teletovic went 6-for-9 from 3-point range and scored 22 points Wednesday in Beijing. And with Lopez out and Garnett questionable (stomach virus), he's likely to start again Sunday against Boston -- this time, assuming Garnett doesn't play, alongside
Mason Plumlee
.
"In the [motion] system we're playing I get a lot of open shots, I get a chance to drive and post-up. I really can give a lot of my game," Teletovic said, noting he really enjoys all the ball movement on offense.
"This year, the whole team, the coaching staff and just everybody around has been positive and it makes for a comfortable environment for me."
Teletovic said his first year in the NBA was "tough," and has been helping rookie
Bojan Bogdanovic
adjust to the transition from Europe.
"I try to help him out as much as I can," Teletovic said. "He's adjusted pretty well."
Bogdanovic has talked about how it's tough getting comfortable with the NBA's longer 3-point line.
Said Teletovic: "There is different zones of comfortable. There is a 'fun comfortable' zone that I feel right now because I've been here for three years and I've kind of been shooting a lot and I now know when I get tired how much energy I have to give when I want to shoot.
"Bojan still has to set those rules for himself how to shoot. Once he's started -- and we've talked about it -- here from the corners in the NBA the distance is pretty much shorter, so it's easier to shoot it when you're tired from the corners."
Joked Teletovic, when you're tired, "Just go to the corner."
Teletovic knows he needs to improve his rebounding.
"I think rebounding -- same [as] defense -- it's just something if you have your mindset right, if you say, 'I'm gonna go get the rebound,' you're gonna go get it. So I really try to have my mind set on rebounding this year. I think I've improved a bit, and I know once the season starts I need to improve, because I know this team needs me to rebound.
• Plumlee also had a big game Wednesday, scoring 18 points and grabbing five rebounds. Hollins liked the second-year big man's aggressiveness and rebounding.
"He's gotten better. It's a confidence thing," Hollins said. "It's knowing that he has the talent to do it and then believing that he has the talent to do it. That's what's important, and he's getting touches in the post. He had a big game and he had a big overtime in China. We just want to see him continue to grow."
• When asked if Garnett would sit against the Celtics, Hollins said, "Probably. I don't know. We'll see. But even if he goes, he's probably not gonna play that much." Garnett has missed the past two practices with the stomach virus.