Brooklyn Nets:

Mirza Teletovic
December, 2, 2013
Dec 2
8:10
PM ET
EAST RUTHERFORD, N.J. -- The
Brooklyn Nets
got off to a slow start with
Paul Pierce
.
But now, the Nets will find out how life is without "The Truth" for potentially as long as a month after Pierce
fractured his right hand
.
[+] Enlarge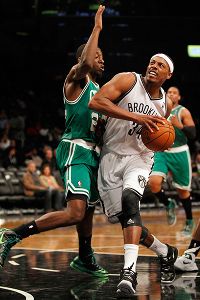 Noah K. Murray/USA TODAY SportsHow much will the Nets miss injured forward Paul Pierce?
Let's take a look at what life without Pierce could be like for the next 2-4 weeks:
The schedule:
The Nets say Pierce hurt his hand in the first half of the loss to the
Houston Rockets
on Nov. 29. If Pierce is out the minimum of two weeks, that means he will miss at least five games, including last Saturday's game against the
Memphis Grizzlies
, which Pierce sat out.
Next Thursday, the Nets play the
Los Angeles Clippers
and Pierce's old coach, Doc Rivers. That would be exactly two weeks from when Pierce broke his hand. Seems way too quick for the Nets forward to return. The Nets will likely take it slow with him and make sure their veteran is 100 percent when he returns.
So, if Pierce needs a month from when he broke his hand last Thursday, he could miss 12 games and potentially return against the
Milwaukee Bucks
on Dec. 27. The Nets also play at the
Indiana Pacers
on Dec. 28. The Nets could keep him out for the entire month of December to be safe. They play 14 games in the month, nine of which are at home.
Unfortunately for Pierce, he will miss his first game as a Net against the
Knicks
. Remember, Pierce wants to
convert as many Knicks fans as possible
, and he's no fan of the team, considering his rivalry with the Knicks while a
Boston Celtic
and his back-and-forth this summer with
J.R. Smith
.
Pierce will also likely miss his first game against Boston next Tuesday at Barclays Center and a game against Doc next Thursday. Other notable games Pierce could miss are home games against Indiana (Dec. 23) and the
Chicago Bulls
(Christmas Day) and road games at Indiana (Dec. 28) and
San Antonio
(Dec. 31).
Replacing Pierce:
Pierce has struggled this season, shooting only 36.8 percent overall and 26.8 percent from behind the 3-point arc, while averaging 12.4 points and 4.9 rebounds. Pierce rarely looked comfortable and was trying hard to find his way with the Nets. That process is now put on hold, and things might run a bit smoother for the team. Let's make it clear: I am not saying the Nets are better without Pierce. No way. But Pierce will even admit that he was trying to find his comfort level and that was a struggle.
The Nets have to find a way to replace Pierce's offense (he's a proven scorer who was a late-game option) and ability to get to the line when he's aggressive.
Alan Anderson
will be the beneficiary of Pierce's absence. He will probably start, like he did against Memphis, and Jason Kidd likes his energy and hustle. The Nets are going to rely even more on
Joe Johnson
for offense, perimeter shooting and to carry the load with the second unit.
Brook Lopez
will remain a focal point.
Mirza Teletovic
should continue to see steady playing time, and
Tornike Shengelia
might even see some more minutes than normal. The Nets could sure use
Deron Williams
,
Andrei Kirilenko
and
Jason Terry
back, though. Kirilenko could ease the blow of Pierce's injury big time.
KG to lead more:
Pierce might not have been playing up to the level he's accustomed to, but the Nets certainly have leadership and experience voids to fill now. You're taking out a 16-year veteran who has hit countless clutch shots and knows how to win big games.
Even though there's a minutes restriction for
Kevin Garnett
, Kidd could have to play his other former Celtic a bit more while Pierce is out. Garnett isn't an offensive force, but he anchors the team's defense and provides the Nets with invaluable experience on the court. Garnett is also not playing up to the level he's accustomed to, but he provides the team with a calming presence on the floor since he's a proven winner.
Garnett will miss his best friend on the court, but the Nets will need Garnett to step up, lead even more with Pierce out and be the glue more than ever for the team.
Tell us what you think the Nets have to do without Pierce for potentially the next month.
November, 5, 2013
Nov 5
11:37
AM ET
By
Mike Mazzeo
| ESPNNewYork.com
EAST RUTHERFORD, N.J. --
Brooklyn Nets
point guard
Deron Williams
thinks he's still on a minutes restriction, but isn't entirely sure.
"I haven't really talked to anybody about it," Williams said.
Williams, still recovering from a sprained right ankle injury he suffered during an offseason workout in Utah, has played 27 minutes in the previous two games after playing 22 minutes in the regular-season opener.
"This is preseason, training camp (for him)," Nets coach Jason Kidd said. "He didn't get to do a lot in the regular training camp or preseason, so we have to figure out how to get him (in there) without running him out there for 35 minutes and now he can't play the next night, so this is a process. I think, again, we had a process of bringing him back, it worked, and now we've got to do it during the regular season, so he's been good about that. And it's just gonna take some time. We haven't played him over 30-something minutes, but there will be a point in the season when he'll get there."
Williams, 29, is averaging just 8.0 points on 36 percent shooting in the early-going.
"Hopefully close," Williams replied when asked how close he is to being the same player that was reverse-dunking in the playoffs last season.
"I just think it's a matter of getting my legs under me. I haven't done anything for six months. I've been pretty much just limited to jogging. That just happened a couple weeks ago. So I'm just trying to get there and get my confidence back in my legs and then I'll be ready."
The Nets host the winless Jazz (0-3) at Barclays Center Tuesday night. Williams has never beaten his former team (0-4).
"Hopefully we can get a win tonight," Williams said, laughing. "That's the goal."
The Nets (1-2) need a win after losing by 21 in Orlando Sunday night.
"We gotta take care of this one tonight, and get back on the winning track, get back to .500 and that's what's on our minds," Williams said. "It doesn't matter who we're playing, as a team we need to get back to playing Brooklyn basketball.
"I thought we got good looks last game, we just didn't make them. I don't think offense was our problem. I think it was defensively we didn't do what we needed to do to get a win."
The Nets went just 23-18 at Barclays Center last season. They want to improve that record this season.
"We definitely want to protect home court. That's one of our goals," Williams said.
" Big men
Brook Lopez
(sprained right ankle) and
Andray Blatche
(sprained left ankle) are expected to play.
"I think both will be fine," Kidd said. "We'll see how they feel this morning (after shootaround).
"I feel like right now if it was game-time I'd be able to go," Lopez said.
" Forward
Mirza Teletovic
claimed his tweet in Croatian following Sunday night's game, which translated to "I hate liars," was not about venting over playing time.
"Nothing to do with basketball at all or the Nets," Teletovic said. "I wrote it in my language because it was meant for somebody in my language. It has nothing to do with the Nets."
Teletovic has played just seven minutes this season.
"You know, I think right now, if I'm correct we've only played [three] games and a lot of people haven't played," Kidd said.
October, 13, 2013
Oct 13
3:51
PM ET
By
Mike Mazzeo
| ESPNNewYork.com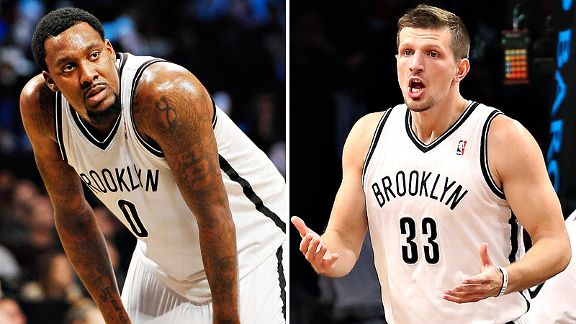 AP Photo/Getty ImagesAndray Blatche and Mirza Teletovic had to be separated at practice on Sunday.
EAST RUTHERFORD, N.J. --
Brooklyn Nets
big men
Andray Blatche
and
Mirza Teletovic
got into a scuffle during Sunday's practice and had to be separated.
No punches were thrown, and the team quickly resumed drills.
"It's great. That's competition. That's what it's all about," Nets coach Jason Kidd said. "This team is put together to compete at a high level, and you saw that. There's nothing wrong with competition. Tempers might flare, but it's all out of respect, because we're all working hard, and as a coaching staff and as players, that's what you need."
Said onlooker
Deron Williams
: "It's normal. It happens every year, 10 times a year, if that. It's definitely competitive, guys are bumping and banging down there. You're liable to have a couple of those."
Williams called it a "typical NBA fight."
The Nets are going to need more fight -- especially on defense. Veteran
Paul Pierce
said the team took "a step back" on D in Saturday night's
99-88 loss
to the
Detroit Pistons
. Of significant concern: the fact that the Nets gave up 50 points in the paint.
"We looked at it and just understand that we have to protect the paint if we want to be one of the top 10 teams in the league in defense," Kidd said. "It's something that we're concerned about because it's been two games in a row, but this is preseason, so this is the time to work on it. Again, you can see that today at practice, we tried to keep the ball out of the paint."
The best news for the Nets and their defensive struggles? Lead assistant Lawrence Frank, who has been away from the team due to personal reasons, was back on the court. Frank's energy appeared to be infectious.
"His energy was definitely missed the last couple days," Williams said.
October, 4, 2013
Oct 4
2:56
PM ET
By
Mike Mazzeo
| ESPNNewYork.com
NEW YORK --
Mirza Teletovic
spoke candidly and honestly about his first season with the
Brooklyn Nets
.
In a nutshell: it wasn't an easy transition from Europe to Brooklyn.
[+] Enlarge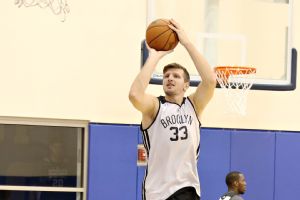 Nathaniel S. Butler/NBAE/Getty ImagesMirza Teletovic hopes he spends more time on the court this year.
Asked what the toughest part was, Teletovic replied: "Sitting on the bench."
The 28-year-old stretch power forward did that a lot, appearing in just 53 games and averaging a mere 9.4 minutes per contest.
Sporadic playing time led to sporadic play. His defense also suffered. After all, how can you be in game shape when you're spending much more time on the bench than on the court?
"I could do a little bit more, for sure," he said.
"But you can't put me in the game for 10 minutes and tell me to make four shots. It's impossible."
Teletovic ended up averaging 3.5 points on 38.4 percent shooting -- 34.3 percent from 3-point range.
"I would put anybody in my situation and see what they can do," he said. "I think it would be almost the same result or even less. ... It's tough when you don't play."
This season, Teletovic would love to get consistent playing time, which, in-turn, he figures, would lead to more consistent results.
"If you don't get a chance, there is no point," Teletovic said.
But, with the Nets being so deep in the frontcourt, that's going to be tough.
Whatever. MT3 doesn't have any regrets after signing a three-year deal for nearly $10 million with Brooklyn last summer. He wants to make it work with the Nets.
"I've a lot of people ask me if I'm going to stay or not going to stay and things like that," he said.
"I'm going to say it again: My goal is to play on the Nets and that's been my goal from the beginning.
"And I decided [to come here] because I decided, not because of money or whatever. I decided to come and play here because this team has big potential. This team has great players."
During the summer, Teletovic averaged 24.3 points and 6.3 rebounds on 44.9 percent shooting in eight games -- 35.3 minutes per contest -- for his native Bosnia and Herzegovina at Eurobasket.
He certainly gained a lot of confidence as a result. He also said he's in better game shape.
The hope is it translates to the court -- if, of course, Teletovic earns his way onto it.
September, 27, 2013
Sep 27
10:00
AM ET
By
Mike Mazzeo
| ESPNNewYork.com
Brooklyn Nets
training camp begins on Oct. 1 at Duke University. Here's a position-by-position breakdown, continuing with power forward.
The starter:
Kevin Garnett
Last season, the Nets played
Kris Humphries
,
Reggie Evans
and
Mirza Teletovic
at power forward.
Suffice to say the Big Ticket is a big upgrade.
Garnett, 37, brings defense, intensity and leadership to a franchise that was without an identity last season.
Good thing
Paul Pierce
and first-year coach Jason Kidd convinced him to waive his no-trade clause.
Garnett hates when he's asked how much he has left in the tank, but Kidd plans to monitor his minutes closely -- possibly giving him games off in back-to-back sets -- to keep him fresh come playoff-time.
With Garnett on the court last season, the Celtics were more than eight points per 100 possessions better defensively than with him off it.
Garnett, who has a tremendous mid-range game, should be a fine compliment to
Brook Lopez
in the frontcourt.
If you're wondering what type of decline KG is in, consider this: In his first five seasons in Boston, Garnett averaged 15.9 points and 8.4 rebounds in 31.2 minutes. In 2012-13, he averaged 14.8 points and 7.8 rebounds in 29.7 minutes.
Garnett, like Pierce, is hungry for another championship before he rides off into the sunset, a Hall of Famer and one of the most intense competitors the game has ever seen.
The backup:
Reggie Evans
The Joker rebounded at a better rate than anyone per 48 minutes last season.
Granted, that's pretty much all he can do.
Evans did have a lot of success finishing with his left-hand down low toward the end of the 2012-13 campaign, but he's always been more of a 10-15 minute reserve that brings energy and effort.
Given his limited ability in other facets of the game, it'll be interesting to see what Evans' role is on the team.
Either way, though, he brings a lot to the table, and can be a pest in the post come playoff time.
The third-stringer:
Mirza Teletovic
Like many European players, Teletovic struggled with his transition to the NBA.
He's a skilled marksman from the perimeter, but struggled to fit in and make shots consistently.
Still, Teletovic can score points in bunches. He's another guy whose role is uncertain, but he could be valuable given how much skill the Nets have on offense.
August, 27, 2012
8/27/12
12:18
PM ET
By
Mike Mazzeo
| ESPNNewYork.com
ESPN experts are projecting that the Nets will make the biggest turnaround this season.
Brooklyn received 35 votes to take the top spot, while Minnesota and Golden State each received 12.
Last season, the Nets went 22-44, good enough for 12th in the Eastern Conference.
They're hoping improved health, along with the additions of
Joe Johnson
and
Mirza Teletovic
, among others, will change that.
July, 12, 2012
7/12/12
2:54
PM ET
By
Mike Mazzeo
| ESPNNewYork.com
EAST RUTHERFORD, N.J. -- Mirza Teletovic said several NBA teams were interested in him.

Eventually, the 26-year-old Bosnian stretch forward narrowed the list down to two: the Nets and the Cavaliers.

So why did he choose Brooklyn?

"I will do anything to play for a good team," Teletovic, who signed a three-year deal worth $9 million, said Thursday at a news conference. "I played for very good money in Europe too. But like my agent said, we want to come to a team that wants to do big things, and I think the Nets are ready to do that."

Teletovic, who ended up taking less money to play in Brooklyn (he originally signed for $15.7 million, but took the mini mid-level exception instead so the Nets could chase Dwight Howard), added that what helped sell him on the Nets was the fact that Deron Williams elected to stay.

He has been playing power forward for the last few years in Europe, but said he can play both forward spots.

Teletovic said his best strengths on the court are his long-range shooting and his ability to run the floor. He added that he needs to get better defensively, and has recently improved as a rebounder.

"I will try to do it," said Teletovic, adding that it takes a lot of "will" and "energy" to be a good defender. "I will practice all the time to get better."

Teletovic doesn't know if he'll come in and start for the Nets right away.

"I will try to do my best in practices, and I think the coaches will decide," he said, adding that he's never met Avery Johnson or been to Brooklyn before.

Teletovic credits agent Misko Raznatovic for delivering on his promise to get him an NBA contract.

Raznatovic didn't want Teletovic to enter the draft in prior years because he didn't want him to get drafted "55, 40 or 38."

So he played for more than a decade overseas before getting his break. Teletovic signed his first professional contract when he was 16. Raznatovic discovered Teletovic in Bosnia when he was 14.

"He's done everything that he promised me," Teletovic said.

Teletovic said it was time for him to play in the NBA because he'd basically won everything he could in Europe.

He grew up in a small city of about 5,000 people in Bosnia. At the age of 14, his parents sent him to the best high school in the country, where he became fluent in English.

"It's impossible to play basketball if you don't get good grades in English, so I tried to do my best," Teletovic said.

When he was 17, Gonzaga and Connecticut approached Teletovic at the European Championships in Sweden about taking a college scholarship. But his agent thought it made more sense for him to play professionally in Belgium and be close to home.

"When you're 16-17 years old, your parents are scared," Teletovic said. "'The States are so far away. We're never gonna see you. When are you gonna come back? Stay somewhere close.' Belgium was a two-hour flight, very close."

Teletovic said his wife and two children will be joining him in Brooklyn, which should help him with the transition.

Teletovic is captain of the Bosnian national team. His coach is Aleksandar Petrovic, brother of late Nets legend Drazen Petrovic.

"My father has all the tapes," Teletovic said of Petrovic's NBA games. "He's seen everything. (Drazen's) a legend. Everyone over in Bosnia has a lot of respect for him."
July, 11, 2012
7/11/12
8:39
PM ET
By
Mike Mazzeo
| ESPNNewYork.com
From a team press release:

The Brooklyn Nets have made an agreement in principle on a contract with Bosnian forward Mirza Teletovic, Nets General Manager Billy King announced today. Per team policy, terms of the agreement were not released.

"Mirza Teletovic is one of the premier power forwards in Europe, and we are very pleased to add him to the Nets roster," said King. "He has an excellent outside game, and his ability to stretch the floor will be an important component to the team's success in the future."

Teletovic (6-9, 242), spent the 2011-12 season with Caja Laboral Vitoria of the Spanish ACB League. In 34 games, he averaged 16.3 points and 6.9 rebounds in 31.1 minutes. Teletovic shot .463 from the field, .360 from behind the arc and .684 from the line. In 10 Eurocup games with Caja Laboral Vitoria, he averaged 21.7 points, 6.0 rebounds, and 1.0 block in 34.4 minutes while shooting .434 from the field including .431 from three-point range and .700 from the line.
July, 10, 2012
7/10/12
12:30
PM ET
By
Mike Mazzeo
| ESPNNewYork.com
Dwight Howard
,
Gerald Wallace
,
Joe Johnson
,
Deron Williams
,
Mirza Teletovic
,
Jason Richardson
,
Chris Duhon
,
Reggie Evans
,
Tyshawn Taylor
and
Earl Clark
.
That's the roster the Nets would have
if they pull off a blockbuster trade
to acquire Howard from Orlando.
Thursday morning, ESPN.com's
Ric Bucher
went on the radio and said the status of a potential deal is "
shaky
."
Not good.
But assuming the trade does go through -- and they fill out their roster with other minimum pieces --
do you think this team is capable of beating the Heat, Celtics and the other top teams in the East
?
Let us know in the comments section.
Also, weigh in with your take on where you see the Nets fitting into the conference if they don't get D-12.
That roster would likely include
Brook Lopez
, a power forward (possibly
Kris Humphries
?), Wallace, Johnson, Williams, Teletovic, Evans,
MarShon Brooks
, Taylor and other minimum pieces (
Gerald Green
?).
July, 3, 2012
7/03/12
12:39
PM ET
By
Mike Mazzeo
| ESPNNewYork.com
A source confirmed to ESPN NewYork.com that the Nets have agreed with Bosnian stretch forward
Mirza Teletovic
.
ESPN.com's Chad Ford
has the full news story
. It's a three-year, $15.675 million contract -- the full mid-level exception.
Teletovic, 26, averaged 21.7 points and six rebounds for Cajac Laboral in the Euroleague this season.
July, 3, 2012
7/03/12
12:00
PM ET
By
Mike Mazzeo
| ESPNNewYork.com
It's little more than a pipe dream at this point.

But let's say the Nets are able to land Dwight Howard to go along with Deron Williams, Joe Johnson and Gerald Wallace, forming the Fantastic Four.

Then what? How do they fill out the rest of the roster?

The Nets currently have the $5 million mid-level exception and $1.95 million bi-annual exception at their disposal.

The mid-level is expected to go to Bosnian stretch forward Mirza Teletovic. Jason Kidd wants to back up Williams, so perhaps he gets the bi-annual? At that point, the Nets would have six players under contract.

They also have two trade exceptions ($3 million and $1.3 million), which were created when Mehmet Okur and Shawne Williams were sent to Portland for Gerald Wallace. One will be used to acquire Reggie Evans from the Clippers in a sign-and-trade.

Beyond that, the Nets would only be able to spend the minimum salary on players (including their three second-round picks; Tyshawn Taylor is expected to be the only one to play on the roster next season) since they'd be over the salary cap.

Players on the Nets' summer league roster, such as Adam Morrison and Julian Wright, are candidates to fill those remaining spots.

Thanks to ESPN CBA guru Larry Coon for his help with this post.
July, 2, 2012
7/02/12
6:42
PM ET
By
Mike Mazzeo
| ESPNNewYork.com


WHAT IT MEANS: The Nets have agreed to terms on a trade for All-Star guard Joe Johnson of the Hawks, sources told ESPN.com's Chris Broussard and Marc Stein.

The Nets would send Anthony Morrow, Jordan Farmar, Jordan Williams, Johan Petro, DeShawn Stevenson (sign and trade) and Houston's lotto-protected first in 2013 for Johnson.

Johnson, 31, has four years and nearly $90 million left on his contract. But the Nets believe that if Deron Williams re-signs, they'd have one of the most dynamic backcourts in the NBA.

WHY IT'S GOOD: First and foremost, the Nets add talent to their roster. They also didn't have much to get Johnson. They were able to avoid giving up MarShon Brooks and their own first-rounder in 2013. The Nets still have their $5 million mid-level exception (used on Bosnian stretch forward Mirza Teletovic) and their $1.95 million bi-annual exception. They also still have Bird rights on unrestricted free agent high-flyer Gerald Green.

And if Williams leaves, the Nets have a superstar to market around heading into their first season at the $1 billion Barclays Center. They could always try and pair Johnson with unrestricted free agent Steve Nash in the event Williams bolts to Dallas.

WHY IT'S BAD: By taking on Johnson's massive deal, the Nets all but took themselves out of the running for Dwight Howard. (UPDATE: Broussard reports the Nets and Magic are engaged in talks about Howard Tuesday morning.) Magic GM Rob Hennigan revealed Monday that the 26-year-old center, who averaged almost 21 points and 16 rebounds per game last season, asked to be traded to the Nets.

Sure Howard had back problems, but it seems like the same gamble as taking on Johnson, given his age and salary. Plus, Johnson likes to have the ball in his hands -- like Williams -- and has never been known for being a winner. Certainly another big risk by GM Billy King.

NOW WHAT? Well, the Nets still need to re-sign Williams. They were meeting with him Monday afternoon, sources said. They also need lock up restricted free agent Brook Lopez, bring in a rugged rebounder/defender up front and add depth as well. Jason Kidd perhaps?

PLAYOFFS? Assuming the Nets can put a starting five together of Lopez, Teletovic, recently re-signed Gerald Wallace (four years, $40 million), Johnson and Williams, they'd be a playoff team in the East and probably could wreak some havoc as well. The Nets haven't made the playoffs in five seasons. But is this team better than the Heat or Celtics? Probably not. Still, the fact that they are competitive again -- assuming everything works out -- will probably be enough for most Nets fans.
NBA
NHL
COLLEGE BASKETBALL
COLLEGE FOOTBALL
NBA
NHL
COLLEGE BASKETBALL
NFL