April, 23, 2014
Apr 23
2:10
AM ET
TORONTO –-
Paul Pierce
might have felt like a fossil, sitting nearly 10 minutes from the late third quarter through much of the fourth due to foul trouble.
And despite the Nets' virtually extinct defense in the fourth quarter, Pierce still had a packed Toronto crowd holding its collective breath with 24.9 seconds left.
The young Raptors were clinging to a two-point lead (and their season) when Pierce caught the ball in the corner by himself. He launched a 3-pointer as Raptors fans let out a gasp in hopes it would not be another fourth-quarter dagger piercing through their hearts.
Pierce's
clutch DNA
, though, went missing in Game 2. The Raptors survived and evened the series at 1-1 with a 100-95 win. And the Nets let the Raptors off the hook.
Yes, the Nets left Canada with what they came for -- stealing a game and home-court advantage. But the Nets had a chance to choke the air out of the Raptors and seize control of the series.
[+] Enlarge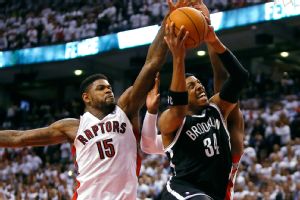 John E. Sokolowski/USA TODAY SportsThe Raptors blocked Brooklyn's attempt at gaining a 2-0 series lead in Game 2 on Tuesday in Toronto.
Not only did the Nets turn this into a series again, they literally stood and watched
DeMar DeRozan
go through his playoff baptism.
DeRozan, the head baby Raptor, matured quickly, scoring 30 points, with 17 coming in the fourth quarter. It was DeRozan the Nets absolutely didn't want to see. And now DeRozan knows how to take over a playoff game. And the young, inexperienced Raptors know how to win a playoff game.
And the Nets know they have themselves to blame.
"Too many touches for them in the paint, too many paint points, and we didn't rebound," Pierce lamented. "We gave them everything they wanted, 50 points in the paint, and [19] offensive rebounds.
"We were a soft team tonight."
Pierce knows the Nets let a prime chance to shorten this series slip away.
Despite Pierce being saddled with his fourth foul at the 3:36 mark of the third, the Nets opened a 69-64 lead with 11:20 remaining in the game.
The Raptors (21 turnovers) couldn't stop turning the ball over like they did in Game 1.
Kyle Lowry
was having an off night, scoring just six points and missing 7 of 8 shots through three quarters. DeRozan had 13 points, and
Jonas Valanciunas
totaled 11 points and 11 rebounds entering the fourth -- all numbers the Nets could live with.
The game was there for the taking for the Nets. Instead, Brooklyn stopped playing defense. Jason Kidd watched his team surrender 36 points and 75 percent shooting (12-of-16 shooting) to the Raptors in the fourth quarter.
DeRozan looked like
Vince Carter
at times, soaring through the lane for a monster dunk early in the quarter, and the Raptors were off and scoring.
[+] Enlarge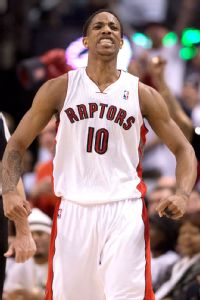 AP Photo/The Canadian Press, Frank GunnThe Nets woke up a sleeping giant in DeMar DeRozan, who scored 30.
"You can't have fourth quarters like that,"
Kevin Garnett
said. "Thirty-six points, that's too many points for anybody -- preschool, little league, YMCA, Raptors. Too many points. Fourth quarters are supposed to be our best quarters defensively."
Fortunately for Brooklyn, Toronto didn't play much defense, either. Shortly after Pierce checked back into the game with 5:44 left, the Nets fell behind 83-78. But
Andrei Kirilenko
scored, then Pierce scored and was fouled. His three-point play tied the game at 83-83 with 3:48 left. Toronto fans had to think they were going to relive Game 1, when Pierce scored nine straight points in the final three minutes to steal the opener.
But Lowry nailed a pull-up jumper. Then DeRozan grew up before our very eyes, burying a 20-foot pull-up jumper and an 18-foot fadeaway over
Joe Johnson
. The Nets kept it close, but the Raptors answered every time. And Pierce (2-for-11 shooting, seven points) didn't have it this time.
And so now the series is tied 1-1, changing the narrative.
Entering Game 2, all the questions were about how the young Raptors would react after losing the first game and if they would be able to overcome the Nets' enormous advantage in experience.
Now, the series shifts to Brooklyn, and the Raptors have tasted playoff victory.
Garnett knows the Nets haven't played their best basketball yet.
But that didn't stop him from already beginning to plant the seed with the Brooklyn fans to create as hostile an environment as possible for Toronto.
"Now we've just got to take care of home," Garnett said. "We know it's going to be a rowdy environment, like it should be.
"I don't know if you can say, 'F Brooklyn,' and then come into Brooklyn," he added in reference to Toronto general manager Masai Ujiri's now infamous pep-rally cry. "So we're about to see what it's like."
The Raptors have seen what it's like to win a playoff game. And that could be very dangerous for the Nets.
April, 9, 2014
Apr 9
2:06
AM ET
By
Mike Mazzeo
| ESPNNewYork.com
Mason Plumlee
saw
LeBron James
coming at him.
But the
Brooklyn Nets
rookie center didn't back down.
So what if the best basketball player on the planet -- all 6-foot-8 and 250 pounds of him -- was flying toward the rim, looking to finish off a two-handed, game-winning dunk before the final buzzer sounded?
Plumlee was going to challenge James. He was going to make the
Miami Heat
superstar earn it.
"You can't really take time to think, 'It's LeBron,'" Plumlee told reporters in Miami. "It's winning time, so it doesn't matter if it's Dwight [Howard], LeBron, whoever. You just have to meet them at the rim."
The outcome of this meeting was unexpected, to say the least.
Both players jumped almost simultaneously.
[+] Enlarge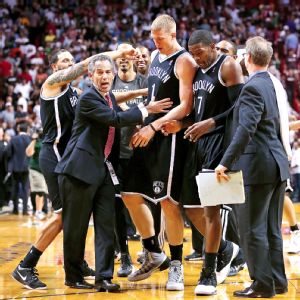 Mike Ehrmann/Getty ImagesThe Nets threw an impromptu block party for Mason Plumlee, whose play of the night helped the Nets complete a season-series sweep of the Heat.
And it was Plumlee who came away with the block -- a controversial block at that -- deflecting the ball away from James with his right hand.
Time ran out. James and the Heat were stunned. David had beaten Goliath -- or rather "Plums" had gotten the best of "King James" on a night both teams wore uniforms emblazoned with players' nicknames.
And the Nets had somehow become the first team to complete a four-game, regular-season sweep of Miami during the Big Three era. The final on Tuesday night from AmericanAirlines Arena: Nets 88, Heat 87.
Afterward, Plumlee, who finished with eight points and eight rebounds in 30 minutes (including a huge layup with 41 seconds left that gave the Nets an 88-85 lead) yelled out, "Let's Go!"
Meanwhile, all James could do was watch the replay on the JumboTron before heading into the tunnel as the Nets congratulated Plumlee. Upon seeing it, James waved his hand in the air. He wanted a foul. He didn't get one.
"It was a foul. I saw [the replay] twice. I didn't need to watch it," James said. "He grabbed my right hand. He didn't do it on purpose, but he got my right hand and the ball went off the rim and went back. If he got all ball, the ball would've gone straight down. But what are you gonna do about it?"
Plumlee disagreed.
"It only mattered if three people (the officials) thought it was a foul, and they didn't think it was, so we win," he said.
It was undoubtedly the biggest play Plumlee has made during his young career.
And to think, everyone figured the 24-year-old first-round pick was going to start the season in the NBA's Developmental League.
Everyone, that is, except Plumlee, who played his way onto the $190 million roster.
Circumstances eventually changed.
Brook Lopez
got hurt. So, too, did
Kevin Garnett
.
[+] Enlarge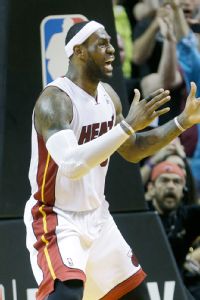 AP Photo/Wilfredo LeeThe refs left LeBron James hanging with a no-call on the final play.
All of a sudden, opportunity arose. And Plumlee took full advantage of it, starting 19 straight games with Garnett sidelined due to back spasms and averaging 7.4 points and 5.7 rebounds on 64.7 percent shooting in 21.1 minutes.
"He definitely wouldn't have made that play six weeks ago because he probably would have been on the end of the bench," Nets forward Paul Pierce said, laughing. "But, you know, he's been playing, getting the experience, having better awareness to the ball, and that's what I've been trying to tell him:
"'It's not about who your man is, you know, you've got to be the help. It may not be your man going to the hole, but you see another man and you're the big man. You've got to clog up the paint.' And he's been doing a fantastic job of that."
Plumlee, who started again on Tuesday night because Garnett was resting, leads all first-year pros in Player Efficiency Rating -- and at least merits consideration for the league's Rookie of the Year award, even if his statistics don't exactly jump off the page.
"He's maturing and the good thing about him: He listens," Pierce said. "He has an open ear to all the veterans on this team. And it shows. He's coachable, he gets his work in and he's improving every night and that's what we need from him. He's played a big role for us [now] that Kevin's been out, that Brook went down, and it's just a testament of his hard work and how he's come a long.
"At the beginning of the year, training camp, everybody talked about he probably was going to be in the D-League. Now he's here, 70-something games in, playing big minutes for us, and playing a huge role."
Plumlee takes the subway to home games. His rookie duties usually include making all his teammates peanut butter and jelly sandwiches.
On Tuesday night,
Joe Johnson
told Plumlee: "'Get your towels and make sure you get us some Gatorade and water and meet us at the bus.'"
This after getting the game-winning block on James. Not bad.
"In preseason and first time he played he was like a chicken with his head cut off, running around,"
Deron Williams
said. "Now he's figured things out. He's learning.
"At this point, it's almost like he's not a rookie, even though he is a rookie still."
March, 12, 2014
Mar 12
6:00
AM ET
By
Mike Mazzeo
| ESPNNewYork.com
NEW YORK --
LeBron James
has killed the
Brooklyn Nets
throughout his career.
Although the
Miami Heat
is 0-2 against Brooklyn this season, James is averaging 31 points on 57.5 percent shooting in those meetings.
[+] Enlarge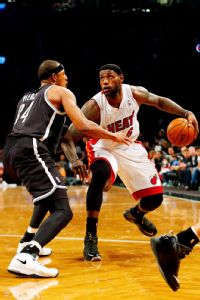 Jim McIsaac/Getty ImagesCan the Nets hold LeBron James under 20 points on Wednesday?
He has scored 20 or more points in each of his last 22 games against the Nets, the second-longest streak of 20-point games versus the Nets in franchise history, according to ESPN Stats & Information. The only player with a longer streak is
Michael Jordan
, who scored 20-plus points in 39 consecutive games against the Nets from December 1984 through April 1995.
As
Deron Williams
said, guarding James has to be a team effort. It can't just be one guy.
That's pretty much how the Nets have been able to turn their season around, using that next-man-up mantra. And that's how they'll have to approach Wednesday night's game in Miami, the seventh straight game in which they won't have
Kevin Garnett
, who continues to be bothered by back spasms.
The Nets have gone 5-1 without Garnett in the month of March, however.
Their March stats (with NBA rank):
Opponents turnovers: 22.7 (first)
Steals: 13.7 (first)
Points per 100 possessions allowed: 97.0 (second)
Rebounds for: 31.7 (last)
Rebounds against: 45.0 (tied for fourth most)
Rebound differential: 13.3 (second worst)
Question:
How do you expect the Nets to fair against the Heat on Wednesday night?
In case you missed it:
KG is out and
Andrei Kirilenko
is questionable, while the Nets are looking to match the Heat's intensity.
More stats (courtesy ESPN Stats & Info):
The Nets went 0-9 against Miami's Big Three (James, Wade and Bosh) prior to this season, losing by an average of 17.3 points in those games. ...
Joe Johnson
is averaging 25.5 points on 60.6 percent shooting in two games against the Heat this season. ...
Paul Pierce
is putting up 21.0 points in two games against the Heat, well above his season average of 13.2 PPG (a career low).
Up next:
Nets at Heat on Wednesday night at AmericanAirlines Arena (ESPN).