Brooklyn Nets:

NBA playoffs
April, 22, 2013
4/22/13
2:04
PM ET
EAST RUTHERFORD, N.J. -- Six years, $123 million.
That was the max contract
Joe Johnson
signed with the
Atlanta Hawks
in 2010.
[+] Enlarge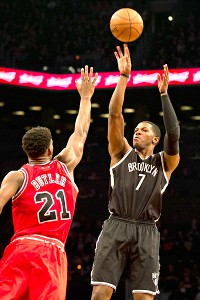 Don Emmert/Getty ImagesJoe Johnson scored 16 points in Brooklyn's playoff-opening win.
And that contract came to define him there.
That stopped when
Brooklyn Nets
traded for Johnson. No longer the No. 1 option, he is just another big contract on a team full of them.
Plus, it's New York. And Johnson, who hit three-game winning shots during the regular season, has fit in just fine.
"I'm not sure what the whole contract situation was down there in Atlanta," Nets coach P.J. Carlesimo said. "To me they obviously had other good players --
Al [Horford]
and
Josh [Smith]
.
"I just think he's come into more of a balanced situation here. If there's there anywhere in our country where big contracts aren't impressing people it's around here.
"I think people are used to guys making telephone numbers, so that's not a concern."
Despite putting up strong statistics as a six-time All-Star with the Hawks, Johnson was never able to get them past the second round of the playoffs. Atlanta fans evidenly were happy to have his "albatross" contract off the books when he was dealt to the Nets in the offseason.
"Someone had to give him that contract, right?"
Deron Williams
said.
Hawks fans booed Johnson both times the two teams played in Atlanta.
"It doesn't matter. They don't got no real fans," Williams said.
Johnson, who posted 16 points in Game 1 of the Eastern Conference quarterfinals on 7-for-13 shooting, told reporters when asked about the contract scenario: "It doesn't bother me at all, honestly. It kind of is what it is."
April, 22, 2013
4/22/13
11:32
AM ET
The
Brooklyn Nets
will look to take a commanding 2-0 lead in the Eastern Conference quarterfinals on Monday night when they face the
Chicago Bulls
at Barclays Center.


Tipoff is set for 8 p.m. Here's what we'll be watching for:
MATCHING URGENCY:
Coming off a near-flawless Game 1, the Nets can't afford to have a letdown against a Bulls team that doesn't want to go back to Chicago facing a huge deficit in the best-of-seven series.
Brooklyn fed off the energy of the sellout crowd in its home building on Saturday night. The Nets know the Bulls are going to make some adjustments. It's up to Brooklyn to counter them. According to WhoWins.com, teams that go up 2-0 in a best-of-seven NBA quarterfinals are 98-5 all time in those series.
D-WILL THE THRILL:
Deron Williams
was dominant in Game 1, scoring 22 points, dishing out seven assists and getting three steals. It didn't matter who Chicago put on him, Williams still had his way, getting into the paint and getting easy shots for himself and his teammates. You figure the Bulls will put either
Jimmy Butler
or
Luol Deng
on D-Will, because
Kirk Hinrich
and
Nate Robinson
can't guard him.
WHAT ABOUT JOAKIM?
Joakim Noah
(foot), who played just 13 ineffective minutes in Game 1, says he feels better after receiving treatment and is looking forward to bouncing back in Game 2. The Nets shot 80 percent in the second quarter and scored 56 points in the paint. The Bulls, anchored by Noah on the interior, finished fifth in defensive efficiency this season. They need their 28-year-old center to have a greater impact, even if he's way less than 100 percent.
BROOK-LYN:
Brook Lopez
had 21 points, five rebounds and three blocks in his first playoff game, carrying over the regular-season success he enjoyed versus the Bulls. Since Noah isn't healthy, the Nets will likely try to get the ball to Lopez in the post earlier and often. Brooklyn was one of the NBA's best first-quarter teams this year, and Lopez's consistently strong starts were a big reason why. He had 12 points in the opening period in Game 1.
CRASH, SAVIOR OF THE UNIVERSE:
Gerald Wallace
, who had scored just 16 points total in his last seven regular-season games, erupted for 14 points in Game 1 on 5-for-7 shooting. Defensively, he held Deng to just 3-for-11 from the field.
Wallace is Brooklyn's linchpin, providing both leadership and intangibles. He was effective Saturday night because he attacked in the paint and got to the free throw line as a result. The Nets could certainly use a similar effort in Game 2.
April, 19, 2013
4/19/13
7:30
AM ET
Here is a look at the Nets-Bulls first-round playoff schedule:

Game 1 (Brooklyn): Saturday at 8 p.m., ESPN
Game 2 (Brooklyn): Monday at 8 p.m., TNT
Game 3 (Chicago): Thursday at 8:30 p.m., NBA TV
Game 4 (Chicago): April 27 at 2 p.m., TNT
Game 5* (Brooklyn): April 29, TBD
Game 6* (Chicago): May 2, TBD
Game 7* (Brooklyn): May 4, TBD

*If necessary
April, 19, 2013
4/19/13
7:00
AM ET
Who will win this first-round Eastern Conference playoff series: the
Brooklyn Nets
or the
Chicago Bulls
?
Let's take a look at the matchups to figure it out:

POINT GUARD:
Deron Williams
has been a different player since taking a week off to get healthy during the All-Star break. He closed out the 2012-13 season by averaging 22.9 points and 8.0 assists in the final 28 games and has regained his stature as one of the league's best point guards.
Former MVP
Derrick Rose
missed the entire regular season for Chicago after undergoing knee surgery. It is unknown if he'll return during the playoffs.
Kirk Hinrich
has performed more than admirably in Rose's place, but he certainly doesn't equal Williams' production.
EDGE: NETS

SHOOTING GUARD:
Joe Johnson
made three game-winning shots during the regular season and proved to be a "Joe Clutch" in crunch time. But Johnson called his overall performance just "OK," in large part because he's had to deal with a few minor injuries. He vows to turn it up a notch in the playoffs.
Second-year pro
Jimmy Butler
has come out of nowhere to excel for the Bulls, averaging 13.7 points on 47.5 percent shooting in the final 17 games of the season. This is close.
EDGE: NETS

SMALL FORWARD:
Gerald Wallace
said recently he has lost all confidence in his shot. The stats show as much: He has hit just three of his past 37 3-point attempts (8.1 percent). But interim coach P.J. Carlesimo loves Wallace's intensity and ability to defend multiple positions, so he'll see plenty of time on the floor.
All-Star
Luol Deng
, Chicago's go-to wing player, averaged 16.5 points per game and logs a ton of minutes (38.7 a night).
EDGE: BULLS

POWER FORWARD:
Reggie Evans
has been snagging rebounds at a ridiculous rate. In his past 20 games, he's averaging 16.2 boards. He also won't back down from anyone and has playoff experience, which is huge. Granted, his offensive game and his free throw shooting often leave much to be desired.
Carlos Boozer
had a solid season for the Bulls, nearly averaging a double-double while shooting 47.7 percent from the field.
EDGE: BULLS

CENTER:
Brook Lopez
had the best season of his career for the Nets. He ranked fifth in the NBA in player efficiency rating (24.81) and made his first All-Star Game.
Joakim Noah
, also an All-Star, is Chicago's heart and soul, and has the ability to be a game-changer on both ends of the floor. Noah (11.9 ppg, 11.1 rpg, 4.0 apg, 2.1 bpg) has a right foot injury; his coach says it's possible that Noah could miss some or all of the series.
EDGE: NETS

BENCH:
The Nets ranked 12th in the NBA in bench scoring (32.6 ppg), while the Bulls ranked 23rd (29.2). The Chicago reserves were seventh in field goal percentage (44.2), while their Brooklyn counterparts were 18th (42.2). Defensively, the Bulls were way more efficient.
Andray Blatche
(10.3 ppg, .512 FG) resurrected his career this season with the Nets. Ex-Bull
C.J. Watson
has been impressive shooting 3-pointers. In his past 30 game, Watson is connecting at a 53.2 percent clip from beyond the arc.
Jerry Stackhouse
, ex-Bull
Keith Bogans
and
MarShon Brooks
could all see time on the wing.
Kris Humphries
(5.8 ppg, 5.6 rpg) had a down year.
Nate Robinson
was tremendous down the stretch for Chicago, averaging 17.6 points in the past 20 games.
Taj Gibson
could start on some teams.
Marco Belinelli
is a proficient 3-point shooter (35.7 percent), while
Richard Hamilton
is coming back from a back injury.
Nazr Mohammed
almost signed with the Nets in the offseason.
EDGE: BULLS

COACH:
P.J. Carlesimo went 35-19 after taking over for Avery Johnson. The Nets all rave about how Carlesimo is a players' coach. Carlesimo will be coaching for his future in the postseason.
Tom Thibodeau is regarded as one of the best coaches in the league. Thibodeau is a defensive mastermind, though he arguably rides his starters too much in terms of minutes played. Given that he hasn't had Rose all season, Thibodeau's work this season has been nothing short of terrific.
EDGE: BULLS

PREDICTION:
This is going to be a tough series for the Nets to win. The Bulls took three out of four from Brooklyn during the regular season. Still, the Nets have a seemingly healthy trio of stars in D-Will, Iso Joe and Lopez that will carry them into Round 2. In a series that just might go the distance, Brooklyn's home-court advantage turns out to be the difference.
NETS IN 7
April, 18, 2013
4/18/13
1:54
PM ET
Brooklyn Nets
center
Brook Lopez
has never participated in the NBA playoffs.
That'll change Saturday night when the Nets face the
Chicago Bulls
at Barclays Center in Game 1 of their first-round series.
"I can't wait," Lopez said Wednesday. "I've been very anxious, waiting for it while playing through these last few games. And now that it's on the horizon, I'm very excited about it."
And to think: Just three seasons ago, Lopez was a member of a 12-70 New Jersey Nets team. The franchise spent two more playoff-free years in the Garden State before moving to Brooklyn this season.
"It's really been an amazing journey," Lopez said. "It's very surreal to think back to the PowerPoint presentations that they'd show us, when management would come in and show us renderings of the Barclays Center and all the little factoids about how big Brooklyn is.
[+] Enlarge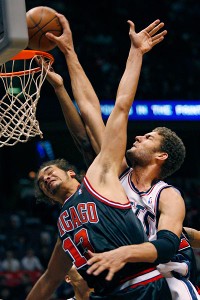 Tim Farrell/USA TODAY SportsBrook Lopez will match up with Chicago's Joakim Noah in a clash of All-Star centers.
"To finally be here and now and be on the verge of the playoffs, it's pretty incredible."
Lopez, 25, played just five games last season due to a foot injury. There were concerns about his health, along with his ability to rebound and defend.
He was involved in several trade discussions for
Dwight Howard
, but a deal never materialized. And with their pursuit of Howard over, the Nets elected to lock up Lopez, re-signing him to a four-year, $60 million contract.
He has proved his worth ever since. Lopez, who averaged a team-high 19.4 points and 2.1 blocks per game, was Brooklyn's most consistent player this season. He finished fifth in the NBA in player efficiency rating (24.81) -- only
LeBron James
,
Kevin Durant
,
Chris Paul
and
Carmelo Anthony
were better -- and made his first All-Star team.
"It's been great," Lopez said of his first season in Brooklyn. "It's been more than I can ask for. I think that's due to my teammates around me and the fans we've had."
"I've learned so much from playing with
Deron [Williams]
,
Joe [Johnson]
,
Reggie [Evans]
, Dray [
Andray Blatche
], guys like that," he added.
What have Lopez's veteran teammates told him about what to expect in the playoffs? "They're a whole 'nother level," Lopez said. "They're very physical, and electricity in arenas is a completely different scale."
Lopez is looking forward to the matchup with fellow All-Star
Joakim Noah
.
"He's great," Lopez said. "He elevates the Bulls to another level when he's on the floor, and he does so many things as a center. He really does everything very well."
Noah averaged 11.9 points, 11.1 rebounds and 2.1 blocks for the defensive-minded Bulls. But he is battling plantar fasciitis, so Lopez may be able to exploit him in the post.
Said Lawrence Frank, who coached Lopez in New Jersey for two seasons: "Brook has always had really good offensive ability. He's developed a really good back-to-basket game. He's always been a good face-up perimeter shooter and he's got great hands.
"Now what he's added is the defensive portion, and that takes time. If you look at what he's done in terms of blocking shots and his rebounding, [it] has been up from what they were last year. And his character is off-the-charts high. Great, great person."
April, 16, 2013
4/16/13
12:15
PM ET
So who will the fourth-seeded
Brooklyn Nets
face in the playoffs this weekend? Here's the latest on the race for the No. 5 seed:
The
Atlanta Hawks
(44-36) currently lead the
Chicago Bulls
(44-37) by a half-game in the Eastern Conference playoff standings.


On Tuesday night, the Hawks will take on Toronto (32-48) at Philips Arena. If the Hawks win, they will reduce their magic number to clinch the No. 5 seed to one. If they lose, the Hawks and Bulls would be tied again in the standings, and Chicago would once again control its own destiny.
Atlanta closes out its regular season against the Knicks on Wednesday night at Madison Square Garden.
The Bulls are idle on Tuesday night. They close out their regular season against Washington (29-52) on Wednesday night at United Center.
Chicago holds the tiebreaker over Atlanta by virtue of winning the season-series between the two teams, 2-1.
Essentially, the Nets won't know who they face in the first round until late Wednesday night.
April, 15, 2013
4/15/13
3:31
PM ET
The
Brooklyn Nets
are locked into the No. 4 seed, but their first-round playoff opponent has yet to be determined.
The
Atlanta Hawks
(44-36) currently lead the
Chicago Bulls
(43-37) by a game with two games remaining in the regular season. The Hawks end their season with the Raptors (Tuesday) and Knicks (Wednesday); the Bulls end their season with the Magic (Monday) and Wizards (Wednesday).


Chicago holds the tiebreaker over Atlanta by virtue of winning the season-series, 2-1.
Who would you rather the Nets play?
Most fans I've polled on Twitter would rather the Nets face the Hawks. The Nets went 1-3 against the Bulls, who are banged up but still giving maximum effort under Tom Thibodeau, the NBA's Coach of the Year in 2011. The Bulls excel on defense and play an intense, physical brand of basketball. And there's always the possibility, no matter how remote, that
Derrick Rose
comes back for the postseason.
The Hawks and Nets split their season series, 2-2. Atlanta has a solid frontcourt featuring
Josh Smith
and
Al Horford
, and its speedy backcourt featuring
Jeff Teague
and
Devin Harris
has caused problems for Brooklyn.
Still, I have to agree that the Nets have a better chance of getting past the Hawks than they do the Bulls.
Let us know your thoughts in the comments section.