Brooklyn Nets:

New Jersey Nets
October, 17, 2013
10/17/13
8:24
PM ET
NEW YORK –- Rod Thorn needed a leader.
He needed to improve the Nets' chemistry, rebounding and defense. Trading
Stephon Marbury
, a young explosive point guard who was coming off an All-Star appearance, was a risk. But it was a risk worth taking to acquire Jason Kidd.
"Marbury at the time, was a tremendous talent," Thorn said earlier this week. "The jury was out on who got the better of the deal prior to the players playing. People saying why would [the Nets] take a 28-year-old guy and give up a 22-year-old guy, why would they do that?
"Here is a guy who has his whole future ahead of him, he's already an All-Star, he is a New York product, why would they do that? A lot of people felt that."
The deal ended up adding to Thorn's legacy, which is highlighted by the drafting of
Michael Jordan
for the
Chicago Bulls
. Kidd led the Nets to two straight NBA Finals appearances and four Atlantic Division titles. Tonight, he had his No. 5 jersey raised to the rafters and retired by the Nets.
Turns out the deal worked out just fine for Thorn and the Nets.
"Our feeling was after our first year was we had some talent on the team but we lacked defense, rebounding and chemistry," Thorn explained of his thinking. "We didn't share the ball real well with each other, defensively, we just weren't very good at all and rebounding-wise we were below average."
Thorn said he and the Suns were talking trade at the Chicago pre-draft camp in June of 2001 but talks stalled. Then a few days before the NBA draft in late June, the two teams began discussing a trade again.
Thorn had assembled several pieces to put around Kidd. He signed a center with good hands and offensive skills in
Todd MacCulloch
. He made a draft-day deal for rookies
Richard Jefferson
and Jason Collins.
Kerry Kittles
and
Kenyon Martin
were coming back from injuries and
Keith Van Horn
was another piece Kidd could make better.
"Keith was talented, Kenyon was talented, Stephon Marbury was very talented," Thorn said. "But we just didn't mesh together because we were in the basics of the game and all the little intangible ways, we just weren't very good."
Under Kidd's direction, the Nets doubled their win total from the season before with 52 victories and the trade turned the Nets into contenders.
"Jason was what put it all together," Thorn said.
Thorn ended up trading a young and talented point guard in Marbury for one of the greatest point guards to ever play the game.
"First-ballot Hall of Famer," Thorn said. "There just aren't many Jason Kidds, players that play to win the game and that aren't worried about their stats and aren't worried about how they look.
"It is all about did you win the game?" Thorn continued. "That is what he brought and he made other players better. Very few players can do that. He will live in the pantheon of great players in the NBA."
October, 17, 2013
10/17/13
3:30
PM ET
NEW YORK -- There will be a video tribute for Jason Kidd's jersey retirement ceremony tonight, complete with cameos from former teammates like
Vince Carter
and
Kenyon Martin
.
With the No. 5 jersey going up to the rafters, Martin,
Richard Jefferson
and former Nets GM Rod Thorn shared some of
their favorite memories
from the Kidd era.
Here are some of Martin and Jefferson's personal favorites:
MOST MEMORABLE KIDD PASS
Martin has two favorite Kidd passes. One was the
famous bowling ball pass
against the Knicks at the Meadowlands when Kidd rolled a pass around a Knicks defender past half court with enough spin on the ball that it slowed down in front of
Lucious Harris
so the guard could pick it up and lay it in.
"Everybody was loving it!" Martin, now with the Knicks, recalled. "I was on the court, and I was like, 'Whoa! Did you all just see that? The ball stopped!' Nobody is doing that these days. Just to put that much English on the ball from afar and throwing that thing and it spun and stopped? That is impressive."
Martin's other favorite Kidd pass was one of the countless alley-oops Kidd lobbed to him. This particular one came in a game against the Sixers in Philadelphia.
Kidd drove baseline. With three defenders near him, Kidd left his feet and was heading underneath the basket and seemed to be going nowhere. But he saw Martin coming down the middle, and the ball somehow found Martin, who threw it down.
"Of course, there are a lot of them in the three years we played together," Martin said. "But the one that stands out is we were in Philly. He jumped out of bounds and I thought he was going to throw it to the corner and he saw me coming down and he flipped the ball up to me."
Jefferson's favorite pass from Kidd came at Madison Square Garden, where Kidd loved putting on a show. Kidd took an outlet pass at half court and tapped it past his head to a streaking Jefferson near the free throw line for a dunk, all with his back turned.
Here's a
Kidd highlight video
that has Martin's favorite alley-oop at the 1:12 mark and Jefferson's favorite Kidd pass around the 1:36 mark.
MOST UNBELIEVABLE THING THEY SAW KIDD DO
[+] Enlarge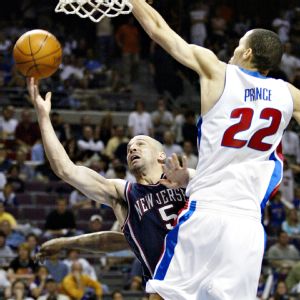 AP Photo/Duane BurlesonJason Kidd willed the Nets to a 127-120 triple-overtime victory in Game 5 of the Eastern Conference semifinals in 2004.
Jefferson said the most amazing play he ever saw Kidd make came against the Bulls. He drove baseline and ended up in the middle of the paint before flinging a no-look shot high off the glass and in with his back turned to the basket. Here's the shot at the
2:16 mark
, which even Jay Z enjoys.
"He didn't like [Scott] Skiles [who coached Kidd in Phoenix before coaching Chicago]," Jefferson said. "And we were playing them late in a game and he got an offensive rebound and he drives baseline and there was like two seconds to go [on the shot clock]. He turned opposite of the basket because I think the defender thought he was going to bring it out, and he flipped it up behind his head high off the glass.
"It was one of the craziest things I ever saw. I didn't know what he was doing or where he was going. It was one of the most amazing shots. ... The crowd went nuts because they didn't know what on earth they had just seen. You saw his best when he was at his most competitive against somebody that he really wanted to beat. And that was awesome."
Martin said he will never forget how Kidd tried to put the Nets on his back despite playing basically on one leg. Kidd would eventually need microfracture surgery on his knee, but he willed the Nets to a 127-120 triple-overtime victory in Game 5 of the Eastern Conference semifinals against Detroit in 2004. The Nets ultimately lost in seven games, but Martin still is in awe of Kidd, who had 16 points, eight assists, five rebounds, three steals and two blocks in that triple-OT game.
"Everybody said he is not a great shooter, not this or that," Martin said. "He still put us on his back. Just the way he approached it, overtime after overtime, you could tell he was like we were going to win this game. And his knee was bothering him.
"It let us know you can play through anything at this level and what type of person he is and the way he cares for his family and everybody, just a great person. A great basketball player but a better person. He cares and has heart."
October, 17, 2013
10/17/13
1:00
PM ET
The rivalry between the Knicks and Nets may be as hot as it has ever been this season.
But
Richard Jefferson
says there was no doubt in his mind that the Nets ran New York when he, Jason Kidd and
Kenyon Martin
had their high-wire act going in the early-to-mid 2000s.
"When the Knicks were done and they weren't in the playoffs and the one year they did make the playoffs while we were there, we swept them out," Jefferson said earlier this week. "As far as a dominance thing, there was only Nets basketball.
[+] Enlarge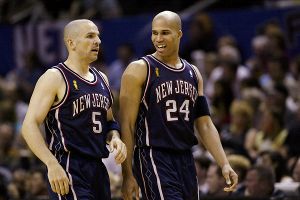 Jed Jacobsohn/Getty ImagesAs far as Richard Jefferson is concerned, the Nets owned New York in the early 2000s, when the franchise called New Jersey home.
"I don't care if there is one Garden, when we were there, there was only one team in town and that was the Nets."
The Nets were a nightly highlight machine with Kidd lobbing alley oops to Martin and Jefferson. But they saved some of their best for the
New York Knicks
.
After playing before mostly half-empty home crowds at the Meadowlands, the Nets took great delight whenever playing the Knicks on the Madison Square Garden stage.
"This is when the Nets and Knicks rivalry was high and not because the Knicks were good," Jefferson said. "It was mainly because the Knicks sucked."
They took great joy in sticking it to the Knicks. But those Nets really loved the crowd, the unique lighting and the big-game buzz at MSG. Most of the Nets then would never admit it publicly, but they would have loved playing their brand of basketball before the Garden. And they knew that even Knicks fans had to respect and appreciate the show they would put on sometimes there.
"I don't care," said Jefferson, now with the Jazz. "As long as I live, Knicks fans love me and hate me because they respected everything that we did."
During one game at the Garden, Kidd was basically putting together a personal highlight reel. He delivered one of his most memorable passes as a Net, one that ranks behind the unforgettable bowling ball pass he once rolled across halfcourt toward
Lucious Harris
with enough backspin to slow down for Harris to scoop up for a layup in a game against the Knicks at the Meadowlands.
But this one pass at the Garden was the best pass Jefferson said he had ever caught from the point guard. Martin threw a quick outlet pass to Kidd, who was near halfcourt already looking to start a break. Instead of catching the outlet, Kidd, with his back turned to Jefferson, tapped a no-look pass by his head to a streaking Jefferson, who caught it near the free throw line on his way for an easy dunk.
Jefferson actually began to laugh as he caught the ball because of how ridiculous the pass was.
"I was like, don't miss this because this is going to be a SportsCenter top-10 play," Jefferson said. "Guys would see SportsCenter and see his highlights and don't understand that was an everyday thing for seven years in practice. He would give you four or five passes that you never ever seen before. It was absurd."
"We were just putting on a show," Jefferson continued. "We were clowning people. J-Kidd threw one off the glass to Kenyon and you heard a Nets chant in the Garden. That was the most disrespectful thing."
Tell us your favorite Nets moment versus the Knicks below.
August, 9, 2013
8/09/13
8:00
AM ET
By
Mike Mazzeo
| ESPNNewYork.com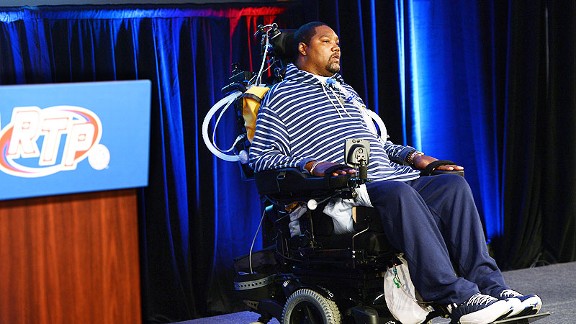 Courtesy of NBA Rodney Rogers spoke at the Rookie Transition Program on Thursday.
Former Nets forward
Rodney Rogers
doesn't want this year's rookie class to take playing in the NBA or earning a lot of money for granted.
That was the message that Rogers, who has been paralyzed since 2008, tried to instill in the league's incoming first-year players at the Rookie Transition Program on Thursday morning in Florham Park, N.J.
"My message was to share with them and let them know that there are things out there that they can get into that will get them in trouble," Rogers told ESPNNewYork.com. "You obviously want to have fun, but if you don't do the right things you're supposed to do, you can get it all taken away from you. I told them, 'Make sure you're in the right place at the right time and try not to get into trouble. If you do good now, you're setting yourself up for the rest of your life.'
"People are going to try to offer you all kinds of things, and you've got to be able to say no. That's what you need to learn is to say no to people. Basketball is not going to be there for the rest of your life. It's short-term and you've got to make the best of it."
[+] Enlarge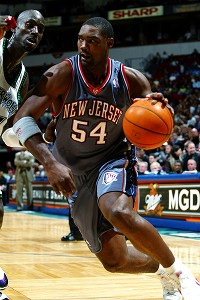 David Sherman/NBAE/Getty ImagesRodney Rogers played two seasons for the New Jersey Nets, 2002-03 and 2003-04.
Rogers, 42, scored nearly 10,000 points and played for six teams during his 12-year career and won the Sixth Man Award with Phoenix in 2000. He retired following the 2004-05 season but kept working -- operating heavy machinery for the Durham (N.C.) Public Works Department and driving tractor trailers -- even though he made millions of dollars during his NBA career.
On Nov. 28, 2008 -- the day after Thanksgiving -- Rogers' life nearly ended when he broke his neck in a dirt bike accident. Rogers was riding his bike when he hit a ditch and flipped over the handle bars. He was given a 50-50 chance to live by doctors and nearly died a couple times after having surgery and rehabbing in hospitals and rehabilitation centers.
Doctors have given Rogers only a five percent chance that he'll ever walk again.
"It's been difficult, but it's been something my wife and I just said, we've got to deal with it. So we've dealt with it going forward and tried to make the best out of it," said Rogers, who has some feeling in his shoulders and "some feelings in things that I'm not supposed to feel.
"I was kind of nervous and scared at first to go out in public," he added, "because I've always been a tough guy that's running around and taking care of everything, and now I've got to wait on people to take care of me. But it's working out good. I still have my up and down days, but we're trying to stay positive and stay consistent with that."
Rogers is headed to Project Walk, a certified spinal cord injury recovery facility in Atlanta, in two weeks, and hopes to make even more progress.
He thought the players appreciated what he had to say Thursday morning.
"I saw a lot of them taking notes, a lot of them listening, a few of them asked questions and they really really wanted to know about the NBA, what's going to happen and what to look out for," Rogers said.
When he's not rehabbing, Rogers helps run the Rodney Rogers Foundation, which assists people who are living with paralysis, and Jazzie's Trucking, a dump truck and tractor trailer company.
Rogers "hates" that he can't drive a truck anymore. He truly loved doing it.
"I never took life for granted, but it just lets you know that at any given time, anything can happen. The man upstairs is the one that's in control of everything," Rogers said.
April, 24, 2012
4/24/12
1:40
PM ET
By
Greg Newman
| ESPNNewYork.com
Check out our photo gallery of the Top 10 All-Time N.J. Nets!
The Nets are leaving New Jersey. Does anybody care? How will people remember the N.J. Nets?
From
Monday night marks end of N.J. Nets era
:
"Sorry, but the greatest Net of all time was Dr. J."
- Dr. Dave 61
Ed.'s note -- Sure, but he played for the New York Nets, at the Nassau Coliseum, not in Jersey.
From
Chris Christie: No love lost for Nets
:
" '(The Prudential Center is) one of the most beautiful arenas in America they have a chance to play in, it's in one of the country's most vibrant cities...' Is that what Newark is now? Vibrant? Really? Christie needs to shut his piehole....."
- carrasquillo69
Ed.'s note -- He needs to shut his what?
"This move makes no sense. It's not like Brooklyn's a vast improvement over Jersey in the first place."
- Tito M.D.
Ed.'s note -- The pizza alone is a vast improvement.
"Hey put it this way... At least New Jersey still has the "Jersey Shore" heh..."
- Kobeto Clippers
Ed.'s note -- True. More people root for Snooki than the Nets.
"Right Chris, Newark is much cooler than Brooklyn. Sure it is.
Christie's like a guy dumped by his girlfriend because he's a boring rube, then screams "Good riddance!" at her exhaust fumes. Pathetic."
- Mike02414
Ed.'s note -- Nobody likes seeing a guy cry about getting dumped. What's he supposed to say?
"When u cant sell out a stanley cup game...what does that say about your fan base your moron"
- billyb_in_nyc
Ed.'s note -- The Devils and Nets have different fans, but still ... that is very sad.
From
Facebook
"still got the devils"
- Ryan Bucks
Ed.'s note -- Sure. Maybe Newark will become Hockeytown East!
Look for these FanSpeak pieces on a regular basis (hey, at least you know we're paying attention).
August, 20, 2010
8/20/10
5:00
PM ET
By
Jared Zwerling
| ESPNNewYork.com
As questions keep pouring out about
Carmelo Anthony's
possible future with the Nets, double-double big man
Troy Murphy's
return home has been overlooked. The New Jersey native was officially
introduced to the media
yesterday, and he is "very excited" to play for the Nets. Here are some interesting excerpts:
On his favorite Nets memories growing up?
"I would come to Nets games. I used to watch
Chris Morris
launch shots from out of bounds before games when I was a little kid. He wasn't my favorite player. I liked
Keith Van Horn
when I was in high school and watched
Jayson Williams."
(More on him below.)
On his potential role with the team?
"I'm still figuring out what Avery [Johnson] is going to expect of me, but I think I fit in well playing with a center like
Brook Lopez
and
Devin Harris.
He's a guy that a lot of guys want to play with. He's a good point guard. I think I fit in well with this team."
On playing for Johnson after playing with him on the Golden State Warriors?
"It's pretty cool. I knew playing with him that he was going to be a coach. He always knew what we were doing and why we were doing it. He had some suggestions of different things to do, and a lot of them made sense. So you can tell playing with him that he was going to be a head coach, and he's a lot of success coaching the Mavs to the Finals. I liked playing with him and I look forward to playing for him."
On why marquee free agents didn't come to the Nets?
"That's a great question. I don't know, because you have the pieces with a point guard and a center, which are two difficult spots to fill."
Nets notes:
Jared Zwerling is a senior researcher for ESPN The Magazine and a regular contributor to ESPN RISE. You can follow him on Twitter: @jaredzwerling.
August, 10, 2010
8/10/10
4:22
PM ET
By
Chris Sheridan
| ESPNNewYork.com
New Jersey Nets' 2010-11 schedule
If you want to make the case that the Nets are every bit as good as the Detroit Pistons, then there is real hope that New Jersey can get above .500 for the first time since Dec. 19, 2008, when they open the season against Tracy McGrady's newest team.
You may recall
that long-ago night when the Nets rose above the break-even mark
, because it came in a 24-point victory over the Dallas Mavericks in which
Devin Harris
scored 41 points against his former team with Nets fans taunting Mavs owner Mark Cuban by chanting, "Thank You, Cuban."
It has all gone downhill in the nearly two years since then, the low point coming when New Jersey sank to 0-18 last Dec. 2, but at least the Nets will have a new owner (
Mikhail Prokhorov
), a new place to call home and a new coach (
Avery Johnson
) when they open the 2010-11 season at the Prudential Center in downtown Newark.
The Nets will play their first four games at home, including a Sunday afternoon 1 p.m. matinee on Halloween against the Miami Heat that will allow
LeBron James, Dwyane Wade
and
Chris Bosh
to make it back to South Beach in time for the human costume parade along Collins Avenue that must be experienced in person to be truly appreciated.
And just think, if the Nets can knock off the Pistons and the Sacramento Kings in their first two games, they would actually be two games over .500 for the first time since Nov. 30, 2008, when Harris scored a career-high 47 points in a 117-109 victory at Phoenix (career victory No. 200 for former coach Lawrence Frank).
Aside from opening with a four-game homestand,
the Nets' schedule
includes this oddity: Among their first nine games, the Nets will play the Heat twice, the Magic twice and the Cavs twice.
Also, the Nets will play just five home games (and 10 road games) in the month of November, and they will become the first team to play a regular-season game in Europe when they face the Toronto Raptors in London on March 4 and 5.
In their news release announcing the schedule, the Nets touted their home games against
Jason Kidd
and the Mavericks on Jan. 22 and
Richard Jefferson
and the San Antonio Spurs on Feb. 14. Curiously, they did not make special mention of
Lawrence Frank's
first game against his former team. That'll come Dec. 5 against the Boston Celtics, who have hired Frank as an assistant coach to replace Tom Thibodeau.
The Nets' news release also mentioned that a limited number of season tickets are available for $299. If you divide that number by 41, you learn it'll cost just $7.29 to sit in a cheap seat at The Rock.
Just a guess, but I'd reckon there won't be any $7.29 tickets two years from now when the Nets move into their new arena in downtown Brooklyn.