Brooklyn Nets:

New York Knicks
February, 17, 2015
Feb 17
2:41
PM ET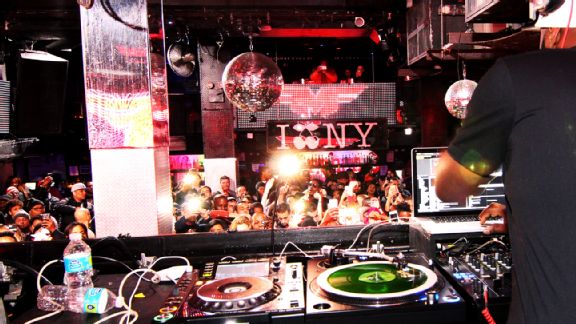 Johnny Nunez/Getty ImagesFunkmaster Flex spins at The Finale hosted by Nicki Minaj at Pacha.
NEW YORK –- The NBA's midwinter classic has come and gone, and all we are left with is the bitter cold.
But despite the frigid temperatures, New York City was sizzling during All-Star Weekend.
From a Kanye West outdoor show in the Flatiron District to a surprise concert by music royalty at the Jordan Brand 30th Anniversary Party, ESPNNewYork.com brings you behind the ropes at some of the most memorable All-Star events.
THURSDAY
There were parties as early as Wednesday in the city, including Bud Light MixxTail's pregame apartment party. DJs spun hip-hop in a loft above Broadway near 18th Street with the big game still days away.
[+] Enlarge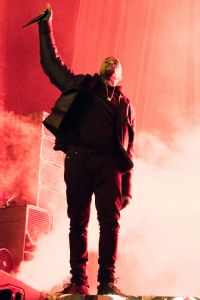 Dave Kotinsky/Getty ImagesKanye West performs at the Roc City Classic in the Flatiron District.
But Thursday night is when things really started popping in the city.
Kevin Durant and Roc Nation Sports took over the Flatiron District, holding an outdoor concert right off Broadway and 23rd with the incredible backdrop of high-rise buildings behind the stage.
Longtime hip-hop radio personality Angie Martinez of Power 105.1 kept thousands of fans engaged as they waited in the bone-chilling temperatures. Finally, Kanye West -- fresh off his Grammys stunt when he briefly walked onto the stage as Beck was accepting his award -- stepped up with a few of his friends, including rapper Big Sean.
Beck fans had their revenge, though. Kanye performed with one of the surrounding buildings
sporting a "BECK!" display in its windows
.
Seen in the crowd of thousands (10,000 tickets were distributed) at the first annual Roc City Classic was rapper Drake, who caused a commotion during and after the concert just by walking around Broadway with his friends.
After the concert, several guests with VIP passes were unable to get into Jay Z's nearby 40/40 Club, where the after-party was held. The club hit its fire-code max capacity –- a common occurrence this past weekend.
Also on Thursday night, American Express and TNT threw an All-Star party at Hammerstein Ballroom featuring Fall Out Boy. Shaquille O'Neal was even seen getting behind the DJ booth.
FRIDAY
On Friday, All-Star weekend got going with the celebrity game at MSG. But even if you didn't have a ticket for that, or for the Rising Stars Challenge at Barclays Center, there was at least one event where fans could watch the game with a soundtrack spun by a famous DJ.
[+] Enlarge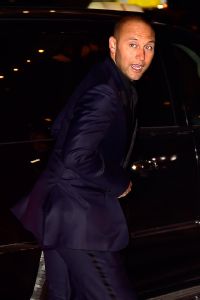 Alo Ceballos/GC ImagesDerek Jeter was out and about for All-Star Weekend.
JBL by Harman hosted a private viewing party for the celebrity game at Harman's store in Midtown. Portland All-Star guard Damian Lillard was there, with hip-hop producer Jermaine Dupri in the DJ booth.
Further downtown, the Jordan Brand hosted its annual All-Star party, which many consider the event of the weekend. Celebrating the 30th anniversary of Air Jordan, the party was "bigger and better than ever," according to ESPN's J.A. Adande.
His Airness, Derek Jeter and Jay Z were among those spotted at the party in the financial district.
The lucky fans who attended got to see Ariana Grande perform -- and then watched as Prince took the stage.
"Prince went for two and a half hours," Adande wrote.
Take it from someone who has seen the Purple One perform multiple times –- it's a gift. Prince enjoys his craft and really cares about delivering a memorable performance.
According to the AP's music writer, Prince brought some celebs onto the stage to jam with him, including Chris Rock, Questlove, Queen Latifah and actress Rosario Dawson. Rapper Nas could be seen singing along to Prince's "When Doves Cry" in the crowd.
Yeah, that had to be the party of the weekend.
But there were others. That same night near Korea Town, TNT analyst and New York's own Kenny Smith threw his All-Star party at Pranna.
Former Jet Antonio Cromartie and other former NBA stars like Ralph Sampson and Antoine Walker mingled in a crowd that enjoyed tunes spun by what basically was an All-Star lineup of hip-hop DJs. D-Nice, Funkmaster Flex and DJ Red Alert spun old-school jams to the delight of the packed club. With Ed Lover at his side in the booth, the legendary Red Alert kept the hits coming while Smith gave shout-outs from his VIP section above. At one point, Smith gave a shout-out to another legendary hip-hop DJ, Kid Capri, who was in the crowd.
SATURDAY
Barclays Center was packed for All-Star Saturday night, where the Slam Dunk competition made a comeback thanks to Zach LaVine.
[+] Enlarge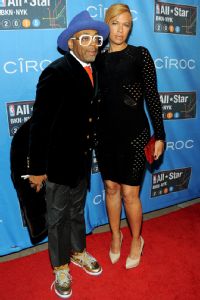 Brad Barket/Getty ImagesSpike Lee and Tonya Lewis Lee hit the red carpet on game night.
Within walking distance of Barclays, Spike Lee threw his "Spreadin' Love is Da Brooklyn Way" All-Star Weekend Sneaker Jam.
In the city, Jeter was busy playing host at The Players' Tribune party at Canoe Studios. Russell Wilson, Rob Gronkowski, CC Sabathia and Matt Harvey were among those who got to see Common perform and do an epic freestyle shout-out to all the celebrities in the room.
The National Basketball Players Association party returned to All-Star Weekend on Saturday night, with Fabolous performing in front of a crowd that included the likes of Puff Daddy, Snoop Dogg and DJ Khaled, among others. Capitale, where the party was held, was so packed that security in front stopped allowing people in around 1:30 a.m.
SUNDAY
The Garden was as packed as we can remember for the All-Star Game. You couldn't walk the concourse without noticing a New York luminary -- from former Knick Charles Smith to former Yankee Dave Winfield.
The NBA had musical and Broadway acts perform before and during the All-Star Game. A giant stage took over one baseline behind a basket, and it had a Super Bowl halftime performance production feel to it. Christina Aguilera opened with some help from Nas. And Ariana Grande was the halftime act, with a surprise cameo from Nicki Minaj, who delivered the bang for their hit song "Bang Bang" with Jessie J.
Russell Westbrook then completed one of the best games in All-Star history with 41 points to win the MVP trophy.
Despite temperatures that made New York feel like Hoth, the city partied like it was making up for 17 years of lost time since the All-Star Game was last here in 1998.
April, 25, 2014
4/25/14
6:44
PM ET
NEW YORK –- Even a decade later after the Nets swept the Knicks out of the playoffs, Jason Kidd still is needling those
Stephon Marbury
-led Knicks.
Before Game 3 against the
Toronto Raptors
, the Nets head coach was asked if he could ever recall a time when something seen in a newspaper was ever used as bulletin board material for a team.
Kidd initially couldn't recall anything that the Nets might've done during his time in New Jersey.
Then a reporter mentioned how
Tim Thomas
once called
Kenyon Martin
"fugazi" during the Knicks-Nets first-round series back in 2004.
"Oh, um, that wasn't really a series," Kidd deadpanned. "It wasn't."
Kidd and the Nets swept Marbury's Knicks, 4-0, in a series that was more hotly contested off the court. Not only was there the Knicks-Nets rivalry but it was punctuated by the rivalry between Kidd and Marbury, the former Net who was traded for Kidd and felt strongly that he was the best point guard in the league at the time.
And there was Thomas and Martin's feud which began when Thomas basically all but challenged Martin to a fight and called the Nets power forward "fugazi" which was a slang term for a fake tough guy.
The next day, Martin showed up at a media availability wearing the New York Daily News' back page on his chest. The News' back page had a picture of Thomas with the headline "Whiny Tim." Martin taped it to the front of his practice jersey like a marathoner's number –- giving new meaning to bulletin board material.
The whole conversation was brought up because Kidd was asked if the Nets used Raptors GM Masai Ujiri's "F--- Brooklyn!" pep rally cry as bulletin board material.
"It's never thrown on a bulletin board," Kidd said in general terms of anything inflammatory said off the court. "We just focus on the game. That's between the fans and the media for them to have a story or talk about. For the players, it's about basketball and being able to execute."
Except, or course, a decade ago when the Nets and Knicks played in a lopsided first-round series that proved to be more memorable for what was said off the court.
October, 8, 2013
10/08/13
8:32
PM ET
WASHINGTON –- One Las Vegas oddsmaker considers the
Brooklyn Nets
to be the best team in New York.
Bovada has the Nets at 10-1 odds to win the championship this season, behind Miami (2-1), Chicago (8-1), Oklahoma City (8-1) and the L.A. Clippers (9-1). Houston and Indiana are tied with the Nets at 10-1.
The Knicks are 22-1 odds to win it all.
As far as winning the Eastern Conference, the Nets were given 11-2 odds, putting them behind Miami (1-1), Chicago (4-1) and Indiana (5-1). The Knicks are behind Brooklyn with 9-1 odds of winning the conference.
Do you agree or disagree with the oddsmakers? Let us know below.
April, 24, 2012
4/24/12
1:40
PM ET
By
Greg Newman
| ESPNNewYork.com
Check out our photo gallery of the Top 10 All-Time N.J. Nets!
The Nets are leaving New Jersey. Does anybody care? How will people remember the N.J. Nets?
From
Monday night marks end of N.J. Nets era
:
"Sorry, but the greatest Net of all time was Dr. J."
- Dr. Dave 61
Ed.'s note -- Sure, but he played for the New York Nets, at the Nassau Coliseum, not in Jersey.
From
Chris Christie: No love lost for Nets
:
" '(The Prudential Center is) one of the most beautiful arenas in America they have a chance to play in, it's in one of the country's most vibrant cities...' Is that what Newark is now? Vibrant? Really? Christie needs to shut his piehole....."
- carrasquillo69
Ed.'s note -- He needs to shut his what?
"This move makes no sense. It's not like Brooklyn's a vast improvement over Jersey in the first place."
- Tito M.D.
Ed.'s note -- The pizza alone is a vast improvement.
"Hey put it this way... At least New Jersey still has the "Jersey Shore" heh..."
- Kobeto Clippers
Ed.'s note -- True. More people root for Snooki than the Nets.
"Right Chris, Newark is much cooler than Brooklyn. Sure it is.
Christie's like a guy dumped by his girlfriend because he's a boring rube, then screams "Good riddance!" at her exhaust fumes. Pathetic."
- Mike02414
Ed.'s note -- Nobody likes seeing a guy cry about getting dumped. What's he supposed to say?
"When u cant sell out a stanley cup game...what does that say about your fan base your moron"
- billyb_in_nyc
Ed.'s note -- The Devils and Nets have different fans, but still ... that is very sad.
From
Facebook
"still got the devils"
- Ryan Bucks
Ed.'s note -- Sure. Maybe Newark will become Hockeytown East!
Look for these FanSpeak pieces on a regular basis (hey, at least you know we're paying attention).