Brooklyn Nets:

Oklahoma City Thunder
July, 24, 2013
7/24/13
8:00
AM ET
By
Mike Mazzeo
| ESPNNewYork.com
Do the
Brooklyn Nets
have the best starting five in the NBA?
ESPN analyst and former coach Jeff Van Gundy thinks so.
"If they play well and remain healthy, which is always a challenge for an older team, I think they have the best starting-unit talent in basketball," Van Gundy said recently.
[+] Enlarge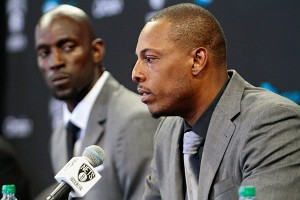 AP Photo/Jon GerbergKevin Garnett and Paul Pierce are focused on bringing a championship to Brooklyn.
Let's take a look at the Nets' projected starting five by games missed last season:
PG
Deron Williams
: 4 (dealt with ankle and wrist issues for first 50 games)
SG
Joe Johnson
: 10 (plagued by plantar fasciitis at end of season)
SF
Paul Pierce
5 (plagued by elbow injury in playoffs)
PF
Kevin Garnett
14 (plagued by bone spurs in ankle and foot)
C
Brook Lopez
8 (underwent third foot surgery in 18 months in offseason)
As Van Gundy said, if they can stay healthy, and that's a pretty big "if," the Nets, at least on paper, do have one of the best starting fives in the league.
Let's take a look at some of the other elite projected starting units:
Memphis Grizzlies
Mike Conley
,
Tony Allen
,
Tayshaun Prince
,
Zach Randolph
,
Marc Gasol
Golden State Warriors
Stephen Curry
,
Klay Thompson
,
Andre Iguodala
,
David Lee
,
Andrew Bogut
Chicago Bulls
Derrick Rose
,
Jimmy Butler
,
Luol Deng
,
Carlos Boozer
,
Joakim Noah
Indiana Pacers
George Hill
,
Paul George
,
Danny Granger
,
David West
,
Roy Hibbert
Houston Rockets
Jeremy Lin
,
James Harden
,
Chandler Parsons
,
Omer Asik
,
Dwight Howard
San Antonio Spurs
Tony Parker
,
Danny Green
,
Kawhi Leonard
,
Tim Duncan
,
Tiago Splitter
Oklahoma City Thunder
Russell Westbrook
,
Thabo Sefolosha
,
Kevin Durant
,
Serge Ibaka
,
Kendrick Perkins
Los Angeles Clippers
Chris Paul
,
J.J. Redick
,
Jared Dudley
,
Blake Griffin
,
DeAndre Jordan
Miami Heat
Mario Chalmers
,
Dwyane Wade
,
Shane Battier
,
LeBron James
,
Chris Bosh
Do you agree with Van Gundy? If not, where do you think the Nets stack up? Let us know in the comments section.
January, 2, 2013
1/02/13
12:23
PM ET
By
Mike Mazzeo
| ESPNNewYork.com
The
Brooklyn Nets
were historically bad in their 104-73 loss to the
San Antonio Spurs
on Monday night, scoring a franchise-low five points in the third quarter. Things aren't going to get any easier on Wednesday night, when the Nets take on the Thunder in Oklahoma City. Here's what we'll be watching for:


CRASH BACK:
The Nets will have
Gerald Wallace
in the lineup after he missed Monday night's game due to a bruised left knee. Wallace might get the assignment of guarding Kevin Durant, at least on some possessions.
NEW YEAR, NEW RESULTS?
The Nets didn't expect to enter 2013 with an interim coach and a 16-15 record after a $330 million offseason spending spree, but here they are. It felt very much like they hit rock bottom on Monday night, when they were outscored 30-5 by San Antonio in the third quarter, going 2-for-20 from the field and committing seven turnovers. The Nets must try to put that embarrassing performance in their rearview mirror while taking on a Thunder team that has won 12 straight games on its home court. Brooklyn has lost seven straight to Oklahoma City and has never won there (0-3).
GOOD LUCK:
Oklahoma City (24-6) has won three in a row overall and is 16-2 overall at Chesapeake Energy Arena. Led by Durant's 28 points per game, the Thunder are No. 1 in the NBA in scoring (105.9 ppg). They're a middle-of-the-pack defense team, but can get away with it because they can flat-out fill it up.
D-WILL VS. R-WEST:
Deron Williams
used to be known as arguably the best point guard in the NBA. But that's no longer the case. D-Will, who is having the worst season of his career, is coming off an eight-point, one-assist performance in San Antonio. He said Monday he thinks fatigue has contributed to his struggles. The good news for Williams? He scored a season-high 33 points against OKC on Dec. 4.
Russell Westbrook
is shooting just 40.4 percent from the field, but is averaging 21.5 points, 8.7 assists and 2.1 steals per game.
December, 4, 2012
12/04/12
10:16
PM ET
By
Mike Mazzeo
| ESPNNewYork.com
WHAT IT MEANS:
The
Oklahoma City Thunder
blew up the Brooklyn Nets' defensive rating.
The Nets, who came in ranked second in the NBA in scoring defense, got torched for a season-high 117 points on a season-high 60.6 percent shooting by the Thunder in a 117-111 loss on Tuesday night at Barclays Center.
Brooklyn (11-6), which saw its six-game home winning streak come to an end, has now lost two games in a row, and still hasn't beaten Oklahoma City since Jan. 12, 2009 -- a string of seven consecutive defeats.


Kevin Durant
(32) and
Russell Westbrook
(25) combined for 57 points to lead the Thunder (15-4).
The Nets nearly rallied back from a 16-point deficit, but couldn't get enough stops down the stretch to complete their comeback attempt.
A controversial goaltending call on
Kris Humphries
(12 points, 12 rebounds) with 1:52 left proved critical, as it gave Oklahoma City a 110-106 lead.
REASON FOR OPTIMISM:
Deron Williams' jumper was actually going in. D-Will made his first four shots -- one of which was a desperation 32-footer from the right wing. It was a sign of better things to come. The point guard finished 10-for-20 from the field (5-for-9 from 3-point range) and became the first Net to cross the 30-point mark this season, finishing with a game-high 33. It was D-Will's first 30-point game since March 28, 2012 vs. Indiana. Not too shabby for a guy that was banged up and shooting a career-worst 38.2 percent coming in.
ZERO HERO:
Another start in place of the injured
Brook Lopez
. Another big game for
Andray Blatche
. The 26-year-old center had 19 points and 11 rebounds on Tuesday night. During Lopez's three-game absence due to a sprained right foot, Blatche has posted averages of 17.7 points and 9.3 rebounds. He could've gone for more had he not picked up his fifth foul at the 8:42 mark of the fourth quarter, which sent him to the bench for a long stretch.
Reggie Evans
also missed this game due to the flu.
MIXED REVIEWS:
Joe Johnson
was a non-factor in Miami (5-for-14, 12 points) -- and a non-factor in this one, too -- until the fourth quarter. The $19.75 million man had eight of his 17 points in the final period, but shot just 8-for-21 from the field.
EXPLODING FROM DOWNTOWN:
The Nets went 6-for-9 from 3-point range during a third quarter in which they outscored the Thunder, 38-29, and turned a 16-point deficit into a four-point deficit heading into the fourth.
Gerald Wallace
(14 points, seven rebounds) hit four of those 3s. It was their highest scoring quarter this season. The Nets ended up going 14-for-34 from 3-point range on the night.
HOT START:
Oklahoma City made 21 of its first 30 field goal attempts and shot a sizzling 65.7 percent in the first half.
HAPPY B-DAY, JAY:
Nets minority owner Jay-Z turned 43 on Tuesday night.
WHO'S IN THE HOUSE?
Trey Songz
UP NEXT:
Nets vs. Warriors on Friday night
December, 4, 2012
12/04/12
7:00
AM ET
By
Mike Mazzeo
| ESPNNewYork.com
The
Brooklyn Nets
lost to the defending champion
Miami Heat
on Saturday night. They'll have a chance to bounce back against the Western Conference champion
Oklahoma City Thunder
on Tuesday night. Here's what we'll be watching for:
BOUNCING BACK:
The Nets led by as many as 14, but lost to the Heat, 102-89, because they went 3-for-15 from 3-point range in the second half and had 11 turnovers in the final 24 minutes. Miami ended up shooting 51.3 percent and scored 102 points, snapping Brooklyn's streak of holding teams under 90 points -- and winning streak -- at five. Just like the Heat, the Thunder (105.1 ppg) have a Big Three of their own, featuring
Kevin Durant
(26.7 ppg),
Russell Westbrook
(20.7 ppg) and
Kevin Martin
(16.1 ppg). The Nets are once again going to have their hands full defensively in this one. Playing the game at their tempo -- slow and half-court based -- is going to be imperative if they want to pull off an "upset" of sorts.
PROTECTING THEIR HOUSE:
The Nets (11-5) are 7-1 at Barclays Center. But they have not beaten the Thunder (14-4) since Jan. 12, 2009 -- a string of six consecutive losses.
SUPER JOE ... OR NO SHOW?
Joe Johnson
will look to rebound following his 5-for-14, 12-point performance in Miami. The Nets are going to need Johnson to have a big game, but he's just been so inconsistent early in the season, and it's become virtually impossible to predict how he's going to perform.
SHOTS! SHOTS! SHOTS!
Avery Johnson, the NBA's Eastern Conference Coach of the Month for October and November, still wants
Deron Williams
to take them, despite the fact that the All-Star point guard is making just 32.6 percent of his jump shots this season. Will D-Will be able to make them consistently? Or will his confidence continue to sink? Past performances indicate his shooting funk won't be going away anytime soon, but Tuesday is a new day.
ZERO HERO:
So far,
Andray Blatche
is averaging 17 points and 8.5 rebounds in two starts in place of the injured
Brook Lopez
, who is expected to miss his third straight game on Tuesday night due to a right foot sprain.
OF NOTE:
Saturday night's Nets-Heat game was the most-watched and highest-rated regular season Nets telecast ever on YES, according to the Network.