Brooklyn Nets:

Opening Tip
January, 1, 2014
Jan 1
10:44
AM ET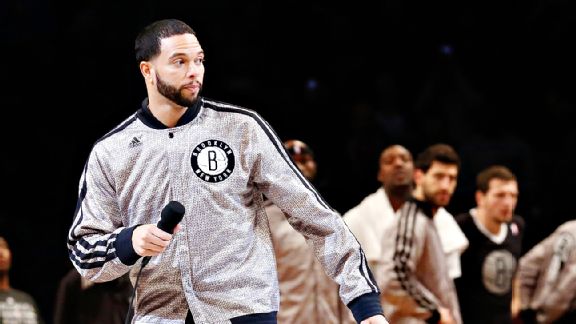 Anthony Gruppuso/USA TODAY Sports It's time to lead, Deron Williams.
2013 couldn't have gone much worse for the Brooklyn Nets.
But now that 2014 is upon us, here's a look at some New Year's resolutions we think could help this team get back on track:

Owner Mikhail Prokhorov:
Come to Brooklyn more, give some sort of comment about the state of the organization.
GM Billy King:
Make a move to shake up the roster, contemplate the possibility of becoming a seller and recuperating lost assets.
Coach Jason Kidd:
Make better halftime adjustments, be more animated on the sidelines, contemplate standing during games, work on Xs and Os.
Deron Williams:
Get healthy, return to being an All-Star point guard, no more bad body language, turn this team around.
Brook Lopez:
Have surgery, take a vacation, rehab and regain health, work toward becoming an All-Star again.
Kevin Garnett and Paul Pierce:
Move on, remember the good times in Boston, but relish the opportunity to play in Brooklyn, make more shots, provide better leadership, give this team an identity.
Joe Johnson:
Create more offense in the post, don't let offense affect defense (same applies to D-Will).
The entire team:
Play better defense, rebound the ball, play hard, no head-hanging.
Question: Any other New Year's Resolutions we missed? Let us know in the comments section below.
In case you missed it:
The Nets were blown out again in San Antonio, Stan Van Gundy thinks they're a "bush league organization" and Andrei Kirilenko returned to the lineup. Plus, the Nets will wear their nickname jerseys Jan. 10 vs. the Miami Heat.
Uphill climb:
The Nets (10-21) need to go 31-20 to finish .500 for the season.
Up next:
Practice Wednesday then a game in Oklahoma City Thursday night.
Happy New Year! From all of us at ESPNNewYork.com, have a happy and healthy 2014, and thanks for reading.
October, 8, 2012
10/08/12
7:00
AM ET
Every weekday throughout the season, ESPNNewYork.com will tackle a burning question about the Nets in our "Opening Tip" item.
Today's Burning Question:
Does it make sense to have
Deron Williams
and/or
Joe Johnson
on the floor at all times?
Over the weekend, Nets coach Avery Johnson revealed that he wants to have either Deron Williams or Joe Johnson on the floor at all times.
"We've made a concerted effort to have them playing together in practice, drills, scrimmages, and then we have to figure out which one of those guys we want to lead our second team -- because we're not going to play a true second team this year," Johnson said after Saturday's practice, according to the New York Post's Tim Bontemps. "We don't think we can have Deron and Joe out of the game at the same time, so that's something else we're trying to develop."
To me, this comes as a surprise. But maybe it shouldn't.
After all, it does make sense to have one of your two best players on the court at all times, because Williams and Johnson both make the rest of their teammates better.
At the same time, GM Billy King went out and added a ton of depth. On paper, the Nets' second unit of
C.J. Watson
,
MarShon Brooks
,
Josh Childress
,
Mirza Teletovic
and
Andray Blatche
is just as talented as any other team's. And given that the season is so long, I think it makes more sense to get Williams and Johnson as much rest as possible.
Last season, Williams finished 14th in the NBA in minutes per game (36.3), while Johnson finished 20th (35.5). Neither was playing on a team that, at least on paper, was as deep and talented as this one.
Does it make sense to always have one of them on the floor? As cliche as it sounds, only time will tell.
Are you concerned that Williams and Johnson will log too many minutes if one is always on the floor?

Let us know in the comments section below.
October, 2, 2012
10/02/12
7:00
AM ET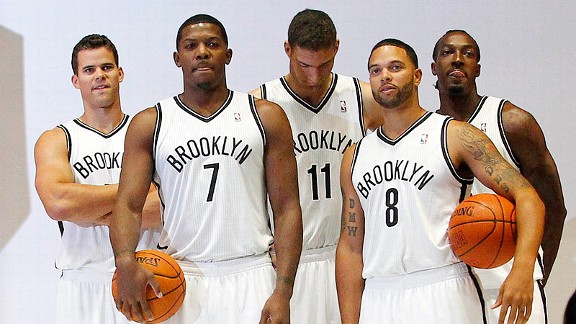 Jim O'Connor/US PresswireAre the Brooklyn Nets as good as they say they are?
Every weekday throughout the season, ESPNNewYork.com will tackle a burning question about the Nets in our "Opening Tip" segment.
Today's Burning Question: How realistic are the Nets' title aspirations this season?
The Nets franchise has never won an NBA title.
Led by
Jason Kidd
, they went to the finals twice, but ran into juggernauts both times and had to settle for second place.
A decade later, the Nets have a new city to call home, along with a new arena and new uniforms.
And those title hopes? They're baaaack!!!!!
From Mikhail Prokhorov to
Andray Blatche
, many in the organization believe that elusive championship is within reach.
Maybe. But despite have strong starting five and a deep roster, questions remain:
How quickly will the team gel? Can Avery Johnson really mold them into a top-10 defensive team? Oh ... right. And on top of that, the Lakers, Thunder and Heat are pretty darn good.
Tuesday marks the first day of training camp, which means that Nov. 1 date with the Knicks is less than a month away.
The title talk is fun. It just seems a bit unrealistic at this point, no?
What do you think about all the title talk surrounding the Nets?
Let us know your thoughts in the comments section below.