Brooklyn Nets:

Orlando Magic
January, 28, 2013
1/28/13
12:14
PM ET
By
Mike Mazzeo
| ESPNNewYork.com
The
Brooklyn Nets
will attempt to snap a two-game skid and complete a season sweep of the
Orlando Magic
on Monday at Barclays Center. Tipoff will be at 7:30 p.m.; here's what we'll be watching for:


ONE GAME AT A TIME:
The Nets (26-18) are riding a seven-game winning streak at home. They're 16-0 against sub-.500 teams and 3-0 versus Orlando in 2012-13. But, as interim coach P.J. Carlesimo pointed out, the Nets can't afford to overlook the Magic (14-29) with home games against the Heat, Bulls and Lakers looming.
Carlesimo called Monday night's game "dangerous."
"It's just as important as those other games," guard
Joe Johnson
said. "It could be a springboard into something special."
"This is a tough stretch before the break,"
Deron Williams
said. "We've got some good teams coming into our building, and we want to make sure we protect home court."
PROTECT THE PAINT:
The Nets have given up a whopping 122 points in the paint in their last two games. The Magic aren't as talented in that department as the Grizzlies or Rockets, but their frontcourt tandem of
Nikola Vucevic
and
Glen Davis
can cause some problems on the interior. It's time for the Nets to step up their defense in the paint. In its three victories over Orlando this season, Brooklyn has given up an average of 76 points per game.
ALL-STAR-WORTHY:
Rajon Rondo
's ACL injury has opened up a spot on the Eastern Conference roster. Williams, Johnson and
Brook Lopez
are possible candidates to replace Rondo. All three have been playing extremely well since Carlesimo took over. Williams is coming off a 27-point, 11-assist performance in Houston. Lopez had 21 points, seven rebounds and a season-high tying five blocks in that game, while Johnson will look to bounce back after scoring just 13 points on 5-for-14 shooting.
November, 30, 2012
11/30/12
9:26
PM ET
By
Mike Mazzeo
| ESPNNewYork.com
WHAT IT MEANS:
The
Brooklyn Nets
entered Friday night's game against the
Orlando Magic
tied for 22nd in the NBA in 3-point field goal percentage (33.2).
So it came as a complete surprise when the Nets couldn't miss from beyond the arc in the third quarter.


Brooklyn went 6-for-7 from 3-point range in the third, and
rolled to a 98-86 victory over Orlando
at Amway Center after playing a subpar first half.
The Nets (11-4) finished with 11 3-pointers -- two short of their season-high -- on 20 attempts, and won five straight games for the second time in the month of November.
To put that success into context: Brooklyn had just one five-game winning streak in its previous four seasons combined, according to ESPN Stats & Information.
The Nets are 3-0 against the Magic this season. This time around, they were without
Brook Lopez
, who missed the game due to a right foot sprain. They didn't need him.
Their 11-win November is a franchise high for the month, and is the first 10-win-plus month since March 2006.
ANCHOR JOE:
Joe Johnson
is beginning to heat up. The shooting guard, who went 10-for-16 from the field on Friday and scored 22 points, is shooting 50.7 percent in his last five games.
CRASH:
Gerald Wallace
got hot from 3-point range in the third quarter -- hitting four of his five triples during the period -- and finished with a season-high 20 points in 32 minutes.
REG-GIE! REG-GIE!
Reggie Evans
finished with his fifth straight game with double-digit rebounds. Evans is the first Net since 1999 to accomplish the feat while coming off the bench.
DDDDD-FENCE:
The Nets have their opponents under 90 points in their last five games -- all wins.
ZERO HERO:
With Lopez out,
Andray Blatche
made his first start since Jan. 25, 2012, and ended up with 14 points and nine rebounds in 28 minutes.
D-WILL:
Deron Williams
, a 32.4 percent shooter in his previous eight games, went an efficient 4-for-9 from the field -- getting some nice looks on drives to the rim -- and had 11 points and seven assists.
THIRD IS THE GOOD WORD:
The Nets outscored the Magic 31-21 in the third quarter, and used a 21-6 run to turn a small deficit into a more than comfortable lead.
UP NEXT:
Nets at Heat, 7:30 p.m. Saturday.
November, 30, 2012
11/30/12
11:45
AM ET
By
Mike Mazzeo
| ESPNNewYork.com
The
Brooklyn Nets
won five games in a row just once in the previous four seasons, according to ESPN Stats & Information. On Friday night against the
Orlando Magic
, they'll have the opportunity to do it twice -- in the month of November. Here's what we'll be watching for:
STAYING SHARP:
The Nets were 1-2 when they came into Orlando to face the Magic for the first time on Nov. 9. They're 9-2 since, including a 39-point rout of the Magic in that game. The Nets also beat Orlando the next day, but played terribly. Brooklyn needs to win this one with Miami waiting in the wings on Saturday night.
DDDDD-FENSE:
The Nets currently head the NBA in opponents points per game, giving up just 90.7 a night. In two games against Orlando, they've given up an average of 71. Another brilliant defensive outing would go a long way toward helping them improve to 3-0 against the Magic this season.
BLATCHE OR BLATCHE?
Andray Blatche
, "The Godfather" of the Bench Mob, will be inserted into the starting lineup on Friday night with starter
Brook Lopez
out due to a sprained right foot. Blatche has been tremendous since signing a one-year, non-guaranteed contract with Brooklyn in the offseason. In 14 games, he's averaging 9.1 points and 5.4 rebounds. On Wednesday night in Boston, he contributed 17 points and 13 rebounds in 29 minutes. Those are the type of numbers the Nets would love for him to replicate on against Orlando.
WITH A WIN:
The Nets would improve to 11-4 overall and 8-1 against the Eastern Conference, while matching their best road start since 2007-08 (4-3).
November, 11, 2012
11/11/12
5:34
PM ET
By
Mike Mazzeo
| ESPNNewYork.com
WHAT IT MEANS:
The
Brooklyn Nets
have the first winning streak in franchise history. And they can thank the hapless
Orlando Magic
.
After routing the Magic by 39 in Orlando on Friday night, the
Nets narrowly beat them 82-74
, despite playing poorly and nearly blowing a 20-point lead on Sunday afternoon at Barclays Center.


Brooklyn (3-2) did not allow more than 21 points in any of its eight quarters against Orlando, which shot 36.1 percent, including 1-for-12 3-point range.
REBOUND MACHINE:
Kris Humphries
, who has averaged a double-double the past two seasons, had 13 of his 21 rebounds in the first half. He added 14 points. Humphries was also the last Net to record 20 rebounds (March 14 against Toronto).
WORKING OUT THE KINKS:
The Nets remain a work in progress. They shot just 37.2 percent from the field, went 7-for-24 from 3-point range and scored just 13 points in the third quarter.
CHIPPING IN:
Deron Williams
registered 17 points, seven assists and seven rebounds, while
Brook Lopez
added 20 points -- and seven turnovers.
D-Will fell down in the fourth quarter and appeared to be favoring his left ankle. However, he did remain in the game.
WHERE'S JOE'S J?
Joe Johnson
went 3-for-13 from the field and is shooting just 36.2 percent this season. Johnson did hit a big 3 in the fourth quarter.
FAST START:
The Nets shot 56.5 percent in the first quarter and led 35-17 after the opening 12 minutes.
C.J. Watson
ignited a 12-0 run to end the period by scoring six straight points on a 3-pointer and then a steal/three-point play. No clue what happened to the team from there.
CAROM COUNTER:
Through five games, Lopez has grabbed 34 rebounds.
INJURY REPORT:
Gerald Wallace
(four) and
MarShon Brooks
(two) both sat out again with sprained left ankles.
UP NEXT:
Nets vs. Cavaliers, Tuesday night, Barclays Center.
February, 29, 2012
2/29/12
12:26
PM ET
By
Tim MacMahon, ESPN Dallas
DALLAS -- This might have been the worst possible way, barring injury, that the Mavs could start this seven-city, nine-game, 12-night journey.
At the risk of greatly exaggerating a regular-season game, Tuesday's loss to the lottery-bound Nets could have major ramifications on the future of the Mavs' franchise.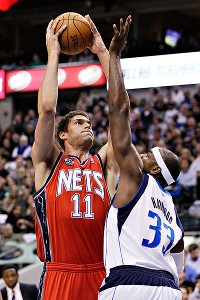 AP Photo/Tony GutierrezBrook Lopez doesn't rebound like Dwight Howard, but that 38-point outburst had to be appealing.
That's assuming Orlando general manager
Otis Smith
checked out the game on League Pass while the Magic had a night off.
The Mavs let big man
Brook Lopez
, the potential centerpiece in a package that could send
Dwight Howard
to the Nets, showcase what a skilled 7-footer he is. Lopez, playing just his third game of the season, lit the Mavs up for 38 points on 17-of-28 shooting from the floor.
Lopez scored on all sorts of shots in the paint -- drives, post-ups, finishes off defensive breakdowns -- and even displayed 20-foot range.
The Nets are the primary threat to deal for Howard before the March 15 deadline, and that's the one deal the Mavs really don't want to see go down.
Mavs owner
Mark Cuban
isn't about to lay out his offseason intentions, but it's pretty clear than Plan A is convincing Howard and Nets All-Star point guard
Deron Williams
to take a little less than max offers to join
Dirk Nowitzki
in Dallas.
Who wouldn't want to pair the best big man in the NBA and a top-five point guard as they're just entering their primes? The Nets would sure love to make that happen before they move to Brooklyn.
Plan B for the Mavs: Sign Howard. Plan C: Sign Williams.
All of those are off the table if Howard lands in New Jersey next month, and the possibility of that happening had to increase a little bit with Lopez looking like
Hakeem Olajuwon
against the Mavs.
February, 22, 2012
2/22/12
1:05
PM ET
By
Mike Mazzeo
| ESPNNewYork.com
Dwight Howard
didn't even give the media a chance to ask him questions.
The Magic center briskly walked past a pack of reporters after watching film at Prudential Center on Wednesday morning prior to the team's game against the Nets.
It has been well-documented that Howard -- who is likely to opt out of his contract and leave the Magic if he isn't traded before the March 15 deadline -- would love to team up with
Deron Williams
, forming a dynamic duo once the Nets move to Brooklyn in 2012-13.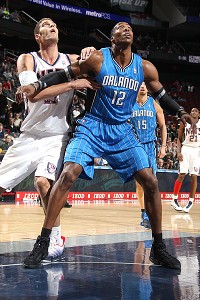 Nathaniel S. Butler/NBAE/Getty ImagesBrook Lopez (left) and Dwight Howard were at the center of preseason trade talk.
The Nets appear to be rolling out the red carpet for Howard on Wednesday night. A group of workers was seen putting together a pyrotechnic show. The Nets only bust that out for special occasions, it seems. They used it in their home opener as well.
Magic coach
Stan Van Gundy
wanted no part of questions surrounding his center's future.
He answered "no" when asked if it felt any different playing in New Jersey, if he'd talk to his team before the game and if the whole D-12 situation felt "shady" given that Howard's agent had given the Magic a list of three teams he'd like to be traded to: the Nets, Mavericks and Lakers.
Asked if he had dinner with Howard on Tuesday night, Williams responded, "I don't know? Did I?"
The Nets figure they're going to have to deal with questions surrounding Howard until the trade deadline -- if not through the offseason as well.
"We're gonna have to manage it," Nets coach
Avery Johnson
said. "Billy [King] and I laugh all the time. Sometime between March 1 and March 15 his phone's going to be blowing up and going crazy all night long. And I just told him I'm glad he has that job. Mine's gonna be off and on silent.
"We're gonna be glad when March 16 rolls around."
And if there isn't a resolution?
"We're glad that at least our name is in the news," Johnson said.
Asked if all of this is a distraction, Williams responded, "I don't think it's a distraction at all, nope. Not here. It hasn't been discussed."
Center
Brook Lopez
's name has been prominently mentioned in rumors surrounding Howard. But he said he's ignoring them and is excited to play his second game this season after sitting out with a broken foot.
"I don't think it hurts that it's Dwight," Johnson said. "I don't know if he has it circled for the individual matchup, but he's got it circled because he wants to play and get back to his normal minutes and playing the way he wants to play and become a much improved rebounder."
December, 29, 2011
12/29/11
1:01
PM ET
By
Mike Mazzeo
| ESPNNewYork.com
Nets point guard
Deron Williams
and Magic center
Dwight Howard
had dinner together Wednesday night, Howard told reporters in Orlando.
"Since he's been in the league, every time he comes to town we go and eat dinner and just kick it," Howard said Thursday morning. "We've been friends since the [2008] Olympics. So we go out to eat, have a bite."
The Nets and Magic play on Thursday night at Amway Arena. D-Will avoided any questions about D-12 during his pregame interview with the media.
"I don't know. I really don't," Williams replied when asked if he and Howard went out to eat together.
"He wanted to be silly and joke about it," Howard said. "But I said, 'This is not the time. Let's just go eat and go have a good game against each other [Thursday].'"
Howard said neither he nor Williams paid the check. "It was the restaurant," he said.
Williams has made it known that he'd love to play with Howard. He said he'd definitely re-sign with the Nets if they were to land D-12. New Jersey has certainly been trying, but hasn't been successful.
On Wednesday, Howard didn't want to address his request to be traded to the Nets. It has been widely reported, though, that Howard would also love to team up with Williams once the team moves to Brooklyn next season, forming one of the most formidable superstar duos in the NBA in the league's biggest market.
The Nets thought they were close on a three-way blockbuster trade with Orlando and Portland in the offseason, only to be told that the Magic were taking their 26-year-old big man off the trade market.
Brook Lopez
, the centerpiece of those talks, broke his foot in the Nets' final preseason game, and will miss at least the next six weeks.
You can follow Mike Mazzeo on Twitter.
December, 29, 2011
12/29/11
11:50
AM ET
By
Mike Mazzeo
| ESPNNewYork.com
Nets point guard
Deron Williams
has said he'd love to play with Magic center
Dwight Howard
. D-Will has also said he'll definitely re-sign with the Nets if they're able to pull off a blockbuster trade to acquire D-12.
Those comments probably don't sit too well with Orlando fans -- and Williams doesn't expect a warm reception from them when the Nets take on the Magic on Thursday night at Amway Arena.
"I feel like we're gonna get booed pretty good,'' Williams told reporters in Orlando before the team's morning shootaround. "I have a feeling. I have a feeling that
Kris Humphries
is not going to be the only one getting booed."
"I'm sure we're not going to be a team that they're going to roll out the red carpet for us," coach
Avery Johnson
said. "I don't anticipate a warm welcome, but that's the way it goes. A lot of the rumors and speculation, we can't control it. ... Hopefully we can come in and among the boos and all of the different treatment that we're going to get tonight, hopefully we'll play well."
An Orlando reporter asked Williams if had any interested in joining Howard with the Magic.
"Come on, now," Williams replied. "I'm not even going to answer that questions. You could try to rephrase it. I'm still not going to answer it."
Williams has gotten off to a rough start this season. In two games, he's made just 11 of his 33 field goal attempts and turned the ball over 10 times. And with legitimate post presence
Brook Lopez
out for at least six weeks with a broken foot, those trends may continue.
Williams is also playing with seven newcomers, many of whom have barely even practiced.
"It's tough, man. I mean, it's been every game so far," Williams said.
Williams' teammates are going to have to to start knocking down shots and making plays. That's the only way it'll change.
You can follow Mike Mazzeo on Twitter.
December, 28, 2011
12/28/11
2:51
PM ET
By
Mike Mazzeo
| ESPNNewYork.com
Nets fans may want
Dwight Howard
, but the Magic center does not want to talk about his request to be traded to New Jersey.
"We're not talking about the Nets right now," Howard told reporters after the team's practice on Wednesday, according to the Orlando Sentinel. "We're talking about the Magic. That's the team I play for. There's no need to talk about any other team, who's interested in who or not. So I'm not going to get into a discussion about that."
The Nets play the Magic on Thursday night in Orlando.
According to a tweet from the Newark (N.J.) Star-Ledger, Howard told reporters he watched some of the Nets' blowout loss to the Hawks in their home opener on Tuesday night, but claimed he did not hear the fans chanting "We Want Howard!" throughout the second half.
"I watched it on mute," the perennial All-Star said.
Nets superstar point guard
Deron Williams
has said he'd love to play with Howard, and that he'd definitely re-sign if the Nets were able to land Howard. Williams has reiterated his desire to remain with the organization as long as it puts the right amount of talent around him.
"Me and Deron have talked for a couple of years," Howard said. "We did play with each other in the Olympics. You know, I've talked to a lot of guys, not just Deron."
Howard prefers to go to one of three destinations: New Jersey, Dallas and the Lakers.
On Wednesday,
ESPN.com Marc Stein reported that the Magic want no part of youth and draft picks in a package for Howard
. Instead, Orlando prefers veteran established players. The Magic's 85-year-old owner doesn't want his team to go into rebuilding mode, given that they're playing in a new arena.
The Hawks, sources told Stein, have emerged as a potential trade partner, and recently offered
Joe Johnson
and
Josh Smith
in exchange for Howard, but Stein thinks they'd have to include
Al Horford
to be a legitimate threat. Atlanta is Howard's hometown, but the Hawks weren't on the list of his preferred destinations, likely because of their uncertain ownership situation, Stein reports.
If the Lakers were willing to give up both
Pau Gasol
and
Andrew Bynum
, they'd be the favorites to get Howard, but league insiders tell Stein they're unwilling to do so. But if they change their minds, a three-team trade could possibly be consummated with Howard ending up in L.A., Orlando getting Bynum,
Luis Scola
and
Kevin Martin
, and Houston winding up with Gasol.
Bynum has a history of injuries, but now so does 23-year-old
Brook Lopez
, who was the centerpiece in the Nets' three-team blockbuster proposal that was nixed before it could get done.
Lopez is out for at least the next six weeks with a broken foot.
You can follow Mike Mazzeo on Twitter.
December, 9, 2011
12/09/11
1:03
PM ET
The Nets met with Dwight Howard on Thursday night in a move that would be a violation of the league's tampering rules, according to multiple sources.

Howard met with Nets owner Mikhail Prokhorov and general manager Billy King in Miami, sources said. Howard was joined by a few business associates.

The meeting violates the NBA's tampering rules because Howard's current team, the Magic, did not know about the meeting or give the Nets permission to meet with him, according to the sources.

NBA.com reported that the Magic are considering filing tampering charges against two teams, one being the Nets. SI.com reported that the other team is the Rockets.

The meeting was the first between Howard and the Nets, but the second between Howard's representatives and the Nets.

At the meeting, the group discussed a deal in which Howard would be traded to New Jersey. The plan was for Howard to ask Orlando to trade him Friday morning.

Sources said the Magic had been discussing a possible trade with New Jersey the past few days, but that nothing had been agreed upon.