Brooklyn Nets:

P.J. Carlesimo
June, 12, 2013
6/12/13
4:33
PM ET
By
Mike Mazzeo
| ESPNNewYork.com
Ex-
Brooklyn Nets
coach and current ESPN NBA analyst P.J. Carlesimo weighed in Wednesday with his thoughts on Jason Kidd
potentially being hired as the team's next head coach
.
"Jason needs to [surround himself] with good people," Carlesimo said on CBS Radio's "The Tim Brando Show."
"Whoever he ends up getting with him, Jason is more than smart enough to realize he needs people to help him with the behind-the-scenes, the minutiae, putting practice plans together, the thousands of little details that a coach is gonna have to go through that Jason would learn anyhow, but will learn a lot quicker with an experienced coaching staff -- which he'll clearly surround himself with."
Carlesimo didn't want to put any expectations on Kidd, but does believe he'll be success if he gets the job.
"I don't want to put on Jason how many games he should win, but he's gonna win," Carlesimo said. "Whoever coaches that team is going to be successful next year. I mean, they won with one of the worst coaches in the history of the game this year [joking]. So they will be successful."
Carlesimo also spoke about the difficulties Kidd is going to face in making the transition directly after announcing his retirement, but pointed to his leadership skills as one of Kidd's greatest assets.
"He's a player that played at both ends of the floor. So he's going to demand that people play defense, he's going to demand that people pass the ball and play unselfishly, and he knows what it takes to win. He's been to the Finals, Olympics, gold medals, the whole deal. He brings great credibility to the table."
May, 23, 2013
5/23/13
9:15
PM ET
By
Mike Mazzeo
| ESPNNewYork.com
P.J. Carlesimo also reflected on his time with the Nets, and touched on the players' offseason remarks that they wanted a veteran head coach who could bring toughness, command respect and hold them accountable.

"This time I think there was a little bit of 'I wasn't hard enough on the team,'" Carlesimo said. "Every other time I've coached in the league, I was too hard on the guys. So I think people spin things the way they want to do it.

"Whoever comes in here, he'll get at least a short chance. By the time training camp is over, by the time November/December is over, he's either going to have proven to the players how capable he is and then they'll go forward from that, or for whatever reason, it will go sideways or stutter a little bit in the beginning."

Said Carlesimo of the team's next head coach: "I don't think there is a magic person in terms of a profile. I don't think it's got to be somebody that's coached in the league for 10 years. I don't think it's somebody that has to have been a head coach. There are too many examples of guys with no coaching experience thriving right off the bat. I think you're not going to win in this league much less win a championship unless you have a veteran team.

"I think for the most part, it's a good group. I really do. I think you're never going to get 15 guys that you love their attitude; you love the way they work and the way they listen. But in general, I think it's a good group, and whoever is lucky enough to get the job will like working with that group.

"But maybe I'm being unrealistic, but I would not say it can't be an assistant or can't be a young guy or can't be somebody that hasn't been a head coach in the league before. I think when you get in there and get a chance to be face to face with guys and get through training camp with them and coach some games, they'll know.

"They'll sense at that point this is the right guy or this guy knows what he's doing or he doesn't know what he's doing. I don't think it will be that."

April, 30, 2013
4/30/13
5:30
PM ET
By
Mike Mazzeo
| ESPNNewYork.com
Brooklyn Nets
interim coach P.J. Carlesimo says he has "no clue" if he needs to advance past the first round of the playoffs to keep his job.
"There's nothing we can do about that," Carlesimo said Tuesday on ESPN New York 98.7 FM's "The Michael Kay Show."
"We're trying to win the series and get to Miami ... I can't control that."
Carlesimo reiterated that it's not something he thinks about -- except when it's brought up to him in interviews.
•
Joe Johnson
has gutted through the playoffs so far despite dealing with a plantar fasciitis ailment in his left foot.
"I don't think he's getting better, but Joe's gonna play," Carlesimo said.
Chicago Bulls
center
Joakim Noah
is dealing with the same injury.
"Neither of them are gonna be healthy the rest of this year, they're just playing through it," Carlesimo said.
"Joe Johnson is a warrior, he's doing great things considering the condition his foot is in."
• Carlesimo said of
Gerald Wallace
, "We're not going anywhere without Gerald Wallace. ... He doesn't have to score to play minutes for us."
• The NBA rescinded C.J. Watson's technical foul he picked up in the second quarter of Game 4.
April, 30, 2013
4/30/13
2:54
PM ET
By
Mike Mazzeo
| ESPNNewYork.com
Brooklyn Nets
interim coach P.J. Carlesimo said he felt it was "important" for his players to hear a Chicago reporter calling them "gutless" and "heartless" during a television interview prior to Game 5 Monday night.
Did Carlesimo ever question his team's guts and heart?
"No. Not at all," Carlesimo said Tuesday during a conference call with reporters. "We've been, we've talked about it all year, we're not an easy team to read. We've had some real disappointments. We've had some nights where we were just listless and got whacked and didn't look very good, and you say to yourself, 'Boy how are they gonna come back from this?' And then the very next day, we play a really good game.
"I think we're the opposite of that."
Carlesimo expanded on why he decided to show his team the video. The Nets responded with a 110-91 rout of the
Chicago Bulls
to pull within 3-2 in the best-of-seven series. Game 6 is Thursday night at United Center.
"It was just one more thing where rather than do nothing, [I wanted to] do something," he said. "Did it help 15 guys? No. But maybe it helped a couple guys, maybe it struck a chord with a couple guys.
"It was just an effort to do a little something. We knew we weren't gonna do anything on the court or anything like that. I'm not a Knute Rockne speaker, so it was just something that hopefully would resonate with a couple of different people."
Clearly, it did.
• Carlesimo said
Andray Blatche
's calf is "very sore." The interim coach pondered taking his backup center out of the game late in the fourth quarter, but Blatche wanted to play through it. He ended up scoring 10 of his 13 points in the final period.
Blatche originally hurt his calf in Game 4, then told reporters he re-aggravated it Monday night.
• Carlesimo delivered a money quote when he was asked about
Joakim Noah
's toughness.
"He's one of those guys you gotta put a wood stake through his heart," Carlesimo said.
• The Nets have never won a playoff elimination Game 6 to force Game 7 in franchise history.
April, 17, 2013
4/17/13
10:26
PM ET
By
Mike Mazzeo
| ESPNNewYork.com
WHAT IT MEANS:
The fourth-seeded
Brooklyn Nets
will meet the fifth-seeded
Chicago Bulls
in the first round of the 2012-13 NBA playoffs.
The Bulls clinched the No. 5 seed on Wednesday night when the
Atlanta Hawks
lost to the
New York Knicks
.
The Nets (49-33) closed out the regular season with a 103-99 win over the
Detroit Pistons
at Barclays Center. Brooklyn finished the season 31-5 against sub-.500 teams. P.J. Carlesimo went 34-19 after taking over for the fired Avery Johnson, which is the best start for any coach in franchise history.
Brook Lopez
(20 points, nine rebounds),
Joe Johnson
(10 points) and
Deron Williams
(eight points, six assists) all played 21 minutes.
SEASON SERIES:
The Nets went 1-3 against the Bulls in the regular season.
CHI'S STRENGTHS AND WEAKNESSES:
The Bulls excel on defense under coach Tom Thibodeau; they came into Wednesday night's action ranked third in the NBA in points allowed (92.9 per game) and fifth in opponent 3-point field goal percentage (34.5). However, for all Chicago's defensive prowess, it struggles to score; As of Wednesday, the Bulls ranked 29th in points per game (93.2). Based on efficiency ratings, the Bulls are 24th on offense and sixth on defense. Chicago, like Brooklyn, plays a half-court, grind-it-out game; the Bulls are tied for 26th in pace, using 92 possessions per game.
BANGED UP BULLS:
Joakim Noah
(right foot),
Taj Gibson
(left knee) and
Luol Deng
(hip) have all missed time due to injury and certainly aren't 100 percent healthy heading into the postseason. Noah, 28, is Chicago's defensive anchor and emotional leader. In two games against the Nets during the regular season, he averaged 16.5 points, 10.0 rebounds, 5.0 assists, 3.0 blocks and 2.5 steals.
WILL D-ROSE PLAY?
That's the million-dollar question.
Derrick Rose
had knee surgery on May 12, 2012, and hasn't played in a game since. He has been practicing, and sources told ESPNChicago.com that Rose has been cleared medically but needs to regain confidence before he can return. Rose was arguably the best point guard in the NBA before he got hurt, averaging 21.8 points and 7.9 assists in 2011-12. Even if he's somewhere in the neighborhood of 50-60 percent healthy -- and that's purely a guess -- it would be a huge boost for the Bulls if he plays.
FAMILIAR FOES:
C.J. Watson
(2010-12) and
Keith Bogans
(2010-11) both used to play for the Bulls.
UP NEXT:
Game 1 at Barclays Center, Saturday, at 8 p.m. View the
full schedule here
.
January, 14, 2013
1/14/13
4:51
PM ET
By
Mike Mazzeo
| ESPNNewYork.com
Does P.J. Carlesimo deserve to have his "interim" tag removed?
Based on what he has done so far, absolutely.
[+] Enlarge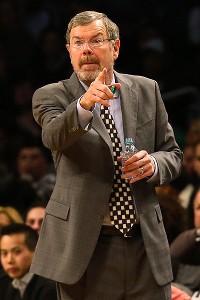 Anthony Gruppuso/USA TODAY SportsInterim head coach P.J. Carlesimo has powered the Brooklyn Nets to an 8-1 record since taking over for Avery Johnson.
Since Carlesimo took over for Avery Johnson as Brooklyn's head coach, the Nets are 8-1. They're currently on a season-high six-game winning streak, bookended by victories over the Thunder in Oklahoma City and the NBA's best defensive team, the
Indiana Pacers
.
As a team, the Nets are scoring more points (101.8 to 94.5) and shooting better (45.8 to 43.8) under Carlesimo.
He has also been able to get the most out of the "Big 3." Point guard
Deron Williams
has his confidence back, while center
Brook Lopez
and shooting guard
Joe Johnson
have elevated their games. And
MarShon Brooks
has gone from benchwarmer to valuable contributor.
Recently, a league source told ESPNNewYork.com that Carlesimo will "almost certainly" make it to the end of the season.
The Nets are 37 games in, and have already matched their win total (22) from all of 2011-12. Seven of their next 10 games are against teams with records above .500. Good thing they're playing their best basketball of the season.
Colleague Marc Stein wrote in his Weekend Dime that the Nets are aware of Phil Jackson's comment to SheridanHoops.com, in which Jackson said he had "no intention of ever coaching again." Still, coaching sources tell Stein that Nets owner Mikhail Prokhorov remains undeterred and will pursue Jackson at some point -- just not as soon as many expected.
As Stein notes, Jackson may never be persuaded to coach the Nets because their roster, as currently constructed, doesn't exactly have championship contender written all over it. (No Jordan-Pippen, Kobe-Shaq tandems here.)
But Carlesimo has gotten the most out of his personnel so far. And in a weak Eastern Conference, maybe the Nets will keep this up and go on a run in the postseason.
That would certainly get Jackson's attention. Then again, maybe it would mean Carlesimo is the right man for the job after all.
Do you think P.J. Carlesimo should have his "interim" tag removed? Weigh in below.
January, 10, 2013
1/10/13
7:34
PM ET
By
Mike Mazzeo
| ESPNNewYork.com
EAST RUTHERFORD, N.J. -- P.J. Carlesimo believes the
Brooklyn Nets
have already found the permanent replacement for their head-coaching position: himself.
"I think I am," Carlesimo replied to ESPNNewYork.com's Ian O'Connor when asked if he believed he was the best man for the job long-term. "Any coach is going to believe he's the best one. I believe I'm the best one for the job, and it would be foolish for me not to believe that."
Since being named interim head coach following the dismissal of Avery Johnson, Carlesimo has led the Nets to a 6-1 record, the best start for a Nets head coach since Lawrence Frank (7-0) in 2003-04.
[+] Enlarge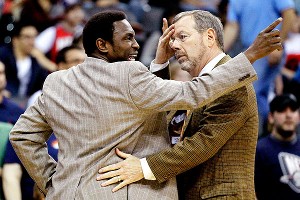 AP Photo/Julio CortezFormerly Avery Johnson's assistant, P.J. Carlesimo told ESPNNewYork.com's Ian O'Connor he believes he is the best man for the Nets job.
While the Nets will likely elect to pursue big names such as top targets Phil Jackson, Jeff Van Gundy and Stan Van Gundy in the offseason, one league source familiar with the team's thinking told ESPNNewYork.com that team management has been impressed with the connection Carlesimo has made with his players, and the coach will "almost certainly" make it to the end of the season. The source said the Nets believe Carlesimo has reduced the pressure on some players by allowing them to play through mistakes, something Johnson was far less willing to do.
"P.J.'s done a very good job, and this team has already been through a lot of change," the source said. "It's like switching offensive coordinators all the time on a quarterback. There's only so many times you can do it."
Still, Carlesimo understands his title is anything but permanent at this juncture.
"It's reality, and Michael [Mikhail Prokhorov] as the owner and Billy [King] as the GM have got to figure out who is the best guy going forward," Carlesimo told O'Connor. "It's an unbelievable opportunity that Avery gave me by bringing me here [as an assistant], and now I get to audition.
"... I can't control Phil and Jeff and Stan and whoever else is out there, they're all really good coaches. But we're here and our guys right now are playing their a--es off, and hopefully that continues."
The Nets are averaging 102.9 points per game under Carlesimo, 8.4 points per game more than their season average through the first 28 games under Johnson (94.5). They are also shooting better from the field (46.6 percent, up from 43.8).
Asked if Carlesimo would be a great fit long-term, point guard
Deron Williams
responded, "I mean, he's been great for us so far. And I think all the guys responded well to him, I think all the guys like him. He's done a great job coaching us."
The Nets (20-15) went just 14-14 under Johnson but have been thriving since Carlesimo took over the reins. They have won four straight games heading into Friday night's matchup with the
Phoenix Suns
at Barclays Center.
"Our system hasn't changed much, our defensive principles haven't really changed much," Williams said. "It's just how we practice and how we prepare is just a different style."
Carlesimo coached at Seton Hall from 1982-94 -- leading the Pirates all the way to national championship game in 1989.
"The way he yells and stuff could be considered that," Williams replied when asked if Carlesimo reminds him of a prototypical "college coach." "Yeah, he gets after it. He's yelling all practice, all game. But I think guys respect it because he's a straight shooter."
Carlesimo also has a great sense of humor.
"Yeah, he's pretty hilarious," Williams said. "That's what makes it funny. When he's yelling, it's still funny."
At the same time, Williams said, he's still able to absorb his coach's criticism while laughing.
"Yeah, we try not to laugh right there," Williams joked, "but he does a great job of balancing it. It's not like he's just screaming all the time. He's doing a good job of teaching us as well. Sometimes he yells to get his point across. That's when you know he's serious."
Williams and his veteran teammates are comfortable playing for a veteran head coach like Carlesimo.
"I think that's what's great about it. We lost a head coach, but then we gained another one," Williams said. "He's coached a lot of teams in this league as a head coach. Like I said, he's doing a great job."
January, 6, 2013
1/06/13
12:54
PM ET
By
Mike Mazzeo
| ESPNNewYork.com
Brooklyn's best players clearly enjoy playing for Nets interim coach P.J. Carlesimo, who is 5-1 since taking over for Avery Johnson.
Check these numbers out:
Deron Williams
Under P.J.:
16.7 points, 6.7 assists, 3.8 rebounds, 1.7 turnovers, 42.5 percent shooting, 44 percent 3-point
Under Avery:
16.6 points, 8.0 assists, 3.1 rebounds, 3.0 turnovers, 39.8 percent shooting, 29.5 percent 3-point (27 games)
Brook Lopez
Under P.J.:
23.7 points, 8.3 rebounds, 59.8 percent shooting, 1.8 blocks
Under Avery:
17.5 points, 7.1 rebounds, 50.2 percent shooting, 2.4 blocks (21 games)
Joe Johnson

Under P.J.:
18.2 points, 47.7 percent shooting, 36.8 percent 3-point
Under Avery:
16.9 points, 42.1 percent shooting, 37.3 percent 3-point (28 games)
Sure it's a small sample size, but it's an encouraging small sample size going forward.
• Carlesimo has continued to talk about finding a rotation and sticking with it. But the recent play of
Mirza Teletovic
and
MarShon Brooks
is going to make it harder for him to do.
Both Teletovic and Brooks are playing with confidence for the first time this season. On Saturday night, when they took shots, you pretty much knew they were going in.
As a result, will
Kris Humphries
, who has missed the past two games due to a sprained left ankle, find himself out of the rotation? What about
Jerry Stackhouse
? Will Brooks begin to take some of his minutes?
This is one of those problems coaches say they like having. After all, you can never have enough depth, right?
• Yes, the Nets have beaten up on a lot of bad teams lately. But should that really diminish what they've been able to accomplish? No. You play who's on your schedule. And if there's one thing Brooklyn has been really good at this season, it's taking care of bad teams.
The Nets are 12-0 against when facing teams with sub-.500 records. That means they're just 7-15 when facing teams with .500-or-better records. But remember, they're a more respectable 7-10 in those games when they have Lopez in the lineup.
Obviously, they were horrendous in December. But when you look at it, the Nets already have wins over the
New York Knicks
,
Los Angeles Clippers
and
Oklahoma City Thunder
(on the road). Pretty impressive.
• For those worried about
Andray Blatche
post-Avery Johnson, he's just put up back-to-back double-doubles off the bench. Looks like this kid has his head on straight. His one-year contract will become fully guaranteed on Thursday.
Avery should be commended for convincing GM
Billy King
that this was a worthy risk. Blatche has been the team's unsung hero this season.
January, 4, 2013
1/04/13
1:42
PM ET
By
Mike Mazzeo
| ESPNNewYork.com



While he hasn't spoken to Phil Jackson, ESPN The Magazine's Chris Broussard believes Jackson's engagement to Lakers executive Jeanie Buss will not hinder his chances of coaching if he decides to come out of retirement.

Buss has always publicly maintained she would have no problem with Jackson coaching another NBA team.

"I have a lot of role models," Buss told ESPNLosAngeles.com in 2011. "The first one is my best friend, Linda Rambis, because Kurt's in Minnesota and she's here. I learned that from 2004 when he retired. A relationship isn't just about space; it's about emotion and heart and all those good things."

If the Brooklyn Nets call, Jackson would be willing to listen to them, Broussard reports. But right now, the Nets are set with interim coach P.J. Carlesimo, who is 3-1 since taking over for Avery Johnson, who was fired last Thursday.

"Unless things really go south, he'll probably lead them the rest of the season," Broussard said.

Broussard does expect the Nets to reach out to Jackson at some point, whether it's this season or in the offseason.

"He is their ultimate candidate," Broussard said.

Still, the Nets (17-15) are looking to do big things this season, and they don't want an in-season coaching search hanging over the team. They're just two games behind the Pacers (19-13) for fourth place in the weak Eastern Conference, which would give them homecourt advantage in the first round of the playoffs.

As Broussard noted, it's rare for an established coach to come in midway through the season, and Jackson's triangle offense would be a difficult one to master.

Given all this, expect the only "P.J." leading the Nets in 2012-13 to be Carlesimo.

January, 2, 2013
1/02/13
11:43
AM ET
By
Mike Mazzeo
| ESPNNewYork.com
According to The Milwaukee Journal-Sentinel, former Knick Latrell Sprewell was
arrested on New Year's Eve for disorderly conduct
-- he was allegedly playing his music too loud.
The newspaper reports that police received two complaints about the music within an hour Monday afternoon, and had received prior complaints in recent months. No other details were available.
Sprewell played for the Knicks from 1998 to 2003. He is perhaps best-known for choking current Nets interim coach P.J. Carlesimo at a practice in 1997, which led to a 68-game suspension.
December, 29, 2012
12/29/12
12:28
AM ET
By
Mike Mazzeo
| ESPNNewYork.com
P.J. Carlesimo said he felt anxious prior to Friday night's game against the
Charlotte Bobcats
.
But following a 97-81 victory in his debut as interim head coach, Carlesimo turned into comedian.
Asked what he wants to get out of his meeting Saturday with owner Mikhail Prokhorov, Carlesimo responded, "I think a lunch. We're going to a restaurant or something, hopefully."
He later added: "Honestly, am I anxious to hear what he has to say? Of course I am. We just gotta do the best job we can and see whatever happens. Honestly, I don't want to lobby for it or anything like that. I'm sorry that I'm in this position."
Prokhorov backed Carlesimo at his news conference at halftime, but also left open the possibility that the Nets may name a permanent replacement for the job.
"P.J. is the head coach and we have an amount of trust with him," Prokhorov said. "Now P.J. is the head coach, and if it become(s) necessary, you know who the usual suspects are."
Phil Jackson is the top target. Jeff Van Gundy is a serious candidate. Kelvin Sampson is a darkhorse.
As for Carlesimo?
"If I had a choice of somebody else getting the job or me, I'd think about it, but I'd probably pick me," he said. "It really isn't something I'm thinking about, because I don't have a good sense of what's going on. They're still looking at it. We're day to day."
While they beat a floundering team that has now lost 17 straight games, the Nets seemed to respond well to their new coach, coasting to an easy victory.
Exactly what a team that still has aspirations of a playoff berth and more should do.
"I think he did a great job tonight of coaching us, of picking his spots, and letting us go," said point guard
Deron Williams
, who scored 17 of his 19 points in the first half. "He wanted us to push the ball more, and I think we did a better job of that, and kind of flow into our stuff more.
"We got a lot of easy baskets tonight. The ball was moving today. It wasn't one of those games like in the past where it was somebody's turn, and then somebody else's turn. It was kind of moving out there."
• The Nets (15-14) have won five in a row against Charlotte. ... They are 8-3 against the Eastern Conference. ... They are 9-1 when holding opponents under 90 points. ... The Nets led by as many as 29 points. ... The Nets are the fourth team Carlesimo has coach to a victory. He is the third consecutive Nets coach to win in his debut.
December, 27, 2012
12/27/12
7:06
PM ET
By
Mike Mazzeo
| ESPNNewYork.com
How will Avery Johnson's firing as head coach impact the Brooklyn Nets?
Let's take a look:

More P.T. for MarShon and Hump?
It's no secret that Johnson wasn't a huge fan of
MarShon Brooks
and his defense. So it came as no surprise when Brooks found himself out of the rotation in favor of veterans
Jerry Stackhouse
and
Keith Bogans
.
Brooks, 23, still has a ton of potential. Tough to show it when your minutes are as sporadic as his have been the past five games: 16, 2, 0, 6 and 20. The Nets have struggled to score, and Brooks is a gifted scorer. Makes sense to give him a look.
As for
Kris Humphries
, he recently fell out of favor with Johnson. He was a double-double guy the previous two seasons. Wonder if he'll be able to reclaim his starting job. Both of these players were probably going to be shopped. And now?
Will Deron get his act together?
Under Johnson,
Deron Williams
was having the worst season of his career: 16.6 points, 8.0 assists, 3.0 turnovers, 39.8 percent shooting, 29.5 percent shooting 3-point range. On Dec. 18, D-Will criticized Johnson's isolation-heavy offense, saying he felt uncomfortable playing in it. He has been struggling with his confidence all season, but Johnson never called him out for his poor play, instead saying Williams was "banged up." D-Will needs to make things work with the next coach. Period.
What type of style will the Nets play?
Will they continue being the slowest-paced team in the NBA, or will they turn it up a notch and look for more opportunities to run? In November, the Nets were great playing defense-first, grind-it-out half-court basketball. In December, that style failed them. It's up to interim coach P.J. Carlesimo to carve an identity for a team that had one, then lost it and hasn't been able to rediscover it since.