Brooklyn Nets:

Phil Jackson
March, 15, 2014
3/15/14
11:28
AM ET
WASHINGTON -- When it comes to questions about the rival
New York Knicks
bringing in Phil Jackson to run their basketball operations department, Jason Kidd is following
Paul Pierce
's lead.
"I'll take the Paul Pierce approach," the Brooklyn Nets' head coach joked Saturday.
In other words, he's not saying anything.
Pierce had told the New York Daily News on Friday in Miami, "I don't talk about the Knicks. No Knicks questions. Ever."
Pierce has never been one to hide his dislike of the Knicks, saying he hates New York's other basketball team, "with a passion." He battled them for plenty of years in Boston, and, upon being traded to Brooklyn, said he felt it was time for the Nets to "start running this city."
Deron Williams
said he hadn't been paying much attention to the Jackson story.
"It doesn't change our rivalry," he said. "I mean, I think it's good to have one of the best basketball minds ever in your organization, but I don't know ... "
Asked if he had any thoughts on Jackson,
Joe Johnson
simply responded, "Nah."
The Knicks are slated to introduce Jackson in a Tuesday news conference.
• Kidd said
Andrei Kirilenko
(ankle) looked great in practice Friday, but he remains a game-time decision.
•
Kevin Garnett
will miss his eighth straight game Saturday night due to back spasms.
"He's doing better, so we'll see how his workouts go, and then we'll see how he feels on Monday," Kidd said. "But the reports that Timmy [trainer Tim Walsh] has been giving me are that he's feeling a lot better."
Asked about Garnett's availability for Monday night's home game against the
Phoenix Suns
, Kidd responded, "I would say he's questionable for Monday."
Granted, Kidd was laughing as he said it, as if to say, it's not happening.
Based on that answer, it would be a major surprise if Garnett did, in fact, return on Monday.
June, 7, 2013
6/07/13
1:34
PM ET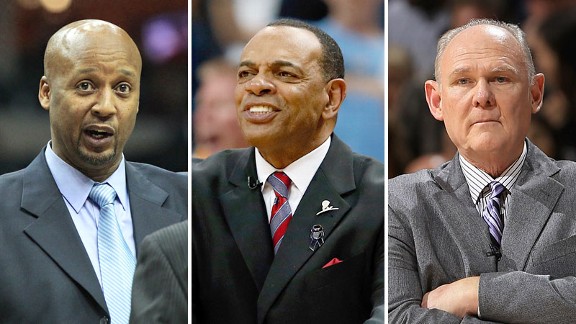 USA TODAY Sports, Getty ImagesBrian Shaw? Lionel Hollins? George Karl? Will any of these guys fulfill the Nets'
five-
two-year plan?
Who will the Nets hire as their next head coach?
Seeing as how the organization has been extremely quiet on that front, let's take a look at where things appear to stand as of now:
Brian Shaw:
Shaw, an assistant in Indiana, is at the top of Brooklyn's list to replace P.J. Carlesimo, according to ESPN and other media reports. Shaw is expected to interview with the Clippers as soon as Monday, and is also seen as a front-runner for their job. While Nets players said on breakup day that they wanted a head coach with experience, Shaw doesn't have any, but he was voted the top assistant in the league in a recent poll of NBA GMs. If the Nets are looking for a "fresh face" as the Daily News reported Friday, Shaw could very well be their guy.
Lionel Hollins:
The Nets have been granted permission to interview Hollins, ESPN.com reported earlier this week, but Brooklyn has not spoken to him. Hollins did a terrific job in Memphis this past season, guiding the Grizzlies to the Western Conference finals. Still, it seems like he's not as high on the Nets' list as Shaw. Hollins could have interest from the Clippers and Nuggets as well.
George Karl:
A league source told ESPNNewYork.com that it's "highly unlikely" that the Nets will reach out to Karl, who won Coach of the Year honors, about their vacancy. Karl's 80-105 career playoff record isn't very intriguing to the Nets, who have their sights set on winning a championship and fulfilling owner Mikhail Prokhorov's five-year plan, which has been reduced to two. Perhaps the veteran coach ends up in Los Angeles or Memphis.
Other big names:
The Nets reached out to Jeff Van Gundy and reportedly Larry Brown, but there doesn't appear to be any traction there.
Shooting for the stars:
The team's coaching search began with a call to Phil Jackson, but the 11-time coaching champion said thanks but no thanks. Then the Nets tried to call the Celtics for permission to talk to Doc Rivers, but were rebuffed.
Mystery candidate:
Maybe the Nets decide to make a run at someone whose name hasn't surfaced yet, perhaps a coach overseas or another assistant like Shaw. At this point, nothing would surprise us. The draft is in two weeks, but the Nets don't feel any pressure to hire a coach by then.
May, 5, 2013
5/05/13
1:22
PM ET
By
ESPN.com news services
EAST RUTHERFORD, N.J. -- The
Brooklyn Nets
announced Sunday they will not offer a new contract to interim head coach P.J. Carlesimo, and that "a search for a new head coach will commence immediately."
"The Brooklyn Nets organization would like to thank P.J. for his efforts with the team in his roles as both head coach and assistant, and for his contributions to the team's success both on and off the court," general manager Billy King said in a news release issued the day after the
Chicago Bulls
eliminated the Nets in Game 7 of their first-round series.
King would not rule out Phil Jackson for the coaching vacancy and said he plans to call Jackson to gauge his level of interest.
The Nets, in their first season in Brooklyn, finished second in the Atlantic Division and were the No. 4 playoff seed in the Eastern Conference.
Carlesimo had been promoted in December when the team fired Avery Johnson after a 14-14 start to the season, but was never hired as the permanent coach.
"We wish P.J. and his family only the best in the years to come," King said in the statement.
April, 17, 2013
4/17/13
1:52
PM ET
Phil Jackson is interested in returning to the NBA next season and working in some capacity -- possibly management -- sources told Marc Stein of ESPN.com and Ramona Shelburne of ESPNLosAngeles.com.
The
Brooklyn Nets
expected to gauge Jackson's interest for their head coaching job at the end of the season, NBA coaching sources said.
From the news story:
As for the Nets, ESPN.com reported in December that Jackson was the undisputed top target for owner Mikhail Prokhorov after the dismissal of Avery Johnson. The prospect of interim coach P.J. Carlesimo retaining the job has not been ruled out depending on how Brooklyn fares in the playoffs, according to sources. But coaching insiders continue to say that Prokhorov's well-known desire to make a splashy hire will keep Jackson and ESPN analyst Jeff Van Gundy at the forefront of his thinking.
Jackson, 67, won 11 championships as head coach of the Bulls and Lakers. He also won a pair of rings as a player for the Knicks in the early 1970s.
Click here for the complete news story.
January, 4, 2013
1/04/13
1:42
PM ET



While he hasn't spoken to Phil Jackson, ESPN The Magazine's Chris Broussard believes Jackson's engagement to Lakers executive Jeanie Buss will not hinder his chances of coaching if he decides to come out of retirement.

Buss has always publicly maintained she would have no problem with Jackson coaching another NBA team.

"I have a lot of role models," Buss told ESPNLosAngeles.com in 2011. "The first one is my best friend, Linda Rambis, because Kurt's in Minnesota and she's here. I learned that from 2004 when he retired. A relationship isn't just about space; it's about emotion and heart and all those good things."

If the Brooklyn Nets call, Jackson would be willing to listen to them, Broussard reports. But right now, the Nets are set with interim coach P.J. Carlesimo, who is 3-1 since taking over for Avery Johnson, who was fired last Thursday.

"Unless things really go south, he'll probably lead them the rest of the season," Broussard said.

Broussard does expect the Nets to reach out to Jackson at some point, whether it's this season or in the offseason.

"He is their ultimate candidate," Broussard said.

Still, the Nets (17-15) are looking to do big things this season, and they don't want an in-season coaching search hanging over the team. They're just two games behind the Pacers (19-13) for fourth place in the weak Eastern Conference, which would give them homecourt advantage in the first round of the playoffs.

As Broussard noted, it's rare for an established coach to come in midway through the season, and Jackson's triangle offense would be a difficult one to master.

Given all this, expect the only "P.J." leading the Nets in 2012-13 to be Carlesimo.

December, 27, 2012
12/27/12
11:32
PM ET
The Nets have made Phil Jackson their top coaching target, ESPN's Marc Stein and Chris Broussard reported Thursday, citing NBA coaching sources.
Wouldn't it be something?
Phil Jackson. Coaching the Nets. The same franchise he played for during the final two seasons of his career.
Jackson, 67, has won 11 NBA championships as a head coach, and it would be incredible if the Nets could convince him to come out of retirement and lead their franchise.
Given that Nets owner Mikhail Prokhorov has deep pockets, money certainly wouldn't be an issue.
But would Jackson really want to come to a team that is just 14-14, and doesn't look anything like a team that could give him title No. 12?
Jackson's triangle offense seems like a good fit with the personnel on the Nets' roster --
Deron Williams
has said he's a system player, and Jackson's system is renown around the league -- and he'd command immediate respect in the locker room, given his track record of success.
Ever since the summer of 2010, the Nets have drummed up story lines by pursuing the likes of
LeBron James
,
Carmelo Anthony
and
Dwight Howard
.
They missed out on all three of those players, but why not take a shot at arguably the best coach all time?
The Nets went 60-116 under Avery Johnson and haven't made the playoffs in five seasons.
Prokhorov has grand expectations -- including a five-year championship plan that has been reduced to three. Based on the way they've been playing, it doesn't appear that the Nets are going to reach that goal anytime soon.
But if there's anyone who can help them get there, it's Jackson. And that's why it makes a whole lot of sense to pursue him.
Click here for the news story.
December, 27, 2012
12/27/12
3:47
PM ET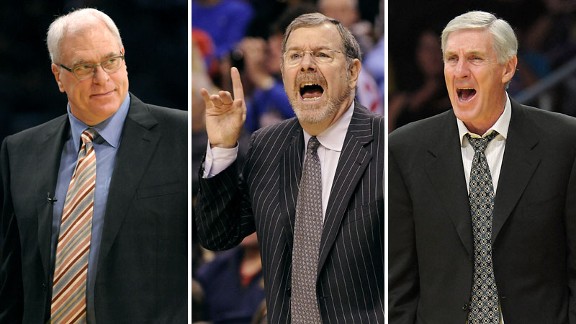 USA TODAY SportsCould Phil Jackson or Jerry Sloan replace interim Nets coach P.J. Carlesimo (center)?
Who will be the new coach of the Nets?
Let's take a look at some of the possible candidates:
Phil Jackson:
Who wouldn't want an 11-time NBA champion coaching their team? Then, again, would he really come out of retirement to coach this one? Owner Mikhail Prokhorov has a $1 billion arena and a roster he dished out $330 million in the offseason to improve. If the Nets could land Jackson, it would be a grand slam. Jackson commands respect and could easily stand up to
Deron Williams
. Still, this scenario seems like a long shot at best.
Stan Van Gundy:
Given his past successes in Orlando, he'd certainly make a lot of sense -- unless the Nets are still dreaming of getting
Dwight Howard
. The Orlando Sentinel is reporting he has no interest in the Brooklyn job.
Larry Brown:
You have to put him on the list because he was GM Billy King's coach in Philadelphia, and the two had a lot of success together. Brown is 73 and currently coaching Southern Methodist in the collegiate ranks. Would he want to take one last shot?
Jeff Van Gundy:
Stan's brother has been doing television analyst work for ESPN. He hasn't been a coach since 2006-07. Still, he's won in New York and has the guts to call out D-Will.
Mike Brown:
He couldn't win it all with
LeBron James
and was fired by the Lakers just five games into this season. But Brown has plenty of experience, and has coached in pressure situations before.
Jerry Sloan:
D-Will loves his "flex" offense. Then again, wasn't the Nets point guard the same guy who forced Sloan into retirement?
Nate McMillan:
Former NBA head coach. Served under Mike Krzyzewski for the U.S. Olympic team. McMillan is similar to Avery Johnson in terms of scheme (defense-first, grind-it-out half-court offense).
Mike Dunleavy:
Coach of the Year in 1999 with the Blazers, but has been out of coaching since 2010.
P.J. Carlesimo:
He is the interim coach, so he's going to have to work with this roster. He knows the players well. Hasn't had much success on the pro level as a head coach, though.
Quin Snyder:
He's young, played at Duke and is currently an assistant coach with CSKA Moscow, Prokhorov's old team in Russia.
David Blatt:
An American who coached the Russian National Team to a bronze medal in London. (Surely Prokhorov knows of him.) Blatt, 53, played college ball at Princeton and also coaches regularly with Israeli powerhouse Maccabi Tel Aviv.