Brooklyn Nets:

San Antonio Spurs
July, 24, 2013
7/24/13
8:00
AM ET
Do the
Brooklyn Nets
have the best starting five in the NBA?
ESPN analyst and former coach Jeff Van Gundy thinks so.
"If they play well and remain healthy, which is always a challenge for an older team, I think they have the best starting-unit talent in basketball," Van Gundy said recently.
[+] Enlarge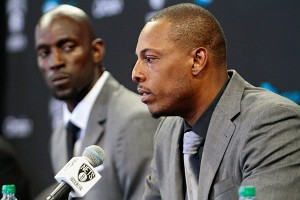 AP Photo/Jon GerbergKevin Garnett and Paul Pierce are focused on bringing a championship to Brooklyn.
Let's take a look at the Nets' projected starting five by games missed last season:
PG
Deron Williams
: 4 (dealt with ankle and wrist issues for first 50 games)
SG
Joe Johnson
: 10 (plagued by plantar fasciitis at end of season)
SF
Paul Pierce
5 (plagued by elbow injury in playoffs)
PF
Kevin Garnett
14 (plagued by bone spurs in ankle and foot)
C
Brook Lopez
8 (underwent third foot surgery in 18 months in offseason)
As Van Gundy said, if they can stay healthy, and that's a pretty big "if," the Nets, at least on paper, do have one of the best starting fives in the league.
Let's take a look at some of the other elite projected starting units:
Memphis Grizzlies
Mike Conley
,
Tony Allen
,
Tayshaun Prince
,
Zach Randolph
,
Marc Gasol
Golden State Warriors
Stephen Curry
,
Klay Thompson
,
Andre Iguodala
,
David Lee
,
Andrew Bogut
Chicago Bulls
Derrick Rose
,
Jimmy Butler
,
Luol Deng
,
Carlos Boozer
,
Joakim Noah
Indiana Pacers
George Hill
,
Paul George
,
Danny Granger
,
David West
,
Roy Hibbert
Houston Rockets
Jeremy Lin
,
James Harden
,
Chandler Parsons
,
Omer Asik
,
Dwight Howard
San Antonio Spurs
Tony Parker
,
Danny Green
,
Kawhi Leonard
,
Tim Duncan
,
Tiago Splitter
Oklahoma City Thunder
Russell Westbrook
,
Thabo Sefolosha
,
Kevin Durant
,
Serge Ibaka
,
Kendrick Perkins
Los Angeles Clippers
Chris Paul
,
J.J. Redick
,
Jared Dudley
,
Blake Griffin
,
DeAndre Jordan
Miami Heat
Mario Chalmers
,
Dwyane Wade
,
Shane Battier
,
LeBron James
,
Chris Bosh
Do you agree with Van Gundy? If not, where do you think the Nets stack up? Let us know in the comments section.
February, 11, 2013
2/11/13
1:09
AM ET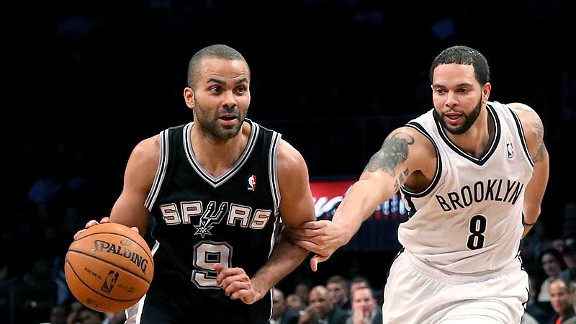 Anthony Gruppuso/USA TODAY SportsDeron Williams attempts to guard Tony Parker, who finished with 29 points and 11 assists.
The
Brooklyn Nets
couldn't stop
Tony Parker
on Sunday night.
Parker abused the Nets all evening in the pick-and-roll, amassing 17 points in such offensive sets on 7-for-13 shooting, according to ESPN Stats & Information.
"I don't think there is anybody in the league playing better than Tony Parker,"
San Antonio Spurs
coach Gregg Popovich said after Parker finished with 29 points, 11 assists and no turnovers in San Antonio's 111-86 rout of Brooklyn at Barclays Center.
"He is beyond an All-Star. He's carrying us."
Parker carried the Spurs to victory despite the fact that they were without both
Tim Duncan
and
Manu Ginobili
due to injury.
"He keeps getting better year after year,"
Boris Diaw
said of Parker, who improved to 8-6 since the start of 2002-03 in games when Duncan and Ginobili don't play. "He is doing everything on the court. I have watched him for years now and he just gets better. He is very consistent. I don't know when he's going to stop getting better."
Parker outscored
Deron Williams
10-0 in the third quarter. The Spurs ended up outscoring the Nets 30-14 and taking control in the frame. Williams finished with just five of his 15 points in the second half.
• The Nets committed 18 turnovers that led to 30 points, while forcing just seven turnovers, which they converted into six points.
• The Nets allowed 110-plus points for the fourth time this season (1-3).
• The Nets are 15-8 under interim coach P.J. Carlesimo.
February, 10, 2013
2/10/13
10:35
PM ET
WHAT IT MEANS
: The
Brooklyn Nets
played what
Gerald Wallace
called "typical Nets basketball" and got blown out of their building by the best team in the NBA.
The
San Antonio Spurs
, playing without
Tim Duncan
and
Manu Ginobili
, annihilated the Nets for the second time this season, 111-86, on Sunday night at Barclays Center.
The capacity crowd booed the home team as the Spurs' lead grew to as many as 25 in the fourth quarter, and began heading for the exits with about four minutes left.
Brooklyn (28-22) has now lost six of nine, and dropped to 11-20 against .500 or better teams (at time of game played).


The Nets were outscored 60-29 in the second half, and allowed the Spurs (40-12) to shoot 58.9 percent overall.
Tony Parker
abused Brooklyn with his drives in the paint, scoring 29 points while dishing out 11 assists. Parker is 8-6 since the start of the 2002-03 season when Duncan and Ginobili don't play.
Joe Johnson
(19 points),
Brook Lopez
(18 points, nine rebounds) and
Deron Williams
(15 points, three assists) had nice stat lines, but didn't play as the numbers indicated.
The Nets are 1-19 in their past 20 against the Spurs. San Antonio outscored Brooklyn by a combined 56 points in its two victories over the Nets this season.
CH-CH-CHANGES
: Nets interim coach P.J. Carlesimo shortened his rotation, going with
Kris Humphries
and
Keith Bogans
while sitting
MarShon Brooks
and
Mirza Teletovic
(at least until the game got out of hand). Humphries, 5-for-25 from the field since Jan. 21, went 4-for-7 on Sunday night and scored eight points in 20 minutes while grabbing seven rebounds.

THIRD QUARTER DOMINATION
: The Spurs outscored the Nets 30-14 in the third quarter, turning an eight-point deficit into a 10-point lead heading into the fourth. In two games against Brooklyn, San Antonio won the third quarter, 60-19.
ON SECOND THOUGHT
: The Nets had been outscored 111-61 in their previous four second quarters, but survived a mostly bad second on Sunday night because Johnson had a couple buckets late. San Antonio outscored Brooklyn 26-22, but it could've been worse.
HOT START
: The Nets led 35-25 after the first quarter. It was the second-most points Brooklyn scored in any first quarter this season. The Nets shot 63.6 percent in the opening 12 minutes and got 23 points from their big three -- including 10 points from Lopez along with five rebounds and two assists.
WHO'S IN THE HOUSE?
Thierry Henry and John Flaherty.

UP NEXT
: Nets at Pacers on Monday night at 7 p.m.
December, 31, 2012
12/31/12
9:15
PM ET
WHAT IT MEANS:
The
Brooklyn Nets
need to play better basketball in 2013.
Given their lofty expectations following a $330 million offseason spending spree, the Nets wrapped up a disappointing 2012 portion of their 2012-13 schedule with a 16-15 record after getting embarrassed by the
San Antonio Spurs
104-73 on Monday night at AT&T Center. They are 5-11 in December.
If they haven't placed a call to Phil Jackson about becoming their permanent head coach yet, now would be a good time to do so. P.J. Carlesimo dropped to 2-1 after taking over for the recently fired Avery Johnson.
HISTORICALLY BAD:
The Nets were outscored 30-5 in the third quarter. The five points is a franchise low for any quarter. They went 2-for-20 from the field in the period and committed seven turnovers. A 26-2 run spanning the end of the second and the majority of the third turned a close game into a laugher. Their previous low for a quarter was seven (three times).
DOMINATION:
The Spurs are 18-1 in their past 19 regular-season meetings against the Nets. Brooklyn hasn't won a regular-season game in San Antonio since January 2002 (0-10).
$98 MILLION IMPACT:
Franchise point guard
Deron Williams
hit a 3-pointer, then tweaked his right ankle in the first quarter, missed his next five shots and was a nonfactor for much of the night. He finished 3-for-11 from the field in 28 minutes.
INJURY UPDATE:
Gerald Wallace
sat out with a bruised left knee.
Kris Humphries
returned after missing five games due to a mild abdominal strain.
Reggie Evans
started at power forward.
UP NEXT:
Nets at Thunder on Wednesday night.
December, 31, 2012
12/31/12
12:36
PM ET
The
Brooklyn Nets
are 2-0 under interim head coach P.J. Carlesimo. But trying to make it three in a row is going to be a tall task, as the Nets travel to San Antonio to face the surging Spurs on New Year's Eve (7 p.m.). Here's what we'll be watching for:


GOOD LUCK:
The Spurs (24-8, 12-2 home) are streaking, having won five in a row. The Nets (16-14) haven't beaten them in San Antonio since Jan. 22, 2002. Brooklyn has lost three in a row to San Antonio overall. Almost seven Spurs average in double figures, led by
Tony Parker
(19.2 points per game).
Tim Duncan
remains a force in the post, while
Manu Ginobili
continues to inflict damage off the bench. San Antonio also has a wealth of depth, with
Danny Green
,
Gary Neal
and
Tiago Splitter
nicely complementing its Big Three.
BATTLE OF THE BIGS:
Over his past three games,
Brook Lopez
is averaging 27.3 points, 10.7 rebounds on 62 percent shooting from the field, 83.3 percent from the free throw line with seven blocks. Lopez has recorded at least 20 points and 10 rebounds in every game during that span. But Lopez is going to have his hands full with Duncan (17.8 ppg, 9.9. rpg, 2.5 bpg).
NEW COACH, NEW RESULTS:
Since Carlesimo took over for Avery Johnson,
Deron Williams
is averaging 17 points on 46.2 percent shooting, including 37.5 percent from 3-point range.
IS STAT RIGHT?
The Nets have not allowed their opponents to shoot better than 50 percent from the field in their past 12 games. Brooklyn is 9-1 when holding their opponents under 90 points, but that's going to be next to impossible against a Spurs team that averages 105.6 points a night.
February, 12, 2012
2/12/12
12:42
AM ET
All the recent "Linsanity" over Knicks point guard Jeremy Lin? Blame it on the Big Apple, ex-Net Richard Jefferson says.

"It's New York, it's New York. It's New York City. You do it in the Garden, in New York City against the Lakers, you're doing it for the Knicks," the Spurs small forward said prior to his team's 103-89 victory over the Nets on Saturday night at Prudential Center.

"He'd be getting a lot of attention if he was doing it any place, but doing it in the Garden, doing it for the Knicks makes it that much more special."

Lin went off again on Saturday night in Minnesota, as the Knicks extended their winning streak to five. He needed 24 shots to score 20 points, but drained the go-ahead free throw late. The legend of Lin continues.

Nets coach Avery Johnson has been impressed with what the undrafted Harvard grad has accomplished -- seemingly out of nowhere.

"I think it's great," Johnson said. "I think it's great for the NBA, any time a guy is an underdog and basically is about to get cut, again, and makes it."

Spurs coach Greg Popovich feels the same way.

"It seems strange, it seems out of the blue where all of the sudden this guy's kicking everybody's butt and no one can stop him," Popovich said. "He's helping a team to win with some of its stars that are out, and it just seems improbable, and that's why the story is so great and everyone is in enjoying it."

Povovich claims he isn't surprised. He's probably the only one. Could you really have seen this one coming? Lin has been living on his brother's couch, after all.

"No. In today's world, are you serious?" Popovich said to a reporter, laughing. "There's gazillions of your type everywhere, just waiting for a story. And when something like that happens, its upbeat, it's a win-win for everybody. Everybody's jumping on it. It's an international story. … It's great."

Jefferson is happy for Lin. The two became friendly after they met during pregame chapel sessions.

"It couldn't happen to a better person," Jefferson said. "He's a firm believer that god puts you where you need to be when you need to be there. Like I said, he's a good kid and I'm happy for him."

Johnson thinks Lin is the perfect role model for everyone -- including his son, Avery Jr., who is currently a sophomore in high school.

"For me it's a good argument because I've been trying to encourage my son to go play basketball at an Ivy League school," Johnson said. "My daughter attends an Ivy League school, but he thought you can't go to the NBA from an Ivy League school."

Yes, Jeremy Lin is the American Dream. Most Americans dream of graduating Harvard. But starring in the NBA, too? C'mon now! That's Linsanity!
February, 11, 2012
2/11/12
10:16
PM ET
Recap
|
Box score
|
Photos
WHAT IT MEANS
: Same Old Nets. Or rather, in the words of
Deron Williams
, "Same old story." The Nets got down big in the second quarter only to rally back in the third period, but the Spurs stepped on the accelerator and used their experience and a balanced attack to roll to a 103-89 victory on Saturday night at Prudential Center.
The Nets (8-21, 3-10 home), who shot 40.2 percent and trailed by as many as 21, have now lost six straight games. Six players scored in double-figures for the Spurs (19-9), who shot 52.5 percent and outscored the Nets, 50-34, in the paint.
TURNING POINT
: The Nets missed eight of their first nine shots in the second quarter, went 0-for-6 from 3-point range and were outscored 31-18 as the Spurs took a 55-40 lead to the break. San Antonio shot 73.7 percent in the period. The Nets cut a 15-point deficit to six in the third, but the Spurs closed the quarter on a 15-3 run to take an 18-point lead into the fourth.
D-WILL
: Williams poured in a game-high 27 points on 9-for-23 shooting and added eight assists and four rebounds.
THAT'S ALL FOLKS
: Ex-Net
Richard Jefferson
scored seven points in 18 minutes in his
final game in New Jersey
.
START ME UP
: Rookie
MarShon Brooks
started for the first time since Jan. 22, but in his second game back after missing six with a broken toe, he was rusty and struggled. The 23-year-old shooting went 2-for-10 from the field and finished with seven points.
STAT OF THE NIGHT
: The Nets have started 13 different players this season. They fell to 0-2 when wearing their retro ABA throwback jerseys.
PLAY OF THE GAME
:
Kris Humphries
' alley-oop dunk off a pass from
Jordan Farmar
late in the second quarter.
UP NEXT
: Nets vs. Grizzlies, 7:30 p.m. Wednesday.
February, 11, 2012
2/11/12
9:56
PM ET
Prior to 2001-02, the Nets were disrespected, thought of as a joke of an NBA franchise.
"They weren't that good. They sucked," former Nets player
Richard Jefferson
, now with San Antonio, told ESPNNewYork.com prior to the Nets-Spurs game at Prudential Center on Saturday night.
"I won more games [28] in college [my senior year] than they did the year before I got here [26]."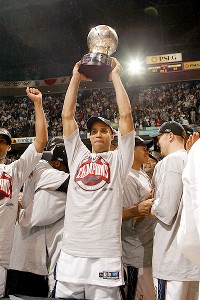 Noren Trotman/Getty ImagesMay 24, 2003: Richard Jefferson hoists the Nets' Eastern Conference championship trophy at Continental Airlines Arena.
That changed quickly. Nets GM
Rod Thorn
swung a draft-night deal to acquire Jefferson on June 27, 2001, and the following day he acquired arguably the greatest player in franchise history,
Jason Kidd
.
"I just remember when I got here the lack of respect that the organization had on the court, and how in a short amount of time we kind of changed that," Jefferson said. "Even now the banners that are hanging up [in New Jersey] are from the time that I was playing with great players like Jason,
Kenyon Martin
and
Kerry Kittles
, so I have a lot of fond memories."
"We had a good group of guys. Even Jason hadn't had that type of success in his career, so he was all in. We were playing for each other, making the extra pass, defending. We just rode that wave and it worked out for us."
The Nets made the NBA Finals in back-to-back seasons, losing to the Lakers in 2002 and the Spurs in 2003. They advanced to the Eastern Conference finals in 2003-04, falling to the eventual NBA champion Pistons. Jefferson figured they'd make it back and have a chance to win it all. They didn't.
"The guys that I had some good fortune to play with, we won some games, but we weren't able to get the championship," Jefferson said. "I think we were broken up a little early, but at the end of the day just the memories and the people that I had the ability to play with [are what will stay with me]."
Martin got a max contract from the Nuggets, and the Nets didn't want to match it, so they dealt Martin to Denver in a sign-and-trade for three first-round picks. It was the beginning of the end. Eventually, Kidd and Jefferson were traded, too.
"They made an executive decision to change the direction of the franchise," Jefferson said, "and that's the way it goes."
The Nets are bound for Brooklyn, N.Y., in 2012-13, so Saturday night marked Jefferson's final game in New Jersey.
"I had a lot of fond memories here," Jefferson said. "You try to enjoy the experience, and you try not to get too nostalgic until after the game."
Jefferson understands why the Nets are moving on.
"It's a business situation. It's no different than me being traded to another team," he said. "It's a business situation and you have to approach it as such. New arenas, it happens a lot in this league and it happens a lot in sports in general. I wouldn't take it personally."
Jefferson, 31, said he respects the die-hard fans who have stayed loyal to the Nets both in good times and bad. He said he'll miss the great people involved with the franchise the most.
Jefferson said his Spurs teammates sometimes joke with him about losing to them in the 2003 NBA Finals
"Everyone once in awhile they give me a reminder of that, and that banner's hanging up in [our] building," Jefferson said.
February, 25, 2011
2/25/11
10:57
PM ET
Recap
|
Box score
|
Photos
WHAT IT MEANS
: All-Star point guard
Deron Williams
' debut as a New Jersey Net didn't exactly go the way he hoped it would. Williams was held to only 14 points on 5-for-13 shooting as the Nets lost in San Antonio on Friday night. Despite struggling to put the ball in the basket, Williams did contribute a game-high 12 assists for New Jersey (17-41), which dropped its fourth straight game, and first following the All-Star break. Meanwhile, the Spurs (48-10), the NBA's best team, improved to 27-2 at home. The Nets fell to a dismal 4-26 on the road.
TURNING POINT
: When the Spurs closed the third quarter on an 18-6 run, turning a four-point lead into a commanding 16-point edge.
Tim Duncan
sparked the surge with a dunk inside, and
George Hill
capped it, beating the buzzer with a corner 3-pointer that bounced high off the front rim before dropping through the net.
PLAYER OF THE GAME
:
Anthony Morrow
. The 25-year-old shooting guard came off the bench to notch a game-high 25 points for New Jersey. Morrow had the touch from the perimeter all night long, connecting on his first five shots en route to a 7-for-11 performance from the field. He was also 8-for-9 from the free throw line and added five rebounds.
BREAKING IT DOWN
: Like most players, it's going to take Williams some time to get acclimated with the Nets' system. The two-time All-Star struggled mightily in the first quarter, going 0-for-4 from the floor with a pair of turnovers. He even injured his right wrist on a hard drive to the hoop late in the opening stanza. Williams finally recorded his first field goal when he converted a layup inside with 2:00 left in the second quarter. He did show flashes throughout, working the pick-and-roll game well with
Kris Humprhies
, and even displaying some offensive prowess late in the fourth. Williams had 11 of his 14 points after the intermission.
FLYING IN
:
Mikhail Prohkorov
attended his first-ever road game as owner of the Nets. He was skiing in Vancouver, but made the trek to San Antonio so that he could watch Williams in his first game as a Net. Williams, of course, did a lot more flying than Prohkorov. This week alone, Williams made three flights and traveled more than 3,000 miles -- from Dallas to Salt Lake City to New Jersey and then to San Antonio -- after he was acquired by the Nets in a blockbuster deal with the Utah Jazz. The Nets are 5-3 with Prohkorov in attendance.
THE DIFFERENCE
: Much like it did in the Nets' 17-point loss to the Spurs in New Jersey, it came on the interior. Duncan and
DeJuan Blair
each amassed 17 points and six rebounds on 8-for-11 shooting.
UP NEXT
: The Nets finish off their Texas Two-Step on Saturday night when they head to Houston to take on the Rockets. Williams will make his home debut with the Nets on Monday night against
Steve Nash
and the Phoenix Suns.