Brooklyn Nets:

Shelden Williams
February, 1, 2012
2/01/12
11:51
PM ET
The Nets had just eight healthy players going into Wednesday night's game -- and they needed every one of them to eke out a 99-96 victory over the flailing Pistons at Prudential Center.
"We went out there before the game and went into our little huddle, and I was like, 'Where's everybody at?'" said
Deron Williams
, who had 18 of his game-high 26 points in the second half, shot 12-for-21 from the field and added nine assists in 43 minutes.
"And they're like, 'This is it.' It's kind of hard to do layups before the game. You get tired because you're just running around and around."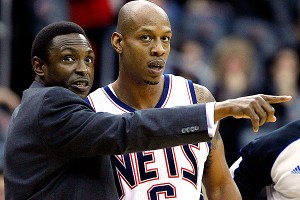 AP Photo/Julio CortezAvery Johnson had to put newly signed Keith Bogans to work immediately.
The Nets (8-15, 3-6 home) were supposed to have nine healthy players --
Johan Petro
was already ruled out with flu-like symptoms -- but about an hour before tipoff,
Anthony Morrow
was scratched with a sore left ankle.
Just like that, they were down to eight. And if you count
Keith Bogans
-- who hadn't played a game all season prior to being signed by the injury-depleted Nets on Wednesday after working out for the team on Tuesday -- it was more like 7¼.
"I told them they were the Great Eight," coach
Avery Johnson
said. "We normally give a set of nets to the guy that's most valuable player of the game, but we kind of cut it up in eight pieces tonight, because each one of them deserved it. Everybody contributed."
Johnson wasn't kidding.
• The Nets needed D-Will's first and only 3-pointer of the game with 4:47 left that put them up 93-88, along with his tenacious defense on Detroit's final possession, which ended with
Brandon Knight
missing a jumper from downtown that would've tied the game.
• They needed all 14 points
Kris Humphries
scored in the second half -- including the pair of free throws he knocked down with 5:22 remaining that put them ahead to stay.
• They needed all 11 points
Shawne Williams
scored in the second quarter.
• They needed all seven rebounds
Shelden Williams
grabbed in the first quarter.
• They needed all eight points
Jordan Farmar
scored in the fourth quarter.
• They needed all eight points
Sundiata Gaines
scored in the third quarter.
• They needed each and every one of
Jordan Williams
' career-high nine points and eight rebounds in a career-high 21 minutes.
• And perhaps most importantly of all, they needed Bogans' layup with 1:17 left -- his first two points as a Net and his only two points of the night -- that gave the team a 98-92 lead.
Bogans wasn't even close to being in game-shape. He didn't even know what town he was staying in after the game ended. After all, he'd been chilling in Orlando for the first third of the NBA season, waiting for a call.
But when the Nets had to have a basket, Bogans cut to the rim, and D-Will found him for a deuce.
"We hadn't had a cut like that to the basket all year," Johnson said.
"I just saw guys standing around, saw Deron with his back to the basket. He's been telling guys to cut all game, so I did, and he hit me," said Bogans, who ended up playing 17 minutes -- five more minutes than Johnson wanted to play him.
Ultimately, the Nets barely beat a 4-20 Pistons squad that has lost seven straight and became the first team in the NBA this season to lose all three games of a back-to-back-to-back stretch.
But the Nets were playing with just eight healthy players, so they'll take it.
Brook Lopez
remains out with a broken right foot.
Damion James
won't be back for the rest of the season after undergoing right foot surgery. Rookie
MarShon Brooks
is out indefinitely with a broken toe and was seen wearing a walking boot out of the team's locker room.
DeShawn Stevenson
will miss at least the next two weeks with a right knee injury. And
Mehmet Okur
won't return until late this week or perhaps early next week due to a sore lower back.
The Nets have obviously had plenty of reason to make excuses this season, from an assortment of injuries to a lack of continuity to a lack of talent. On Wednesday night, they went with their 12th different starting lineup in their first 23 games.
They nearly blew a 12-point lead, but managed to win the rebounding battle 44-31 while holding the Pistons to 5-for-18 from 3-point range. And when the final buzzer sounded, they walked off the court with a win, something that had eluded them in their previous two games.
"If you wanna be a good team, you gotta win the ones you're supposed to," said D-Will, who had his midrange fadeaway jumper going all night long and is now averaging 29 points and 8.6 assists in his last five games.
"They had a couple of key guys out as well. It was an important game for us at home, where we've been struggling so much, and this is a team that's been struggling, so we had to take advantage of that."
They did. And now they'll get some rest.
After playing 14 of their first 22 games on the road, the Pistons game started a stretch of six of eight at home -- a place where the Nets have struggled.
They took care of business there on Wednesday night, though, and they're going to have to continue to do so if they want to stay in the playoff hunt.
February, 1, 2012
2/01/12
10:02
PM ET
Recap
|
Box score
|
Photos
WHAT IT MEANS
: Eight was enough. The short-handed Nets -- who had just eight healthy players because of injuries -- barely took care of the lowly Pistons, winning 99-96 on Wednesday night at Prudential Center to snap a two-game losing streak.
The Nets (8-15, 3-6 home) shot 48.1 percent from the field, went 8-for-23 from the 3-point line and won the rebounding battle, 44-31. The Pistons (4-20) have now lost seven in a row and became the first NBA team this season to all three games of a back-to-back-to-back stretch.
Brandon Knight
missed a 3-pointer at the buzzer that would have tied the game.
D-WILL
: After a quiet first half,
Deron Williams
began to take over in the third quarter. The All-Star point guard scored 18 of his game-high 26 points in the second half -- using his unstoppable crossover dribble to set up his dazzling array of midrange pullups. He also added nine assists and shot 12-for-21 from the field.
TURNING POINT
: D-Will's 3-pointer that put the Nets up 93-88 with 4:47 left in the fourth quarter. Later, he found
Keith Bogans
for a key layup -- Bogans' first two points in his Nets debut -- with 1:16 left to make it 98-92.
THREE-WILL
:
Shawne Williams
had all of his season-high tying 11 points in the second quarter. He hit three 3-pointers, and the Nets closed the first half on a 13-5 run to take an 11-point lead into the locker room.
Shelden Williams
had seven of his 11 rebounds in the first quarter, while rookie
Jordan Williams
set career highs in points (nine), rebounds (eight) and minutes (20).
NOT-SO-FUN FACT
: The Nets have used 12 different starting lineups in their first 23 games.
STAT OF THE NIGHT
: Seven Nets scored at least nine points.
UP NEXT
: Nets vs. Timberwolves, 7:30 p.m. Friday.
December, 19, 2011
12/19/11
9:00
AM ET
Continuing through Dec. 23, ESPNNewYork.com will run a series called "Christmas Countdown" examining a hot topic each day that involves the New Jersey Nets.

Today's Hot Topic: Forwards, march (!)

The Nets may have rid themselves of Travis Outlaw and his four-year, $28 million albatross via the amnesty clause, but they still have plenty of issues to address at forward.

Consider: As of Monday -- a week before the team's season opener in D.C. -- their projected starters at the 3 and 4 spots are second-year pro Damion James and veteran journeyman Shelden Williams.

Try to name a worse starting forward tandem in the NBA. You'd be hard-pressed to find one.

Williams is a solid rotation big man who possesses the intangible qualities NBA coaches love -- in bench players. The Nets clearly need to upgrade at power forward, but the prevailing thought is that they want to wait and see if they can land Orlando center Dwight Howard before the season begins. They currently have $18.9 million in cap space, so they have the ability to take on the bloated contracts of Hedo Turkoglu and Chris Duhon.

Kris Humphries appears to be their fallback option if they can't meet the Magic's steep demands for their franchise player. Humphries is coming off a career season in which he averaged a double-double in New Jersey, and he may have to settle for a short-term deal in an effort to prove he's not just a one-year wonder. If Humphries is agreeable to signing a one-year pact, he'd be eligible to be dealt on March 1, and could serve as an expiring contract in a Howard blockbuster. Andrei Kirilenko was allegedly another option -- and the Nets have spoken highly of him -- but he's hurt and may stay and play in his native Russia.

In the offseason, the Nets contemplated moving 23-year-old Brook Lopez from center to power forward, but had to abandon those plans after failing to score Tyson Chandler or Nene in free agency.

As for the small forward spot, James will likely get the starting nod due to his defensive prowess. He's probably the Nets' best wing defender given his size and strength, and did an admirable job guarding Carmelo Anthony on Saturday afternoon, holding the Knicks swingman to 7-for-15 shooting. Coach Avery Johnson has said James is going to be every opportunity to try and contain the hybrid forwards that caused so many nightmares for the Nets last season.

Behind James is ex-Knickerbocker sharpshooter Shawne Williams, who connected on 40.1 percent of his 3-point attempts in 2010-11.

Stephen Graham sits third on the small forward depth chart, but he's an offensive liability and his $1.1 million salary is only guaranteed unless he makes the team out of camp. And then there's Ime Udoka, whose contract is also unguaranteed.

As for the wildcard, it's Dennis Horner, an NBDLer who made quite an impression in his NBA debut. And then there's second-round pick Jordan Williams, who hasn't been able to practice recently due to dehydration issues. The 21-year-old was a tremendous rebounder at Maryland, but he's still acclimating himself at the NBA level.

There's no question forward is the Nets' weakest position, and one that needs to be improved immediately.
December, 9, 2011
12/09/11
9:35
AM ET
"The Landlord" will reportedly be owning the paint in New Jersey this season.

Shelden Williams -- who earned the nickname at Duke -- has agreed to a one-year contract with the Nets, according to Yahoo Sports!

In seven seasons, the 28-year-old Williams owns career averages of 4.5 points and four rebounds per game. He played 17 games for the Knicks last season and made six starts after being acquired in the Carmelo Anthony trade. The Nets will be his sixth NBA team.

Williams is married to WNBA superstar Candace Parker.

The Nets now have four frontcourt players under contract, with Williams joining Brook Lopez, Johan Petro and Jordan Williams.

GM Billy King also was a Blue Devil. Perhaps that can be attributed -- at least somewhat -- to why Williams is a Net.