Brooklyn Nets:

Stay or go
May, 22, 2014
May 22
3:26
PM ET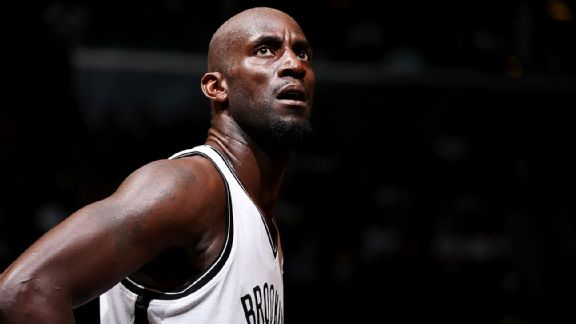 Nathaniel S. Butler/NBAE/Getty ImagesWill Kevin Garnett be a Net next season? Will he retire? Anything is possible.
There are many questions facing Brooklyn this offseason, with two of the biggest question marks surrounding the future of
Paul Pierce
and
Kevin Garnett
.
It's early but, as of now, few in and around the Nets' organization know what Pierce and Garnett will do this summer.
Wednesday, we examined reasons
Pierce might stay and reasons he might go
. Thursday, we do the same with Garnett.
REASONS GARNETT WOULD STAY:

Pride:
Garnett's pride is not to be underestimated. It's his strength and perhaps sometimes it can be a deterrent. There's simply no way he could have liked how the season ended, losing to Miami in five.
Garnett averaged 6.5 points and 6.6 rebounds as Jason Kidd kept his minutes down to 20.5 a night. But in what could have been his final game, Garnett had two points and eight rebounds in 25 minutes. Garnett might not want to go out like that and he's always fueled by motivation to prove people wrong.
It's his life:
During the playoffs, Garnett was asked whether he still would have considered joining the Clippers last summer if he knew then what we know today about Donald Sterling.
"I'm a Net," Garnett said. "I don't focus on almost. In high school, I never dealt with the chick that almost wanted to go out with me."
The reason I bring this terrific gem of a quote up is because he said later that he often makes analogies to high school because everybody can relate to high school. That makes perfect sense. And that reminded me that Garnett's entire life has been high school and the pros.
Since 1995, Garnett has known only one thing and that is playing pro basketball. And he's been among the all-time best at doing it. Giving something up that you've done and loved for nearly two decades is not easy. How will KG be able to satisfy his legendary competitive juices without basketball?
Kidd could try to persuade Garnett, who will make $12 million next season, to return, keep his minutes down and mentor younger big men like
Brook Lopez
and
Mason Plumlee
.

Garnett turned 38 on Monday and has to determine whether he still wants to keep playing. Can his body take another season? His mind certainly can. It's all he has ever known and that's a hard thing to give up completely.
Contending:
Much like with Pierce, the Nets must convince KG they can take a step forward from this season and remain a contender.
If he returns, he will want to play for a team with a shot to win. If Brooklyn doesn't make any blockbuster deals this summer, can the Nets sell Garnett on being better than last season with a healthier
Deron Williams
, who likely will have his ankles cleaned out, and Lopez?
They could argue they will be better with Kidd and the core having a second year together. Or perhaps the Nets could strike a deal and trade Williams and/or Lopez for another star or more pieces. The Nets will explore all options this summer to see if they can improve. Either way, Garnett has time to see what transpires.
The Truth:
If Pierce decides to re-sign, he could convince Garnett to return for one more season. Of course, Pierce's decision could be impacted by Garnett's decision.
REASONS GARNETT WOULD LEAVE OR RETIRE:
Pride:
The very same reason that could bring him back also could be why he hangs it up. Garnett is so proud that he may not want to continue playing at a diminished level.
If he returns, his role, which was playing five- to six-minute stretches, will be the same or reduced a bit to preserve him for the postseason.
Greener pastures:
Like Pierce, KG could determine that the chances of winning one more title are better somewhere other than Brooklyn. Garnett could decide that a core of Williams, Lopez and
Joe Johnson
isn't enough to get out of the East.
The Nets could lose key players like
Shaun Livingston
,
Andray Blatche
and
Andrei Kirilenko
this summer. Improving the team could be difficult if the Nets can't make a blockbuster deal.
And like Pierce, Garnett will likely talk to old friend Doc Rivers at some point in the offseason. The former Celtics coach could always be up for a potential reunion to help the Clippers get over the hump. Of course, the Clips would have to figure out a way to make things work in a potential trade for Garnett.
Health:
Kidd told reporters at the Nets' final gathering of the season that he wants Garnett back but also said the big man has to consider his health. Kidd's point is that no future Hall of Famer wants to go out with an unforeseen injury.
"We don't have the luxury of being able to do this forever," Kidd said. "He's done it for a long time at a very high level and the biggest thing and concerns that I've talked to him about is you don't want to leave with someone carrying you off the court. And that's fair for him."
Odds:
Sources in and around the Nets' organization aren't sure what Garnett will decide to do. He could very well take most of the offseason to make a decision and deservedly so. The odds seem to lean toward Garnett either leaving or retiring as of now. But as Garnett loves to say, anything is possible.
May, 21, 2014
May 21
7:21
PM ET
It has been a week since the
Brooklyn Nets
' season ended in Miami. There are many questions facing Brooklyn this offseason with two of the biggest question marks surrounding the future of
Paul Pierce
and
Kevin Garnett
.
It's early, but as of now, few in or around the Nets organization know what Pierce and Garnett will do this summer.
Let's examine reasons why each might stay or leave, starting with Pierce:
[+] Enlarge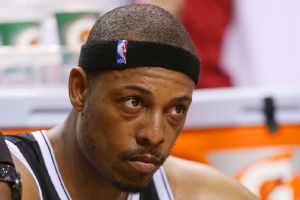 Mike Ehrmann/Getty ImagesWill Paul Pierce re-sign with the Nets?
REASONS WHY PIERCE WOULD STAY
Money:
Pierce isn't hurting for money by any means. But the Nets have the advantage of owning his Bird Rights and can pay Pierce more than any other suitor. It's possible the Nets could offer Pierce a one-year deal worth $9 million or more to keep him in Brooklyn. But it's likely going to take more than money to keep The Truth.
Contending:
This will be the most important selling point toward convincing Pierce to re-sign. The Nets have to prove that they can be better than this season when they lost in the second round to Miami.
If the Nets don't make any blockbuster moves and bring back
Deron Williams
and
Brook Lopez
, they could argue that perhaps they will be better. Williams, who likely could have surgery to clean out his ankles, and Lopez could come back healthier. Jason Kidd now has gone through his first season as coach and the team's core will enter next season no longer trying to figure each other out while learning a new system. And perhaps GM Billy King will find a way to add a few more cheap pieces around the core like they did with
Shaun Livingston
this past season.
Or, the Nets could trade Williams and/or Lopez and try to add another star and some key pieces that could persuade Pierce to make another run with the Nets. The odds aren't great of the Nets being able to do this due to Williams' and Lopez's contracts and health, but they will certainly explore all options to improve.
Celtics business:
If Garnett opts to come back for one final run, perhaps he persuades Pierce to stay. Of course, most of this is tied to whether the Nets can contend.
New York, New York:
Pierce did seem to enjoy his time living in the city. Sure, the Brooklyn crowd at Barclays could have been more electric in the playoff home games, but Pierce knows the Nets are building something and the fans always showered Pierce with adulation and respect. Pierce said he and his family will make his decision.
REASONS WHY PIERCE COULD LEAVE
[+] Enlarge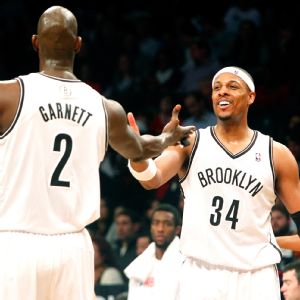 Nicole Sweet/USA TODAY SportsAre Pierce and Kevin Garnett a package deal?
One more title:
At this point, Pierce is driven by only one thing and that is winning another championship. By the time July rolls around, Pierce won't really know what the Nets' roster will look like for certain because of their own potential free agents. Key players such as Livingston,
Andray Blatche
and
Andrei Kirilenko
might not return.
Still, by July 1, Pierce could have already decided that his chances of winning one more title are better off somewhere else. As expected, Pierce didn't take the loss to Miami well and it could take a few more weeks for the sting to wear off.
Over the next few months, Pierce might conclude that he can't win a championship with this core of Williams,
Joe Johnson
and Lopez. At some point this summer, Pierce will likely talk to his old coach, Doc Rivers, who maintains a close relationship with Pierce and Garnett. Pierce, who turns 37 in October, maintains he has one or two years left of good basketball left in him to give. A contender could always use his experience, confidence and leadership. He averaged 13.5 points and shot 45.1 percent in 28 minutes a game.
Celtics business:
Pierce's decision could be impacted by Garnett's decision on whether to keep playing (here or elsewhere) or retire. If Garnett retires or wants to play elsewhere, the odds of convincing Pierce to return take a hit.
Also, Pierce still has a lot of Boston in his blood. He spoke about the possibility of returning to Boston someday toward the end of his career. If Danny Ainge makes some blockbuster moves to get Boston back in contention, Pierce could always return to Boston. But the Celtics would have to make some serious moves first.
Odds:
The odds don't sound good of a Pierce return. Those in and around the Nets organization are unsure what Pierce will do. But it's only May. He has plenty of time to make up his mind. My guess is that Pierce will wait to see what the Nets can do to improve the roster. If the Nets are unable to make significant improvements, he could end up going elsewhere by mid to late July.
Tomorrow:
Kevin Garnett.