Brooklyn Nets:

Stephen Graham
December, 19, 2011
12/19/11
9:00
AM ET
Continuing through Dec. 23, ESPNNewYork.com will run a series called "Christmas Countdown" examining a hot topic each day that involves the New Jersey Nets.

Today's Hot Topic: Forwards, march (!)

The Nets may have rid themselves of Travis Outlaw and his four-year, $28 million albatross via the amnesty clause, but they still have plenty of issues to address at forward.

Consider: As of Monday -- a week before the team's season opener in D.C. -- their projected starters at the 3 and 4 spots are second-year pro Damion James and veteran journeyman Shelden Williams.

Try to name a worse starting forward tandem in the NBA. You'd be hard-pressed to find one.

Williams is a solid rotation big man who possesses the intangible qualities NBA coaches love -- in bench players. The Nets clearly need to upgrade at power forward, but the prevailing thought is that they want to wait and see if they can land Orlando center Dwight Howard before the season begins. They currently have $18.9 million in cap space, so they have the ability to take on the bloated contracts of Hedo Turkoglu and Chris Duhon.

Kris Humphries appears to be their fallback option if they can't meet the Magic's steep demands for their franchise player. Humphries is coming off a career season in which he averaged a double-double in New Jersey, and he may have to settle for a short-term deal in an effort to prove he's not just a one-year wonder. If Humphries is agreeable to signing a one-year pact, he'd be eligible to be dealt on March 1, and could serve as an expiring contract in a Howard blockbuster. Andrei Kirilenko was allegedly another option -- and the Nets have spoken highly of him -- but he's hurt and may stay and play in his native Russia.

In the offseason, the Nets contemplated moving 23-year-old Brook Lopez from center to power forward, but had to abandon those plans after failing to score Tyson Chandler or Nene in free agency.

As for the small forward spot, James will likely get the starting nod due to his defensive prowess. He's probably the Nets' best wing defender given his size and strength, and did an admirable job guarding Carmelo Anthony on Saturday afternoon, holding the Knicks swingman to 7-for-15 shooting. Coach Avery Johnson has said James is going to be every opportunity to try and contain the hybrid forwards that caused so many nightmares for the Nets last season.

Behind James is ex-Knickerbocker sharpshooter Shawne Williams, who connected on 40.1 percent of his 3-point attempts in 2010-11.

Stephen Graham sits third on the small forward depth chart, but he's an offensive liability and his $1.1 million salary is only guaranteed unless he makes the team out of camp. And then there's Ime Udoka, whose contract is also unguaranteed.

As for the wildcard, it's Dennis Horner, an NBDLer who made quite an impression in his NBA debut. And then there's second-round pick Jordan Williams, who hasn't been able to practice recently due to dehydration issues. The 21-year-old was a tremendous rebounder at Maryland, but he's still acclimating himself at the NBA level.

There's no question forward is the Nets' weakest position, and one that needs to be improved immediately.
December, 13, 2011
12/13/11
11:30
AM ET
Continuing through Dec. 23, ESPNNewYork.com will run a series called "Christmas Countdown," examining a hot topic each day that surrounds the New Jersey Nets.Today's Hot Topic: Breaking down the team's schedule
Six games in eight nights to open the season. Ten of their first 14 games on the road. Two back-to-back-to-back stretches.
Nets point guard
Deron Williams
needed only one word to describe his team's lockout-shortened 66-game schedule: "Ugly."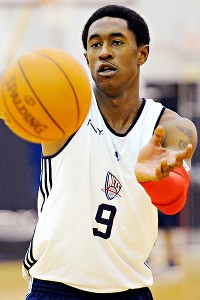 AP Photo/Bill KostrounNets rookie MarShon Brooks has fresh legs; he's only 22. But he never played more than 32 games a season at Providence. Now he faces 66 in quick succession.
Normally, NBA teams play an average of 3.5 games per week. But during this lockout-shortened season, teams will play 3.9 games per week. Days off will be limited, and rest will be hard to come by. Just don't think the Nets are willing to use any of that as an excuse. Their coach won't let them.
"I told the team when I first met with them, this is an unusual year with unusual challenges and circumstances,"
Avery Johnson
said last week. "But we're not gonna be a team to complain or make excuses.
"It is what it is. Six games in eight nights. Three in a row. I don't think there was any favoritism with the way the schedules were made."
Johnson has had plenty of experience dealing with a lockout. In 1998-99, he served as the point guard of the NBA champion Spurs. What many people forget is that San Antonio lost eight of its first 14 games. But the veteran-laden squad turned it around, winning 31 of its last 36 contests to close the regular season 37-13. A 15-2 playoff run and a championship parade followed.
Right now, the Nets' oldest player is reserve forward
Stephen Graham
, 29, who isn't guaranteed to make the roster. Chances are, they're going to add more experience before the beginning of the season, but the point is, they're young ... and inexperienced.
Trivia question: Which Nets player has participated in the most games in his career?
Answer: Travis Outlaw, 27, who may get amnestied by the team, with 482 games over eight seasons.
The Nets play 14 of their first 22 games away from the Prudential Center, but if they can somehow overcome that daunting stretch and remain in the race, it gets a lot easier from there. Overall, New Jersey actually plays the fourth-easiest schedule in the league in terms of 2010-11 winning percentage.
Just don't tell the Nets that. They probably wouldn't believe you.
Williams dreads looking at any calendar layout of the schedule, because he notices just how few breaks there really are. Asked what advice he'd give the younger players on the team, Williams replied, "Get ready to hit a wall."