Brooklyn Nets:

Sundiata Gaines
February, 1, 2012
2/01/12
11:51
PM ET
By
Mike Mazzeo
| ESPNNewYork.com
The Nets had just eight healthy players going into Wednesday night's game -- and they needed every one of them to eke out a 99-96 victory over the flailing Pistons at Prudential Center.
"We went out there before the game and went into our little huddle, and I was like, 'Where's everybody at?'" said
Deron Williams
, who had 18 of his game-high 26 points in the second half, shot 12-for-21 from the field and added nine assists in 43 minutes.
"And they're like, 'This is it.' It's kind of hard to do layups before the game. You get tired because you're just running around and around."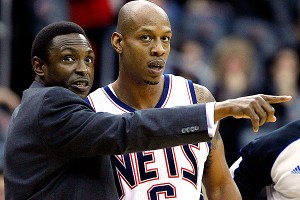 AP Photo/Julio CortezAvery Johnson had to put newly signed Keith Bogans to work immediately.
The Nets (8-15, 3-6 home) were supposed to have nine healthy players --
Johan Petro
was already ruled out with flu-like symptoms -- but about an hour before tipoff,
Anthony Morrow
was scratched with a sore left ankle.
Just like that, they were down to eight. And if you count
Keith Bogans
-- who hadn't played a game all season prior to being signed by the injury-depleted Nets on Wednesday after working out for the team on Tuesday -- it was more like 7¼.
"I told them they were the Great Eight," coach
Avery Johnson
said. "We normally give a set of nets to the guy that's most valuable player of the game, but we kind of cut it up in eight pieces tonight, because each one of them deserved it. Everybody contributed."
Johnson wasn't kidding.
• The Nets needed D-Will's first and only 3-pointer of the game with 4:47 left that put them up 93-88, along with his tenacious defense on Detroit's final possession, which ended with
Brandon Knight
missing a jumper from downtown that would've tied the game.
• They needed all 14 points
Kris Humphries
scored in the second half -- including the pair of free throws he knocked down with 5:22 remaining that put them ahead to stay.
• They needed all 11 points
Shawne Williams
scored in the second quarter.
• They needed all seven rebounds
Shelden Williams
grabbed in the first quarter.
• They needed all eight points
Jordan Farmar
scored in the fourth quarter.
• They needed all eight points
Sundiata Gaines
scored in the third quarter.
• They needed each and every one of
Jordan Williams
' career-high nine points and eight rebounds in a career-high 21 minutes.
• And perhaps most importantly of all, they needed Bogans' layup with 1:17 left -- his first two points as a Net and his only two points of the night -- that gave the team a 98-92 lead.
Bogans wasn't even close to being in game-shape. He didn't even know what town he was staying in after the game ended. After all, he'd been chilling in Orlando for the first third of the NBA season, waiting for a call.
But when the Nets had to have a basket, Bogans cut to the rim, and D-Will found him for a deuce.
"We hadn't had a cut like that to the basket all year," Johnson said.
"I just saw guys standing around, saw Deron with his back to the basket. He's been telling guys to cut all game, so I did, and he hit me," said Bogans, who ended up playing 17 minutes -- five more minutes than Johnson wanted to play him.
Ultimately, the Nets barely beat a 4-20 Pistons squad that has lost seven straight and became the first team in the NBA this season to lose all three games of a back-to-back-to-back stretch.
But the Nets were playing with just eight healthy players, so they'll take it.
Brook Lopez
remains out with a broken right foot.
Damion James
won't be back for the rest of the season after undergoing right foot surgery. Rookie
MarShon Brooks
is out indefinitely with a broken toe and was seen wearing a walking boot out of the team's locker room.
DeShawn Stevenson
will miss at least the next two weeks with a right knee injury. And
Mehmet Okur
won't return until late this week or perhaps early next week due to a sore lower back.
The Nets have obviously had plenty of reason to make excuses this season, from an assortment of injuries to a lack of continuity to a lack of talent. On Wednesday night, they went with their 12th different starting lineup in their first 23 games.
They nearly blew a 12-point lead, but managed to win the rebounding battle 44-31 while holding the Pistons to 5-for-18 from 3-point range. And when the final buzzer sounded, they walked off the court with a win, something that had eluded them in their previous two games.
"If you wanna be a good team, you gotta win the ones you're supposed to," said D-Will, who had his midrange fadeaway jumper going all night long and is now averaging 29 points and 8.6 assists in his last five games.
"They had a couple of key guys out as well. It was an important game for us at home, where we've been struggling so much, and this is a team that's been struggling, so we had to take advantage of that."
They did. And now they'll get some rest.
After playing 14 of their first 22 games on the road, the Pistons game started a stretch of six of eight at home -- a place where the Nets have struggled.
They took care of business there on Wednesday night, though, and they're going to have to continue to do so if they want to stay in the playoff hunt.
December, 18, 2011
12/18/11
11:30
AM ET
By
Mike Mazzeo
| ESPNNewYork.com
Continuing through Dec. 23, ESPNNewYork.com will run a series called "Christmas Countdown" examining a hot topic each day that involves the New Jersey Nets.Today's Hot Topic:
Backcourt breakdown
Last season, only one player in the NBA averaged 20 points and 10 assists per game:
Deron Williams
.
Nets GM
Billy King
pulled off a blockbuster trade so that Williams could anchor his team's backcourt.
The superstar point guard can do it all, from finding an open teammate to finishing at the rim off dribble-drive penetration. He's also capable of playing tenacious defense when he wants to. And most importantly, he's healthy coming off offseason surgery on his right shooting wrist.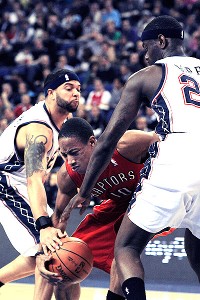 AP Photo/Tom HeveziDeron Williams (left) and Anthony Morrow will be the Nets' starting backcourt.
Joining Williams in the Nets' starting backcourt this season will be
Anthony Morrow
, the second most-accurate 3-point shooter in league history (.465). Only former Bull
Steve Kerr
has a better 3-point field goal percentage than Morrow, who briefly surpassed Kerr for the honor in 2010-11.
Morrow isn't a great defender by any means, but he has the uncanny ability to make shots in crunch time, and opposing defenses won't be able to key in on him late in games because the Nets will also have long-range threat
Shawne Williams
on the floor as well.
The Nets finished 28th in points per game last season, so they'll be looking to rookie
MarShon Brooks
to provide a scoring spark off the bench. Brooks was the second leading collegiate scorer in the nation at Providence last year, and coach
Avery Johnson
wants the 22-year-old to be aggressive -- even at the expense of hoisting up some bad shots.
Brooks loves to create off the dribble and has a potent fadeaway jumper from about 15 to 20 feet. Like Morrow, his defense still leaves much to be desired, but he's young and if there's anybody who can help him improve on the defensive end, it's Johnson.
Jordan Farmar
and
Sundiata Gaines
will serve as the team's backup point guards behind Williams. Farmar or Gaines may also play with Williams on occasion, allowing the two-time All-Star to shift over to the two-guard spot and operate off screens without the ball in his hands. Farmar needs to improve his shot selection, while for Gaines, it's all about consistency.
Johnson was pleased that all three of his point guards played overseas during the lockout, and feels like they'll be ready to play from the start of the 2011-12 campaign.
Given the uncertainly at power forward, there's no question that the guard spot is the Nets' deepest position right now.
March, 9, 2011
3/09/11
11:01
PM ET
By
Mike Mazzeo
| ESPNNewYork.com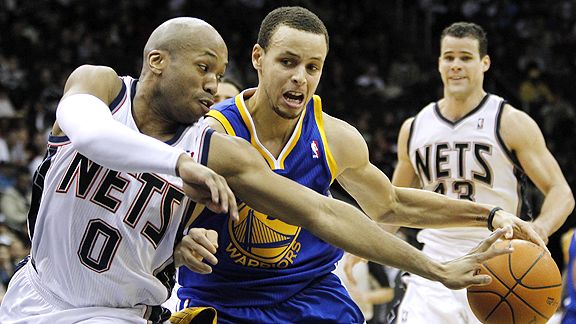 AP Photo/Julio CortezSundiata Gaines (0) didn't give Stephen Curry (pictured) or Monta Ellis room to move.
NEWARK, N.J. -- The New Jersey Nets continue to plan for the future.
Sundiata Gaines
' focus, however, is on the present.
That's typical in the life of any undrafted journeyman playing on a 10-day contract in the NBA, still trying to fulfill his aspirations of finding a permanent home.
There's no time to worry about tomorrow. Only today.
Of course, if Gaines continues to perform the way he has since signing with the Nets on Feb. 28, his dream of inking a long-term deal might someday become a reality.
On Wednesday night, Gaines played the roll of unsung hero yet again, willing the Nets to their first three-game winning streak since Feb. 2009 in a 94-90 victory over the Golden State Warriors at the Prudential Center.
Maybe his stat line -- five points (2-for-6 shooting), a career-high eight assists and four steals in 24 minutes -- didn't stand out the way superstar point guard
Deron Williams
' line usually does. But without Gaines' intangibles -- namely the way he defended
Monta Ellis
(16 points on 7-for-22 shooting) down the stretch -- the Nets would've been 0-for-6 this season when trying to capture three in a row.
"I just wanted to come in and bring energy," said Gaines, who received significant playing time because Williams missed the game to be with his wife for the birth of their fourth child. "Once I got guys going, we started getting back in the flow and playing better. I think I had a solid game."
The Nets didn't necessarily know what they were getting when they brought in Gaines on an emergency basis after backup point guard
Jordan Farmar
sprained his ankle. Gaines, a 24-year-old Queens native who played his high school basketball at Archbishop Molloy and his college hoops at Georgia, had been known for one thing and one thing only: his game-winning 3-pointer that beat the Cleveland Cavaliers when he was a member of the Utah Jazz last season.
Yet Nets coach
Avery Johnson
immediately thrust him into action during the fourth quarter of the Nets' 116-103 triumph over the Toronto Raptors in London on March 5. Gaines responded, sparking the Nets with seven points in the final stanza.
Johnson didn't wait that long to put Gaines in Wednesday night. He couldn't afford to. The Nets' offense was stagnant with Farmar running the show, so they turned to Gaines once again late in the first quarter.
Good decision.
He immediately swiped the ball from
Stephen Curry
at midcourt and raced the other way for an uncontested layup. Then he found
Sasha Vujacic
for a couple of perimeter jumpers, and the next thing you knew, the Nets were up nine, their largest lead of the game.
Gaines -- who had a game-high plus/minus of plus-21 -- wouldn't make his presence felt again until the second half, when he continued to be a facilitator, disrupter and playmaker in Williams' absence. Of course, it wasn't until the Nets' final offensive possession that Gaines showed why Johnson left him in during crunch time.
Aside from helping hold Ellis to just 1-for-6 shooting in the last period, Gaines came up with an out-of-nowhere rebound off a Vujacic miss with 34.6 seconds remaining that gave the Nets a fresh shot clock.
Talk about basketball acumen.
Ultimately, the Nets didn't score and had to come up with a defensive stand at the other end of the floor to survive. Still, Gaines' ability to come up with a critical play at the most critical of times couldn't be understated. Anyone with any knowledge of basketball understood just how big a play it was.
"I think that was my only rebound for the game," Gaines said. "I'm just happy to get an extra possession."
Although Gaines wouldn't admit as much, he must be ecstatic about earning another 10-day contract, which begins on Thursday.
He may not have a nameplate on his corner locker, but he does have more time to make a name for himself. And that's all an undrafted NBA journeyman can ask for.
"Tonight it was Gaines' assists, his four steals, his defense, his leadership," Johnson said. "It was just terrific."
There are no games scheduled for today.