Brooklyn Nets:

Washington Wizards
December, 18, 2013
12/18/13
10:11
PM ET
By
Mike Mazzeo
| ESPNNewYork.com
NEW YORK --
Brook Lopez
returned to the lineup, but the
Brooklyn Nets
were outplayed in their 113-107 loss to the
Washington Wizards
Wednesday night at Barclays Center.
What it means:
The Nets (9-16) just didn't seem to want this one. The Wizards beat them on the glass -- winning the rebounding battle, 51-31 and snagging 19 offensive boards -- and from downtown, going 12-for-20 from 3-point range (9-for-12 in the first half). Nets coach Jason Kidd was so desperate for rebounding that he turned to seldom-used forward
Reggie Evans
in the third. Evans was ineffective.
Defensively, the Nets looked discombobulated, failing to close out on open shooters and struggling with their pick-and-roll coverage. Brooklyn trailed by as many as 12. The Nets would get within one late but couldn't get over the hump.
Marcin Gortat
had a huge offensive rebound and putback with 1:35 left to give the Wizards a 103-100 lead, and
Bradley Beal
delivered the dagger -- a 3 that made it 106-100 with 1:07 remaining.
The Nets are 0-12 when giving up more than 100 points in a game.
Lopez, who missed the past two games due to a sprained left ankle, finished with 22 points and five rebounds. He did not play the final 10:11 of the third quarter after picking up his fourth foul.
Paul Pierce
, who came off the bench for the fifth straight game, had a season-high 27 points on 10-for-12 shooting in 35 minutes. He made his first seven shots.
Joe Johnson
followed up his 37-point game with 20 points.
Deron Williams
had a season high-tying 13 assists to go with 15 points but was frequently beaten on defense by a driving
John Wall
(21 points, six assists). Williams is now 3-5 in his career against Wall. Wall had two huge defensive plays on his counterpart in the fourth, a steal and layup and then a block.
Up next:
A day off Thursday, followed by a game in Philadelphia against the
76ers
Friday night.
December, 18, 2013
12/18/13
12:57
PM ET
The
Brooklyn Nets
are back in action Wednesday night as they host the
Washington Wizards
at Barclays Center. Here's what we'll be watching for:
BROOK-IN?
Brook Lopez
once again is telling reporters he feels like he'll play. Might not be worth much, though. Lopez has missed the last two games due to a re-sprained left ankle. He felt like he could play Monday, too, and didn't. Lopez is averaging 24 points on 69 percent shooting in his previous three games. The Nets (9-15) would love to have him back, but there's no point in rushing anything. We'll have to wait and see on this one.
ENCORE:
Joe Johnson
hit a career-high 10 3-pointers and finished with a season-high 37 points in Monday night's blowout victory over the
Philadelphia 76ers
. Johnson had eight 3-pointers and 29 points in the third quarter alone. The Nets hit a franchise-record 21 3s as a team and are shooting 52.6 percent from beyond the arc in their last three games. Defensively, they're giving up just 93.6 points on 42.2 percent shooting while winning four of their last five.
D-WILL VS. J-WALL:
Deron Williams
-
John Wall
will be a fun point guard matchup. Williams is 3-4 in his career against Wall. Williams has obviously playing a lot better of late, averaging 18.8 points and 8.3 assists on 56.5 percent shooting in his last four games. Wall leads the Wizards (10-13) in scoring (19.5 ppg) and dishing (9.3 apg).
April, 15, 2013
4/15/13
12:00
PM ET
By
Mike Mazzeo
| ESPNNewYork.com
The
Brooklyn Nets
are the No. 4 seed in the East. So, with two meaningless regular-season games remaining -- in terms of standings, anyway -- health remains their biggest concern.
On Monday night, the Nets will host the
Washington Wizards
at Barclays Center. Tipoff is slated for 7:30 p.m. Here's what we'll be watching for:


IN OR OUT?
Deron Williams
,
Joe Johnson
,
Gerald Wallace
and others might not play again until the playoffs. Williams told reporters he got kneed in two different spots during Sunday's loss to Toronto. Johnson (heel) and Wallace (leg) are banged up. There's no reason to play these guys. Interim coach P.J. Carlesimo said he'd consult with the players and trainer Tim Walsh before deciding how to proceed.
MORE MINUTES, PLEASE:
Jerry Stackhouse
,
Mirza Teletovic
and
MarShon Brooks
certainly would be the leading candidates to see more minutes if Carlesimo decides to hold many of his key players out. It appears as though Brooks might not play significant minutes in the playoffs -- at least if his DNP-coach's decision Friday night in Indiana was any indication.
MEMORY LANE:
The last time the two teams met -- on March 8 in Brooklyn -- Williams hit a franchise-record 11 3-pointers and finished with a season-high 42 points.
March, 8, 2013
3/08/13
10:07
PM ET
By
Mike Mazzeo
| ESPNNewYork.com
WHAT IT MEANS:
D-Will morphed into 3-Will.
Deron Williams
finished with a franchise record 11 3-pointers and a season-high 42 points, and the
Brooklyn Nets
beat the
Washington Wizards
, 95-78, on Friday night at Barclays Center. He went 11-for-16 from 3-point range, 15-for-24 from the field, while adding five assists.
Williams set an NBA record for 3-pointers made in the first half with nine. He broke the team mark previously held by
Vince Carter
(nine on Dec. 11, 2006). The league record for 3s made in a game is 12 by
Kobe Bryant
and
Donyell Marshall
.
Williams opened the game by hitting eight consecutive 3-pointers. He went a franchise record 7-for-7 in the first quarter -- 6-for-6 in the first 4:45 of the game.
Williams had 23 points in the first quarter -- 33 at the half.
The Nets opened the game on a 16-0 run and led 24-2. They led by as many as 27.
Williams sported high-top sneakers for the first time this season. Guess his ankles really are fine.
REGGIE!
Reggie Evans
pulled down a career-high 24 rebounds. He added 11 points, but shot just 5-for-16 from the free throw line. When Evans went to the stripe late in the game, the fans attempted to encourage him by chanting "REGGIE! REGGIE! REGGIE!" He left the game to a standing ovation with 3:07 left.
ON LOCK:
The Nets (36-26) held the Wizards to just 35.6 percent shooting. They are 21-3 against sub-.500 teams at time of game played. Brooklyn was able to snap a three-game home losing streak.
ON THE FLIP SIDE:
Overall, the Nets shot just 39.5 percent from the field and committed 19 turnovers. They have committed 85 turnovers in their past four games.
UP NEXT:
Nets at Hawks on Saturday at 7 p.m.
January, 4, 2013
1/04/13
11:11
AM ET
By
Mike Mazzeo
| ESPNNewYork.com
Coming off their biggest win of the season, the
Brooklyn Nets
will look to avoid a letdown on Friday night against the
Washington Wizards
. Here's what we'll be watching for:


CAN'T LOOK PAST 'EM
: Recently fired coach Avery Johnson used to say the Nets aren't good enough to look past anyone. That's still the case, despite beating the
Oklahoma City Thunder
on Wednesday night. The Nets (17-15) had their most complete performance against the Thunder, regaining command down the stretch after blowing a 23-point lead. The Wizards (4-26) have the NBA's worst record, and are just 3-12 at home. Still, they beat the defending champion
Miami Heat
at Verizon Center on Dec. 4. So anything is possible.
WILL HE MAKE IT OUT ALIVE?
Andray Blatche
returns to D.C. and will play his first game against his former team. Blatche, who has resurrected his career in Brooklyn after seven tumultuous seasons in Washington, recently fired shots at the Wizards during a radio interview, which didn't make their fans too happy. His ex-teammate,
Trevor Booker
, told the Washington Post, "I heard they got extra security over on his bench, just in case somebody wants to throw stuff. So I don't know how true that is." Booker later joked, "I hope he makes it out alive." A Wizards spokesman said the entire quote was said tongue-in-cheek. It will be interesting to see what type of reception Blatche receives. Likely, a lot of boos.
BIG THREE
:
Joe Johnson
,
Deron Williams
and
Brook Lopez
combined for 77 points in Brooklyn's victory over Oklahoma City. It was the first time in a long time that all three players were at their best in the same game. Johnson had a season-high 33 points, while Williams chipped in 19 points, 13 assists and a season-high five steals. Lopez added 25 points and five rebounds.
The Nets have a very favorable schedule coming up. Five of their next six opponents have losing records. Interim coach P.J. Carlesimo said he's looking for "consistency" from his erratic team.
March, 21, 2012
3/21/12
11:39
PM ET
By
Mike Mazzeo
| ESPNNewYork.com
Their superstar? Ejected. Their coach? Ejected.
Their losing streak? Four.
Their playoff hopes? Ha! Good one.
Deron Williams
and
Avery Johnson
were kicked out of Wednesday night's 108-89 loss to the Wizards during the third quarter.
They were the lucky ones. Everyone else had to gut it out.
By the time the final buzzer sounded, chants of "Jay-Z! Jay-Z!" and the standard boos resonated from a clearly frustrated crowd of 10,097 at Prudential Center.
"Well, again, we're disappointed, but we're not an elite team yet, OK?" Johnson said after his team plummeted to 15-33, the fourth-worst record in the NBA.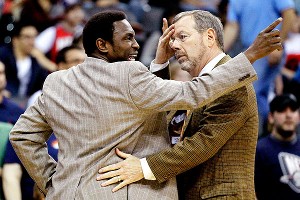 AP Photo/Julio CortezAvery Johnson made an early exit, so P.J. Carlesimo had to take over.
"We don't have much margin for error. So we can't say, 'Well, we played against New Orleans, Charlotte or Washington, you guys should come out there and beat those teams by 20 points.' That's not [possible]. We gotta play great basketball. We don't have much margin for error."
Johnson normally tries to look on the bright side of things. But even he had trouble putting on his rose-colored glasses after this particular debacle, a debacle in which the Nets gave up 14 offensive rebounds and made 16 of their 38 field goals inside the paint.
"[The effort] could've been better. It could've been better," Johnson said. "And you know I'm always one that tries to be really, really positive, at times with our team, but it could've been better."
Before his second ejection as a Net -- and first since Feb. 2, 2011, against Philadelphia -- Johnson was already upset that the officials missed a pair of eight-second violations that were clear as day. So it was only a matter of time before he blew a gasket.
With 5:23 left in the third period and the Nets trailing 70-64, Williams drove inside, hoisted up a shot and thought he was fouled, but no call was made.
John Wall
hit a 19-footer on the other end to put Washington up by eight.
The Nets called timeout at the 5:18 mark, and Williams was talking with referee
Josh Tiven
. It didn't appear to be a heated conversation, but things quickly escalated. Tiven hit Williams with one T, then another, and just like that the 27-year-old All-Star had been tossed for the second time in his career -- both coming this season.
Jordan Crawford
connected on the ensuing free throws before Johnson got the gate for giving Tiven an earful. Crawford hit those two freebees as well. Just like that, it was 76-64, and the Nets never recovered.
"It was just a difference of opinion," Johnson said. "We'll leave it at that."
Williams wasn't in the locker room to explain what happened. He now has three technicals in his last two games, and hasn't addressed the media in either of them.
"You know those guys, they care,"
Kris Humphries
said. "Coach cares, Deron cares, so you get frustrated and it happens from time to time."
Newcomer
Gerald Wallace
wasn't particularly happy with how the game was officiated.
"Washington got the benefit of the doubt on everything," he said, without getting into specifics because he didn't want to be fined. "You guys watched the game. I'm not saying we're the Lakers or the San Antonio Spurs or somebody, but we played just as hard as the Wizards played and it just felt like they were just more favored than us."
Before the game, Williams said the last 19 games wouldn't have any effect on his decision to stay with the Nets or leave at the end of the season. Phew.
Consider: During the team's four-game skid, it has blown a 12-point fourth-quarter lead to the 10-34 Hornets; failed to finish down the stretch against the 16-26 Cavaliers; and been massacred by the 10-34 Wizards -- all at home.
The Nets, who have lost six of their last seven, are 5-18 at home, by the way. And they can't use not having
Brook Lopez
as an excuse. New Orleans, Cleveland and Washington are bad. Just not as bad as the Nets have been, though.
"You know, we're just not clicking. It's just tough basketball right now," Humphries said. "We've just gotta stay after it, it's been tough. You feel like you're beating yourself at times and it's not fun to play like that."
Are the Nets trying to tank so they can get their top-3 protected first-rounder back? Or are they just this bad? Either way, it isn't pretty.
Remember when the Nets were on the verge of getting
Dwight Howard
and the Knicks were stinking up the joint? Those were the days, huh?
March, 21, 2012
3/21/12
9:50
PM ET
By
Mike Mazzeo
| ESPNNewYork.com
Recap
|
Box score
|
Photos
WHAT IT MEANS
: The Nets lost their fourth straight game on Wednesday night -- but
Deron Williams
and
Avery Johnson
weren't around long enough to see the end. The point guard and coach were ejected during the third quarter of the Nets' 108-89 setback to the Wizards at Prudential Center. Wonder what Jay-Z thought. He was sitting next to the bench, after all. And the crowd chanted his name once the game was far out of reach.
The Nets are now 15-33 overall and 5-18 at home. Williams had all 17 of his points in the first half for the Nets. He added four assists and three rebounds, and shot 6-for-15 from the field. The Nets trailed by as many as 19, shot 36.9 percent from the floor and scored 36 points in the second half.
TURNING POINT
: A 12-0 third-quarter run -- which included the ejections of both Williams and Johnson after Williams was upset about not getting a foul call on a drive to the basket -- gave the Wizards a commanding 78-64 lead.
HUMP DAY
:
Kris Humphries
finished with his 21st double-double of the season, scoring 13 points while grabbing 16 rebounds.
G-EEZ
: In his third game as a Net,
Gerald Wallace
scored 13 points and grabbed three rebounds, but opened up missing six of his first seven shots from the field and wound up connecting on just five of his 17 attempts.
NICE DEBUT
:
Nene
, who was coveted by the Nets in free agent but ended up re-signing with the Nuggets before being traded to Washington at the deadline, had 22 points and 10 rebounds in his debut with the Wizards.
BOLD PLAY OF THE GAME
: D-Will split a pick-and-roll, faked a behind-the-back pass and finished a layup to tie the game at 48 in the second quarter.
STAT OF THE NIGHT
:
MarShon Brooks
shot 2-for-9 from the field on Wednesday night. In his last six games, the rookie shooting guard is 17-for-58 from the field.
UP NEXT
: Nets at Hawks, Friday night
December, 26, 2011
12/26/11
9:36
PM ET
By
Mike Mazzeo
| ESPNNewYork.com
Recap | Box score | PhotosWHAT IT MEANS
: The Nets tipped off the 2011-12 campaign the right way, rallying back from a 21-point second-quarter deficit to score a 90-84 season-opening victory over the Wizards on Monday night in Washington, D.C.
According to ESPN Stats & Information, it was the second-largest comeback win for the Nets in the last 15 seasons.
D-WILL'S WAY
:
Deron Williams
looked like his usual self, stuffing the stat sheet to the tune of a game-high 23 points, eight assists and eight rebounds on 8-for-21 shooting -- including 4-for-11 from 3-point range. The 27-year-old superstar asserted himself on the offensive end, both by knocking down shots from all over the floor and finding his teammates for open looks.
Williams was seen grabbing his right hand with 4:13 remaining after
John Wall
drove into him. He didn't seem to be hampered at all, though. With Williams on the bench, the Wizards took a 74-66 lead early in the fourth quarter, but once he came back in the game the Nets took over, playing tenacious defense while outscoring Washington 24-10 over the final 10:51.
BOO THAT MAN
: Apparently,
Kris Humphries
isn't just hated in New York. Wizards fans also booed Humphries every time he touched the ball. Boobirds aside, the 26-year-old power forward picked up right where he left off last season, notching his first double-double of 2011-12: 21 points and a game-high 16 rebounds. He finished 9-for-14 from the field, and came up with a huge deflection which led to a win-clinching steal in the closing seconds. Humphries' 16 rebounds are the most by a Net in a season opener since
Jamie Feick
had 17 in 1999.
TURNING POINT
: The Nets trailed 38-17 with 7:21 left in the second quarter, but they closed the opening half on a 20-7 run to go into the locker room down eight. Third-string point guard
Sundiata Gaines
ignited the comeback with four points.
UGLY START
: The Nets turned the ball over on their first three offensive possessions, missed 12 of their first 13 shots and quickly trailed 26-13 after the first quarter. It wasn't until they began driving the ball to the rim instead of settling for 3-pointers that they began to climb back into the game.
DEBUTANTES
: Rookie first-round pick
MarShon Brooks
scored six points on 3-for-7 shooting in his NBA debut. Recent acquisition
Mehmet Okur
went scoreless in 18 minutes. Ex-Knick
Shawne Williams
also didn't score in 15 minutes. Another ex-Knick,
Shelden Williams
, played nine minutes. The Nets were outscored by 19 in that span, according to ESPN Stats.
UNSUNG HERO
:
Johan Petro
, who was forced into emergency starter duty at center, scored 11 points and grabbed five rebounds.
STAT SO?
The Nets didn't take their first lead of the evening until the 5:32 mark of the third quarter when D-Will drained a 3 to put New Jersey up 58-57. ... They shot just 6-for-27 from 3-point range, but outrebounded Washington 58-39. ... The Nets improved to 18-18 all-time in season openers.
NETS NOTES
: Petro, Humphries,
Damion James
,
Anthony Morrow
and D-Will made up the starting five. ... Rookie second-round pick
Jordan Williams
(dehydration) was the only Net who was unavailable.
UP NEXT
: The last home opener in New Jersey: Nets vs. Hawks, Tuesday at 7:30 p.m.