New York Report:

All-Star Game
July, 17, 2013
7/17/13
1:34
AM ET
NEW YORK -- A fan wearing a Robinson Cano jersey jumped onto the field during Tuesday's All-Star Game game, reportedly after boasting he would do so on Twitter after getting 1,000 retweets (video via colinbarnicle instagram).
Read more on the 18-year-old's arrest
in the Post
.
July, 16, 2013
7/16/13
11:59
PM ET
NEW YORK -- Fred Wilpon offered two words to sum up the first All-Star Game in Queens since 1964.

"Electric. Fabulous," Wilpon said after the AL beat the NL, 3-0, before a record crowd at the five-year-old ballpark. "I mean, 45,000 people just enjoying the great game of baseball. I thought it was great."

Wilpon said New Yorkers showed warmth outsiders may not have previously known about.

Said Wilpon, the 76-year-old Mets patriarch: "I loved it when people would come up to me -- they don't have to do it -- and they say: 'We were treated so nicely. This is New York?'... We know, because we live here."

As for the season's final 71 games, Wilpon said about the Mets: "Let's play the games out and see what happens."
July, 16, 2013
7/16/13
10:48
PM ET
NEW YORK --
Matt Harvey
described his first All-Star Game this way: "This whole experience has just been breathtaking."
Despite allowing a double to
Mike Trout
on the game's first pitch, then drilling
Robinson Cano
in the right quadriceps, Harvey tossed two scoreless innings. He apologized to Cano, who was forced to leave the game.
"The last thing I wanted to do was go out there and possibly injure somebody," Harvey said. "As he was walking by I was trying to kind of get his attention, as he was going to first. When he then came off, obviously I apologized and made sure he was OK. I think he understands that it wasn't intentional, obviously. I apologized. ...
"We had called a fastball in there. I knew I had to get it inside, but obviously I didn't want to get it in that much. Once I let it go, I could kind of feel it that I cut it a little bit. I was hoping he was going to be able to get out of the way, but unfortunately he didn't. It was definitely not intentional."
Harvey began to climb out of the two-on, no-out jam in the first inning by striking out feared
Miguel Cabrera
on a slider.
[+] Enlarge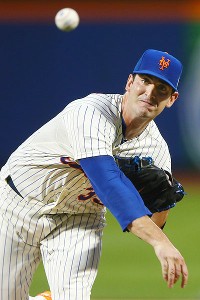 AP Photo/ElsaMatt Harvey made his All-Star debut in fine fashion.
"That was one that I knew I was going to have to buckle down," Harvey said about the matchup. "Obviously the last thing I want to do is go 3-0 [down on the scoreboard] with no outs in an All-Star Game. I knew I had to make good pitches. Obviously throwing to the best catcher in the game [
Yadier Molina
], it makes it a lot easier just to trust him and go with what he calls."
That Harvey was able to throw sliders signaled the blister issue underneath his right index finger appears resolved. It had bothered Harvey in his final two first-half starts, and led to him getting skipped Saturday in Pittsburgh.
"It healed up pretty great," Harvey said. "It feels fine. I was able to finally throw my slider again, so that was definitely a big help. I'm glad everything is healthy going into the second half."
Harvey, 24, said he was calm on the mound throughout his outing, despite being the youngest starting pitcher in an All-Star Game since Dwight Gooden in 1988 (23 years old).
"I was texting with
LaTroy Hawkins
after I came out," Harvey said. "He said: 'It looked like you were walking in the park.' Obviously there were some jitters going in the bullpen, but for some reason once I got out there, I felt great. I felt like I was at home."
After a 1-2-3 second, Harvey received a loud ovation from the Citi Field crowd. He regretted not acknowledging it, but said he was still locked in game mode because he is unaccustomed to departing games after two innings.
"I'm used to walking off the field in the second inning and going back out there, so I didn't really pay attention to it," Harvey said. "I wish I kind of stayed in the moment a little bit and gave them a head nod or whatnot. The thanks is there. They've been great all year -- all the fans."
Did he make Gooden and Tom Seaver -- the other Mets to start an All-Star Game -- proud?
"I did all right," Harvey said. "To see the first pitch down the line was a tough way to start the game. But I think I settled in there pretty well, and I did everything I could."
Harvey said sharing the experience with
David Wright
particularly was rewarding.
"It was so much fun," Harvey said. "Being in the locker room with all the guys, the whole experience, the red carpet, it being in New York and then starting, as a kid I don't think you could have dreamed of doing something like that. It was a tremendous honor. ... This whole experience has been absolutely incredible for me. It's something I'll never forget. I couldn't be more thankful for the support."
July, 16, 2013
7/16/13
10:22
PM ET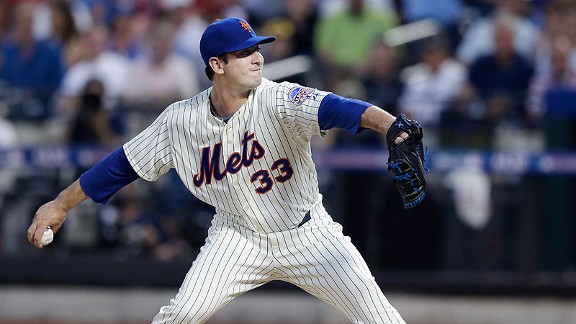 Kathy Willens/Associated PressMatt Harvey posted two scoreless innings in his first All-Star Game.
NEW YORK --
Matt Harvey
topped out at 99 mph. He pitched two scoreless innings. Oh, and Harvey also knocked out Yankees second baseman
Robinson Cano
with the third pitch in the ace's first-ever All-Star Game.
Harvey allowed a first-pitch double to
Mike Trout
down the first-base line, then drilled Cano in the right knee. But with two runners on base and none out, Harvey proceeded to strike out
Miguel Cabrera
on a slider, coax a flyout to center from home-run leader
Chris Davis
, then strike out
Jose Bautista
.
Cano, who initially took first base, limped off the field after the Cabrera strikeout. X-rays were negative.
"I obviously feel terrible about hitting him," Harvey told ESPN Radio. "That's the last thing you want to do in a game like this."
In the second inning,
David Ortiz
flied out to center field,
Adam Jones
struck out on a 98 mph fastball and
Joe Mauer
lined out to left field.
Harvey, who had not pitched since last Monday at San Francisco, threw 32 pitches (22 strikes).
He became the first pitcher to strike out three in an All-Star Game since
Jose Valverde
in 2010, according to ESPN Stats & Information. The only other Mets pitchers to toss two scoreless innings in an All-Star Game with three or more strikeouts: Dwight Gooden (1984) and Tug McGraw (1972).
He next will face the
Philadelphia Phillies
on Sunday at Citi Field.
July, 16, 2013
7/16/13
12:09
PM ET
NEW YORK --
Matt Harvey
went undercover, asking fans about himself, during a segment for NBC's "Late Night with Jimmy Fallon."
July, 15, 2013
7/15/13
11:51
PM ET
NEW YORK -- Although exhausted after his first-round exit in the Home Run Derby,
David Wright
nonetheless had a wide grin on his face, the type of glow that he has not displayed much in recent years.
Wright could not get over the atmosphere at Citi Field, which he likened to the playoff atmosphere at Shea Stadium when the Mets last made the playoffs in 2006.
"It was awesome," Wright, the de facto host of the All-Star Game, said after mustering only five homers in 15 swings. "It really, really was awesome. It's what I remember the playoff atmosphere being like in 2006. It really was pretty cool.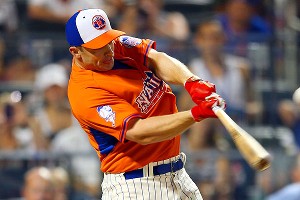 Mike Ehrmann/Getty ImagesDavid Wright was eliminated in the first round of the Home Run Derby.
"They announced the Home Run Derby team, and, obviously, you're hoping for cheers. To hear how loud it was, I didn't even know when to step forward and kind of wave because I couldn't hear [emcee] Chris Berman talking over the crowd. It was really, really special. Really special."
Wright was pleased with his Derby selections.
Bryce Harper
lost to the AL's
Yoenis Cespedes
in the finals.
"My guys were fine," Wright said. "I ran out of gas. The thing I'll take away from this is just the atmosphere, the crowd, the ovation I got. That was really, really, really cool. That just gets me even more excited about tomorrow. It even gets me more excited about when we become that playoff contender. ... It's exceeded my expectations so far. It's been a lot of fun."
Wright said the biggest winner Monday with his first-round exit might have been his Mets teammates.
"Because I would have come in bragging on Friday," Wright said.
Wright, who last competed in the Derby in 2006 and reached the finals, said this was probably his last time competing in the event.
"The question is: Will I ever be asked to do it again? And the answer to that is probably no," Wright said. "I might go out on my own terms and officially retire."
After a grueling first half, he readily acknowledged he is drained.
"Yeah, I'm tired," Wright said. "These couple of days are nice, and, obviously, I wouldn't trade it for the couple of days off, but those two days afterward are going to be pretty good for me."
July, 15, 2013
7/15/13
11:12
PM ET
NEW YORK -- The New York captains did not get out of the first round in the Home Run Derby.
David Wright
and
Robinson Cano
were eliminated in the opening round of Monday's event.
Wright finished with five homers, tied with
Prince Fielder
for sixth. Cano was last in the eight-man event with four homers.
The top four hitters advanced:
Yoenis Cespedes
(17 homers in opening round),
Chris Davis
(eight),
Bryce Harper
(eight) and
Michael Cuddyer
(seven).
Pedro Alvarez
, whose initial omission caused Wright to be jeered in Pittsburgh during the weekend, produced only six homers in the opening round and was eliminated.
July, 15, 2013
7/15/13
7:55
PM ET
NEW YORK --
Philadelphia Phillies
slugger
Domonic Brown
handled not being picked for the Home Run Derby more maturely than
Pittsburgh Pirates
fans.
David Wright
added Pittsburgh's
Pedro Alvarez
as an injury replacement for
Carlos Gonzalez
last Thursday, but Pirates fans nonetheless booed Wright throughout the weekend for the original omission.
Meanwhile, Brown -- who has 23 homers, two off the National League lead -- expressed no venom at being passed over.
"I don't understand that, man," Brown said about the Pittsburgh booing. "I don't understand why he's getting heat about it. He's the captain. He has a right to pick his team. I would have had a lot of fun with it, but he picked some great guys that drive the ball out of the ballpark. So I don't know why he's getting heat for it."
Wright has justified his pick of
Michael Cuddyer
in part because of their friendship since growing up together in Virginia. Cuddyer said he is doubly thankful given the heat Wright took for his selection.
"I didn't see myself being in it, so I jumped on the opportunity," Cuddyer said. "... I thanked him when he first did it. I thanked him for going to bat for me. Obviously today, after knowing what he had to go through that weekend in Pittsburgh, I thanked him again."
Cuddyer actually has beaten Wright in a Home Run Derby before, albeit six years ago. All the Norfolk, Va.-area players -- Wright, Cuddyer,
Mark Reynolds
,
Ryan Zimmerman
,
B.J. Upton
and
Justin Upton
-- gathered for a competition back in 2007 to raise money for a new high school.
"Same format. Three rounds," Cuddyer said. "I ended up squaring off against David in the final round. I beat him. He hit six, and I think I hit 14."
July, 15, 2013
7/15/13
7:51
PM ET
NEW YORK -- Ex-Met
Carlos Gomez
, who was traded away by the Mets in the
Johan Santana
deal on Feb. 2, 2008, and who has turned out to be an All-Star with the
Milwaukee Brewers
, told ESPNNewYork.com that Mookie Wilson strongly influenced his career.
Wilson was Gomez's minor league manager in Kingsport, Tenn., in 2004.
[+] Enlarge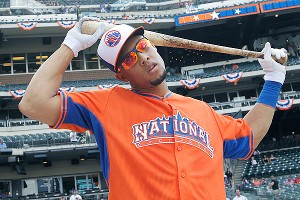 AP Photo/Kathy WillensCarlos Gomez is hitting .295 with 14 homers and 45 RBIs for the Brewers this season.
"Mookie Wilson is the one who coached me for a few years and always injected me in my brain how to play, and who taught me how to play right and play aggressive," the first-time All-Star Gomez said. "He always told me: Every time you step on the line, you do your best, or try to do your best, and play like it's going to be your last game."
Wilson managed Sunday's Futures Game, but he and Gomez have yet to cross paths at the All-Star events so far.
"Every time we come here to play against the Mets I have the opportunity to talk with Mookie, and we talk a little bit," Gomez said.
Gomez made his major league debut in 2007 with the Mets before the trade that offseason.
"I spent three years in the minor leagues and had the opportunity to be a professional ballplayer here when, back in the day, we had a superstar team," Gomez recalled. "To come back now and be an All-Star in New York, I can say it's a dream come true. My first big league game, my family couldn't be with me. But now, in New York, playing the All-Star Game, all my family is here. It's really special for me and something I'll never forget."
July, 15, 2013
7/15/13
7:50
PM ET
Pedro Alvarez
said he feels badly about fans booing
David Wright
at PNC Park over the weekend.
Wright originally did not pick Alvarez for the Home Run Derby, then selected him Thursday when
Carlos Gonzalez
pulled out. Pirates fans still jeered Captain America for the original slight.
"I'm really good friends with David. We've always been great friends," Alvarez told reporters at Monday's All-Star media event. "I felt for the guy because sometimes things are blown out of proportion. I think that's exactly what it was.
"I obviously appreciate the support that I get from my fans and everything, but it's just one of those things that kind of got blown out of proportion. At the end of the day I'm here now. But, obviously, me and David have had a good relationship for the last few years. I felt bad for the guy."
NEW YORK --
July, 15, 2013
7/15/13
1:21
PM ET
NEW YORK -- Right-hander
Matt Harvey
's first full season in the majors has been highlighted by three flirtations with no-hitters,
New York Mets
fans anointing days he pitches as "Harvey Day," and a photo shoot for ESPN The Magazine's "Body Issue." It also will include becoming the first major league pitcher in nine years to start an All-Star Game in his home ballpark.
Read the full news story
here
.