New York Report:

David Wright
July, 17, 2013
7/17/13
1:12
AM ET
NEW YORK -- His team suffered a three-hit shutout in Tuesday's All-Star Game at Citi Field, but it was still a dream come true for
David Wright
.
Wright heard thunderous applause from the hometown fans when he was introduced as the National League's starting third baseman and cleanup hitter, and more of the same prior to each of his three at-bats.
[+] Enlarge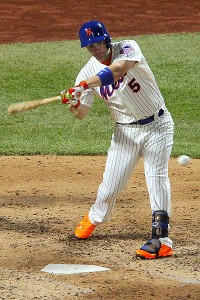 Brad Penner/USA TODAY SportsDavid Wright finished 1-for-3 in Tuesday's All-Star Game.
"To have that kind of ovation when your name's called -- that's every kid's dream playing Little League, is hearing your name called and the crowd going wild," Wright said. "That's really special, and I can't thank these fans enough."
Wright grounded out to third in his first two plate appearances, against
Chris Sale
in the second inning and
Felix Hernandez
in the fourth. But National League manager Bruce Bochy left Wright in longer than any of his other eight starting position players.
That enabled Wright to get one more at-bat, in the bottom of the seventh. Facing hard-throwing reliever
Greg Holland
, Wright fell behind 0-2, but then lined a 96 mph fastball into left field for a clean single.
"I'm very appreciative that he gave me the opportunity to play that long when all the other starters were basically out," Wright said. "I'm glad I didn't get a goose egg, that's for sure."
There was more buzz about Wright's teammate, young phenom
Matt Harvey
, leading up to the game. And the enduring memory from this night will be the ovation
Mariano Rivera
received, in his final All-Star appearance.
But this was a momentous night for Wright, too. Not only was he playing at home, but he was playing in his seventh All-Star Game for the Mets, the most in franchise history. Tom Seaver, Darryl Strawberry and
Mike Piazza
all represented the Mets six times.
"I was more nervous today than I have been in previous All-Star Games," Wright said. "Just because you feel like you wanna go out there and try extra hard for the fans. And sometimes that kind of works against you. I definitely had some butterflies."
He also had some nervous moments earlier in the day, when he pulled Rivera aside during the All-Star red carpet parade in midtown Manhattan.
"I don't feel intimidated too often, and it's intimidating talking to Mo -- I kind of had to collect myself, cause I was stuttering a little bit," Wright said. "I just never really had an opportunity to speak to him at length. I just wanted to tell him that I think he's an unbelievable ambassador of the game.
"Every young baseball player should try to follow in those footsteps, because he's a remarkable role model, and somebody that I look up to."
Not everything went quite the way Wright wanted it to the past couple of days. He didn't make it out of the first round in Monday's Home Run Derby, and his team lost on Tuesday. But Wright was heading home Tuesday night a happy man.
"I think it lived up to the expectations, and surpassed my expectations," Wright said. "It's been a whirlwind 48 hours, but I think tomorrow I'll be able to sleep in, kind of think about the last two days, and probably a big smile will come across my face, because it was a lot of fun."
July, 15, 2013
7/15/13
11:51
PM ET
NEW YORK -- Although exhausted after his first-round exit in the Home Run Derby,
David Wright
nonetheless had a wide grin on his face, the type of glow that he has not displayed much in recent years.
Wright could not get over the atmosphere at Citi Field, which he likened to the playoff atmosphere at Shea Stadium when the Mets last made the playoffs in 2006.
"It was awesome," Wright, the de facto host of the All-Star Game, said after mustering only five homers in 15 swings. "It really, really was awesome. It's what I remember the playoff atmosphere being like in 2006. It really was pretty cool.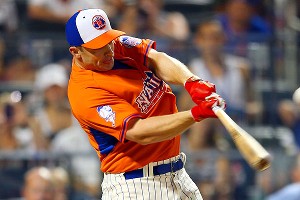 Mike Ehrmann/Getty ImagesDavid Wright was eliminated in the first round of the Home Run Derby.
"They announced the Home Run Derby team, and, obviously, you're hoping for cheers. To hear how loud it was, I didn't even know when to step forward and kind of wave because I couldn't hear [emcee] Chris Berman talking over the crowd. It was really, really special. Really special."
Wright was pleased with his Derby selections.
Bryce Harper
lost to the AL's
Yoenis Cespedes
in the finals.
"My guys were fine," Wright said. "I ran out of gas. The thing I'll take away from this is just the atmosphere, the crowd, the ovation I got. That was really, really, really cool. That just gets me even more excited about tomorrow. It even gets me more excited about when we become that playoff contender. ... It's exceeded my expectations so far. It's been a lot of fun."
Wright said the biggest winner Monday with his first-round exit might have been his Mets teammates.
"Because I would have come in bragging on Friday," Wright said.
Wright, who last competed in the Derby in 2006 and reached the finals, said this was probably his last time competing in the event.
"The question is: Will I ever be asked to do it again? And the answer to that is probably no," Wright said. "I might go out on my own terms and officially retire."
After a grueling first half, he readily acknowledged he is drained.
"Yeah, I'm tired," Wright said. "These couple of days are nice, and, obviously, I wouldn't trade it for the couple of days off, but those two days afterward are going to be pretty good for me."
July, 15, 2013
7/15/13
11:12
PM ET
NEW YORK -- The New York captains did not get out of the first round in the Home Run Derby.
David Wright
and
Robinson Cano
were eliminated in the opening round of Monday's event.
Wright finished with five homers, tied with
Prince Fielder
for sixth. Cano was last in the eight-man event with four homers.
The top four hitters advanced:
Yoenis Cespedes
(17 homers in opening round),
Chris Davis
(eight),
Bryce Harper
(eight) and
Michael Cuddyer
(seven).
Pedro Alvarez
, whose initial omission caused Wright to be jeered in Pittsburgh during the weekend, produced only six homers in the opening round and was eliminated.
July, 15, 2013
7/15/13
7:55
PM ET
NEW YORK --
Philadelphia Phillies
slugger
Domonic Brown
handled not being picked for the Home Run Derby more maturely than
Pittsburgh Pirates
fans.
David Wright
added Pittsburgh's
Pedro Alvarez
as an injury replacement for
Carlos Gonzalez
last Thursday, but Pirates fans nonetheless booed Wright throughout the weekend for the original omission.
Meanwhile, Brown -- who has 23 homers, two off the National League lead -- expressed no venom at being passed over.
"I don't understand that, man," Brown said about the Pittsburgh booing. "I don't understand why he's getting heat about it. He's the captain. He has a right to pick his team. I would have had a lot of fun with it, but he picked some great guys that drive the ball out of the ballpark. So I don't know why he's getting heat for it."
Wright has justified his pick of
Michael Cuddyer
in part because of their friendship since growing up together in Virginia. Cuddyer said he is doubly thankful given the heat Wright took for his selection.
"I didn't see myself being in it, so I jumped on the opportunity," Cuddyer said. "... I thanked him when he first did it. I thanked him for going to bat for me. Obviously today, after knowing what he had to go through that weekend in Pittsburgh, I thanked him again."
Cuddyer actually has beaten Wright in a Home Run Derby before, albeit six years ago. All the Norfolk, Va.-area players -- Wright, Cuddyer,
Mark Reynolds
,
Ryan Zimmerman
,
B.J. Upton
and
Justin Upton
-- gathered for a competition back in 2007 to raise money for a new high school.
"Same format. Three rounds," Cuddyer said. "I ended up squaring off against David in the final round. I beat him. He hit six, and I think I hit 14."
July, 15, 2013
7/15/13
7:50
PM ET
Pedro Alvarez
said he feels badly about fans booing
David Wright
at PNC Park over the weekend.
Wright originally did not pick Alvarez for the Home Run Derby, then selected him Thursday when
Carlos Gonzalez
pulled out. Pirates fans still jeered Captain America for the original slight.
"I'm really good friends with David. We've always been great friends," Alvarez told reporters at Monday's All-Star media event. "I felt for the guy because sometimes things are blown out of proportion. I think that's exactly what it was.
"I obviously appreciate the support that I get from my fans and everything, but it's just one of those things that kind of got blown out of proportion. At the end of the day I'm here now. But, obviously, me and David have had a good relationship for the last few years. I felt bad for the guy."
NEW YORK --
July, 15, 2013
7/15/13
7:30
PM ET
By
Mike Mazzeo
| ESPNNewYork.com
NEW YORK --
David Wright
thinks ex-teammate
Carlos Beltran
was "in a crazy way, one of the more underappreciated players" he ever played with on the
New York Mets
.
[+] Enlarge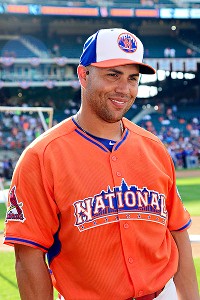 Scott Rovak/USA TODAY SportsCarlos Beltran is batting .309 with 19 homers and 53 RBIs for the Cardinals this season.
Wright and Beltran will start for the NL All-Stars on Tuesday night at Citi Field. Beltran will bat second and patrol right field, with Wright batting cleanup and playing third base.
"He had a couple of monster seasons for us, and was a huge reason why we made it as far as we did in 2006. We came a couple runs from making the World Series, and we don't get close to that without Carlos," Wright said of Beltran on Monday.
"So hopefully [his reception from the fans] is warm. I think it's deserving that the fans give him a nice reception because he was a heckuva player for us, and it's unfortunate that he had the injuries that he did, but he had some monster seasons for us and did a lot for the organization and for me as a player."
Beltran, now with the
St. Louis Cardinals
, played with the Mets from 2005-11. He hit a career-high 41 home runs in 2006, but is more remembered for how that season ended: He took an
Adam Wainwright
curveball for a called third strike in Game 7 of the NLCS against St. Louis.
"You think about [being underappreciated], but you don't focus on that," Beltran said. "I think when you look at my career, and you look at the numbers I've put up here, I mean, honestly, I felt that just one pitch or maybe one at-bat doesn't really dictate a career. But if the fans want to see it that way, I have nothing against that."
Asked what kind of reception he expected, Beltran responded: "We will find out when they announce my name."