New York Report:

Mariano Rivera
July, 16, 2013
7/16/13
11:22
PM ET
By
Mike Mazzeo
| ESPNNewYork.com
NEW YORK --
New York Yankees
closer
Mariano Rivera
took the mound at the mid-summer classic for the final time.
The 43-year-old right-hander, who threw 16 pitches total (11 strikes), retired all three batters he faced in the eighth inning of Tuesday night's All-Star game at Citi Field.
Rivera, MLB's all-time saves leader, has said he'll retire at the end of the season.
The 13-time All-Star will hang up his cleats having never allowed an earned run in nine appearances -- 9.0 IP, 1 R, 4 SV, 5 SO. According to ESPN Stats & Information, Rivera has 28 career holds. His last one came back on Sept. 21, 2002.
Rivera entered to Metallica's "Enter Sandman," the same song he's entered to his entire career.
When he got to the mound, he doffed his cap to the crowd. His teammates on the American League All-Star squad stood outside the dugout, but did not take the field immediately, allowing him to soak in the moment.
Detroit Tigers
manager Jim Leyland decided to go to Rivera in the eighth instead of the ninth, likely because he feared that the National League would rally, eliminating the possibility of Rivera getting into the game since the A.L. is the road team.
"I definitely wanted to pitch the ninth, but I also wanted to pitch, so if something happened when I was waiting for the ninth, I would never pitch," Rivera told ESPN Radio. "So Jim Leyland said, 'For sure I want you to pitch.'"
Rivera kept the ball after recording the final out of the frame. The stands began emptying shortly after.
The fans had come to see the greatest of all-time dominate for one last time -- and Mariano Rivera did just that.
July, 16, 2013
7/16/13
12:08
PM ET
By
Mark Simon
| ESPNNewYork.com
A look at the All-Star storylines involving the Yankees' representatives in tonight's game.
The end for Mariano
Mariano Rivera
was named to his 13th All-Star Game, the second-most of any pitcher in major league history, trailing only Warren Spahn's 17.
Rivera has eight All-Star game appearances. The only pitcher with more total appearances is
Roger Clemens
with 10.
Rivera has four All-Star Game saves, the most all time (one more than Dennis Eckersley). His most recent was in 2009. Rivera's All-Star Game ERA is 0.00, with one unearned run allowed in eight innings. The only pitcher with more career All-Star innings pitched and no earned runs allowed is Mel Harder, a former Indians pitcher from the 1930s and 1940s, with 13.
Rivera is tied with
Derek Jeter
and Joe DiMaggio for the third-most selections in Yankees history. Only Mickey Mantle (20) and Yogi Berra (18) have more.
Making sure Mo gets in the game
Jim Leyland has promised that Rivera will pitch tonight, but he could be faced with an interesting situation.
Let's say the AL has a one-run lead with someone other than Rivera pitching in the eighth inning with two outs and a runner on base. Should the NL batter hit a homer, the AL would be trailing and Rivera might not get the chance to pitch unless he's already warmed up at that point.
The solution to that would be to have Rivera ready to potentially earn a save by getting at least one out in the eighth inning. It's been a while since someone got a four-out save in an All-Star Game. The last to do so was Doug Jones of the Indians in 1989. The last to get a two-inning save was another pitcher who wore No. 42, future Hall of Famer Bruce Sutter of the Cubs in 1980.
Cano, don'tcha know
This will be
Robinson Cano
's fourth consecutive All-Star Game start, matching the Yankees' record for starts by a second baseman, previously held by Willie Randolph.
Cano is 1-for-5 in All-Star Games.
Cano went 1-for-4 against NL starter
Matt Harvey
earlier this season, getting a hit on a curve that Harvey hung, popping up and striking out against sliders, and pulling an outside changeup on the ground to first base.
It should be noted that Cano is mashing off-speed pitches from righties this season. He's one of three hitters with 10 or more home runs against curves, sliders and changeups from righties, along with the next two hitters Harvey would face --
Miguel Cabrera
and
Chris Davis
.
July, 15, 2013
7/15/13
8:53
PM ET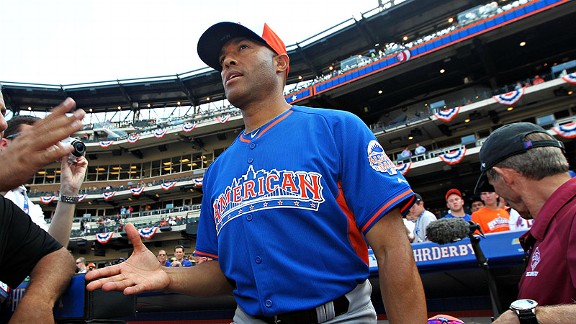 John Munson/USA TODAY SportsMariano Rivera's fellow All-Stars gave their testi-Mo-nials to baseball's all-time saves leader.
NEW YORK -- He is "a giver." He looks to share. So the more he pushes the spotlight away, the more it glows on
Mariano Rivera
.
Tuesday will be
Matt Harvey
's All-Star Game at the start, but it very well could be Rivera's by the finish. He is the biggest star among the All-Stars. His American League teammates -- and those on the National League squad -- speak with awe and honest admiration for the
New York Yankees
' 43-year-old closer.
"Just knowing what type of guy he is away from baseball, I think that is a guy that everyone is drawn to, attracted to,"
Texas Rangers
closer
Joe Nathan
said.
It is the little stories that each player has of meeting Rivera or having their bat broken by Rivera or -- and this is when the smiles really become huge -- beating Rivera. From
Justin Verlander
to
Felix Hernandez
to
Mike Trout
to
Adam Jones
, ESPNNewYork.com collected testimonials about Rivera.
"It is just kind of an honor to be in the same clubhouse,"
Tampa Bay Rays
second baseman
Ben Zobrist
said, expressing what appeared to be the overriding sentiment in the All-Star locker room.
Zobrist will always be thankful to Rivera because, when he caught the final out of the 2009 All-Star Game, Rivera let him keep the ball. Other stars were just as effusive, while others had some fun when asked their favorite memory of Rivera.
Detroit Tigers outfielder Torii Hunter:
"No. That's terrible. That's a terrible question [being asked my favorite memory of Rivera]. I got a hit off him once, I remember; that was my favorite memory. But otherwise, my only other memory is my bats were always blowing up when he was pitching. He always blows my bats smooth up and I have to get new bats."
Boston Red Sox second baseman Dustin Pedroia:
"Probably finally getting a hit off him in my last at-bat. It was like a 97-hopper up the middle, and I'm like, 'Yeah, man. I just got a hit off a guy that has 900 saves.' So it's pretty cool. You admire what he does and respect the heck outta him, even though it's a big rivalry, whatever, but you pull for guys that do it like that."
Detroit Tigers pitcher Justin Verlander:
"He's the best closer the game's ever seen. What a great talent, and he really changed the game. As a pitcher, you have the utmost respect for him. He's a class act and he's somebody I looked up to.
"I talked to him a couple times. I shook his hand over there and he's got long fingers, so I can see why his cutter is so darn good."
Seattle Mariners pitcher Felix Hernandez:
"He is a great human being. He's a winner. He's a great team player. The character he has on the mound and the way handles himself is unbelievable."
Baltimore Orioles outfielder Adam Jones:
"Mo is the greatest to ever do it. I got to watch first-hand
Trevor Hoffman
, being in San Diego, watch him close tons of games. But Mariano is doing it on the biggest stage in New York City. You don't get much better than Mariano Rivera.
"My last at-bat, I took him deep [for a go-ahead two-run homer in the ninth]. That is probably my most memorable moment in my entire career unless I win a ring. That is the biggest home run so far."
Los Angeles Angels outfielder Mike Trout:
"It means a lot to be here to be in the same clubhouse with him. It is special. The presence he brings. [As a kid watching,] I knew whenever he came in the game he was going to close the deal. Growing up watching the Yankees, it was almost guaranteed."
St. Louis Cardinals outfielder Carlos Beltran:
"I don't think I have any favorite memories. I have so many broken bats, though [laughs]."
All the ballplayers ESPNNewYork.com spoke to had a personal moment to share. Or, in Zobrist's case, a memento from 2009.
"He was gracious enough to let me keep the last out of that save that he had in '09," Zobrist said. "I caught the last out. He let me keep it. I know he had had three or four before that. I thought it was nice of him to do that."
"He is a generous person from what I've heard. I haven't talked to him a lot. Everything I've heard from other people is that he is very generous. He is a very genuine person, as well. He is a giver, as well. I have nothing but respect for him."
Mike Mazzeo contributed to this story
July, 15, 2013
7/15/13
2:35
PM ET
By
Mike Mazzeo
| ESPNNewYork.com
NEW YORK --
New York Yankees
closer
Mariano Rivera
will get into his last All-Star Game.
American League manager Jim Leyland says you can count on that.
"Rest assured No. 42 will be on the mound at some point," Leyland said Monday at Citi Field.
Rivera has said he's going to retire at the end of the season.
There was some concern that Rivera may not get in because the American League is the away team, and he wouldn't be guaranteed to pitch the ninth inning if the National League is leading entering the frame.
Rivera, 43, is 30-of-32 in save opportunities and owns a 1.83 ERA this season.
Leyland said he would be picked to close if there is a save situation.
"I can assure you that will happen," Leyland said.