New York Report:

New York City Marathon
November, 3, 2013
11/03/13
7:05
PM ET
By
Mike Mazzeo
| ESPNNewYork.com
NEW YORK -- It all started with a dare.
Darren Weissman had already run the Miami Marathon in 2012 and crossed it off of his bucket list.
But nine months ago, a friend of his dared him to do it again -- only this time, while dribbling two basketballs as he was running.
Weissman, known as "Doctor Dribble" because he trains NBA players using unique ball-handling drills, was hoping someone would talk him out of it so he'd have an excuse not to go.
But no one did.
"All my friends thought it would be cool, fun and interesting and add a little flair to the marathon, so they encouraged me to do it," the 31-year-old Weissman told ESPN NewYork.com after completing Sunday's New York City Marathon in 4 hours, 42 minutes and 54 seconds -- yes, while dribbling a pair of basketballs.
Guy dribbling 2 basketballs and running #ingnycmarathon pic.twitter.com/VTArVw2Bdk

— Al Roker (@alroker) November 3, 2013
"I couldn't believe the response I got from all the runners. I heard that people were on their last breath and I gave them a second wind. Their legs were giving out on them and I helped pace them all the way to the finish line by giving them a surge of energy. So that alone inspired me to want to continue to do that."
In the process, Weissman realized he'd accidentally broken a world record, while also missing an opportunity to raise money for charity. He's currently in the Guinness Book of World Records for being the fastest marathon man while dribbling two basketballs -- 4 hours, 39 minutes and 12 seconds, set at the Fort Lauderdale Marathon on Feb. 17.
Now, Weissman says, he continues to do marathons to support charities, inspire runners and give them some form of entertainment.
On Sunday, though, Weissman was the one being inspired. During the NYC Marathon, he heard someone say, "Do you know who that is? Do you know who that is? That's Dr. Dribble!"
Weissman looked over. It was a blind man who was running the marathon with the help of an escort.
"So the guy helping him said, 'You're amazing! You dribble so beautifully! Even a blind man can see you!' " Weissman said.
"That kept me going throughout the race. I couldn't stop thinking about it."
Weissman trains NBA players such as Andray Blatche, Penny Hardaway and Tim Hardaway Jr. back in Miami, where he resides.
"It's a lot of fun, and I'd love to work with more of them," Weissman said.
Weissman says many players go into his program thinking they've seen every ball-handling drill -- that is, until they see his.
Weissman began dribbling when he was a kid. He said it was his dream to play basketball in high school, so he was always dribbling. Everywhere he went, whether it was the park or the supermarket, he'd have a ball in his hand.
He briefly became infatuated playing Super Mario Brothers and Duck Hunt on the original Nintendo, but his father took it away.
"I couldn't play Nintendo anymore, so I'd just play basketball," he said.
Weissman used to train much harder for marathons. Now, he runs in too many, and he doesn't have time. One day, he's competing in a marathon. The next day, he might be doing a half-Ironman across the country. He's pretty much all over the map at this point.
"I used to work out every day and got in phenomenal shape," Weissman said. "Now it's just running, resting and recovering."
Weissman considered somewhat of a celebrity on the marathon circuit. He's frequently asked for autographs at airports, restaurants and marathon expos.
"It's really amazing how everyone is so receptive of me," Weissman said. "That's why I continue to do it."
Ever wonder what the hardest part of running a marathon with two basketballs is?
(No, its not the fact that Weissman can't use his hands and has to have his family members pour water in his mouth.)
"It's dribbling around the water stations," Weissman said. "It's tough with all those cups on the ground."
November, 3, 2013
11/03/13
6:44
PM ET
By
Christopher Hunt
| ESPNNewYork.com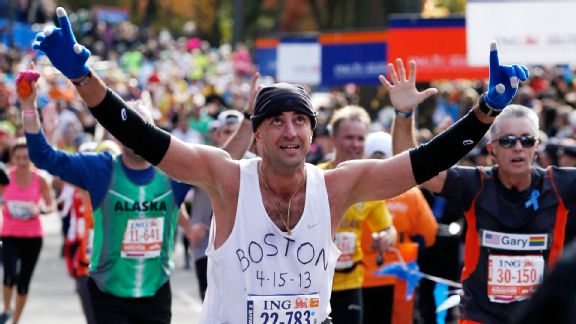 AP Photo/Kathy WillensMany runners had Boston on their minds -- and clothes -- on Sunday.
NEW YORK -- David King said the city was perfect on Sunday.
"This race, for me, was just a rebirth," King said, "crawling out from under the cloud that Boston temporarily created. I don't know. It's another sunrise for me."
He never thought for a minute that he would miss it. Not after what he saw, and endured, in Boston. Dr. David King knew first-hand the tragic bombings that devastated the Boston Marathon last year. He was one of the brave men that raced and finished and then raced again. This time, it was over to Massachusetts General Hospital, where King, a lieutenant colonel in the Army Reserve, is a trauma surgeon.
He conducted about 30 hours of surgeries with his legs still aching from his 26.2 miles. He ran holding the memories of patients he treated that day and in the days to come. He called his first one, Roseanne Sdoia, who lost her right leg. He remembered assigning a medical student to bring him "anything liquid to drink."
"People run for a million different reasons," said King, who also said he's run around 50 marathons. "I usually don't run for anything in particular. I run for the joy of it. But today I'm definitely running for Boston."
So was Dr. Xaviour Walker, the chief resident physician on call that awful day in Boston last April. He recalled stories of doctors running around the bombsite to help and injured victims walking into Mount Auburn Hospital in Cambridge.
"I think what happened in Boston, everyone wanted to run," he said. "Everybody wanted to do something. Everyone wanted to just put their shoes back on and say, 'Let's run New York. Let's run Boston.' I think it's motivated people. It's that whole Boston Strong attitude."
Walker, much like King, never considered passing on the chance to race the NYC Marathon this year after Hurricane Sandy canceled last year's race. Both raced with blue ribbons pinned to their singlets, given by the New York Road Runners, to honor those victims in Boston.
Walker, 32, running with Greater Boston Track Club, finished his third NYC Marathon and said he planned to race in Boston next year. But he could feel the difference in the atmosphere this year, even with the increased police presence and helicopters swirling above the finish line.
"The support is really amazing. You see the families and the kids out here and that's what this sport is really about."
November, 3, 2013
11/03/13
5:19
PM ET
By
Mike Mazzeo
| ESPNNewYork.com
NEW YORK -- A little more than a year after his Breezy Point, Queens, home burned to the ground during Hurricane Sandy, Brian Lang reached his goal of running the New York City Marathon in under four hours.
"This has been the worst year and the greatest year," the 44-year-old foreman/electrician told ESPNNewYork.com after finishing his first NYC Marathon in 3 hours, 54 minutes and 40 seconds Sunday. "It showed what kind of mettle I was made of. I didn't quit, even though my back was against the wall. I fought through all the adversity. Somehow, I found the time to train two days a week. It wasn't the best plan, but it was my plan.
"I told my community I would run this under four hours, my first marathon. And I did, so that's pretty amazing."
Lang's home was one of 100 Breezy Point homes that went down in flames because of Hurricane Sandy on Oct. 29, 2012. He had to move his family -- which included his wife, Tracy and two daughters, Rory, 9 and Carly, 8 -- to Brooklyn.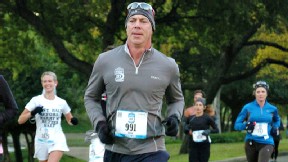 Courtesy New York Road RunnersHere's Brian Lang training for the marathon earlier this year.
"It was as bad as anyone could ever have it," Lang said. "My home was burnt to the ground. We fought through the whole year, getting our kids out to Rockaway every morning [for school], a 50-minute commute. My kids have been unbelievable."
Two days before Sandy hit, Lang was in Dallas running a half-marathon there. He was supposed to stay for the New York Giants-Dallas Cowboys game the following day, but decided to fly back because he feared for his family.
"I had this urgency to come home and get my family out of harm's way," he said. "Thank God I did.
"From what my neighbors were telling me, my home was one of the first ones to burn down. I would not even want to think what would've happened if my family had stayed."
The day after Sandy hit, Lang got a call from his good friend, Matt Long.
"He told me, 'It's all gone. Everything is gone,' " Lang said. "And I couldn't comprehend what he was saying. He said our whole community is gone. What wasn't destroyed by fire was destroyed by water. Three-thousand homes [in the Breezy Point area] had to be remediated."
Lang's family will eventually return to Breezy Point. Work on the foundation on their new house, which is in the same location as their old one, began last week.
"We're at the starting line, so it feels really good," he said.
Lang hopes to move his family back into their new house in 6-7 months.
"And if it happens again, I'd build again," he said.
November, 3, 2013
11/03/13
11:28
AM ET
By
Mike Mazzeo
and
Christopher Hunt
| ESPNNewYork.com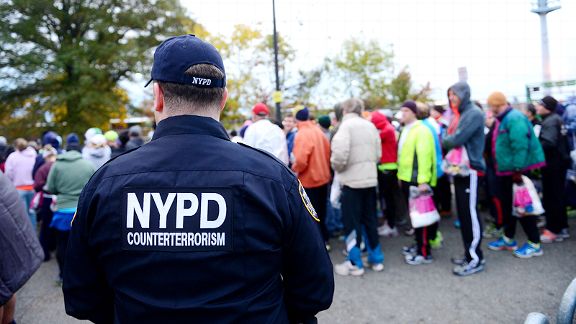 Emmanuel Dunand/Getty ImagesSecurity was tighter than ever for Sunday's NYC Marathon.
NEW YORK -- Eric Schmidt saw it along the route of Sunday's New York City Marathon:
The ramped-up police presence. The bomb squad vests. The bomb-sniffing dogs.
He expected that.
Schmidt, wearing a blue 2010 Boston Marathon jacket, joined his friends lining Fourth Ave. in Brooklyn, waiting for an old high school classmate to run by Mile Marker 8, just steps away from the live band that played on Atlantic Ave.
"I made it a point to come out today," said Schmidt, a student at Brooklyn Law School from Ramsey, N.J., who now lives in Brooklyn Heights.
So did his buddy Steven Comanto, who was just blocks away from the finish line in Boston last year when an explosion engulfed the street in dark smoke and kept thousands of runners from completing the final mile of their race.
Comanto was leaving a bar nearby when panic struck outside. The bouncers told patrons to either get back into the bar or walk in the opposite direction of the finish. He thought about that day last year when he headed out Sunday morning, undeterred.
"I certainly feel safe," Comanto said, moments after the friend they came to support ran by, smiling and waving.
The NYPD promised the largest police presence in the history of the Marathon, including dozens of police dogs sniffing for bombs on the sidewalks and hundreds of security cameras posted throughout the course. But the streets looked similar to previous years, packed with spectators, holding signs, blowing vuvuzelas, ringing cowbells and screaming for their friends and family as they zipped past.
Ray Murphy, 54, could be spotted easily in the crowd because he was wearing a Boston Red Sox hat.
Murphy, who currently resides in Pelham, N.Y., originally hails from Massachusetts.
"I have a lot of New York friends who are running the race today," Murphy said. "An easy way for them to identify me is to see me wearing the hat that I always wear."
This is Murphy's 15th time seeing the NYC Marathon.
"I ran Boston twice back in the 1980s, but I cannot imagine getting out there and doing it now," he said with a laugh.
Murphy has been living in the New York area for 22 years now, and said it was strange when the marathon was canceled last year due to the devastation caused by Hurricane Sandy.
"It's such a part of New York," Murphy, who was without power for 11 days as a result of Sandy, said of the marathon. "I'll always feel like I'm a Massachusetts boy at heart, but I've been down here for over 20 years now, and it has become my second home. There was a difference. That weekend was odd. But it was the right thing to cancel it."
October, 6, 2012
10/06/12
3:39
PM ET
The words still resonate with Chris Johnson.
Even though the ravages of time have forever altered the bond between a man and his son, Chris still recalls the lessons taught by his father, Ron Johnson, the first New York Giants running back ever to rush for 1,000 yards in a season.
Ron, 64, has Alzheimer's and is confined to an assisted-living facility. Though his father still recognizes him, Chris knows the man he considers his best friend is slowly slipping away. A son is left wishing for better days, yearning for the past and finding some solace in the words his father used to say to him.
[+] Enlarge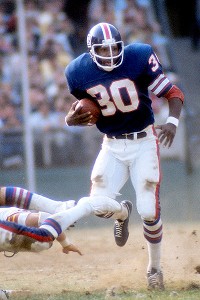 Focus on Sport/Getty ImagesRon Johnson in 1971
"My father always said, 'Don't sit there and feel sorry for yourself or a situation. Try to find a way to turn something into a positive,'" Chris said. "I got to find a way to make a difference in this thing."
Chris, 30, will be running in the New York City Marathon on Nov. 4 and has already raised more than $41,000 for the Alzheimer's Drug Discovery Foundation and its quest for a new clinical test trial. He has never run a marathon before but has set a goal of finishing the race in less than 3 hours, 30 minutes, a time he's hopeful of achieving with some training tips from a Runner's World editor.
"It's absolutely 100 percent what my father would want me to do," Chris said. "He'd say, 'It's terrible, Chris, but don't sit there and sob and cry about it.' I'm not a scientist so I can't come up with a cure. I don't have a big check to write out a donation. But I can give all of my energy and my spirit to running a marathon and try to build awareness."
Ron had a relatively short but successful career in the NFL. He played for the Giants from 1970-75, accumulating 1,000-yard seasons in 1970 and 1972. He rushed for 4,308 career yards and 40 touchdowns in his career, which also included time with Cleveland.
Ron was diagnosed with early-onset Alzheimer's in 2008, and his mental capacities have diminished over the past four years. Once simple tasks, such as driving to a nearby airport, began to confuse Ron. His family put him in the assisted-living facility in 2011.
His wife of 41 years, Karen, says Ron is in Stage 4 of the disease, which is described by the Alzheimer's Association website as moderate cognitive decline. There are seven stages to Alzheimer's.
His family says Ron still recognizes them and can still play chess, but he cannot communicate as he did in the past.
"It's devastating to see a loved one become a shell of himself and no longer be able to function and do the wonderful things that made them who they are," Karen said. "It's not about pity. It's just a sadness. The person is not able to be the person they have always been and want to be, and you're so helpless. It's a dark, black, bottomless pit."
The father of two -- he also has a 29-year-old daughter, Allison -- Ron has always been close to Chris. Chris describes his father as his best friend. His mentor. The standard he lives his live by. The two ran a food-services corporation, Rackson Corporation, before Ron's condition worsened and Chris had to take over as president.
[+] Enlarge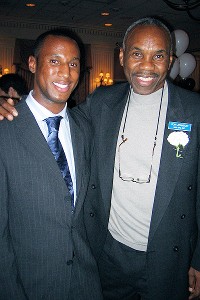 Courtesy of Chris JohnsonChris and Ron Johnson
For the first five days after Chris was born, he was originally named Ron Jr., but Ron told his wife that he didn't want his son to have that burden of growing up with his name. Ron made sure to separate who he was as a football player with whom he wanted to be as a father. It's one of the things Chris appreciates the most about Ron.
It pains Chris that their relationship will never be the same.
"I wish I could go back and make certain peace about certain things and tell him the way I feel," Chris said. "It's tough. You're never going to get that back. That's the toughest part of his disease, watching somebody move further and further away from you, yet they're still in front of you."
As he searched for ways to help his father, Chris viewed a marathon as the perfect combination for raising money and awareness while combining athletics.
"If it helps one family that hears the story and they say, 'You know what, we're not alone with this,' then mission accomplished," Chris said. "If it touches one family and that's it, everything was worth it along the way."
After winning a spot in the race through its lottery system, Chris told Peter John-Baptiste -- the Giants' vice president of communications and a longtime family friend -- of his plans. That led to a series of events that placed Chris in touch with Runner's World senior editor Jeff Dengate. They met for the first time in September and are working toward making sure Chris meets that 3:30 goal. On Sept. 23, Johnson ran the 18-mile ING New York City Marathon Tune-Up in 2 hours, 13 minutes.
John-Baptiste said the Giants plan to help promote Chris' efforts, and
donations can be made here
.
"For him to take it upon himself and to raise awareness to help the cause, to help just not his dad but anyone and everyone, it's a commendable thing," John-Baptiste said. "Knowing Ron, it's no surprise that this is the young man he raised."
When Chris recollects stories involving his father, he doesn't point to one specific day or one memory. He talks in values and philosophies. Ron taught him about integrity and how to always treat people with respect, no matter how much they slighted him. Those lessons will last a lifetime.
Now Chris hopes running 26.2 miles can help others. It's what Ron Johnson would have done.
November, 6, 2011
11/06/11
5:40
PM ET
By
Christopher Hunt
| ESPNNewYork.com
Mark Messier
conquered New York. Again.
The hockey legend known as The Captain, who brought a Stanley Cup to the Big Apple in 1994 with the Rangers, finished the New York City Marathon in 4 hours, 14 minutes, 27 seconds. Messier, 50, ran representing the New York Police and Fire Widows' and Children's Benefit Fund, and Tomorrow's Children's Fun.
"I just got filled up with inspiration," he said. "I feel great now."
Messier started at a solid 8:50-mile pace through the first 5 kilometers but, like most runners Sunday, was just trying to hold on by the time he reached the park. He was about seven minutes slower in the second half of the marathon. Still, not bad for guy who ditched ice skates for running sneakers.
Matt Higgins
, New York Jets executive vice president of business operations, decided to run NYC to raise awareness for children with hypocholesterolemia, a condition that presents abnormally low cholesterol in the blood.
Higgins' daughter,
Collette
, suffers from autism and hypocholesterolemia. There is not yet enough complete research to determine the connection between cholesterol and brain function in autistic children.
Higgins, who lives in New Jersey, competed his 26.2-mile trek in 5 hours, 8 minutes, 55 seconds. He also ran two years ago after undergoing successful treatment for testicular cancer. ESPNNewYork.com's Jane McManus wrote a
story about Higgins and his daughter on Friday
.
November, 6, 2011
11/06/11
3:50
PM ET
By
Christopher Hunt
| ESPNNewYork.com
Jack Waitz has run plenty of marathons. He had actually forgotten how many in total. Waitz estimated around 15.

But none of those could match the personal value of his seventh time running New York. Waitz ran for his wife, Norwegian great and nine-time NYC Marathon winner Grete Waitz, who died of cancer in April at age 57. Waitz had run once in the last three weeks. He had been struggling with calf injuries since he honored his wife by running the New York Mini women's 10K in June.

"If Grete had been around she have told me not to run today, I'm sure," Jack said. "I asked her to take care of me and amazingly enough, I didn't have any problem with the injuries I've had in the past months."

Waitz, who had suggested his wife run the New York City Marathon when she set the world record in her 1978 debut, said he was surprised he finished the race and had planned to stop. But he used a trick that he said him and Grete would use to preserve their legs. After he finished the first five miles, he walked for a minute every mile until the end. He finished in 3 hours, 50 minutes and 41 seconds.

"It's amazing," he said. "I didn't think I could finish today but I wanted to try."
November, 6, 2011
11/06/11
3:48
PM ET
By
Christopher Hunt
| ESPNNewYork.com
Ed Moran, who grew up in New Jersey and was in born in Staten Island, finished 10th in his debut marathon in 2 hours, 11 minutes and 46 seconds. Moran stayed among the top 20 runners throughout the 2011 ING New York City Marathon and moved up to 12th place by mile 21. He didn't even know he was in 10th place until someone screamed out to him in Central Park.

"It was better than I expected," he said. "Better than I had hoped for."

And now that the pressure is off, Moran has plans to get married next week in Pittsburgh.

The 30 year-old ran at Notre Dame High School in New Jersey before becoming an All-American at William & Mary in Virginia, where he lives and trains. Moran's parents, Ed and Pat, were both born and raised in Brooklyn. His grandmother lives in Bay Ridge and he still has family in Staten Island. His father was an officer with the NYPD for 14 years and worked on the Brooklyn side of the Verrazano Bridge. Moran even saw his godmother right before the Pulaski Bridge.

"It makes it personal," he said. "It gives you this feeling that you're not out there running by yourself."

He had deferred a job at Deloitte Consulting to train for the 2012 Olympic Games. He had also deferred a job there after earning his MBA in 2005 because he decided to run professionally. Moran said he figured he was nearing the end of his athletic career. But if his race in New York City went well, he might consider making his living as a marathoner. Looks like Deloitte might have to wait.

"I never thought I would run under 2:12," Moran said.
November, 6, 2011
11/06/11
3:45
PM ET
By
Christopher Hunt
| ESPNNewYork.com
Bronx resident Buzunesh Deba wasn't even two seconds off the lead headed into the final mile in the women's race at the 2011 ING New York City Marathon. But the Ethiopian, and Kenyan Mary Keitany both fell victim to a late surge by Firehiwot Dado.

Deba, who lives on W. 195th St. and trains at Van Cortlandt Park, finished second in 2 hours, 23:19 seconds after looking poised to win when the leaders entered Central Park. Dado dropped them both, winning her first major marathon in 2:23:15. Keitany said fatigue simply took over her legs in the last five kilometers and she fell to third (2:23:39).

Deba said she felt cramps in her sides early, when Keitany had broken away, and again later in the park. Deba wasn't sure how close the course passes where she lives, but if more of the race was in the Bronx, maybe it could have been a different story.

"I felt a lot more confident when I was running in the Bronx so if more of the race was in the Bronx, I would be very happy," Deba said through an interpreter.
November, 5, 2010
11/05/10
3:29
PM ET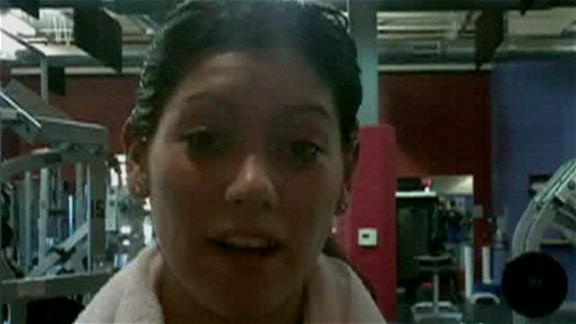 Injuries. Every runner getting ready for this weekend's marathon has likely fought through them. No matter how major or minor, the frustration can be equally agonizing. But it is the determination to push through training and finish the race that keeps every runner going.
Such is the case for Shandi Kano of Connecticut. The 25-year-old distance runner is nursing an injured right foot, so she's decided to mainly cross train in these final days before the race to give her body some time to recover. Her pattern of cross training at least every other week leading up to her first marathon not only gives her muscles a chance to rest, it also builds her cardiovascular endurance.
Tomorrow, she heads to the City.
Saturday: Kano, an ESPN.com video editor, makes the trip to New York and deals with last-minute butterflies.
November, 4, 2010
11/04/10
4:35
PM ET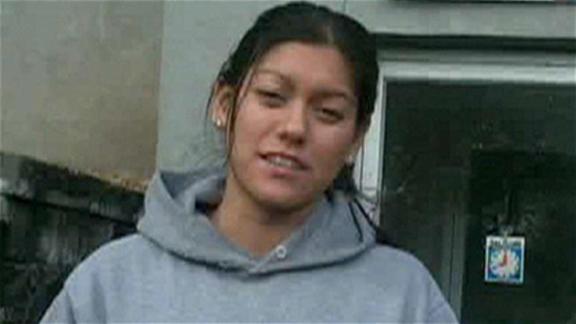 For the 45,000 runners who will lace them up for Sunday's New York City Marathon, it's about challenge and dedication. It's even more so for
Shandi Kano
of Connecticut.
A competitive runner since the age of 5, Kano ran track and field and cross country in high school and for Brigham Young University. After graduating from college the next big challenge for the 25-year-old distance runner is a marathon. Giving her inspiration is the charity she's running for,
Achilles International
, an organization that supports disabled athletes. She has raised over $2,500 for the group.
Training hasn't been easy. Kano has battled injuries that she's never faced before in the 20 years she's been running. This past week she began experiencing spasms in her right foot which has made even walking painful. With just days to go, as you will see, she is receiving treatment and is determined to start -- and finish -- on Sunday.
Her journey is every runner's journey. You can follow it here.
Friday, see how Kano, an ESPN.com video editor, is battling her injuries to keep up her vigorous training regimen.