New York Report:

New York Liberty
May, 13, 2014
May 13
2:59
PM ET
By
Ian Begley
| ESPNNewYork.com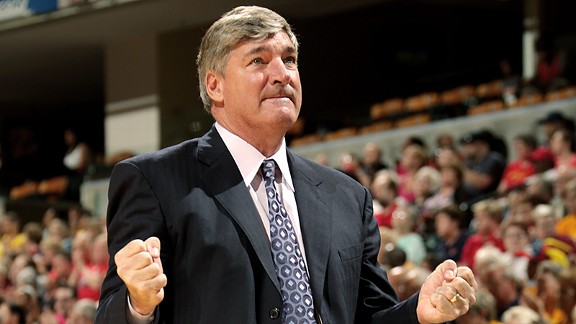 Ron Hoskins/NBAE/Getty ImagesBill Laimbeer is looking to continue his championship ways with the Liberty.
The New York Liberty are coming off a disappointing 2013 season, finishing 12 games under .500 and losing nine of their final 10 games. But there is reason for renewed optimism this season. Coach Bill Laimbeer's club
traded for Queens native and standout center Tina Charles
on draft day. The Liberty is also returning to Madison Square Garden after a three-season absence during the MSG renovation. The team played in Newark during the renovation and Laimbeer says they are itching to get back to Manhattan.
We talked to Laimbeer about the upcoming season. Here is the Q & A with the former Bad Boy turned WNBA coach:
Q:
What's your outlook for the team this season?
A:
I think in acquiring Tina Charles, that made our season a very optimistic one. Acquiring a player of her magnitude -- 18 points, 10 rebounds per game consistently -- cannot be overlooked. I think with Cappie (Pondexter) and Essence (Carson) coming back from her knee injury, I think we have a very sound nucleus to build upon and to mold around. I think the players are -- I know the players are genuinely excited to get back in the Garden because Newark kind of wore everybody down."
Q:
Do you think Tina helps give you a nucleus that will allow you to compete with elite teams?
A:
Yes, I do. I think with this core, it's a great place that it's built for. Many times nothing happens overnight. You have to build the team and find the complementary pieces. And you may even find another star to play with them. But you can't (skip) Step 1. Step 1 is to get competitive. I think that's what we've accomplished. With Tina, we've become a competitive basketball team in the Eastern Conference. How competitive remains to be seen. We have to actually play the games. Now we have to continue to look (at) pieces to add. Not only this year but the next couple of years. When we talked to Tina about coming to New York, we painted a picture of, 'Here's the process that we're going to do to get to be champions.' And she understood that this is not an overnight success story. This is (team) building. (We have) a time frame of a short window but obviously we're going to give it our best shot every day we go out there."
Q:
What do you remember about MSG from your playing days?
A:
From my playing days, it's a very knowledgeable crowd, a passionate basketball crowd. If you don't bring your 'A' game, they're going to get on you. Because that's what they pay for. They pay to see a quality game, a quality product. And there's no exception on the ladies' side either. They're coming to watch a competitive basketball game played the right way. If you don't play it the right way, they're going to let you know about it.
Q:
Were you booed at the Garden?
A:
Oh yeah, I was a villain, there was no question about it. Any arena I played in, there were 15,000 to 17,000 people chanting at you, calling you names. But that comes with the territory, it means I was doing something right. It means we were winning and I was an integral part of us winning."
You can follow Ian Begley on Twitter.
September, 17, 2011
9/17/11
7:01
PM ET
By
Christopher Hunt
| ESPNNewYork.com
WHAT IT MEANS: The Liberty rebound from a close loss in Indiana to pull themselves back from the brink of elimination in commanding fashion at the Prudential Center Saturday. A dominant win gives New York the momentum headed into a decisive Game 3 Monday.

OL' FAITHFUL: Nicole Powell is the elder statesmen when comes to coach John Whisenant's system. But showed herself again as one of the team's most consistent players. Powell kept New York in the game, shooting 4 for 4 from the field and 3 for 3 from 3-point range in the first period when they looked sloppy early. She nailed three consecutive 3-pointers and assisted on a three by Leliani Mitchell that tied the game at 20 in the first quarter that seemed steady the Liberty. Powell finished with a team-high 19 points.

CATCHINGS COLD: New York nearly shutout the Fever's MVP candidate Tamika Catchings, who scored her first and only basket with 1:57 left in the third quarter. The Liberty defense, led mostly by Powell and Plenette Pierson, forced Catchings to miss seven of eight shots from the field. Catchings also missed her only two free throws. And speaking of cold shooting, Indiana went scoreless for nearly the first six minutes of the second half. The Fever scored their first third-quarter basket on a lay by Katie Douglas with 4:24 remaining. Indiana scored just nine points in the period.

CAPPIE WHEN IT COUNTS: Pondexter continued her struggles from the field Saturday, shooting just 5 for 15 and missing six of seven 3-pointers. She totaled 14 points, five rebounds and five assists. But her one three came during a 20-4 run for the Liberty that started with Pondexter scoring five straight points.

VAUGHN RECEIVES AWARD: The Liberty forward took advantage of a hole left in the paint by Taj McWilliams Franklin and Janel McCarville. She received the WNBA's Most Improved Player Award before the game. She had career highs in every statistical category, averaging 10.1 points and 6.7 rebounds. She finished with 10 points and five rebounds.

IN ATTENDANCE: Denver free agent J.R. Smith, who plans to play in China during the NBA's potential lockout, took in the game courtside and met Pondexter at halftime for a hug. ... Newark mayor Cory Booker appeared before the start of the fourth quarter and rallied the crowd shouting, "Let's go New York. We're going to bring the championship back to Brick City!" … Former Syracuse star John Wallace was also in stands.

September, 14, 2011
9/14/11
7:34
PM ET
By
Christopher Hunt
| ESPNNewYork.com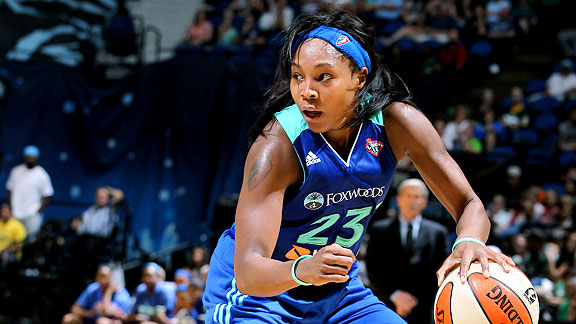 David Sherman/NBA/Getty ImagesFor the Liberty to upset the Fever, Cappie Pondexter must re-ignite her game.
The postseason begins Thursday night. Not exactly the best time for the Liberty's best player to be in a shooting funk, especially when No. 4 seed New York opens the WNBA Eastern Conference playoffs at top seed Indiana.
Cappie Pondexter
is struggling. She averaged 11.5 points in her last five regular season games, down considerably from her 17.5 season average. Yet, as is the motto of any playoff campaign, Pondexter said it's a new season, a clean slate. In other words, what shooting funk?
"I've been in a slump," she said. "It happens as a basketball player. The most important thing is to continue to work hard. There's not a day that goes by that I'm not in the gym shooting extra or I'm not in the gym last. When the slump ends, it'll end. Tomorrow. I'm thinking positively. I want to win a championship."
Pondexter sprained her ankle against in an overtime win against Connecticut at home last month, and aggravated the injury by continuing to play on it, which may have contributed to the Liberty star shooting 13 for 59 in her past four games combined. But the playoffs tend to help big-time players ignore nagging injuries, and Pondexter promised to be ready when New York sees the likes of All-Star
Tamika Catchings
at Conseco Fieldhouse.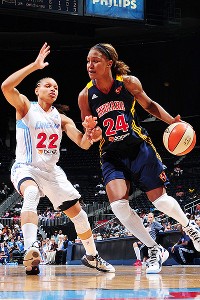 Scott Cunningham/NBA/Getty ImagesIndiana's Tamika Catchings will be a handful for New York.
Despite Indiana owning the No. 1 seed, both teams are stumbling into the playoffs. Indiana dropped its last two games -- including a 84-75 loss to New York last Friday -- and closed the season losing six of its final nine games. New York carried a 4-4 record in its final eight games. The Liberty and the Fever tied in their season series, 2-2.
The two teams mirror each other in terms of defensive intensity, and they both have star players who can completely change the face of a basketball game. There's no question that the series will come down to Catchings and Pondexter, two players who have made cases for MVP honors this season. Pondexter has two championship rings with Phoenix, when she shared a backcourt with
Diana Taurasi
. Catchings is still looking for her first title.
Catchings has been nursing a knee injury, and sat out her team's regular season finale against Atlanta. The Liberty held Catchings to just nine points in Friday's win, a defensive effort they will need to continue if they hope to advance. New York has made 10 playoff appearances in the league's 15-year existence, and is looking for its third trip to the Eastern Conference finals in the past four years.
"I expect to win and nothing less than that," Pondexter said. "We had a great regular season run. Now this is the real deal. You put all the marbles out there right now. All that you worked hard for all regular season and training camp, it all starts tomorrow."
THREE KEYS FOR THE LIBERTY
1. Stop Catchings from catching fire:
The Liberty spent much of the season trying to gel playing coach
John Whisenant's
defense, and have been one of the toughest defensive teams in the league. Much of the responsibility for keeping the Fever's Tamika Catchings in check will fall on
Nicole Powell
, who played for Whisenant when he won an WNBA title in Sacramento. It's also important keep a body on
Katie Douglas
, who can make a huge difference from behind the 3-point arc. Douglas ended the regular season shooting 44 percent from 3-point range.
2. Establish the post:
The Liberty's post play has been a theme all season, since New York lost
Taj McWilliams Franklin
and
Janel McCarville
in the offseason. That presented an opportunity for
Kia Vaughn
, and this series may be her biggest opportunity yet. Vaughn,
Plenette Pierson
and Powell have to keep order in the post on the defensive end. The Liberty will need Vaughn's offense. They'll also need the hard-nosed play of Pierson to keep the Fever's
Jessica Davenport
out of the paint.
3. Cappie needs to be Cappie:
Despite Pondexter struggling with her shot, the Liberty managed to beat Indiana on Friday and went 2-2 during her rough patch. When Pondexter is on, she is one of the best one-on-one players in women's basketball. She is a threat to take over a game at any time, and if the Liberty are going to win two games against the Fever they will need Pondexter to be a force on both ends of the floor. That will open things up for the post players, and make things easier for
Essence Carson
, the team's second-best scorer.
August, 18, 2011
8/18/11
10:27
PM ET
By
Christopher Hunt
| ESPNNewYork.com
WHAT IT MEANS: It means the Liberty are as erratic as the team is capable, and resilient too. New York erased a 15-point deficient, holding the Sun to just seven points in the fourth quarter before eventually overpowering Connecticut in overtime. They now sit 1 1/2 games outside of second place in the East.

It also means the Liberty showed they are one of the best defensive teams in the WNBA when they want to be. Tina Charles was unstoppable no matter who guarded her. She controlled the paint from every angle, scoring 29 points with 14 rebounds. But the Liberty held the league's best center to 4 points and 2 boards in the fourth quarter and overtime.

STAR OF THE GAME: Cappie Pondexter did not have her best stuff Thursday night but she carried the team in key moments. She sunk the running 3-point shot with 50.2 left to tie the score at 74 and force overtime.

"That was the toughest shot ever," Pondexter said.

Then Pondexter scored six points in the extra stanza, including a deep jumper to put New York ahead by one with 24.3 remaining. She turned in one of her best scoring games, finishing with 27 points, 6 rebounds and 4 assists.

POST HELP: Kia Vaughn started out matching Charles point-for-point in the first quarter. She had 9 points and 6 rebounds after the first period but disappeared for a long stretch afterward, going scoreless in the second and picking up four personal fouls in the third. But Vaughn made a difference in the paint in the fourth and overtime, finishing with 17 points and 11 rebounds, her first double-digit scoring effort in six games.

The Liberty also saw some encouraging flashes from newly acquired Kara Braxton, who finished with 8 points and 9 rebounds. New York needed the help down low since Nicole Powell sat out with a contusion in her right knee that coach John Whisenant said had been bothering her for three games.

THE ROAD AHEAD: New York earned some much-needed momentum heading into a rough road stretch starting Saturday in Seattle before heading to Phoenix and then Chicago.

August, 9, 2011
8/09/11
11:42
AM ET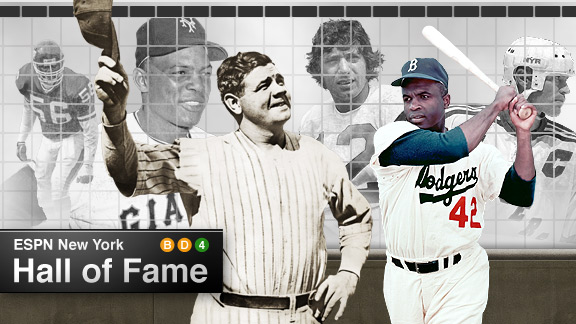 ESPN.com illustration
Vote: Pick the ESPN New York Hall of Fame class | Meet the candidates

In honor of ESPN New York's inaugural
Hall of Fame ballot
, here is my all-time roster for the New York Liberty.
We actually have to begin with this disclaimer: It's a complex time to pick an 11-player all-Liberty team. (Eleven is the size of a WNBA roster.)
For one thing, 2011 is the first season since the WNBA's and Liberty's inception in 1997 that
Carol Blazejowski
is not the team's general manager. So it's the start of a new era in that regard under current head coach/GM
John Whisenant
.
For another thing, the team is out of its magical, mystical home -- Madison Square Garden is undergoing renovation work this summer and the next two, as well -- and is playing in Newark, N.J.
Lastly, the most talented player ever to don a Liberty jersey, guard
Cappie Pondexter
, almost certainly will one day head the list of "best ever" for the franchise. But as this is just her second season with the team, we took a bit more of a historical look at the Liberty for the purposes of picking this particular all-time squad.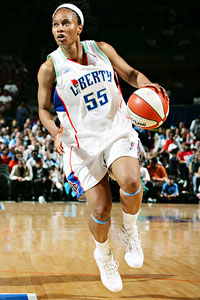 Jesse D. Garrabrant/NBAE/Getty ImagesVickie Johnson is the Liberty's career leader in several categories, including points, rebounds and games played.
This is not meant as any slight to Pondexter, who was recently picked as one of the top 15 players in WNBA history as the league celebrates its 15th season. Also on that list were two players who make our all-time Liberty team: guards
Teresa Weatherspoon
and
Becky Hammon
.
Now, you might look at the starting five suggested here and immediately say, "Not big enough!" as 6-foot-2
Tari Phillips
is the only player over 6 feet tall. But versatile wing-types
Vickie Johnson
and
Crystal Robinson
were solid rebounders, and this squad would have substituted early and often with lots of size and board prowess coming off the bench.
In fact, this is the type of team where starting really wouldn't matter much. The heavily guard-oriented lineup we suggest would get things going, then the Liberty would mix up many different looks.
To that end, the all-time Liberty coach would be consummate strategist
Richie Adubato
-- he of the enormous playbook -- who led the franchise to three appearances in the WNBA Finals.
Starters
G Teresa Weatherspoon (1997-2003):
She made what's still the most epic shot in league history: the halfcourt heave to win Game 2 of the 1999 WNBA Finals with Houston. Weatherspoon's distribution and defense were essential in the Liberty's most successful seasons. She's now head coach at her alma mater, Louisiana Tech, and remains an all-time Liberty fan favorite.
G Becky Hammon (1999-2006):
She was undrafted out of Colorado State but so impressed the Lib veterans in tryouts that it helped her earn a roster spot. Battled back from a knee injury suffered in 2003 and led the Liberty in scoring the next three seasons before being traded to San Antonio in 2007. It's proved to be one the league's most lop-sided deals ever, much to the Silver Stars' delight and the Liberty's chagrin. Hammon continues as an All-Star in San Antonio.
G/F Vickie Johnson (1997-2005):
At 5-9, she rebounded well and was a versatile-enough defender to be able to play "bigger" than she really was. A Liberty starter for nine seasons during which she averaged 30 minutes or more all but one year (29.3 in 2001), Johnson went to San Antonio in 2006 and finished out her career there. Now she's an assistant coach for the Silver Stars.
F Crystal Robinson (1999-2005):
Came off the bench more her first two seasons, then started the rest of her Liberty career. A clutch perimeter threat, she made 400 3-pointers for the Liberty and shot 38.3 percent from behind the arc during her time in New York. She was a little undersized but did the dirty work.
C Tari Phillips (2000-04):
Although injury impacted her final season with the Liberty, Phillips' first four years in New York were quite strong. She averaged 13.6 points and 7.9 rebounds during those four seasons. Her best was in 2001, when she averaged 15.3 points and 8.0 rebounds
Bench
G Sophia Witherspoon (1997-99):
An effective scorer to complement Weatherspoon in the Liberty's backcourt for their first three seasons.
G Loree Moore (2005-09):
After a quiet rookie year, started the next four seasons for the Liberty. She took on a bigger play-making role after Hammon was traded in 2007.
C Kym Hampton (1997-99):
She was 34 in the league's inaugural season, so her prime years were before the WNBA launched. Nonetheless, she anchored the Liberty on the low block for the franchise's first three seasons.
F Sue Wicks (1997-2002):
A scoring/rebounding star at Rutgers in the 1980s, she redefined herself as an inspirational, mega-tough, defense-minded grinder when the WNBA debuted nearly a decade after her college career ended.
F Shameka Christon (2004-09):
One of franchise's most athletic forwards, she was particularly good in 2008-09. In those two seasons, she averaged 15.9 ppg and 3.9 rpg.
F Tamika Whitmore (1999-2003):
A powerful interior player who at times struggled with fitness, her best season in New York was 2002 when she averaged 12.7 ppg and 4.4 rpg for the last Liberty team to make it to the WNBA Finals.
July, 17, 2011
7/17/11
7:30
PM ET
By
Christopher Hunt
| ESPNNewYork.com
WHAT IT MEANS: The Liberty had just had their four-game winning snapped by blowing a fourth quarter lead to Connecticut, so let's face, it was nice for the Liberty to see Tulsa, a team with only one win this season, come into Newark on Sunday.

New York has won seven of its last nine games after disposing of the Shock, 88-57, at the Prudential Center. The Liberty finished its four-game home stand with a 3-1 record.

Tulsa has now dropped nine straight, and has yet to win a game on the road. The Shock even lost their head coach, Nolan Richardson, who stepped down on July 9 with a record of 7-38 in just over one season.

"We played with more energy," coach John Whisenant said. "Our feet were alive. We didn't have our mud boots on. I told the team just now that I don't have a secret to unlock your energy. But when we play with energy and determination we're a pretty good team."

STAR OF THE GAME: The last time New York played the Shock, it was looking to rebound from a four-game skid and essentially trying to turn the season around. The Liberty have seen strong games from a handful of players since then. This time they got another big performance from center Kia Vaughn, who posted 15 points and eight rebounds. She had 15 points and nine rebounds against Connecticut.

Cappie Pondexter led the team with 18 points and three assists. Pondexter said that her grandmother told her to be more aggressive after Pondexter scored just 11 points against the Sun, her first in nine game with less than 18 points.

"When my grandmother speaks, I have to do what she says," Pondexter said.

PIERSON BACK IN THE LINEUP: Plenette Pierson was back in action after missing the Connecticut game with a strained knee suffered Wednesday against Atlanta. The blowout win gave her a chance for some extra rest. She scored 12 points with four boards in 15 minutes.

PUT A LID ON IT: Tulsa came into the game ranked last in the league in points per game (70.86) and last in field goal percentage, shooting .391 percent from the field as a team. It's no wonder Tulsa shot 33.9 percent from the field and missed 18 of 22 from behind the arc. The Shock managed six third-quarter points.

FINALLY, A RING FOR T-SPOON: All-time fan favorite Teresa Weatherspoon became the second players inducted into the Liberty's "Ring of Honor" and accolade that represents retired players who have made significant contributions to the Liberty and growth of the WNBA. The Liberty inducted Vickie Johnson on July 1.

Weatherspoon lead the Liberty at point guard from 1997-2003 and helped lead New York to the WNBA Finals in the league's inaugral season. The Liberty made the WNBA Finals five times in the league's first six years.

"I never played the game for any individual accolades," she said during her speech at halftime. "I never played the game in that fashion. I played because it was my passion, it was my talent, it was my gift."

Weatherspoon also said that she believes that this year's Liberty team could go all the way. She said it would be almost as special now, to watch the Liberty win a championship in their 15th season, as it would have to win while she was still in a Liberty uniform.

"For it to happen, we would probably be just as elated as they are because we are forever connected," she said. "Believe it or not, we're forever connected."


July, 13, 2011
7/13/11
3:32
PM ET
By
Christopher Hunt
| ESPNNewYork.com
Recap
|
Box score
|
Photos
WHAT IT MEANS:
It shows that the Liberty are a completely different squad than the one that lost to the Atlanta in their last two meetings. This team continued to play hard-nosed defense and put on one of its best shooting performances of the season while extending a season-high winning streak to four games.
The Liberty put six players in double figures in their first blowout win of the season. New York has also won four straight at home and six of their last seven games.
STAR OF THE GAME:
Just about everyone shot the lights out for the Liberty, who shot 60 percent from 3-point range.
Nicole Powell
who went 5-for-5 from beyond the arc; her first 3-pointer hit the front rim and bounced in. She finished with 20 points and seven boards.
SCARE FOR PIERSON: Plenette Pierson
went down in the third quarter when Dream forward
Alison Bales
fell awkwardly into Pierson's knee. Pierson was later helped off the court and did not return. The Liberty training staff diagnosed the tough forward with a strained patella tendon. Pierson said she did not expect to undergo an MRI.
SO-NOT-MORNING PEOPLE:
It appeared that there was some morning crankiness in a game that saw four technical fouls called. The first was a double-technical charged to Atlanta's
Coco Miller
and the Liberty's
Kia Vaughn
after the two got tied up on a loose ball. Powell and Dream assistant coach
Fred Williams
were also T'ed up in the game.
LITTLE REST FOR THE WEARY:
The fact that New York put the Dream on the ropes early took some of the load off
Cappie Pondexter
, who has been putting up MVP-like numbers this season. Pondexter, who was named Eastern Conference Player of the Week last week, scored at least 18 points in each of the previous eight games. She managed 10 points with six rebounds and five assists.
The Liberty's star guard sat out the last five minutes of the third quarter and said she was disappointed that some of the starters had to return in the fourth to secure the game.
"I told the guys on the bench that I was a little disappointed that we had to come back in the game and finish the game off," she said. "These are the games that allow our bench players to get better and we didn't take advantage of the opportunity."
WHAT'S UP NEXT:
The Liberty finish a three-game homestand against the Connecticut Sun, who have lost two in a row, Friday at 7 p.m.
July, 10, 2011
7/10/11
7:16
PM ET
By
Christopher Hunt
| ESPNNewYork.com
NEWARK, N.J. -- Essence Carson was wearing protective goggles for the first time since she was a teenager. She hadn't practiced in a week and she admitted that she was having trouble seeing properly out of her right eye. But she knows exactly where the basket is.

Carson hit a 3-pointer with 31 seconds left that capped a huge comeback win for the Liberty, 80-73, over Chicago Sunday at the Prudential Center.

WHAT IT MEANS: The Liberty (7-6) earned their first three-game winning streak of the season and finally having a winning record at home, at 3-2. It also means that the Liberty can take a punch. The Liberty were being overmatched and outplayed in the first half. They had trouble with the Sky's Sylvia Fowles and Catherine Krayeveld in the paint and guards Courtney Vandersloot and backup Erin Thorn were doing as they pleased in the lane.

That all changed in the second half, where New York gave up 24 points, instead of the 49 they suffered in the first half.

"We were asleep," Liberty coach John Whisenant said. "We were sleep-walking in the first part of the game. We gave a lot of easy baskets. They were coming out with energy and fortunately we were able to turn the game around."

STAR OF THE GAME: Whisenant said that Carson had missed an entire week of practice and he worried about with she would be able to keep in wind. But she showed no signs of fatigue or irritation with the game on the line.

She made two huge defensive plays late. First blocking Vandersloot's layup under the basket. Then coming from the weak side to send back a Michelle Snow shot in the paint. Carson practically settled the game when Cappie Pondexter found her at the top of the arc and Carson drilled a three-pointer with 31.7 second left to put New York ahead 76-73.

"It was open," she said. "Cappie found me. She's a great combo guard. I was just doing what I was supposed to do.

Carson finished with 18 points on 8 for 13 shooting.

CAPPIE OF THE SHIP: Pondexter struggled for most of the game defensively but found her rhythm when it mattered. Pondexter converted on a fastbreak layup that ignited her own personal 6-0 run that gave the Liberty their first lead of the game, 68-67 with 3:21 left to play. Pondexter scored 13 of her 18 points in the last three minutes of the game, including 6 for 6 from the free line during the stretch.

WHAT'S NEXT: The Liberty will try to extend their longest winning streak of the season when they play Atlanta ( at home Wednesday at noon.

June, 14, 2011
6/14/11
8:58
PM ET
By
Mike Mazzeo
| ESPNNewYork.com
Recap
|
Box score
|
Photos
WHAT IT MEANS
: The Liberty remain winless in their temporary Newark home.
New York dropped to 0-2 at the Prudential Center after falling to the Atlanta Dream, 79-58, on Tuesday night. The Liberty (2-2) have now lost two straight after kicking off the 2011 season 2-0. Meanwhile, the Dream (1-3), the defending Eastern Conference champions, won for the first time this year, snapping a three-game losing streak.
TURNING POINT
: The Liberty trailed just 35-30 with 1:54 remaining in the first half, but Atlanta closed on a 9-2 run to take a 12-point lead into the break. The Dream rolled from there. They led by as many as 23 in the fourth quarter.
STAR OF THE GAME
: Guard
Essence Carson
had 17 of her game-high 21 points in the first half for New York, while center
Kia Vaughn
added 16 points in a losing cause.
Carson ripped down a game-high eight rebounds. Vaughn added seven boards.
However, the Liberty's dynamic scoring duo of
Cappie Pondexter
(3-for-12) and
Plenette Pierson
(1-for-5) combined for 10 points. Pierson came in ranked seventh in the WNBA in scoring at 18.0 points per game, while Pondexter had been averaging 15.3 per contest herself.
STAT OF THE NIGHT
: The Liberty came in ranked second in the league in scoring (85.0 ppg), but were held to a season-low 58 points by the Dream. They also shot a season-worst 36.2 percent from the field and made a season-low one 3-pointer.
UP NEXT
: The Liberty hit the road for three straight games, starting in Chicago on Friday night.
September, 5, 2010
9/05/10
11:37
PM ET
By
Ian Begley
| ESPNNewYork.com
The Liberty came into the Eastern Conference finals against Atlanta with a distinct advantage in something that's supposed to be crucial in early September: postseason experience.

But that didn't seem to mean much to the upstart Dream. Certainly not in the final minute of Game 1, when a young Atlanta team took advantage of a few costly Liberty mistakes to seal a win at Madison Square Garden and take control of the three-game series.

The Liberty held a lead with under one minute to go in the fourth but couldn't hold on in its 81-76 loss to the Dream on Sunday night. New York will now have to win two straight -- starting with Game 2 on Tuesday night in Atlanta -- to reach the WNBA Finals.

"This group has been there before and they all have their own experience," Liberty coach Anne Donovan said. "We will have to go to Atlanta to get it done."

The Liberty certainly had an opportunity to steal a win in the opener after getting outplayed for most of the first 35 minutes of regulation.

Atlanta left the door open when guard Iziane Castro Marques missed two free throws with 1:03 to go and the Dream up, 74-73. Cappie Pondexter got the rebound and hit two free throws to put the Liberty up 75-74.

Essence Carson was whistled for a bad foul on Angel McCoughtry -- a call Pondexter protested after the game. McCoughtry knocked down two free-throws to give Atlanta a 76-75 lead.

The Liberty then allowed Castro Marques to leak out for an uncontested layup after a Pondexter miss on the ensuing posession to put the Dream up, 78-75, with 31.3 to go.

New Yorlk still had a puncher's chance but Taj McWilliams-Franklin threw the ball away and into the hands of Dream guard Shalee Lehning on its next posession.

"We made costly mistakes in the last two minutes that we do not normally make," Donovan said.

Atlanta was playing its first game since August 27 after sweeping top-seeded Washington in the conference semis. But the Dream didn't look rusty at all, taking the Liberty in the paint by outrebounding New York 40-28.

"I don't know that we're going to come ahead on the rebounding margin but I know that on that end we have to do a better job," Donovan said.

The Liberty certainly felt the absence of starting forward Janel McCarville, who was out with a sprained left ankle. Donovan wasn't saying whether McCarville would be available for Game 2. If she's on the bench, the Liberty bigs -- Kia Vaughn, Plenette Pierson and McWilliams-Franklin -- have to find a way to compete with Atlanta down low. Atlanta outscored New York in the paint, 50-34.

"We're undersized," Pierson said. "It's a tough match-up."
New York reeled off ten wins in the second half of the regular season to make the playoffs. Now, it needs to win two straight to keep the season alive.

"I'm not worried at all," said Pondexter, who scored a game-high 24 points on 8-of-20 shooting. "This team is a fighting team. When our back is gainst the wall we give out 100% effort. I'm excited (for Tuesday)."

September, 5, 2010
9/05/10
11:20
PM ET
By
Ian Begley
| ESPNNewYork.com
Essence Carson was whistled for a foul on Angel McCoughtry with 44.2 seconds to go in the fourth quarter and the Liberty ahead, 75-74.

McCoughtry knocked down both free throws to put the Dream up by one in a game they'd go on to win, 81-75.

Cappie Pondexter wasn't happy with the call and -- at the risk of a fine from the WNBA -- wants to let you know about it.

"It's frustrating when a crucial call is made like it was," Pondexter said. "I don't care if I get fined ... You've got to let teams battle it out."

Pondexter also pointed out that McCoughtry went to the line 17 times in the game.

"Maybe she was more aggressive than I was," she said facetiously.

Overall, the Dream went to the line 31 times, making 21 free throws. The Liberty shot 12 of 14 from the line.
September, 5, 2010
9/05/10
6:49
PM ET
By
Ian Begley
| ESPNNewYork.com
Post-game live:
The New York Liberty put together a 10-game winning streak in the regular season to climb out of the basement of the Eastern Conference. They'll need to put together another streak if they want to keep their season alive.
The Liberty fell to Atlanta, 81-75, in Game 1 of the Eastern Conference Final Sunday night at Madison Square Garden.
They face the fourth-seeded Dream in Atlanta on Tuesday night in a win-or-go-home Game 2 of the three-game Conference Final.
Despite being outplayed in nearly every facet of the game, the Liberty still had a chance to steal Game 1 at home late in the fourth quarter.
Atlanta guard
Iziane Castro Marques
missed two free-throws with 1:03 to go and the Dream up, 74-73.
Cappie Pondexter
came out of a scrum with the ball, dribbled up the floor and drew a foul from Castro Marques with 54.9 seconds to go. She hit her first free-throw and -- after a Dream timeout -- knocked down the second to put the Liberty up 75-74.
But
Angel McCoughtry
knocked down two free throws of her own after a bad foul by
Essence Carson
and the Castro Marques leaked out for an uncontested layup after a Pondexter miss on the ensuing posession to put the Dream up, 78-75. THe Liberty lost for the first time since July 18 -- a streak of 10 straight games.
Atlanta was playing its first game since August 27 after it swept top-seeded Washington in the Conference Semifinal. But the Dream didn't look rusty at all, taking of the Liberty in the paint by outrebounding New York 31-21.
The Liberty certainly felt the absence of starting forward
Janel McCarville
. Coach
Anne Donovan
wasn't saying whether McCarville would be available for Game 2 on Tuesday night. If she's on the bench, the Liberty bigs --
Kia Vaughn Plenette Pierson and Taj McWilliams-Franklin
– have to find a way to compete with Atlanta down low.
The Dream is the top rebounding team in the WNBA, averaging 43 per game and 9.5 more than their opponents, which is also the largest rebound differential in the league.
The winner of the Conference Final will face the Seattle Storm, which swept the Phoenix Mercuty in the Western Conference Finals.
Third quarter:
The Liberty let the Dream off the hook in the third quarter. They opened the third with a 13-1 run, but let a seven-point lead slip away with a series of poor offensive posessions.
Pierson had nine points during the Liberty's run as the team took a 52-45 lead, its largest of the game, with 6:55 to go in the third. But Atlanta outscored the Liberty 11-4 to close out the quarter. The Liberty committed four turnovers and missed five of seven shots to close out the quarter.
Second quarter:
The Liberty caught a break when Lyttle picked up her third foul with 5:26 to go in the first half, but were unable to take advantage. Atlanta beat up the Liberty on the interior, outrebounding New York 24-12 in the half, including 11-4 on the offensive glass and took a 44-39 lead into the locker room.
Pondexter was dynamic in the second quarter, scoring on hard drives to the basket and also from the perimeter. The Liberty lead guard finished the quarter with 10 points and the half with 14. She cut through three Atlanta defenders to convert a layup and cut the Atlanta lead to 38-34.
Nicole Powell
hit a three-pointer 11 seconds left in the half to pull the Liberty within five.
Team owner
James Dolan
is in the house, sitting in his customary baseline seat next to
Allan Houston
. The Liberty are the only Dolan-owned basketball team to make the playoffs since 2003.
First quarter: Cappie Pondexter
picked up her second foul with 4:21 to go in the first. Needless to say, the Liberty can't afford to be without its star guard for along stretch. Pondexter was replaced by
Essence Carson
with 2:31 to go in the quarter.
Anne Donovan
said on Saturday that injured forward
Janel McCarville
was able to limit Atlanta's Sancho Lyttle in the teams' four regular-season meetings. With McCarville on thebench, Lyttle scored ten points on 4-of-5 shooting and grabbed five rebounds in the first quarter, including four on the offensive glass.
The Dream scored the final two baskets of the quarter off of offensive rebounds to take a 27-21 lead.
6:50 p.m.:
The Liberty will be without starting forward
Janel McCarville
tonight in Game 1 of the Eastern Conference Finals against the Atlanta Dream.
McCarville sprained her left ankle on Wednesday morning prior to Game 3 of the Eastern Conference Semifinal against Indiana.
She tried to test the ankle on Sunday morning prior to Game 1.
"We had practice this morning and she's not there. She's not close," Liberty coach
Anne Donovan
said.
Look for
Plenette Pierson
to start in place of McCarville.
Kia Vaughn
should also see significant minutes.