New York Report:

New York Yankees
July, 16, 2013
7/16/13
10:22
PM ET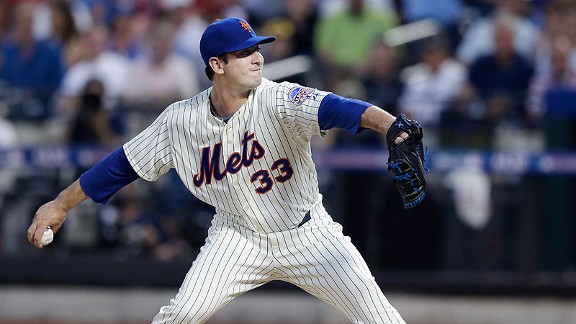 Kathy Willens/Associated PressMatt Harvey posted two scoreless innings in his first All-Star Game.
NEW YORK --
Matt Harvey
topped out at 99 mph. He pitched two scoreless innings. Oh, and Harvey also knocked out Yankees second baseman
Robinson Cano
with the third pitch in the ace's first-ever All-Star Game.
Harvey allowed a first-pitch double to
Mike Trout
down the first-base line, then drilled Cano in the right knee. But with two runners on base and none out, Harvey proceeded to strike out
Miguel Cabrera
on a slider, coax a flyout to center from home-run leader
Chris Davis
, then strike out
Jose Bautista
.
Cano, who initially took first base, limped off the field after the Cabrera strikeout. X-rays were negative.
"I obviously feel terrible about hitting him," Harvey told ESPN Radio. "That's the last thing you want to do in a game like this."
In the second inning,
David Ortiz
flied out to center field,
Adam Jones
struck out on a 98 mph fastball and
Joe Mauer
lined out to left field.
Harvey, who had not pitched since last Monday at San Francisco, threw 32 pitches (22 strikes).
He became the first pitcher to strike out three in an All-Star Game since
Jose Valverde
in 2010, according to ESPN Stats & Information. The only other Mets pitchers to toss two scoreless innings in an All-Star Game with three or more strikeouts: Dwight Gooden (1984) and Tug McGraw (1972).
He next will face the
Philadelphia Phillies
on Sunday at Citi Field.
July, 16, 2013
7/16/13
7:40
PM ET
NEW YORK -- American League All-Star manager Jim Leyland guaranteed Monday that
Mariano Rivera
would pitch in Tuesday's All-Star Game.
And Rivera will hear his customary Yankee Stadium entrance music as well.
According to FoxSports.com, Metallica's "Enter Sandman" will be played over the loudspeakers when Rivera jogs in from the bullpen Tuesday night, despite the fact that Rivera will be pitching in the home of the Yankees' crosstown rivals.
This is Rivera's 13th and final All-Star Game, with the future Hall of Famer planning to retire at the end of the season. That's the second-most All-Star appearances for a pitcher, behind only Warren Spahn (17).
Rivera has actually pitched in the All-Star Game eight times, with a perfect 0.00 ERA and four saves, allowing just one unearned run in eight innings.
July, 16, 2013
7/16/13
3:35
PM ET
By
Mike Mazzeo
| ESPNNewYork.com
July, 16, 2013
7/16/13
12:09
PM ET
By
Mike Mazzeo
| ESPNNewYork.com
NEW YORK -- The
New York Yankees
have just two All-Stars (
Mariano Rivera
and
Robinson Cano
) in Tuesday night's game at Citi Field -- the lowest number for the franchise in a single season since 1993 (
Wade Boggs
and
Jimmy Key
).
Let's take a look at why:
1.
Hiroki Kuroda
(8-6, 2.65 ERA) had the credentials, but American League manager Jim Leyland opted for Baltimore's
Chris Tillman
.
2.
David Robertson
(2.11 ERA) had a chance to be voted in by the fans for the final roster spot, but Toronto's
Steve Delabar
won instead.
3.
Six-time All-Star
CC Sabathia
(9-8, 4.07 ERA) didn't have an All-Star-worthy first half. Neither did 10-time All-Star
Ichiro Suzuki
(.283, six home runs, 13 stolen bases).
4.
Injuries, injuries, injuries.
Alex Rodriguez
(14-time All-Star),
Derek Jeter
(13),
Curtis Granderson
(three) and
Mark Teixeira
(two) are all hurt.
Click here
for a complete history of Yankees All-Stars by season.
July, 16, 2013
7/16/13
12:08
PM ET
By
Mark Simon
| ESPNNewYork.com
A look at the All-Star storylines involving the Yankees' representatives in tonight's game.
The end for Mariano
Mariano Rivera
was named to his 13th All-Star Game, the second-most of any pitcher in major league history, trailing only Warren Spahn's 17.
Rivera has eight All-Star game appearances. The only pitcher with more total appearances is
Roger Clemens
with 10.
Rivera has four All-Star Game saves, the most all time (one more than Dennis Eckersley). His most recent was in 2009. Rivera's All-Star Game ERA is 0.00, with one unearned run allowed in eight innings. The only pitcher with more career All-Star innings pitched and no earned runs allowed is Mel Harder, a former Indians pitcher from the 1930s and 1940s, with 13.
Rivera is tied with
Derek Jeter
and Joe DiMaggio for the third-most selections in Yankees history. Only Mickey Mantle (20) and Yogi Berra (18) have more.
Making sure Mo gets in the game
Jim Leyland has promised that Rivera will pitch tonight, but he could be faced with an interesting situation.
Let's say the AL has a one-run lead with someone other than Rivera pitching in the eighth inning with two outs and a runner on base. Should the NL batter hit a homer, the AL would be trailing and Rivera might not get the chance to pitch unless he's already warmed up at that point.
The solution to that would be to have Rivera ready to potentially earn a save by getting at least one out in the eighth inning. It's been a while since someone got a four-out save in an All-Star Game. The last to do so was Doug Jones of the Indians in 1989. The last to get a two-inning save was another pitcher who wore No. 42, future Hall of Famer Bruce Sutter of the Cubs in 1980.
Cano, don'tcha know
This will be
Robinson Cano
's fourth consecutive All-Star Game start, matching the Yankees' record for starts by a second baseman, previously held by Willie Randolph.
Cano is 1-for-5 in All-Star Games.
Cano went 1-for-4 against NL starter
Matt Harvey
earlier this season, getting a hit on a curve that Harvey hung, popping up and striking out against sliders, and pulling an outside changeup on the ground to first base.
It should be noted that Cano is mashing off-speed pitches from righties this season. He's one of three hitters with 10 or more home runs against curves, sliders and changeups from righties, along with the next two hitters Harvey would face --
Miguel Cabrera
and
Chris Davis
.
July, 15, 2013
7/15/13
11:26
PM ET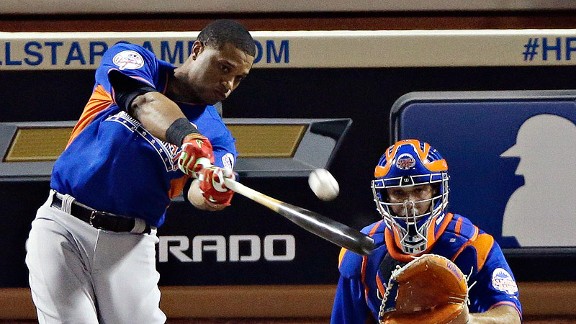 AP Photo/Frank Franklin IIRobinson Cano, captain of the AL team, exited in the first round of Monday's Home Run Derby.
NEW YORK --
Robinson Cano
may have been eliminated in the first round. He may have only hit four home runs. But his Cit Field Home Run Derby experience was better than last year in Kansas City.
"Way better," Cano said.
Captain Cano didn't hit any homers last season in Kansas City after being booed because he chose not to pick
Billy Butler
for the AL team. This year, he was proud of his selection of winner
Yoenis Cespedes
because he was not an All-Star.
"He was hitting the ball really far," Cano said. "That guy is really strong. Unbelievable. That was a great show."
Cano, who had his dad, Jose, throwing to him again, looked on the positive side.
"At least I hit four this time," Cano said.
In 2011, Cano was the champion.
July, 15, 2013
7/15/13
11:10
PM ET
By
Mike Mazzeo
| ESPNNewYork.com
NEW YORK -- Well, that was quick.
New York Yankees
second baseman
Robinson Cano
was eliminated from the 2013 Home Run Derby after hitting just four homers in the first round.
New York Mets
fans cheered when Cano recorded his 10th and final out at Citi Field.
Cano, who served as the American League captain, won the Home Run Derby in 2011.
July, 14, 2013
7/14/13
11:26
AM ET
By
Mike Mazzeo
| ESPNNewYork.com
NEW YORK -- The MLB Futures Game will take place on Sunday afternoon at Citi Field. You can catch the game live at 2 p.m. on ESPN2 and WatchESPN.com.
Here's what to watch for:
FOR METS FANS:
New York Mets
pitching prospects Noah Syndergaard (U.S.) and Rafael Montero (World) will start for their respective teams. Syndergaard, 20, acquired in the
R.A. Dickey
trade, is 2-0 with a 1.35 ERA in four starts for Double-A Binghamton. Montero, 22, is 1-2 with a 4.36 ERA in seven starts for Triple-A Las Vegas. Overall, Montero is 8-5 with a 3.07 ERA in 18 starts between Double-A and Triple-A. Both right-handers could figure in the Mets' long-term rotation plans -- if, of course, they aren't traded.
FOR YANKS FANS:
The
New York Yankees
' lone representative in the game is 22-year-old pitcher Rafael De Paula (World). The Dominican right-hander is 6-4 overall on the season with a 3.65 ERA in 16 games (15 starts) between Class A Charleston and advanced Class A Tampa.
NIMMO, FOUND:
Brandon Nimmo, the Mets' first-round pick in 2011, earned a spot on the U.S. team based on the fan vote. The 20-year-old outfielder is hitting .261 with one home run and 23 RBIs in 62 games for Class A Savannah.
The lineups:
U.S. Team
Billy Hamilton CF (Reds)
Delino Deshields 2B (Astros)
George Springer RF (Astros)
C.J. Cron 1B (Angels)
Matt Davidson 3B (Diamondbacks)
Joe Pederson LF (Dodgers)
Christian Yelich DH (Marlins)
Addison Russell SS (A's)
Austin Hedges C (Padres)
Noah Syndergaard RHP (Mets)
World Team
Reymond Fuentes LF (Padres)
Arismendy Alcantara 2B (Cubs)
Xander Bogaerts SS (Red Sox)
Miguel Sano 3B (Twins)
Henry Urrutia RF (Orioles)
Jordan Lennerton 1B (Tigers)
Gregory Polanco CF (Pirates)
Maikel Franco DH (Phillies)
A.J. Jimenez C (Blue Jays)
Rafael Montero RHP (Mets)
December, 12, 2012
12/12/12
9:00
AM ET
By
Mark Simon | ESPN Stats & Information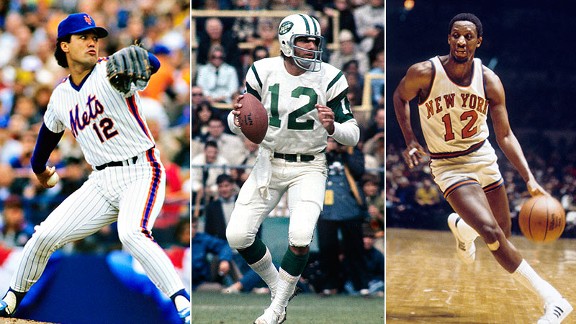 AP Photo/US PresswireIt won't happen again this century, so in honor of today's numerically significant date -- 12/12/12 -- we break down the Big Apple's best-ever No. 12s.
With it being 12/12/12 on our calendar, our thoughts turned to the question: Who were the best players to wear No. 12 in New York professional sports history?
We came up with the best choice, one for each team, below. A tip of the cap to the following sources:
Mets by the Numbers
, by Jon Springer and Matthew Silverman, and the websites YankeesNumbers.com and Sports-Reference.com.
Mets' Best No. 12: Ron Darling
Darling wore No. 12 for most of his Mets career, with Springer and Silverman pinpointing his stats during that time at a 68-38 record and 3.38 ERA (Darling was 31-32 with his other numbers).
Darling had his best Mets moments wearing that number -- his pitcher's duel with John Tudor in St. Louis in October 1985, and his postseason appearances in 1986. He edges out hard-nosed catcher John Stearns and 1969 second baseman Ken Boswell as best of the 12s.
---
Yankees' Best No. 12: Gil McDougald
McDougald was a key member of the Yankees' dynasty of the 1950s, as an everyday player at second base, shortstop and third base at various points in his 10-season career.
McDougald won five World Series rings with those Yankees, won American League Rookie of the Year honors in 1951, hit a grand slam in that year's Fall Classic, hit a game-winning home run against Hall of Famer Warren Sphan in Game 6 of the 1958 World Series, and made the All-Star team five times.
If you're looking for a more recent Yankees infielder, both Wade Boggs and Alfonso Soriano wore No. 12 for the Bombers.
---
Jets' Best No. 12: Joe Namath
The best of the No. 12s in New York sports history led the Jets to the upset win over the Colts in Super Bowl III that made "Broadway Joe" an all-time New York sports legend.
Coincidentally, Namath played 12 seasons with the Jets (he passed on the NFL's St. Louis Cardinals, who drafted him with the 12th pick in the 1965 NFL draft), finishing with 27,057 yards, 170 touchdown throws and 60 victories. Those team records all still stand today.
Namath was inducted into the Pro Football Hall of Fame in 1985.
---
Giants' Best No. 12: Steve Smith
Smith, formerly a star receiver at USC, had 220 receptions in four seasons with the Giants and was a rookie on the team that beat the New England Patriots in Super Bowl XLII. He had five catches, including four that turned third downs into first downs, in that contest.
Smith's best season came in 2009 when he had 107 receptions, by far the most in a single season in Giants history. He edges out former Giants quarterback Scott Brunner for top honors with this jersey number.
---
Knicks' Best No. 12: Dick Barnett
Barnett was the starting backcourt mate of Walt Frazier on the 1969-1970 champion Knicks and a reserve on the 1972-1973 championship squad behind Earl Monroe.
Barnett was best known for his odd-looking jump shot, one in which he'd kick his legs back behind him.
Like others on those Knicks' championship teams, Barnett had a successful post-basketball career, earning a doctorate in education at Fordham. He finished his basketball career ranked eighth in team history in points scored, just ahead of Bill Bradley.
---
Nets' Best No. 12: Lucious Harris
The pickings are a little slim for the Nets, so we'll go with Harris, who wore No. 12 in seven seasons with the Nets, from 1997-98 to 2003-04. He averaged 7.8 points per game as a backup guard.
Harris was a member of the Nets' teams that went to the NBA Finals in 2002 and 2003. His NBA career spanned 12 seasons, also with the Dallas Mavericks, Philadelphia 76ers and Cleveland Cavaliers.
---
Islanders' Best No. 12: Duane Sutter
One of the six Sutter brothers, Duane won four Stanley Cups in his eight seasons on Long Island, from 1979-80 to 1986-87. Sutter's best postseason came in 1982-1983, when he scored nine goals and had 12 assists in 20 games, which culminated with the Islanders sweeping the Edmonton Oilers for the Stanley Cup.
Sutter was a modest scorer throughout his career, topping out at 20 goals in 1985-86. He finished his Islanders career with 121 goals.
---
Rangers' Best No. 12: Don Maloney
Hall of Famer Andy Bathgate wore No. 12 for his first three seasons, but he's much better remembered for No. 9, which hangs from the Madison Square Garden rafters. In his stead, we'll go with Maloney, who represented the number well for 11 seasons.
Maloney was a good player, but never a superstar. He is best remembered for his outburst in his rookie season, when he had seven goals and 13 assists in 18 games in helping the Rangers make the 1979 Stanley Cup Finals (they would lose to the Montreal Canadiens).
Maloney also had the game-tying goal in the final seconds of the decisive game of the 1983-1984 Patrick Division semifinals against the Islanders, a game the Islanders would win on Ken Morrow's goal in overtime.
He finished his Rangers career and played with the Hartford Whalers and New York Islanders before retiring and becoming an NHL executive (after stints with the Rangers and Islanders, he is currently the Phoenix Coyotes' general manager). He currently ranks 11th all-time in career points for the Rangers with 502.
---
Devils' Best No. 12: Bill Guerin
Guerin enjoyed a prominent run in the NHL from 1991 to 2010 -- and it's one that started with him wearing No. 12 for the Devils. In seven seasons with the team, Guerin scored 108 goals and 214 points and was a member of the 1995 Stanley Cup champions.
Guerin would go on to win another Cup with the Penguins, serve as captain during a two-season stint with the Islanders and represent the United States three times in the Olympics. He retired at the end of the 2009-2010 season, finishing with 429 career goals.
June, 8, 2012
6/08/12
2:33
PM ET
By
Greg Newman
| ESPNNewYork.com
The best part of New York interleague play? New York vs. New York, Yankees vs. Mets, Johan vs. Jeter, as debated in bars across the Big Apple, will be settled this weekend.
Fans from around the area have weighed in.
From our Hot Button poll:
Which N.Y. fans have it best?
:
"As of right now, the Mets are overachieving and the Yankees are underachieving. Mets have earned what they have right now. Try cutting down the payrole and starting a bunch of minor leaguers and see where you sit."
- go mets746
Ed.'s note -- The question of what a team has earned is tricky. A team earns where they are by how they play on the field not on how much money the team has.
"I'd take a handful of memorable wins over a mountain of "oh they won again" moments. Don't get me wrong I have respect for the Yankees' greatness but I am happy being a Sox fan. and just for laughs:
Go Mets!
"
- Soxwin91
Ed.'s note -- Huh? You would rather win less often? Isn't a win memorable regardless of how many times they have done it before?
From
Facebook
:
"Its always good to be a yankees fan but right now the mets fans should enjoy it while it lasts"
- Christopher Nolan
Ed.'s note -- It's much better being a Mets fan now than it was last season.
"It's still great to be a Yankee fan. At the end of August when they are still in the hunt there will be some excitement about the team going into the stretch. Can you say the same thing about the Mets this year? That will remain to be seen. But you have to be excited about the way that they have played so far."
- Andrew Lestingi
Ed.'s note -- It's always great when your team is winning.
From
Inside the Matchups: Yanks vs. Mets
:
"Mets have amazing starting pitching talent imo. I'd like to see them flex their muscles in these games. We'll probably lose these games but it's always good to have some cross-town rivalry, I'd say we take the first game with Johan on our side then lose the next two."
Ed.'s note -- We have one prediction, what's yours? Tell us in the comments. Hey, at least you know we're paying attention.
June, 1, 2012
6/01/12
2:48
PM ET
By
Greg Newman
| ESPNNewYork.com
After 50 games, the New York Yankees are in third place in their division. Are the fans worried about not having baseball this October?
From
Yanks may not be around in October
"The Yankees will make the playoffs - probably winning the East in the process - but are unlikely to advance very far based on their feast of famine offensive philosophy"
- ngord24
Ed.'s note -- It's way too early to try to predict playoff series! If the Yankees make the playoffs, which isn't certain right now, their success is likely determined by starting pitching rather than hitting.
"fellow Yankee fans - we need to get our head out of the sand. He is right. The team is not that good. Certainly not good enough to dominate in a vastly improved AL. They are headed to a 85- 90 win season - baring a catastrophy. That likely won't be enough to make the playoffs."
- FredDeCicco
Ed.'s note -- 85-90 wins in the AL East would be pretty good and could definitely lead them to the playoffs. Under the two wild card spot system, 90 wins would have been enough last year.
From
Russell Martin says he had odd run-in
"Umps are just big headed individuals who in my opinion are ruining baseball... Time for an automated system of sorts."
- matthewscott2010
Ed.'s note -- Can we please get started on this? Seeing people argue with computers is an awesome activity that would be even greater with managers kicking dirt on a monitor. I also want an official to the pixel definition of the strike zone.
From
David Robertson out until mid-June
"Our two best arms .. we still winning without both! ..so go yanks we can do this!!!!"
- Yankeesfans809
Ed.'s note -- So much optimism!
"Seems like a couple of weeks ago I was telling my Yankee fan friends that this guy was no
Mariano Rivera
, and the were calling me stupid. Robertson, at best, will be another
Billy Wagner
. All stats, no clutch."
- StubbornlyRational
Ed.'s note -- He's only 27; you can't expect him to be Rivera right now.
From
Opinion: Soriano will remain closer
"I'm just glad we have options with Mo out, I mean it was going to come a day where the Yankees would have to deal with Mo being gone. But not many teams can deal with their closer going on the DL (season ending) and have 2 other options when healthy (Robertson). Go Yankees!"
- YankeesGiantsKnicksfan18
Ed.'s note -- The Yankees have had some bad luck and are in a division where every team is above .500, I would say being only a game and a half out of first in the division would be encouraging.
From
Facebook
"Its still early , I'm a rays fan and I think the yanks will get the wc . Look at the mets they r still over .500 and will probably not make playoffs"
- Doug Siravo
Ed.'s note -- Always good to point out that it's early and we have a lot of baseball left to be played. Wow on the World Series pick! The Texas Rangers look really good.
"yankees will be playing in the postseason in October. no worries"
-Antonio Andon
Ed.'s note -- Antonio isn't worried, are you? Comment and let us know (hey, at least you know we're paying attention).