New York Report:

USOpen2011
September, 1, 2011
9/01/11
8:37
PM ET
Jamie Loeb knows one thing. No matter what, she is staying in New York.

The 16-year-old wildcard entry into the qualifying tournament for the juniors is at an age and a talent level where she could opt for expensive training academies in Florida and make tennis her full time job. Except for one thing.

"I like being at home," Loeb said.

The Ossining, N.Y. teen saw first-hand that it didn't work for her older sister Jenna, the New York State girls tennis champion a record three straight times. Instead, Jamie is ready to carve a path that includes studying online from home, training in part at the USTA Training Center-East and playing in high-level tournaments such as the one that begins Friday on the grounds of the Billie Jean King USTA National Tennis Center.

Her brother Jason, a gym teacher in the Bronx, is taking her back and forth to the tennis center as she practices. The northeast has better coaching these days, but the level of competition may not be as consistently high as it is in Florida, and playing indoors so much of the year isn't optimal. Yet Loeb is not ready to pack up, given two brothers and a sister that can support her game from home.

The Loebs are a tennis family, and Jamie -- nine years younger than her next youngest sibling -- had to be competitive in order to keep up.

"She just has a lot of passion and focus and fight -- the intangibles that a lot of people don't have," said eldest brother Jason, 31.

Right now, Loeb is the top-ranked junior girl in the USTA Eastern Division, and the third ranked nationally. Like her champion sister, Loeb won the NYS high school title as a sophomore. Jenna is listed at 5-foot-3, and Jamie is 5-6. Without a height advantage, Jamie knows footwork and technique are that much more important. It's something she works on with coach Jay Devashetty.

Loeb still feels strange stepping onto the tennis center grounds with a racket in her hand during the U.S. Open, but she has earned the right to be here.

Her first match is at 10 a.m., where she will play No. 6 seed Su Jeong Jang of Korea.

"I feel these past years I've been improving a lot and training hard and I feel like it's paid off and now I'm here," Jamie said. "It's pretty exciting. It's been a long way."

September, 1, 2011
9/01/11
5:46
PM ET
Serena Williams had a tough exchange with a journalist in the press conference after her 49-minute win in the second round. She was asked about the exchange with a line judge at the 2009 U.S. Open, where she used some vibrant profanity to debate a call. The episode made headlines at the time, but Williams did not want to answer questions about the incident on Thursday.

"I'm so over it," Williams said. "You should be, too."

When pressed, Williams said the reporter should find someone else to discuss the topic with.

"Well, then you can talk about it maybe with some of the journalists," Williams said. "Gosh, that was like so long ago. I've died basically and come back and nobody's really writing or thinking about that."

Williams had surgery to remove a pulmonary embolism last April. She was later treated for a hematoma. Both are serious medical conditions, yet she won two tournaments leading up to the U.S. Open and is considered a favorite despite being the 28th seed.
September, 1, 2011
9/01/11
3:49
PM ET

In just four hours, 40 minutes, all three of the matches slated for Arthur Ashe Stadium, the biggest court at the U.S. Open, were complete. No. 28 Serena Williams needed just 49 minutes to beat Michaella Krajicek, 6-0, 6-1.

With customers buying tickets specifically to get a full day of tennis at Ashe, the USTA could opt to move another match to Ashe and have it completed in time for the night session, which starts at 7 p.m.
September, 1, 2011
9/01/11
3:21
PM ET
Christina McHale, the Englewood Cliffs, N.J., teen who won her second-round match Wednesday, the farthest the unseeded player has ever gotten in a Grand Slam event, could get some scouting help today from the women's doubles draw.

Set to face Maria Kirilenko in the third round on Friday, McHale will also face the No. 25 seed today in doubles.

McHale and partner Rebecca Marino face Kirilenko and Nadia Petrova in the second match on Court 6. If she is able to notice anything specific about Kirilenko's game, it could come in handy in the singles draw, where it ultimately counts.

Of course, anything McHale reveals about her own game could help Kirilenko.

UPDATE: McHale and Marino lost 6-1, 6-1.
August, 31, 2011
8/31/11
11:30
PM ET



After her win, Irina Falconi unfolded the American flag she keeps in her gear bag and held it aloft over Arthur Ashe Stadium. She knew her fellow American, Christina McHale, had won earlier and she wanted to send a loud message about American women's tennis.

"It's coming, it's coming," said Falconi, who grew up in the Washington Heights neighborhood of Manhattan. "No need to wait any longer."

In one day, two young underdogs from the New York area gave the hometown crowd something to cheer about, injecting a little excitement to the U.S. Open women's draw on the day Venus Williams left a hole.

It wasn't long ago that McHale was a visitor at the U.S. Open, scouting the grounds of the Billie Jean King USTA National Tennis Center for famous players willing to sign an autograph. Now, the 19-year-old from Englewood Cliffs, N.J. found herself having to sign a few of her own after a 7-6 (2) 6-2 win over No. 8 seed Marion Bartoli in a second round match on the Grandstand Court.

Not long after McHale's win, a victorious Falconi raised the flag after beating No. 14 Dominika Cibulkova 2-6, 6-3, 7-5. The 21-year-old, who grew up in Washington Heights, had her match moved to Ashe after Williams withdrew citing an autoimmune disease called Sjogren's Syndrome.

"I've heard so much about media talking about American tennis," Falconi said, "and I really wanted to portray that there's a huge wave of American players."

Williams, her titles and her name recognition, leaves a gap at the U.S. Open. Not having Williams, Kim Clijsters, defending Wimbledon champ Petra Kvitova and defending French Open champ Li Na leaves a void. Crowds that might have cheered for the sport's stars instead roared for two local fighters on show courts Wednesday afternoon.

"I think there's a lot of American players, young American players, right now that are all kind of pushing each other," McHale said. "So I think it's exciting."

Neither McHale nor Falconi, both unseeded, had ever won in the second round of a Grand Slam event before. McHale beat world No. 1 Caroline Wozniacki earlier this year, but the stage for Wednesday's win made it memorable.

"I had never really, at the Grand Slams, made it past the second round," McHale said. "Yeah, [the Wozniacki win] was a good win for me, too, but I think to have it happen here at the Grand Slam is exciting for me."

After starting the third set down 0-3, Falconi's last shot was one for the highlight reel. She served, and Cibulkova hit it back low enough to clip the net and fall short into Falconi's court. Falconi darted wide toward the net and got the ball, returning it for a winner and leapt in celebration.

"In the third set, I thought to myself, 'This is now or never,'" Falconi said. "I just started really zoning in on what I had to do to win every single point and it paid off."

McHale has been training at the USTA Training Center-East, where she has hit with Patrick McEnroe, the USTA's general manager of player development. But her parents have said, growing up, McHale never went through the normal developmental channels.

McHale learned the game in Hong Kong while her father was on assignment there. Falconi went the nontraditional route as well, learning on the courts of Inwood Hill Park with an old wooden racket. She even went to Georgia Tech for two years before leaving to pursue a professional career.

Not only are McHale and Falconi friends who have living in the New York area in common, but they both speak fluent Spanish. Falconi moved to New York from Ecuador when she was 3 years old, and McHale's mother came to the U.S. from Cuba as a 2-year-old.

"I think the fact that her and I both have New York roots, we're from up here, it's just unbelievable," Falconi said.

August, 31, 2011
8/31/11
6:29
PM ET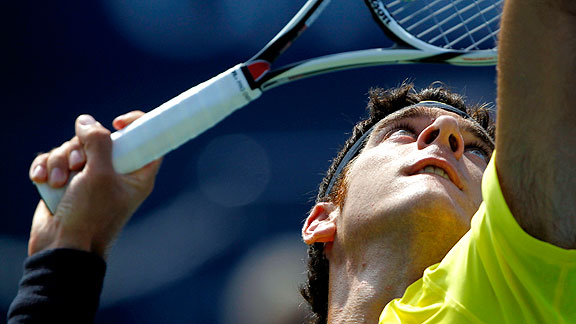 AP Photo/Mike GrollFormer U.S. Open champ Juan Martin del Potro topped Italian Filippo Volandri on Wednesday.
NEW YORK --
Juan Martin del Potro
is a different player this year, two years removed from his U.S. Open title and one year after wrist surgery. But after a decisive first-round win, he isn't overestimating his chances to grab his second crown.
"Today, many players are playing better than me," he said.
Del Potro didn't look like he missed a step as he easily won his first match of the 2011 U.S. Open on Wednesday afternoon. And he is constantly encouraged by his fans -- who may believe in him more than he believes in himself right now.
"I feel like the final was yesterday, because when I was walking around the street or when I talk with the fans, they say, 'I remember your final. You can repeat,'" del Potro said. "'You can win again.'"
Under the midday sun at Louis Armstrong Stadium, the No. 18 del Potro overpowered Italian
Filippo Volandri
, 6-3, 6-1, 6-1. The match took 1 hour, 28 minutes. The 6-foot-6 Argentinian had 18 aces in the match, his fastest serve clocking in at 130 mph.
Volandri had a chance to challenge del Potro in the first set, yet down 5-3, Volandri double-faulted twice as he was broken to cede the first set. The Italian came into the Open with a 10-match losing streak.
Del Potro's serve is still not as strong as he would like, his consistency is not as good, and he can feel the change of the weather in his wrist on a humid day.
Last season, del Potro missed the chance to defend his title when he needed surgery on his right wrist. He was off the tour until September 2010, and has won two ATP Tour titles -- Delray Beach and Estoril -- since his return.
With the win over Volandri, he has won eight straight matches here dating back to his title run.
When he stepped into the USTA Billie Jean King National Tennis Center, del Potro said he felt very heavy with emotion. He can remember watching the U.S. Open on television and hoping to win it someday. He recalled the Argentinians in the crowd, the people who rooted for him as he faltered against
Roger Federer
in the 2009 final.
"And so [to] be playing here after [my] win here, it's special," del Potro said. "It's my favorite tournament, so I'm really happy to take the opportunity to play here again."
Over and out:
Robin Soderling
, the No. 6 seed on the men's side, pulled out of the tournament Wednesday morning with a viral illness. He has only played one tournament since Wimbledon due to a wrist injury. Soderling had reached the quarterfinals of the U.S. Open twice in nine appearances.
Rogerio Dutra da Silva
of Brazil will replace Soderling in the draw and will face No. 618 qualifier
Louk Sorensen
.
August, 31, 2011
8/31/11
4:11
PM ET
Starpower at the U.S. Open continues to fade as
Venus Williams
withdrew from the tournament with an unspecified illness. The loss of such a prominent player further dampens the shine on the women's draw. Defending champion
Kim Clijsters
, who won the Australian this year, coupled with losses by Wimbledon champion
Petra Kvitova
and French Open winner
Li Na
in the first round means there are no defending Grand Slam players left in the draw.
On the bright side, there are some young American women who have performed well, including New Jersey's
Christine McHale
, who beat No. 8
Marion Bartoli
7-6 (2), 6-2 in the second round on the Grandstand Court.
UPDATE:
Williams said she was diagnosed with Sjogren's Syndrome, an autoimmune disease that causes fatigue and joint pain.
Follow the developing story here
.