New York Colleges:

Fordham
November, 12, 2013
11/12/13
11:36
PM ET
As much as its undefeated football team has summoned the glory days of Vince Lombardi and the Seven Blocks of Granite and bygone bids to the Sugar and Cotton Bowls, Fordham often defines its athletic standing by the success, or lack thereof, of its men's basketball team. In that context, Wednesday represents a big day for the Bronx school trying to emerge from the deepest depths of the Atlantic 10 Conference.
[+] Enlarge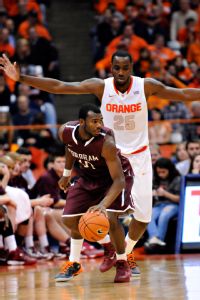 Mark Konezny/USA TODAY SportsHelp is on the way for Fordham freshman guard Jon Severe.
Eric Paschall, a 6-foot-6 wing at Connecticut's St. Thomas More Prep, is scheduled to make it official in signing with the Rams to give their coach, Tom Pecora, the kind of one-two recruiting punch some believe the Bronx school hasn't landed in decades. Like Paschall, Fordham freshman
Jon Severe
, a Parade All-American and Mr. New York Basketball out of Christ the King Regional High School in Queens, was pursued by bigger schools in bigger conferences before deciding to try to revive a Division I program close to home.
Tom Konchalski, the widely respected talent evaluator who produces the scouting newsletter HSBI Report, said Severe and Paschall represent Fordham's most promising package of recruits since it landed future NBA players Kenny Charles and Charlie Yelverton in the late 1960s.
"And you have to give Tom Pecora a lot of credit for getting them," Konchalski said. "These are signature recruits, the foundation of a program. They're the kind of kids who can raise Fordham a level in the Atlantic 10 and give them a real chance to win in that league. ... When Paschall committed verbally, I didn't know if Fordham would be able to hold on to that commitment. He can play at the highest level."
Paschall's future teammate, Severe, scored 28 in Fordham's season-opening victory over St. Francis (Pa.); the 6-3 guard scored 19 Tuesday night in the Rams' 89-74 loss at Syracuse. Paschall transferred to St. Thomas More from Dobbs Ferry, where he gave a verbal commitment last year that surprised those who figured he'd end up in the Big East or Big Ten.
"Eric could've signed with a school in any of those conferences," said his father, Juan. "But he established a great relationship with the Fordham coaches, it's close to where we live and, after the air comes out of the ball, a Fordham degree carries a lot of weight in the New York area. There's no better place to win than in New York, and I think Eric and Jon Severe will have Fordham winning a lot sooner than later."
Said Eric, who has a 6-10 wingspan: "It's great to go somewhere 15 minutes from my house, and I think we can turn the program around quickly."
December, 8, 2012
12/08/12
11:25
PM ET
It wasn't pretty -- but it will go down in the record books.
St. John's barely beat a struggling and shorthanded Fordham squad on Saturday, winning 58-47 at Madison Square Garden.
But the game will be remembered for the performance of St. John's freshman center
Chris Obekpa
, who shattered a school record with 11 blocked shots, in just his 10th college game.
The 6-foot-9 Obekpa actually set a new record in his St. John's debut, blocking eight shots against Detroit on Nov. 13. That mark didn't last very long.
"Nothing," said the soft-spoken Obekpa, when asked what was going through his mind as he swatted shot after shot Saturday night "Just play good defense, and it'll come to you. That's it."
"I've never in my 25 years as a coach -- assistant coach, head coach, broadcaster, back to head coach -- I've never seen anybody quite like Chris," said St. John's coach Steve Lavin. "Because he doesn't have the 7-foot-1 Tyson Chandler size. But the combination of his basketball intellect, and his length and timing, is what separate him from anyone I've seen."
[+] Enlarge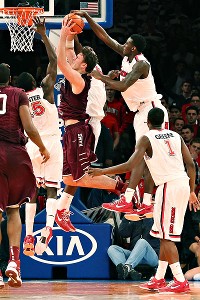 Anthony Gruppuso/USA TODAY SportsThe St. John's defense, including Chris Obekpa (who blocked a record 11 shots), collapse on Rams center Ryan Canty.
Lavin was fortunate to get a strong defensive performance from his team on Saturday, because the Red Storm were woeful offensively.
St. John's shot just 9-for-34 (26.5 percent) in the first half, and trailed 27-24 at intermission. For the game, the Red Storm shot 20-for-61 (32.8 percent) from the field, and 16-for-29 from the foul line (55.2 percent).
But Fordham was even worse, shooting 19-for-66 overall (28.8 percent), including 8-for-38 in the second half (21.1 percent).
"I think in the second half their length bothered us," said Fordham coach Tom Pecora, whose team dropped to 1-8. "I think we didn't show enough poise in our shot selection, and that hurt us."
St. John's star guard D'Angelo Harrison had his second straight subpar game, shooting 3-for-12, and finishing with 14 points. Freshman
Jakarr Sampson
got off to a slow start, but picked it up in the second half and finished with a double-double (16 points, 10 rebounds).
Lavin attributed the poor start, at least in part, to it being the Red Storm's first game of the season at Madison Square Garden. "I think early, our newcomers in particular had some jitters," Lavin said.
"When you step on the court, it's just, like, blinding -- just the lights and the stage is on, and all the history that has happened on the court," said Sampson. "It's just big-time."
The Red Storm improved to 7-3, but Lavin has plenty of things to worry about. His team entered the game shooting 63.6 percent at the charity stripe (ranking them No. 286 in Division I), and that number will drop even lower.
St. John's was also outrebounded by Fordham, 56-40, including 24-17 on the offensive glass.
"We have to do it by committee. … Because we don't have that traditional wide body," Lavin said, when asked about rebounding. "More than anything, I think it's continuing to have an awareness and amplify the sense of urgency from all five players to rebound, similar to gang tackling in football."
But one thing's for sure -- Lavin has a game-changer on defense in Obekpa. The freshman now has 49 blocked shots in 10 games -- that's the second-best average in college basketball, behind only Kansas center
Jeff Withey
.
The NCAA record for blocked shots in a single game? Sixteen, set by Alabama A&M's Mickell Gladness back in 2007.
Obekpa was asked if he thinks he can get 15 or 20 blocked shots in a game. "Yeah, that's what I'm hoping to do," Obekpa said.
Mr. Gladness might have reason to worry. Just like the rest of the Red Storm's opponents.
December, 8, 2012
12/08/12
9:32
PM ET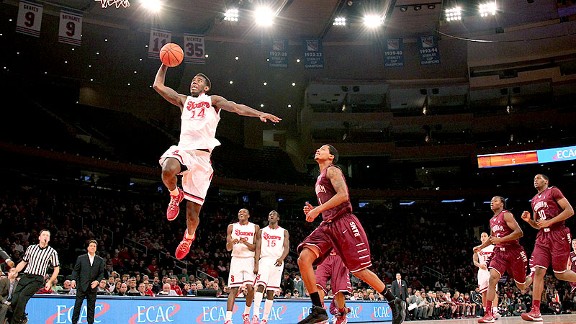 Anthony Gruppuso/USA TODAY SportsSt. John's Red Storm forward Jakarr Sampson elevates over the Rams defense for the dunk.
What it means:
St. John's has a lot of work to do if it wants to be competitive in the Big East this season.
The Red Storm struggled to beat Fordham -- picked to finish 14th in the Atlantic 10, and missing its best player (
Chris Gaston
) due to injury -- on Saturday night, ultimately winning 58-47 at Madison Square Garden.
St. John's improved to 7-3, but there are glaring issues, such as rebounding and free throw shooting. Fordham dropped to 1-8.
Turning point:
St. John's shot the ball very poorly in the first half -- Fordham was ahead most of the way. The Rams led by as many as seven, and took a 27-24 lead into the locker room.
St. John's took the lead early in the second half, but couldn't put Fordham away until late. The Red Storm were up by just five at the final media timeout, 49-44, with 3:25 remaining. Coming out of that timeout,
D'Angelo Harrison
drained two foul shots, and then
Jakarr Sampson
drilled a jumper from the top of the key to make it 53-44 and put some serious distance between the teams, finally.
Star watch:
Harrison had his second straight subpar game, finishing with just 14 points, shooting 3-for-12 from the field. Sampson had a double-double, with 16 points and 10 rebounds. The St. John's star was freshman center
Chris Obekpa
, who shattered his own school record with 11 blocked shots -- in just his 10th game with the Red Storm! He set a new school record with eight blocks in his very first game, against Detroit on Nov. 13. Quite a start to his college career.
Sophomore center
Ryan Canty
had a huge game for Fordham, with 15 points and 16 rebounds.
Number crunch:
St. John's shot 20-for-61 from the field (32.8 percent), and 16-for-29 from the foul line (55.2 percent) -- pretty brutal. They also were outrebounded 56-40, including 24-17 on the offensive glass.
What's next:
St. John's will play St. Francis (NY) next Saturday at 5 p.m. at the Barclays Center -- it's the middle game of the Brooklyn Hoops Winter Festival tripleheader. Fordham is also part of that event -- the Rams will play Princeton in the first game, at 2:30 p.m. (No. 3 Michigan plays West Virginia in the third game, at 8 p.m.)
May, 29, 2012
5/29/12
6:24
PM ET
Fordham University has announced a contract extension for men's basketball coach Tom Pecora, through the 2016-17 season.

Pecora took over at Fordham after the Rams won just two games in the 2009-10 season, and has won 17 games in his first two seasons at the helm, including victories over St. John's, Georgia Tech and a nationally-ranked Harvard team.

"Tom Pecora has done a tremendous job getting the Fordham program moving in the right direction," said athletic director Frank McLaughlin in a statement. "Tom has worked tirelessly to improve all facets of the program, not only upgrading the on-the-court results but he has also revitalized our alumni and fan base and has brought Fordham basketball great exposure on the national level."

"I'm grateful to the university for making this commitment to myself, my staff and my family," Pecora said. "Since our first day at Fordham we have been doing everything possible to get this tradition-rich program back to where it should be and we will continue to work hard in order to accomplish our goals and represent Fordham in a first-class manner."
May, 25, 2012
5/25/12
2:31
PM ET
Fordham University is in the market for a new athletic director, to replace longtime AD
Frank McLaughlin
.
McLaughlin has been given a new position, as the associate vice president of student affairs for athletic alumni relations and external affairs/athletic director emeritus.
Click here
to read more.
October, 13, 2011
10/13/11
8:27
PM ET
Despite a tough start to his tenure at Fordham a year ago, men's basketball coach Tom Pecora has high hopes for his Rams this coming season.

"This is an unforgiving league, as any good league is," Pecora said at the Atlantic 10's annual Media Day in Brooklyn on Thursday. "But I feel confident we're gonna make strides in moving forward this year."

After winning four games in a row in December 2010, including a stunning comeback victory over St. John's, Fordham proceeded to lose 17 games in a row between Dec. 29 and March 2. The Rams salvaged a 77-73 win over UMass in their final game of the season to avoid going 0-16 in the league.

That would have been Fordham's second straight winless season in the Atlantic 10, after going 1-15 in 2008-09 -- leading to the dismissal of former coach Dereck Whittenburg.

Pecora, who led Hofstra to four 20-win seasons in his final six years there before taking the job at Fordham, wasn't used to losing on that kind of scale.

"I wasn't shocked by it (though)," Pecora said. "What set us back a little bit was Brenton Butler got hurt, played a little banged up for a while. And then Marvin Dominique got hurt, and that really hurt us because we lost depth on the baseline, so foul trouble plagued us and we had to sit in zones more than we thought.

"Now, there were some A-10 games where I thought we were gonna be able to eke out a win, and then we just folded late. And I think a lot of that had to do with -- it's not about just the minutes they're playing that night, it's about the minutes prior and the way you have to practice when you're banged up and things like that."

Fordham lost just one starter, Butler, from last year's squad. The Rams will again be led by 6-foot-7 junior forward Chris Gaston, who led the team with 15.9 points and 11.3 rebounds per game last season. (The rebounding average placed him fourth in Division I.) But Pecora has also added seven freshmen to the roster, including some high-scoring guards from local New York City high schools.

"I'm excited. I think that it'll be more like teams I've coached in the past, in the sense that I felt at times last year due to our lack of depth I had to coach every pass, and I'm not built that way," Pecora said. "I like to give guys freedom offensively, and I'll coach 'em up defensively and really get them right rebounding and defending the basketball. But by having greater depth this year we'll be able to play a little bit more like our teams have played in the past."

Fordham was picked to again finish in last place in the Atlantic 10 in the conference's preseason poll, but Pecora thinks his team will do better than that -- although he won't set a specific goal.

"I don't put hard numbers down," Pecora said. "We have the same goals all the time. We talk about having a winning nonconference record. We talk about having a winning record at home -- I mean, that's important as you build a program, the first thing you need to do is win at home. And then as you mature, you can go win on the road. And I think we'll move forward in that process as time goes on."

Fordham opens up its season at Syracuse on Saturday, Nov. 12, at 4 p.m.
May, 13, 2011
5/13/11
5:42
PM ET
She's very close to Fordham's all-time wins record, but that's not of paramount importance to softball pitcher
Jen Mineau
. Although she might be the best pitcher in school history, standing just two wins shy of her school's all-time mark, Mineau is only focused on what her team can accomplish in the next few days.
"It doesn't really mean much to me if we don't win the Atlantic-10 tournament," Mineau said. "We have to do that. None of the records mean anything unless you take the championship trophy home."
Mineau, a junior with seven no-hitters in her career, will try to lead Fordham to its first-ever A-10 tournament title and tie the school's all-time wins record on Saturday. Fordham is the top seed and is 2-0 in the tournament. They are just one win away from the title after defeating Massachusetts, 1-0, in extra innings on Friday. Mineau is 74-28 overall in her career.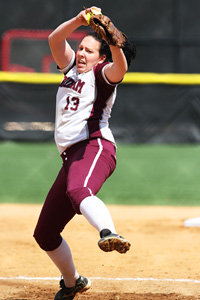 Courtesy of Fordham University
Fordham ace Jen Mineau is 22-7 this season with a 1.25 ERA and 258 strikeouts.

"She'll definitely accomplish [the all-time wins mark] and she deserves it," fellow pitcher
Chelsea Plimpton
said. "She's won some really big games and she's one of the big reasons why we have been put on the map and she deserves that award."
In not quite three full seasons at Fordham, including two injury-riddled years, Mineau already has a laundry list of accolades at the Bronx-based school.
She has four perfect games among her seven no-hitters, including one in the 2010 Atlantic-10 tournament. This season she is 22-7 with a 1.25 ERA and 258 strikeouts. She has one perfect game and one no-hitter.
Mineau, a native of Schaghticoke, N.Y., is already the school's all-time leader in strikeouts, shutouts, no-hitters and career ERA, while closing in some other milestones. Mineau is also the single-season leader for appearances, games started, complete games, wins, innings pitched, strikeouts, shutouts and ERA.
Coach
Bridget Orchard
, who has been with the Rams the past 10 years and led the program to its first winning season, called her junior ace the best pitcher she has had and an important piece as the Rams try to build their program to a top level.
"I think the team sees what she does on the field -- when she's pitching well, she shuts people out," Orchard said. "We have the confidence behind her and our hitters can hit better when she's shutting people out, relax a little bit more knowing if they can score a run we can win a game with her on the mound. I think that leads to overall team confidence as well."
She is armed with a drop ball, a rise ball and a "nasty" curveball, according to Rams pitching coach
Brealand Edwards
. He said Mineau's confidence and ability to overcome adversity are critical factors in her success on the mound. Edwards said she's mentally prepared and does her homework before each start, knowing the vital statistics about each hitter she is going to attack during the course of a game.
Overcoming adversity has been something Mineau has been forced to do at Fordham, as she has battled through injuries. In both her freshman and junior seasons, she played with a stress fracture in her right foot. She also has tendonitis and degenerative arthritis in her right foot.
Not surprisingly, the best season of her career came in her sophomore year when she was fully healthy -- that's when she set her handful of single-season records for the Rams, going 34-9 on the season.
Minaeu said the right foot problems are an injury that she's come to accept. It won't go away until the end of the season, so she has to do the proper maintenance until then. When she's pitching, she tries not to let the pain get to her. And she described the injury as one that aches after extended playing time, but when pressure is applied there's sharp pain in the middle of her foot.
"The right foot is her landing foot, which can be problematic as it can affect the snap and bite on her pitches," Edwards said.
To monitor the injury, the Fordham coaching staff scaled back Mineau's starts and innings this year. This has allowed her teammate, Plimpton, to start more games during the course of the year -- keeping Mineau ready to go for the playoffs. The plan appears to be working.
"All pitchers want to pitch as much as they can, but I'm definitely more fresh now than I was last year when I wasn't even injured," Mineau said. "I definitely feel a lot better going into the postseason than I did last year."
That is bad news for Fordham's opponents. With the Rams not assured of an at-large bid to the NCAA championship, winning the A-10 tournament would be their easiest and most hassle-free way to make it back for the second straight year. Last season was the first time the Rams were ever selected.
The ball will be placed in Mineau's hands. She's up to the challenge.
"It would just be wonderful," Mineau said of possibly winning the title. "Our senior class is very special and it would be wonderful to be able to send them off with Fordham's first A-10 championship."