December, 31, 2011
12/31/11
4:24
PM ET
HARTFORD, Conn. -- St. John's never led against No. 9 Connecticut on Saturday at the XL Center.
But they never gave up, either. Trailing 70-47 with 7:13 to play, the Red Storm easily could have packed it in on this New Year's Eve. Instead, they went on a 14-2 run to cut the deficit to 11 and make things a little interesting.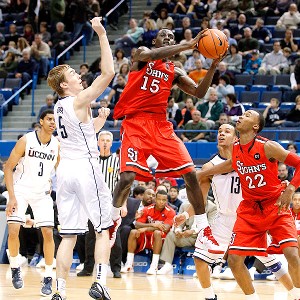 David Butler II/US PresswireSir'Dominic Pointer scored 14 points and showed his highlight-reel potential.
St. John's never got closer than that, ultimately losing 83-69. But they competed until the last second. In fact, they didn't even stop there.
Sir'Dominic Pointer
threw down a one-handed jam off a rebound just after the horn sounded -- indicative of the spirit St. John's exhibited all afternoon long.
"Certainly we learned a lot as a group coming in here and playing obviously one of the better teams in the country," interim head coach
Mike Dunlap
said. "It felt like we got better since the Kentucky game. But we have a couple more steps to take to be able to compete and try to win this game, which is the ultimate goal for us."
On the first day of December, St. John's faced top-ranked Kentucky in Lexington and was exposed -- trailing by as many as 27, losing 81-59, clearly a class below
John Calipari's
Wildcats at that time.
On the last day of December, the Red Storm looked very different -- proving they belonged on the same court as a top 10 team, even if the final margin wasn't pretty.
"The biggest improvement was mentally," Dunlap said. "We played with a togetherness. That game could have gotten away from us in a big way.
"We kept coming at them, and I don't know that we had that cohesiveness against Kentucky."
D'Angelo Harrison
shot just 4-for-16 from the field, but kept taking the ball to the rack against UConn's intimidating front line, earning 10 free throws and finishing with a team-high 17 points. Pointer attacked the rim on several occasions as well, scoring a career-high 14, including a couple of dunks you will see on "SportsCenter," guaranteed.
And
Moe Harkless
, who set a new Big East record with 32 points in his conference debut against Providence on Tuesday, scored 16 more -- and learned a valuable lesson.
"I think that I should have done a better job in the end of trying to take over the game," said Harkless, who took only 11 shots on the day. "I didn't assert myself as much as I should have. But for future games I will -- if a time comes like that again, I will take over the game."
UConn, the defending national champion, and clearly capable of winning another one this season, was firing on all cylinders Saturday, in front of a raucous sell-out crowd. The Huskies drained jumpers when they were open, and even when they were not, making 29 of 48 from the field (60.4 percent), including nine of 16 from 3-point range.
St. John's, on the other hand, made just 21 of 58 (36.2 percent), and four of 24 from beyond the arc.
Yet, despite those numbers, this was a contest. And a much different St. John's team than the one we saw 30 days ago.
"There's no moral victories," Harkless said. "A loss is a loss. We just gotta get back in the gym and work hard, and on Tuesday we gotta bounce back."
Louisville is next up, at Madison Square Garden on Tuesday. Another top 10 opponent -- and another chance for this St. John's team to prove it belongs.
December, 31, 2011
12/31/11
2:09
PM ET
HARTFORD, Conn -- A quick take on
St. John's 83-69 loss
to No. 9 Connecticut on Saturday afternoon at a sold-out XL Center.
WHAT IT MEANS:
St. John's has its three-game winning streak snapped, and falls to 7-6 overall, 1-1 in Big East play. UConn (12-1, 2-0) is the second top 10 opponent the Red Storm have faced on the road already this season. While the final score was similar to the game at Kentucky back on Dec. 1 (81-59), St. John's played better this time around.
THE SKINNY:
UConn jumped out to an early lead in this one, as it took St. John's almost four minutes to get on the scoreboard. The Huskies took their biggest lead of the first half, 35-21, with just over four minutes to play, and led 38-25 at the break. The Red Storm shot just 8-for-32 from the field, 1-for-13 from 3-point range, but hung in there by shooting 8-for-8 from the foul line and turning the ball over only three times.
UConn continued to drain shot after shot early in the second half, scoring on its first five possessions. The Huskies opened up their largest lead of the game, 70-47, with 7:16 to play. St. John's went on a 12-1 run from there, cutting its deficit to 71-59 with just over four minutes left. That was as close as the Red Storm got.
IN THE SPOTLIGHT:
Every starter except
Phil Greene
was in double figures for St. John's.
D'Angelo Harrison
led the way with 17 points. Harrison did not shoot the ball well (4-for-16), but showed good aggressiveness against the defending national champs.
God'sgift Achiuwa
and
Moe Harkless
had 16 points apiece. And
Sir'Dominic Pointer
had a career-high 14 points and a team-high eight rebounds, including a couple of electrifying dunks you'll be seeing on "SportsCenter."
NUMBER CRUNCH:
UConn shot 29-for-48 from the field (60.4 percent), St. John's 21-for-58 (36.2 percent). That disparity is too much for any team to overcome. On the bright side for the Red Storm, they only turned the ball over seven times and forced 15 UConn turnovers.
WHAT'S NEXT:
Another tough game for St. John's, hosting No. 4 Louisville on Tuesday night at Madison Square Garden.
November, 11, 2011
11/11/11
9:20
PM ET
November, 4, 2011
11/04/11
8:00
AM ET
By
Ian Begley
| ESPNNewYork.com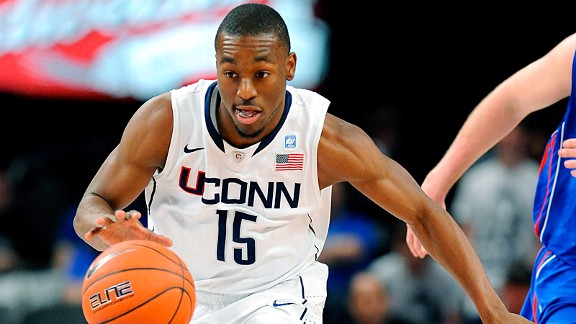 Rich Kane/Icon SMI
If there was no lockout, Kemba Walker would be making his home debut for the Bobcats on Friday. Instead, he's working out at UConn.
Kemba Walker
would much rather be in Charlotte right now, playing his first pro games with the Bobcats.
Instead, he's hanging out in Connecticut, training with the UConn Huskies and waiting for the NBA lockout to end.
"It's cool," the Bronx-born Walker said last week, at an appearance to promote his new UnderArmor sneakers. "I'm working out with the team, practicing with those guys. I'm trying to help them get better and they're helping me get better."
Of course, he'd prefer to be working with the rest of his Bobcats teammates. But the NBA lockout has that on hold for now. So he's in Storrs - - playing alone in the morning and with the team later in the day - - helping ex-teammates like
Shabazz Napier
and
Jeremy Lamb
prepare for the season.
"It's great to me," Walker said. "Everything is free."
Walker was smiling when he said it, but it's clear that the lockout - - which entered its 127th day on Friday - - is starting to frustrate him.
"As time goes by, now it's starting to get harder because it gets a little old, working out every day alone," he said. "I'm trying to stay positive. I'm just ready to play basketball. That's the only thing, I'm ready."
The former Rice HS star left UConn last year after a fairy-tale junior season in which he earned Big East Tournament MVP and led the Huskies to the national championship. He also earned his degree in three years, so he decided to enter the NBA Draft early without much second thought.
Now, as he works out with his ex-teammates, Walker wonders what would have been if he'd stayed for his senior season.
"I wouldn't think about that if there was no lockout," he says.
If there was no lockout he'd be in Charlotte, getting ready for his first home game with the Bobcats on Friday. Instead, he's still working out in Stoors.
WALKER HONORS GUACHOS:
Walker played on what many considered the top AAU team in the country in the summer of 2007. He shared a backcourt with future West Virginia guard
Darryl Bryant
and future Drexel guard
Chris Fouch
with the Guachos that summer. Also on that team was future Long Beach State forward
Dan Jennings
, future Seton Hall guard
Jordan Theodore
and future Miami guard
Durand Scott
.
To honor that edition of the Gauchos, which was coached by current Arizona assistant
Emmanuel "Book" Richardson
, Walker and UnderArmor created an orange and black sneaker featuring the names of his Gauchos teammates on the insole.
Most of his Gauchos teammates were products of New York City high schools as well. Walker, Scott and Fouch went to Rice HS in Manhattan and Bryant went to St. Raymond HS in the Bronx.
Making the shoe was "a dream come true," Walker said.
Walker's face is plastered on subway posters and the sides of buses all over New York City as part of UnderArmor's "Are you from here?" campaign to promote the shoe. He's also featured in a national commercial.
"It's crazy. I never thought I'd ever see something like that," he said.

Connecticut G
Kemba Walker
joins 1050's "
Mike and Mike in the Morning
" to discuss why he believes he's ready to play at the highest possible level and more.