BRONX, N.Y. -- Manhattan coach Steve Masiello talked a big game at his introductory news conference last April.
He said, "We are gonna be the hardest-working team in the country." He said, "We are going to create a new brand, and it's gonna be the best in the city."
But he held something back. Something which he only shared with the 6-25 team he inherited, in their first meeting two days later:
That their goal was to play in the Metro Atlantic Athletic Conference championship game -- this year, on March 5, 2012.
"We kept that very private early," Masiello said Thursday, in a pre-practice interview. "But all year, all we've talked about was March 5th. That's been the goal from when I had my first team meeting April 15th, was March 5th, 2012. That's what we're playing for."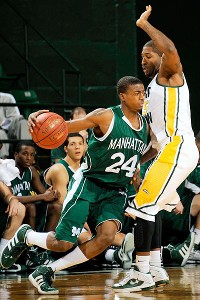 Rafael Suanes/US Presswire
George Beamon has been Manhattan's driving force on the floor this season.Amazingly, that goal appears well within reach. The Jaspers have surged from 6-25 to 18-10 so far this season, heading into their BracketBuster tilt with UNC-Wilmington (9-17, 5-11 CAA) Saturday afternoon at Draddy Gymnasium. Their 11-5 conference record places them fourth in the MAAC, just two games behind league leader Iona, and Manhattan has already beaten the Gaels once this season in New Rochelle.
The 12 additional wins marks the most dramatic turnaround in Division I this season.
"Definitely a little," said junior George Beamon, when asked if he's surprised by the team's success. "No one knew coming into the season what to expect. But after we started getting comfortable with the style of play, we felt the sky was the limit."
That style of play is a full-court up-and-down attack, pushing the ball on offense and pressing on defense, which Masiello picked up as an assistant to Rick Pitino at Louisville. And it's paying dividends, particularly at the defensive end. Manhattan is 37th in Division I in field-goal percentage defense (39.9), 36th in blocked shots per game (4.9), and 52nd in steals per game (7.9).
But first the players needed to get into good enough shape to play this way. "Crazy" is how Beamon first described the offseason workout program. "The conditioning was like 10 times anything I've ever been through."
Beamon specifically mentioned having to push tires around, and run up a particularly challenging staircase at 238th Street and Broadway 20 times in 30 minutes. Teammates threw up at times, Beamon said. He never did, "although I definitely felt like it."
"It's all for the better though," Beamon added. "It just got us ready for the season. So when we got into the season, this [style of play] would be nothing. Pressing, that would be nothing."
Beamon, a wiry 6-foot-4 guard from Roslyn, N.Y., has blossomed more than anyone under Masiello. He was third-team All-MAAC a season ago, but has upped his scoring average to 17.7 points per game. He's also shooting 41.4 percent from the 3-point line -- up from 15 percent last year.
Turns out Masiello and associate head coach Matt Grady noticed something immediately about Beamon's jump shot when they began watching video from last year -- he held the ball in front of his face, blocking his vision. So they had him start shooting with the ball off to the side of his head, 1,000 shots a day, and even taped up his left hand to make it so stiff he wouldn't be able to overcompensate with his off hand.
"Then he got confidence with it," said Masiello. "And now instead of always looking to drive it he was looking for his 3."
"His game has totally changed," Masiello added. "He's just an incredible kid, and where I'm proud of him is, he's become a stat-sheet stuffer. Assists, rebounds, deflections, steals, blocks -- he does it all now."
Beamon is the only Jasper who averages in double figures in scoring, but he has a lot of help nonetheless. Ten players average at least nine minutes per game, and eight of them score at least five points per game.
Starting point guard Mike Alvarado, also the team's second-leading scorer (8.4 ppg) is going to miss some time after fracturing an orbital bone in Manhattan's loss at Siena on Tuesday, but he is expected to be ready by the MAAC tournament next month.
The tourney, which will be held in Springfield, Mass., this year, starting March 2, should be very exciting. The current top four seeds -- Iona (21-6, 13-3), Loyola (19-7, 12-4), Fairfield (16-10, 11-4) and Manhattan -- all appear very capable of winning it.
If the Jaspers somehow pull it off and go to the Big Dance this year, it would be almost as improbable as a point guard from Harvard rejuvenating the Knicks.
But either way, their new coach sounds confident about the future.
"I love where this is going," Masiello said. "I said it at the press conference, I said it in the preseason, I said it at all times -- our goal is to be the VCU, the Murray State, the Butler, of mid-major basketball. That's where we wanna get to. We want to be in that conversation.
"Are we there yet? Absolutely not. Is that our goal? Yes. Are we building towards that? Yes."