QUEENS, N.Y. -- On Senior Night at Carnesecca Arena, St. John's started five freshmen, and took another step forward.
After enduring a bruising four-game stretch in early February during which they lost four straight games, three by more than 20 points, the Red Storm won their second in a row Monday night, 79-72 over DePaul.
Coupled with a 66-63 nonconference win over UCLA on Saturday at Madison Square Garden, it appears St. John's (12-16, 5-10 Big East) has something left in the tank, despite having just six players for much of the season.
"That's two games in a row that we've had balanced scoring," said shooting guard D'Angelo Harrison. "They can't focus on no one in particular when we're playing like this, so that makes us even more of a threat. If we keep playing like this, the best is yet to come."
Harrison had a team-high 23 points and six assists against the Blue Demons -- his seventh 20-point performance in the past 10 games, as he continues to build his case for being the Big East Rookie of the Year.
He'll have stiff competition from teammate Moe Harkless, who posted his 11th double-double with 14 points and 10 rebounds.
But for the second straight game, the H&H Boys had plenty of help. Against UCLA, small forward Sir'Dominic Pointer had his finest game of the season, with 13 points and seven rebounds. Against DePaul, it was Amir Garrett's turn, who scored a career-high 18 and grabbed nine rebounds as well.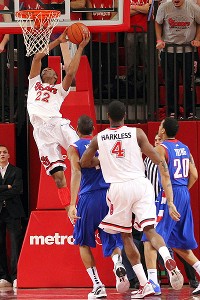 Anthony Gruppuso/US Presswire
Amir Garrett (No. 22) had his best game of the season on Monday night.
Garrett, who didn't join the team until the second semester after failing to qualify academically in the fall, is becoming more and more of an offensive threat. He has now scored in double figures in three of the team's past four games.
"It has grown a lot," Garrett said, when asked about his confidence. "In the first half of the season I was scared to take shots and I was scared to mess up. But I've calmed down a little more and I've started to trust my teammates, and my teammates trust me."
"His arrow's been pointing forward, and you can see that he's just more comfortable," said assistant coach Mike Dunlap, who continues to coach in place of Steve Lavin.
The entire St. John's team -- five freshmen and a junior college transfer, all in their first year of Division I ball -- looked more comfortable Monday night. This was a game that easily could have gone the other way. DePaul trailed by just two at halftime, took the lead twice in the second half, and missed a 3-point attempt that would have tied things up with 40 seconds left.
Instead, St. John's made enough plays down the stretch, made their free throws when it counted most, and dodged that bullet from beyond the arc in the final minute.
"We just have more experience," Harrison said. "Each game is a challenge for us. It's a learning experience every game."
Six nights ago, this St. John's team was simply embarrassed by Seton Hall in Newark, 94-64. No one would have blamed them if they just played out the string over the final three weeks of the season.
After all, as Cincinnati coach Mick Cronin said after his Bearcats battered the Red Storm 76-54 at the Garden on Feb. 8, "To me any win they get in the Big East is gravy, this year. You can't play with all first-year players. It's just completely unrealistic."
Instead, St. John's rallied together once more, tapped into another energy reserve, and secured an impressive nonconference victory followed by another conference win in the past three days.
"The best thing about our guys is they are 18 [years old]," Dunlap said. "So they have convenient memory loss. That's a beautiful thing."
But when it's all said and done, a month from now or so, these six players will want to remember this season, filled with ups and downs, twists and turns. Because they've accomplished a lot, and surely learned far more.
Five Big East wins -- that puts them ahead of five conference foes, folks, including Pittsburgh and Villanova.
And they've got three more opportunities to make it six, or more.