NEW ROCHELLE, N.Y. -- The New York Giants aren't the only champions 'round these parts right now. Some local college hoops teams are wearing well-deserved crowns as well.
A night after LIU Brooklyn clinched the Northeast Conference regular season title, Iona (23-6, 14-3 MAAC) locked up its first Metro Atlantic Athletic Conference championship since 2001 with a hard-fought 77-72 win over second-place Fairfield.
But there was no big celebration after the game. Iona, the preseason favorite in the MAAC, has its sights set on March and the NCAA tournament.
"We were predicted to be No. 1, and we felt like we were supposed to be No. 1, and this is just the beginning," said point guard Scott Machado. "We want something bigger than this."
Machado, the nation's leading assist man (10.1 per game), did not have one of his better games Friday night, finishing with just 10 points and seven assists. But his teammates picked him up -- particularly Sean Armand.
The sophomore sharpshooter, who was scoreless in the first half, exploded for 17 points after intermission, burying all six of his shots from the field. Iona trailed by five at halftime, and by eight early in the second half, but Armand scored 15 straight points for Iona from the 7:50 mark to the 2:44 mark. During that span, the Gaels took control of the game for good.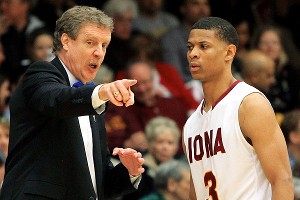 Nicole Sweet/US Presswire
Iona has been led all season long by coach Tim Cluess and point guard Scott Machado.Armand, a very streaky shooter, pleaded with coach Tim Cluess to call plays for him in the second half. "I told Coach I wanted the ball, and he got me the ball, and good things happened," said Armand.
"It's huge when a player comes to you [and says], 'Run something for me, I'm gonna make it,'" said Cluess. "That's a huge thing, and Sean has that kind of confidence."
To be fair, the Stags were shorthanded for most of the game. Point guard Derek Needham, Fairfield's second-leading scorer, exited after just eight minutes with what appeared to be a foot injury. Fairfield coach Sydney Johnson said after the game that he wasn't sure yet about the extent of the injury.
Nevertheless, Iona still had to deal with Rakim Sanders (22 points, 12 rebounds), and was able to find a way to pull out a win on what was clearly not one of its best nights.
"I'm really, really proud of my team for what they accomplished tonight," Cluess said. "They never gave up. They were down early, we didn't look like we were playing well, struggling a little bit, and they just kept fighting, and fighting, and fighting."
A year ago, Iona went to the MAAC tournament championship game as the No. 2 seed, and was upset by No. 4 seed St. Peter's. That loss has motivated the Gaels all season long.
This time around, Iona will be the top dog when play gets under way in Springfield, Mass., on March 2.
If the Gaels do find their way into the Big Dance, watch out. Iona is the No. 1 scoring team in the country, at 83 points per game.
And they proved Friday night that they can beat you a bunch of ways. Iona's top three scorers -- Mike Glover, Momo Jones and Machado -- all failed to hit their scoring averages against Fairfield. Yet the Gaels found a way to beat a good team nonetheless.
"Any given night, somebody's able to step up," Machado said. "We have that type of firepower."
The Iona players may not have celebrated much after this win. And if they lose in Springfield, it will be a bitter disappointment. But in time, they will realize that they accomplished something very significant Friday night.
"When they come in as alumni someday and they look up and they see their banner hanging up there, it's gonna be something they're gonna have for the rest of their life," Cluess said. "It's something they should be really proud of."