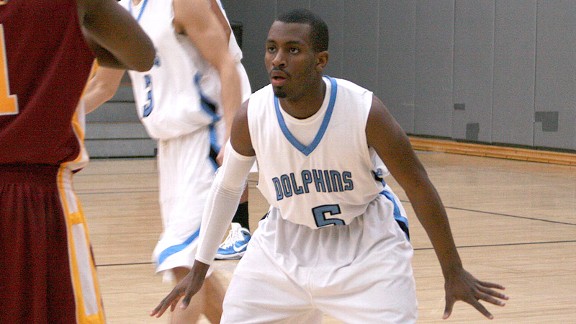 Courtesy of College of Staten Island
College of Staten Island guard T.J. Tibbs has led his team to an impressive NCAA run.Tucked away in a part of New York City often forgotten to sports fans is a men's college basketball program with a pretty remarkable March Madness run.
The College of Staten Island will face third-ranked MIT on Friday on a neutral floor, at Franklin & Marshall (Pa.) in the NCAA Division III Men's Basketball Round of 16.
A win would put the Dolphins up against either the host school (ranked No. 9 in the country) or No. 2 Amherst (Mass.) on Saturday for the right to go to the Division III Final Four.
College of Staten Island
Men's Basketball
The Dolphins are unranked nationally, but set a school record for wins with a 25-4 mark this season. They went undefeated in winning the City University of New York Athletic Conference (CUNYAC) playing against the likes of Hunter College, CCNY and Brooklyn College.
Staten Island, a commuter school with no on-campus dorms, finished the regular season with four more wins than anyone else in the league, but barely survived its league tournament, eking out a one-point win over Medgar Evers College in the championship game.
But the school enters Friday having won 19 straight games after beating Ithaca College and Rhode Island College at home last weekend. This is the furthest a CUNYAC team has gotten in the Division III tournament since 1998.
"This is as nice a group of kids as I've ever coached," said head coach Tony Petosa, who is in his 22nd season coaching his alma mater. "We have a really good understanding of the game. We have a group of kids who when they speak, I listen."
Case in point were a couple of instances when senior point guard T.J. Tibbs made suggestions during key junctures in last weekend's games.
Tibbs was the tie-breaking vote when the coaching staff was undecided on what out-of-bounds play to run and made a suggestion for an important substitution to aid the press-break that changed the complexion of the second-round win.
"He's better than a coach on the court," Petosa said. "Not only does he see things better than I do, he reacts better than I do."
T.J. Tibbs' Past 3 Games
The 5-foot-8 Tibbs has a game that matches his leadership ability. The transfer, in his second season via Monmouth and Wagner College (he was a walk-on practice player at the former, a member of the track team at the latter), scored 40 points in the win over Rhode Island College.
Over his past three games, Tibbs, whom Petosa described as a Division III version of Spurs guard Tony Parker, is averaging 31.7 points, is 16-for-27 from 3-point range, and has 20 assists and only eight turnovers.
"I don't consider myself a scorer," said Tibbs, who averages almost 16 points per game and prefers to deflect the praise to teammates like sophomore guard Bloochy Magloire (17.7 PPG) and forward Jordan Young (16.5 PPG). "I play based on what each game needs. I've been a little bit on the lucky side. The fact that other teams have to put so much attention on Jordan and Bloochy opens things up for me."
The 23-year old Tibbs garnered some national press last season when he declared for the NBA Draft, with the intent of getting his play evaluated by pro scouts.
After talking to reps from the Mavericks and Spurs, who told him he would benefit from the more open space of the pro game but that he needed to get both stronger and quicker, Tibbs returned to school, albeit perhaps with a larger Twitter following than most of his basketball friends.
He hopes to play professionally somewhere in the future (there are currently no Division III players in the NBA, but many scattered throughout the European leagues), but for now is enjoying the moment and his team's run through the NCAA Tournament.
"Having those two games at home and being able to win in front of our friends, family, and the community, it was a great week for the program," Tibbs said. "But there is still so much more left to accomplish."