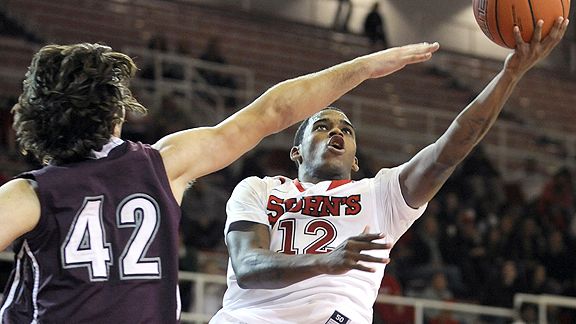 AP Photo/Bill Kostroun
NEW YORK -- It was a startling sight indeed -- Steve Lavin walking onto the floor a few minutes before tipoff, sans his trademark hair gel.
And, as if that wasn't jarring enough, moments later Lavin donned a set of black-rimmed eyeglasses -- adding a professorial aspect to his customary television-friendly appearance.
The eyeglasses only stayed on briefly, but Lavin should have considered keeping them on -- if only to get a closer look at the many good things his new team did on the floor Friday night.
True, it was against an overmatched opponent -- tiny Westmont College, from Santa Barbara, Calif. and the NAIA. Nonetheless, the Red Storm were very impressive, winning their exhibition game at Carnesecca Arena by a beyond-lopsided score of 100-42.
The team had a new look too, despite the fact that St. John's returned 10 seniors. Lavin elected to go with two starters who started the bulk of the games last season -- point guard Malik Boothe and swingman D.J. Kennedy. Shooting guard Dwight Hardy and forward Justin Brownlee, are also senior, but only started five games between them a year ago -- Lavin said last week he has been extremely impressed with both Hardy and Brownlee in the preseason. And the fifth starter was the team's lone freshman, the first recruit Lavin landed after taking the job in March, forward Dwayne Polee.
Guard Paris Horne (who started 32 of 33 games last season) and forward Sean Evans (31 of 33) came off the bench.
At any rate, the new starting five didn't waste any time giving the crowd of 2,774 something to cheer about -- by the first media timeout, with 15:49 left in the first half, St. John's led 16-0, and all five Red Storm players had scored. Frankly, the game was over right there -- but this being the Johnnies' one and only exhibition game of the preseason, they continued to pour it on, trying to work out the kinks prior to their season-opener at St. Mary's on Nov. 16.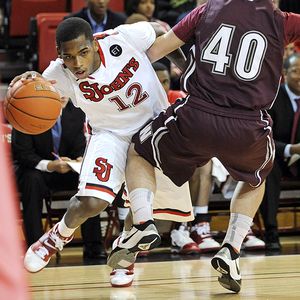 AP Photo/Bill Kostroun
Dwight Hardy was one of five St. John's players who scored in double-figures on Friday night.
The score was 59-20 at halftime, and the second half only provided more of the same. St. John's pushed the ball offensively at every opportunity, and applied pressure on defense whenever possible, having their guards pick up the opponent's ball-handler in the backcourt. Westmont simply had no answer.
"Clearly it was a step in the right direction, building from our scrimmage against Manhattan in two areas," Lavin said after the game. "And that was sharing the basketball -- 30 assists [is] a good indication of that. … And then I liked the fact that Dwight Hardy and D.J. Kennedy -- two players who are clearly going to be very productive and go-to weapons for us -- they had a quiet night in the first half, but they didn't force. They kept their poise, they did other things to help us. They contributed with their passing, their screening. And most importantly they didn't get their head down, didn't let that bother them."
Hardy -- the team's second-leading scorer last season -- finished with 15 points for the game, including three treys. Kennedy -- the team's leading scorer a year ago -- had 10 points, but was perfect from the field (3-for-3) and from the foul line (4-for-4).
Brownlee was the leading scorer on the night, with 18 points, including a couple of monster dunks. Boothe had 12 assists, six steals, and only two turnovers. And Polee chipped in 12 points on 6-of-9 shooting.
Polee said he felt comfortable starting in his first college game. "Coach, he just wants me to go out and play my game -- play hard, get rebounds, and play defense," Polee said. "That's what I'm here to do."
Lavin said he didn't talk to the team at all about his decision to start Polee prior to the game. "There was no formal announcement on it, or it wasn't something we ran by the seniors or asked for their approval on," Lavin said. "It's just that Dwayne was playing well."
"[Polee's] fit in well since he's been here -- he pays attention to detail, he's hard-working," said Hardy. "I think as a freshman he did a great job tonight."
The truth is, pretty much everyone on St. John's looked good on Friday night -- including Lavin, even without any hair product.
We'll see how he, and his team, look in 10 days' time, on the road against a much more competitive opponent.
"I'm really pleased with the way in which the kids have responded overall," Lavin said. "But it's early, and we've got a long way to go, and that's what we talked about in the locker room.
"This was just a baby step. We can't make any more or less of it than a baby step."