New York Colleges:

Big East
March, 11, 2014
3/11/14
9:18
PM ET
NEW YORK -- The 35th annual Big East tournament begins Wednesday, and while it will once again be held at Madison Square Garden, it'll look very different than it ever has before.
Gone are some old friends, and here are some new ones. The question is, will this tournament continue to capture the Big Apple's attention, as it has for so many years?
The new conference has delivered in the regular season. It's currently ranked fourth in the RPI, ahead of, among others, the ACC -- the league that poached some of its most prominent members.
And it has provided plenty of excitement already. Twelve of the conference's 90 regular-season games went to overtime (13.3 percent), and eight of its 10 teams played at least one overtime game.
It should be a fun four days at the Garden. Here are three reasons to be a little nostalgic, and three reasons to look forward:
THE NEGATIVES
Missing Pieces:
Syracuse. Pittsburgh. Louisville. Connecticut. Cincinnati. Notre Dame. Rutgers. South Florida.
Eight members of the Big East in 2013 won't be a part of this year's Garden party, and many of them will be missed. Three of last year's four Big East tournament semifinalists are on that list, and four of those eight schools are currently ranked in the Associated Press Top 25.
The Big East tournament is no longer the pre-eminent conference tournament in college basketball -- not without those programs, and legendary coaches like Jim Boeheim and Rick Pitino.
But it can still be among the best.
[+] Enlarge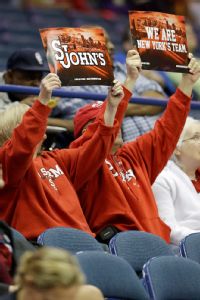 AP Photo/Nam Y. HuhFan turnout is the Big East's big question mark this time around.
Short Circuit:
We'll never see another run like Kemba Walker's UConn squad pulled off in 2011, winning five games in five days to cut down the nets.
Why? Fewer teams means fewer games.
The tournament is now a day shorter than it has been in recent years, and we'll get only one day of wall-to-wall basketball, with both an afternoon and evening doubleheader.
A little less Madness. But we'll take what we can get.
Pump Up The Volume:
The Big East didn't just lose some outstanding teams and coaches in realignment. It also lost some of its most passionate fan bases -- fan bases that showed up at the Garden in droves, particularly Syracuse, UConn and Notre Dame supporters.
It remains to be seen whether the Garden will look, or sound, quite like it used to in March.
That being said, Creighton ranked sixth in Division I in home attendance in 2013 -- behind only Kentucky, Syracuse, Louisville, North Carolina and Indiana -- averaging 17,155 fans per game. And coach Greg McDermott said Monday that Creighton has sold out its Big East tournament ticket allotment, with even more in demand, and expects to have between 3,000 and 4,000 fans in New York.
Xavier and Butler, the other two Big East newcomers, were also ranked in the top 60 in home attendance last season -- Xavier was 43rd (9,781 per game) and Butler was 58th (7,899).
With this being their first Big East tournament, all three schools should be well represented in the Big Apple.
THE POSITIVES
High Drama:
Last season, the Big East had eight teams in the NCAA tournament field of 68, and most had already locked up bids before even arriving in New York.
This season, the Big East has just two locks -- Villanova and Creighton -- and four more teams squarely on the bubble.
ESPN bracketologist Joe Lunardi currently projects Xavier in the NCAA field, and Providence, St. John's and Georgetown among the first eight teams on the outside. The Big East could get as few as two bids, or perhaps as many as five -- the stakes couldn't be much higher.
And top seed Villanova has a chance to earn a No. 1 seed in the NCAA tournament if it can run the table.
[+] Enlarge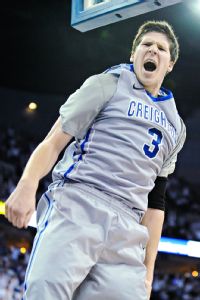 Eric Francis/Getty ImagesYou don't want to miss Doug McDermott perform at MSG.
Man Of The Hour:
Creighton forward
Doug McDermott
, the leading scorer in the country (26.5 PPG), just passed the 3,000-point mark for his career and is now the seventh-leading scorer in NCAA Division I history.
What a treat for New Yorkers to get to watch him play in person, near the end of his remarkable college career.
McDermott is the leading candidate to take home the national player of the year awards later this month. And despite how good the Big East has been over the years, the last Associated Press Player of the Year from the conference was St. John's forward Walter Berry in 1986.
Hometown Heroes?
Speaking of St. John's, the Red Storm have a legitimate chance to win the Big East tournament this year. That should give this year's edition a little extra juice.
St. John's (20-11, 10-8) finished the regular season tied for third with Xavier and Providence -- good enough to bypass Wednesday night's opening doubleheader and advance straight to the quarterfinals. The Red Storm are seeded fifth due to tiebreakers, and will open against No. 4 seed Providence on Thursday at 2:30 p.m.
Believe it or not, St. John's has made the Big East quarterfinals only once since 2003, in coach Steve Lavin's first season (2011). And it hasn't won the Big East tournament since 2000.
The Red Storm lost to Villanova twice by a combined 10 points in the regular season, and have a win and a three-point loss against Creighton. Playing on their home floor at the Garden, they have a legitimate chance -- but first they need to tackle the Friars.
December, 15, 2012
12/15/12
9:36
PM ET
The game wasn't the story on Saturday.
About three hours before tipping off against St. Francis of Brooklyn at the Barclays Center, St. John's -- along with the six other basketball-only schools in the Big East -- officially announced it was leaving the conference.
The move had been predicted in recent days, but was still historic. And it certainly overshadowed the Red Storm's 77-60 victory over the Terriers, improving their record to 8-3 on the season.
"Coach talked about it with us," said sophomore guard D'Angelo Harrison, regarding the pregame news. "We're focused on this season, and we're just gonna keep playing. After this season, we'll figure out what the schools are gonna do."
There are reasons for St. John's fans to be excited. Harrison pumped in a game-high 25 points -- his eighth 20-point game already this season. Freshman swingman
Jakarr Sampson
had another double-double, with 21 points and 12 boards. And fellow freshman
Chris Obekpa
blocked nine shots, after swatting 11 in the Red Storm's previous game.
"We were able to pull away because of our ball movement on offense, and then defensively our pressure I think wore St. Francis down," said coach Steve Lavin.
St. John's has one more non-conference game, versus UNC-Asheville on Friday, before beginning Big East play on Jan. 2. But most fans are probably more concerned right now about the program's fate beyond this season.
The school's hierarchy did its best to reassure the fanbase both before and after Saturday's game.
"We're excited about [the move], because we believe that we can now play a role in shaping something kind of new and different in the world of collegiate athletics," said Rev. Donald J. Harrington, the university's president. "We're convinced this will be better for our student-athletes and our fans."
"For us, it's a move that we're confident is gonna work out well for St. John's," said Lavin.
But the truth is, no one really knows how this will affect St. John's, and the other six schools departing along with it: Georgetown, Villanova, Seton Hall, Providence, Marquette and DePaul.
All we know for sure is that it represents a seismic change. St. John's was one of the founding members of the Big East. The conference has been its home since 1979.
But St. John's does have a long and storied basketball history, which extends far beyond that. And Lavin called upon that history Saturday, as one of the reasons he remains confident in the program and its future.
"The reason I came to St. John's was that long list of things that make it unique and special, going back over 100 years," Lavin said. "The tradition, the heritage, the recruiting base, Madison Square Garden, New York City in and of itself, really positions us for long-term success."
The Big Apple and the Garden will always be attractive, no doubt. But tradition goes only so far these days when it comes to star recruits, who grew up in an age of NBA draft early entries, and have their eyes on the pros while still in high school.
Athletic director Chris Monasch maintains St. John's is still capable of becoming a perennial NCAA tournament team again.
"I feel very confident about that," Monasch said. "Just because we have all the things in place -- we have the tradition, we have the history, the commitment, the location, the leadership from our president and our board, and a coaching staff in place for us to be successful in the long term."
But the pressure is on that coaching staff more than ever now. Without the Big East to help sell the program, Lavin will have to rely even more on his up-tempo style of play and his magnetic personality to reel in future stars.
This isn't the same job he signed up for back in 2010. But it's the job in front of him now, officially, as of December 15, 2012.
The game has changed.
September, 25, 2012
9/25/12
11:08
AM ET
The Big East tournament will continue to be held at Madison Square Garden until at least 2016 -- and perhaps far longer than that.
Sources told ESPN's Brett McMurphy that the Garden did not submit a bid to host the 2016-2021 ACC tournaments -- despite the fact that six Big East schools have left for the ACC in the past nine years.
Also, the Big East and MSG are reportedly in discussions about extending their agreement well beyond their current deal, which ends in 2016.
Click here
to read the full story.
September, 5, 2012
9/05/12
1:14
PM ET
The Big East finally released its full 2012-13 college basketball schedule Wednesday -- meaning we now have the complete slates that St. John's, Seton Hall and Rutgers will face this coming season.
St. John's will open up conference play on Wednesday, Jan. 2, at Villanova. The game will tip off at 8 p.m., and be televised on ESPNU.
Seton Hall and Rutgers will also begin Big East play that night. The Pirates will be at DePaul, while the Scarlet Knights will be at Syracuse.
(
Click here
to see the full Big East schedule.)
Some early impressions, after a first glance at the sked:
ST. JOHN'S:
The pressure will be on from the get-go, with the Red Storm playing their first two Big East games on the road. Getting off to a good start in conference play is always important, especially for young teams. It would be huge if St. John's could earn a split in its first two, winning either at Villanova or at Cincinnati three days later.
The next three are all at home., but they certainly won't be easy. The Red Storm will host Rutgers, Georgetown and Notre Dame, all within a span of six days.
After a road game at DePaul, St. John's will play local rivals Rutgers (on the road) and Seton Hall (at home), before facing DePaul again on Jan. 30. The Red Storm will need to rack up some victories during this stretch.
February is highlighted by three very challenging road games: at Georgetown (Feb. 2), at Syracuse (Feb. 10) and at Louisville (Feb. 14). The home games that month are a little more palatable: versus UConn (Feb. 6), South Florida (Feb. 20), and Pitt (Feb. 24).
The Red Storm play two straight on the road to open March -- at Providence (March 2) and at Notre Dame (March 5) -- before wrapping up the regular season by hosting Marquette on Saturday, March 9.
SETON HALL:
The Pirates also start with back-to-back road games. Winning at DePaul would be nice, because the next game is at Notre Dame on Jan. 5. Seton Hall's conference home opener is another tall task, hosting Louisville on Jan. 9.
There are definitely some very winnable games the rest of January, meaning Seton Hall could get off to a pretty good start: versus Providence, at Marquette, versus South Florida, at St. John's, at Georgetown.
Seton Hall will play eight games in February, highlighted by the first of two against in-state rival Rutgers -- this one will be at the RAC, on Tuesday, Feb. 12. Four days later, the Pirates will welcome Syracuse to the Prudential Center. Seton Hall will also travel to play Louisville on Feb. 23. (The other February games are versus Cincinnati, at Pitt, versus UConn, versus Marquette and versus Villanova).
The regular season wraps up with a road game at Providence, followed by the second game against Rutgers -- Friday night, March 8, at the Prudential Center. What a great way to end the regular season! The atmosphere at The Rock should be outstanding.
RUTGERS:
Opening up at the Carrier Dome is a tall order for the young Scarlet Knights. But three of the next four games will be at the RAC -- against Pitt, Cincinnati and South Florida -- with a road game against St. John's mixed in. That's followed by three of four on the road -- at Notre Dame, UConn and Cincinnati -- interrupted by a home game against St. John's on Jan. 23. The Scarlet Knights and Red Storm will tangle twice in the span of 15 days.
While Seton Hall plays eight games in February, Rutgers plays just six. The first three are at home, versus Louisville, Georgetown and Seton Hall. There's no gimmes there, but the Scarlet Knights could fare better the rest of the month, when they play at DePaul, at Villanova, and host Providence.
March begins with a tough game at Georgetown, followed by a home game against Marquette. And then comes the delicious regular season finale against Seton Hall on March 8.
July, 31, 2012
7/31/12
7:14
PM ET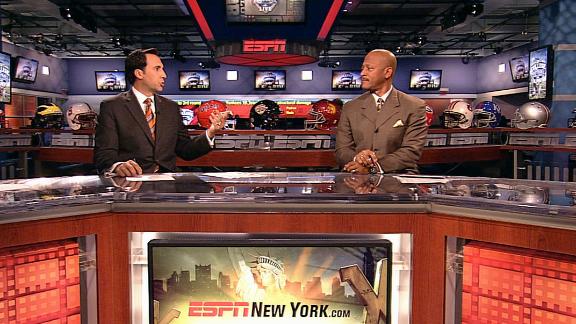 The Big East released its annual preseason football media poll on Tuesday, and Rutgers was tabbed to finish third in the conference this season.
Louisville finished at the top, receiving 24 of a possible 28 first-place votes, and 219 points overall.
South Florida finished second, picking up the other four first-place votes, and 176 points overall.
Rutgers accumulated 155 points. Cincinnati, Pittsburgh, Connecticut, Syracuse and Temple finished fourth through eighth, respectively.
March, 7, 2012
3/07/12
3:11
PM ET
The Big East has made another big addition, as it continues to try to combat the loss of West Virginia and the impending losses of Syracuse and Pittsburgh.
Temple will join the Big East in football this fall, and in all other sports in 2013.
Click here
to read more.
December, 7, 2011
12/07/11
1:20
AM ET
NEW YORK -- A season ago, Marquette won 22 games and went all the way to the Sweet Sixteen, yet was just 4-7 in games decided by five points or fewer.
This season is starting very differently, as evidenced by the Golden Eagles' thrilling 79-77 win over Washington on Tuesday night at Madison Square Garden in the Jimmy V Classic.
Marquette, ranked No. 11 in the country, is now 8-0 on the season. Coach Buzz Williams was pleased with the victory, but not with his team's play early in the game, nor with himself.
"I thought [Washington's] energy and their intensity to start the game, we were not able to match," said Williams. "And I think I did a poor job of helping our team when
Chris Otule
got hurt. (Otule, Marquette's starting center, sprained a knee less than two minutes in and did not return -- he will have an MRI on Wednesday.) Because that changes how you have to guard ball screens. That changes when and if you're gonna trap the post, and who you're gonna trap the post with. And I didn't think that I handled that very well.
"I thought once we kinda got in a groove, we were better."
They certainly were. After falling behind quickly 11-2, Marquette rallied back to take its first lead of the game, 27-26, just under six minutes before halftime. The Golden Eagles led 37-34 at intermission.
The second half of this game was a classic see-saw battle, with 18 -- yes, 18! -- lead changes. Neither team led by more than five (and that was only after Marquette's first bucket of the second half).
The game came down to the final minute. Washington's
Terrence Ross
(team-high 19 points) hit a tough foul-line bank shot to give the Huskies a 77-76 lead with 17 seconds left to play. Williams elected not to call a timeout -- he had already gone over a play with his team in an earlier timeout, in case Washington scored on the previous possession.
The ball ended up in senior forward Jae Crowder's hands. "My man showed pretty hard, I got a good screen from
Jamil Wilson
to pop out to the corner," Crowder said. "Once that happened, I knew I had a good look at the rim."
The shot, from just beyond the 3-point arc, was on the money, giving the Golden Eagles a two-point lead with 6.3 seconds remaining.
Washington elected not to call a timeout, instead pushing the ball up the floor. Abdul Gaddy's well-defended desperation heave from the right wing was way off at the buzzer.
"Yeah," said Washington coach Lorenzo Romar, when asked if he thought about calling a timeout to set up a last shot. "Probably in retrospect, probably would have liked to."
This is the Golden Eagles' second win by five points or less this season, following a 59-57 win over Norfolk State in the championship game of the Paradise Jam on Nov. 22.
Marquette was also coming off a highly impressive 61-54 win at No. 7 Wisconsin just three days ago. Williams admitted that fatigue may have played a role in his players' struggles Tuesday night, particularly at the start.
Leading scorer
Darius Johnson-Odom
had 23 points, but shot just 6-for-17 from the field. Crowder added 18 points, 16 of them coming in the second half.
"I think we're whipped," said Williams.
On the bright side, Marquette -- picked to finish sixth in the Big East this season in the conference's preseason coaches' poll -- looks like it's capable of being much better than that, as we inch closer to the beginning of conference play.
Losing Otule for a significant period of time would hurt, to be sure. But this Marquette team is deep -- Williams used 11 players on Tuesday, with seven of them contributing four points or more.
There have been some pleasant surprises. Among them are freshman
Todd Mayo
, the younger brother of NBA player O.J. Mayo, who scored 11 points off the bench against Washington, and has scored in double figures in five of the team's first eight games.
There may be some increased competition for playing time in the weeks ahead, and talk of that made Williams grin at the postgame podium.
"Yeah, I like that," Williams said. "It's good. Recruit as many good players as you can, win as many games as you can, and play as many as you can along the way."
December, 6, 2011
12/06/11
11:53
PM ET
Here's a quick take on Marquette's dramatic 79-77 victory over Washington in the Jimmy V Classic at Madison Square Garden.


What it means:
No. 11-ranked Marquette improves to 8-0 on the season. Trailing by a point with less than 10 seconds left in the game,
Jae Crowder
drained a 3-pointer from the right corner to provide the winning points.
Washington falls to 4-3 on the season, after
Abdul Gaddy
's well-covered shot attempt from the right wing was way off the mark at the buzzer.
The skinny:
Washington got out of the gate quickly, taking an early 11-2 lead and leading to a quick timeout by Marquette coach Buzz Williams. But the Golden Eagles fought back, finally taking their first lead of the game, 27-26, with just under six minutes left in the half. The game remained tight, with Marquette taking a 37-34 lead into the locker room at the break.
The second half of this game was a incredible seesaw battle, with 18 -- yes, 18! -- lead changes, and no team leading by more than five (and that was only after the first bucket after intermission).
Terrence Ross
hit a tough foul-line bank shot with 17 seconds left to give Washington a 77-76 lead, and then Crowder hit the winner 10 seconds later.
Star watch:
Marquette senior guard
Darius Johnson-Odom
did not have a very good shooting night from the field (6-for-17), but still led the Golden Eagles with 23 points. Crowder chipped in 18.
For Washington, Ross led the way with 19 points, shooting 9-for-14 from the field.
C.J. Wilcox
added 15 points.
Number crunch:
Obviously this was a very tight game -- they don't get much tighter. Washington was plus-14 on the boards (46-32), including 18-11 on the offensive glass. But Marquette had a 19-5 advantage on made free throws. The Huskies were just 5-for-10 from the charity stripe.
What's next:
Marquette will host Green Bay on Saturday at 9 p.m. ET. Washington will remain in New York City, playing No. 5 Duke at Madison Square Garden on Saturday at noon ET.
December, 6, 2011
12/06/11
11:17
PM ET
NEW YORK -- Eight games into the season, it's fair to say -- Missouri is a serious threat to win the Big 12 title.
The No. 10-ranked Tigers passed their first big test with flying colors on Tuesday night, defeating Villanova 81-71 at Madison Square Garden in the Jimmy V Classic.
Missouri is now 8-0 for the first time since 2006-07.
"We know that that's gonna happen as we continue further into the season," said first-year Missouri coach Frank Haith of being challenged. "It was great to see how we responded when we had a little bit of adversity."
In their first seven games of the season, the Tigers pounded their opponents by an average of 27.9 points per game -- including a 92-53 romp over then-No. 20 California in Kansas City on Nov. 22.
Things were a little tougher against Villanova, which hung tough with Missouri for much of the first half Tuesday night. The score was tied at 21 with just under seven minutes remaining before intermission. That's when the Tigers first took control, thanks to a 12-2 run. Missouri led 42-29 at the half.
The Tigers came out hot after the break, but the Wildcats would not go away. A 10-0 run got Villanova within 61-55 with just under 10 minutes remaining. But Missouri executed well enough down the stretch to keep Nova from getting any closer.
Haith was particularly impressed that his team figured out a way to win when the shots weren't falling as frequently as they usually do. Senior guard
Marcus Denmon
, who came in averaging 20.3 points per game, poured in 28 on 10-for-16 shooting from the field (6-for-10 from 3-point range). But overall the Tigers, who entered the game fifth in the country in field goal percentage (52.5 percent), shot just 28-for-66 (42.4 percent).
"We talk about finding ways to win basketball games when we don't shoot the ball well," said Haith. "I think the one thing we gotta hang our hat on is how we defend, and how we rebound."
Missouri is the smallest of any team in a power-six conference this season, taking a big hit when senior forward
Laurence Bowers
was lost for the season to a torn ACL in early October. Yet the Tigers hung right with the Wildcats on the boards, including a 14-13 edge on the offensive glass. And their aggressive man-to-man defense forced 15 Villanova turnovers (Missouri had just eight).
Haith isn't employing the same full-court-pressure style that his predecessor, Mike Anderson, did. He has tweaked things to fit his own style, and his personnel.
"I think we've got quick athletic guys, we're just not very big," Haith said. "We can still be disruptive in the half-court. I think they were more full-court pressure, trapping, gambling a little bit in terms of going for steals. We're more back it up, make people score over us. And we can still turn people over and still be disruptive in the halfcourt."
"There's a lot of different ways to skin a cat," Haith added. "And I think this is what we decided to do -- what's best for this team is how we defend in the halfcourt."
But perhaps the most impressive stat of the night was Missouri's 23 assists on 28 field goals -- 12 of them by sophomore point guard Phil Pressey.
Senior forward
Ricardo Ratliffe
, who also had an excellent night (17 points, 11 rebounds), indicated that there is a special chemistry on this squad.
"I've been on a lot of teams, from high school to AAU to junior college, and I don't think I've ever seen anything like it," Ratliffe said. "This is the most unselfish team I've played on, or seen on TV. It's just once in a lifetime that you get to be blessed to be on a team like this."
Haith did step into a good situation, with all five starters returning from a team that won 23 games a season ago. But he appears to be pushing the right buttons so far to lift this group to another level.
Missouri was picked to finish fourth in the Big 12 in the conference's preseason coaches poll, behind Kansas, Texas A&M and Baylor. The Jayhawks have won the conference the past three years outright, and at least a share of the title every season since 2003-04.
But these Tigers look capable of potentially ending that streak.
"We're playing a game that we love to play, and the style of play we have is really fun," said Denmon. "The guys that we have on this team, we all get along on the floor and off the floor. And I feel that that's something that translates in the games."
December, 6, 2011
12/06/11
9:14
PM ET
NEW YORK -- Here's a quick take on Missouri's 81-71 victory over Villanova in the Jimmy V Classic at Madison Square Garden.


What it means:
Missouri, the No. 10-ranked team in the country, continues its impressive start to the season. The Tigers are 8-0 for the first time since 2006-07, and have to be considered a serious threat to win the Big 12 title this season.
Villanova, picked to finish eighth in the Big East in the conference's preseason coaches' poll, falls to 5-3 on the season. It's the first time the Wildcats have lost three games before New Year's Day since 2002-03.
The skinny:
Villanova hung with Missouri for the first 13 minutes – the game was tied at 21 with 6:48 remaining in the first half. But then shots started dropping for the Tigers. A 12-2 run from that point put Missouri comfortably in front, and the Tigers led 42-29 at intermission.
Missouri's
Marcus Denmon
opened the second half with a 3-pointer, one of four treys the Tigers connected on before we even reached the first media timeout. Villanova did put up a fight, going on a 10-0 run to cut its deficit from 61-45 to 61-55, but that's as close as the Wildcats got. Missouri held off Villanova down the stretch.
Shooting star:
You'll be hearing a lot more about Denmon the rest of the season, if he keeps playing as well as he is right now. Coming off a career-high 31 points against Northwestern State on Friday, the 6-foot-3 senior poured in 28 against Villanova, shooting 10-for-16 from the field and 6-for-10 from 3-point range.
Ricardo Ratliffe
chipped in 17 points and 11 boards for Missouri. Villanova was led by
Maalik Wayns
, with 14 points. The Wildcats had five players in double figures.
Number crunch:
Missouri came in ranked fifth in the country in field goal percentage, shooting 52.5 percent from the field as a team. The Tigers were well under that number on Tuesday night, shooting 28-for-66 (42.4 percent). But they made 10 of 25 from downtown (40 percent), and 15 of 18 from the foul line (83.3 percent).
The Tigers, the shortest team among the power six conferences this season, also had a 14-13 advantage on the offensive glass. And they had 23 assists on their 28 field goals -- 12 of them by sophomore point guard
Phil Pressey
.
What's next:
Missouri will host Navy on Saturday at 5 p.m. ET. Villanova plays at Temple on Saturday, also at 5 p.m. ET.
November, 29, 2010
11/29/10
4:25
PM ET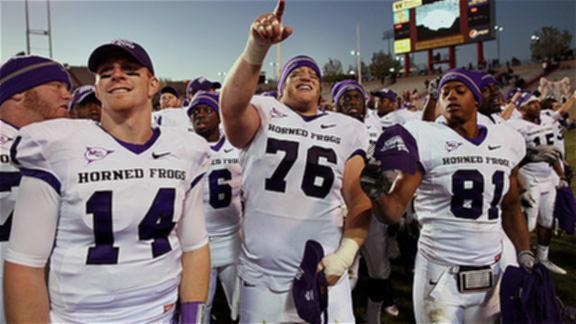 The news on Monday that Texas Christian University
will be joining the Big East Conference
in 2012 obviously affects the Big East schools in the New York City metropolitan area.
It will particularly affect Rutgers, since Rutgers is the one local school that plays Big East football. TCU -- currently 12-0 and ranked No. 3 in the country -- is being brought into the fold primarily to enhance the quality of the conference football-wise, and the Horned Frogs should immediately contend for the Big East title.
Rutgers, meanwhile, is struggling through a 4-7 season (1-5 in the conference) and still aspires to win its first Big East football championship -- a goal that got signficantly harder to accomplish on Monday.
Still, Rutgers athletic director
Tim Pernetti
, when reached by phone on Monday afternoon, said he and the school are happy about the addition of TCU to the conference.
"We're very excited about it," Pernetti said. "It's something that we supported very much since the beginning of the conversation. ... It brings a lot of value to our conference, and also opens up a new recruiting area, in the fifth-largest media market in the country (Dallas/Fort Worth). There's a lot of good things, as part of this whole deal."
When asked if he was concerned at all about this making things more difficult for his football program, Pernetti said, "I don't see any down side -- I see a 100-percent upside with this move. The league on the football side will be bigger and stronger. Our inventory will wind up being more valuable as well. I really don't see the down side."
St. John's athletic director
Chris Monasch
also sees the addition of TCU to the conference as a positive.
"This move makes the football league stronger, and I think it makes the Big East in total stronger -- obviously that's important to St. John's," Monasch said when reached by phone. "It's a school with a good academic reputation, and it also exposes our university in the state of Texas, where there are obviously a lot of talented student-athletes. So I think it's a big positive."
TCU will be joining the Big East in all sports -- meaning many local student-athletes will now have to travel to Texas as well, in addition to all the other locales they visit as part of the now-sprawling 17-team conference. But Monasch said that is not a major concern.
"When you break it out in each sport, every year there are a numer of teams in the league that we have to fly to. This is just is another one," Monasch said. "Going between New York and Dallas, you've got a lot of non-stop flights. Obviously it's a longer flight, but I don't see it as a big problem."
April, 7, 2010
4/07/10
5:49
PM ET
By
Jon Rothstein
| ESPNNewYork.com
Another domino seems ready to fall.

An offseason that has been highlighted by a plethora of coaching changes seems to have another one looming on the horizon, as it appears Rutgers head basketball coach Fred Hill will be removed as early as the end of this week, according to several reports.

Members of the Scarlet Knights coaching staff told confidants on Wednesday that they expected a change after Hill was involved in an incident last week at a Rutgers-Pitt baseball game. After the incident, Hill was reportedly told by Rutgers athletic director Tim Pernetti to stay away from the game the following day, but Hill opted to attend anyway.

The chance to remove Hill with cause could be an easy way for Pernetti to make a change, something he consulted many parties on during the season before opting to keep Hill due to his $1.8 million dollar buyout that comes with termination.

Rutgers showed growth this past season, highlighted by a win over Georgetown on Feb. 14. Next year a solid nucleus is slated to return, highlighted by rising junior guard Mike Rosario.

Rosario, according to reports, is said to be seeking a release so he can transfer from Rutgers. But Pernetti has told confidants he knows any short-term success for the program hinges on the former St. Anthony's (Jersey City, N.J.) star returning.

Possible replacements for Hill are former Boston College head coach Al Skinner, ESPN's Fran Fraschilla, and Robert Morris head coach Mike Rice.

Sources indicate that Rice is a longshot, since he interviewed for the vacant position at Seton Hall a few weeks ago before the Pirates hired Kevin Willard.