New York Colleges:

Butler Bulldogs
January, 13, 2015
Jan 13
9:37
PM ET
NEWARK, N.J. -- A few quick thoughts on No. 21 Seton Hall's 79-75 overtime loss to Butler on Tuesday at the Prudential Center:
What it means:
Seton Hall will lose its Top 25 ranking next week.
After opening up Big East play with big wins over St. John's and Villanova, the Pirates have now dropped two of three. They also lost at Xavier on Wednesday before edging Creighton on the road over the weekend.
Seton Hall is now 13-4 overall and 3-2 in the conference. Butler, which also beat St. John's at Carnesecca Arena, is now 13-5 overall and 3-2 in the conference, as well.
The turning point:
Butler jumped out to a 9-2 lead, as Seton Hall went more than five minutes without scoring after the opening bucket of the game. But the Pirates finished the first half in front 32-28, thanks to nine points from
Sterling Gibbs
.
The Bulldogs opened the second half on a 13-1 run and led by as many as nine -- 44-35. It took Seton Hall nearly eight minutes to score its first field goal of the half. But the Pirates recovered and finally evened the score at 63 with a
Khadeen Carrington
3-point play with 1:10 remaining. Butler had a chance to win it in regulation, with the game tied at 67 and 5.3 seconds left, but
Kellen Dunham
missed a tough shot from the wing with defenders draped over him.
Butler scored the first four points of overtime before Gibbs drained his sixth 3-pointer of the game to bring Seton Hall back within one, at 71-70. But then Gibbs, who finished with a game-high 30 points, fouled out with 2:08 remaining. The Pirates still had their chances, but a
Roosevelt Jones
drive and layup with 17.2 seconds left essentially sealed the game.
Star watch:
Besides Gibbs, Carrington scored 20 points off the bench, and
Angel Delgado
had 12 points and 15 rebounds.
Brandon Mobley
had a nightmare of a game -- the senior shot 1-for-15 from the field before exiting with a left leg injury during OT.
Big East Preseason Rookie of the Year
Isaiah Whitehead
missed his sixth game in a row with a stress fracture in his foot.
Jones and Dunham had 23 and 21 points, respectively, for Butler.
Number crunch:
Seton Hall shot just 39.1 percent from the field, well below its season average of 44.6, and had just seven fast-break points.
What's next:
Seton Hall has eight days off before hosting DePaul on Jan. 22. Butler plays at Georgetown on Saturday.
March, 13, 2014
3/13/14
1:04
AM ET
NEW YORK -- In the first game of the new Big East's first tournament, an original member triumphed over one of the new additions, which felt appropriate.
Seton Hall
(16-16, 6-12) had a disappointing regular season, but the Pirates aren't done yet, thanks to their 51-50 victory over
Butler
on Wednesday at Madison Square Garden.
[+] Enlarge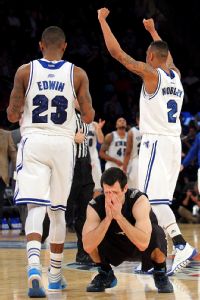 Brad Penner/USA TODAY SportsSeton Hall eliminated Butler in the first game of the Big East Tournament.
"It's a good feeling, just knowing that we're able to advance and continue to play for Seton Hall," senior swingman
Fuquan Edwin
said. "We're trying to take it all the way."
Seton Hall built a 13-point lead midway through the second half, but then nearly blew the game. Sloppy play down the stretch gave Butler the chance to win in the final seconds, but
Alex Barlow
's heave from just inside half court hit the backboard and nothing else.
The Pirates shot just 39.6 percent from the field. But the Bulldogs' starting backcourt of Barlow and
Kellen Dunham
shot 1-for-11 and 2-for-10, respectively.
"There's some nights that just aren't your night," said Butler coach Brandon Miller. "We struggled to shoot the ball in the basket."
Seton Hall lost to Butler twice in the regular season, including a 17-point loss in Indianapolis just four days ago. Dunham poured in 29 points in that one, draining all seven of his 3-point attempts.
Pirates coach Kevin Willard said the game plan Wednesday was to blanket Dunham on defense, and pound the ball into big man
Euene Teague
on the other end. It worked -- Dunham scored just four points, and Teague had a team-high 14 points and 11 rebounds.
Willard wasn't worried about his team's motivation, despite the demoralizing loss at Butler over the weekend.
"This is the Big East tournament," Willard said. "If you can't get ready for the Big East tournament, there's something wrong with you."
It remains to be seen whether the rebooted Big East can put on a tournament that captivates New York City and college basketball fans nationwide the way it did for so many years. Wednesday night's doubleheader, featuring just the bottom four seeds, was just an appetizer.
The crowd was decent, the action was competitive if not especially compelling. But Thursday's four quarterfinals, and the accompanying atmosphere, will be far more revealing.
Seton Hall's reward for beating Butler? A matchup with top seed and No. 3-ranked Villanova at noon, with just 15 hours in between.
Butler's first Big East season is over. The Bulldogs finished 14-17 overall, and won just four games in the conference. Before they departed, their coach was asked to give his thoughts on the league.
"It's a very strong league," Miller said. "I don't know how many leagues can say that their 7-seed in the tournament has the wins that our 7-seed in our tournament has."
He's right -- Georgetown did have five wins over teams ranked in the Top 50 in the RPI. Seven of the 10 current Big East teams could have made a case for making the NCAA tournament before the Hoyas were upset by DePaul in Wednesday night's second game.
Maybe that says more about the new Big East than these four days in New York will.
October, 16, 2013
10/16/13
7:31
PM ET
NEW YORK -- The new Big East officially launched on July 1, but Wednesday felt like the first day of a new era.
The conference held its preseason basketball media day in Manhattan, just as in the days of old. But a new location was chosen: Chelsea Piers.
Legendary coaches Jim Boeheim and Rick Pitino were noticeably absent, among others. But three new schools were part of the mix: Butler, Xavier and Creighton.
We've admired them from afar -- particularly Butler, which went to back-to-back NCAA championship games in 2010 and 2011. Now the Bulldogs will be competing with local squads St. John's and Seton Hall year in and year out for a conference title.
[+] Enlarge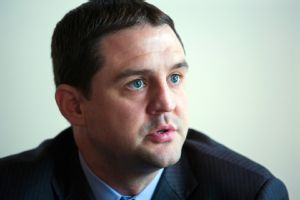 AP Photo/Craig RuttleButler grad Brandon Miller takes over for Brad Stevens, who has moved on to the NBA ranks.
Butler coach Brandon Miller is in his first year at the helm, replacing Brad Stevens, who moved on to the Boston Celtics. But he also played for the Bulldogs from 1999 to 2003, so he has a good sense of the school's history.
"There's a buzz around Butler. There's an excitement around the university," Miller said Wednesday. "I think it's a great time to be a part of Butler, because of the transition into the Big East. I love the fact that we get to compete against some of the best basketball schools in the country, night in and night out."
The Bulldogs lost their top returning scorer,
Roosevelt Jones
, to a season-ending wrist injury in August and were picked to finish second-to-last in the preseason coaches' poll. But they're used to being underdogs, and exceeding expectations.
"I feel like Butler's always placed under the radar -- people like doing that to us, and I feel like we kind of like having that done to us," said senior forward
Erik Fromm
. "I think we thrive in situations where we're kind of under the radar. This adds fuel to the fire, when you have people ranking you low."
[+] Enlarge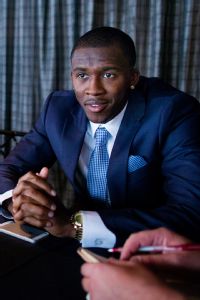 AP Photo/Craig RuttleXavier's Semaj Christon, coming off a strong freshman campaign, is expected to be one of the Big East's best.
Xavier was picked to finish two spots higher, in seventh place. But the Musketeers have one of the top players in the conference in sophomore guard
Semaj Christon
. He averaged 15.2 points per game as a freshman and was one of five players named to the preseason All-Big East first team.
Christon is anxious to test his game against Big East competition and help prove the Musketeers belong. "I feel like every year we have something to prove, but this year will be a good year for us, getting to play better teams," Christon said. "I think we play better when we play better competition."
Xavier hasn't been to the national championship game, like Butler has. But the Musketeers have been to the NCAA tournament seven of the past eight years, and have advanced to the Sweet Sixteen in four of the past six. The only other schools that can say that? Kansas, Michigan State, Duke, North Carolina, Ohio State, Louisville and Syracuse -- that's quite a list.
And coach Chris Mack believes his program will grow even stronger now. "The exposure that Xavier is going to gain is gonna be tremendous," Mack said. "We feel like for so many years we've played at such a high level. We've chartered every flight, we've had multiple guys go on to the NBA, we've been in four of the last six Sweet Sixteens. We've done it at such a high level, but conference affiliation, especially in recruiting -- it's like your front porch. If you can't get a person on your front porch, you can't get him in your house."
Butler and Xavier left the Atlantic 10 to come aboard. The third newcomer, Creighton, arrives from the Missouri Valley Conference. The Bluejays have been a perennial power in one of the most underrated conferences in America, but the Big East is a new and bigger challenge.
Fortunately for them, two-time first-team All-American forward
Doug McDermott
(23.2 ppg, 7.7 rpg last season) elected to return for his senior season. He was announced as the Big East Preseason Player of the Year on Wednesday, and showed off a strong knowledge of Big East history, referencing Kemba Walker's magical Big East tournament in 2011 and the Syracuse-UConn six-overtime game in 2009.
[+] Enlarge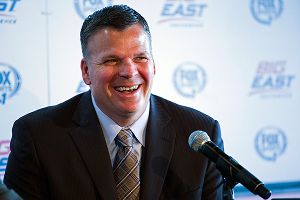 AP Photo/Craig RuttleCreighton coach Greg McDermott's son, Doug, is the Big East's preseason Player of the Year.
It turns out Creighton's move to the Big East was a big reason why he decided to play one more year of college ball. "This is a really historic time for our university," McDermott said. "Our school's been looking to do this for a while, they've really wanted to make this jump. And to be one of the group of guys that made it happen, I think it's really special."
Coach Greg McDermott, Doug's father, thinks his new conference rivals, and their fans, will be impressed by what Creighton brings to the table.
"We're in a basketball town, we play in one of the best facilities in the country, and we have one of the top fan bases anywhere in college basketball," McDermott said. "As you look through the top 10 in attendance in the country and Creighton jumps out at No. 6, we're the school that doesn't look like we fit there. But once you come to our arena and see how passionate our fans are, what an understanding they have of the game of basketball, it's really a special place."
The Big East season ends with a tournament at arguably the most special place in all of basketball, Madison Square Garden. The players and coaches from all three new schools gushed about the opportunity to play at the World's Most Famous Arena come March.
Creighton, picked to finish third, could certainly cut down the nets this season. Butler and Xavier might not be ready just yet.
But all three schools should give New Yorkers plenty of entertainment in the coming years.
December, 4, 2010
12/04/10
5:24
PM ET
Recap
|
Box score
|
Photos
EAST RUTHERFORD, N.J. -- A quick take on Saturday's national championship game rematch, an 82-70 win by Duke over Butler.
WHAT IT MEANS:
Duke goes to 8-0 on the season and will retain its No. 1 ranking for at least another week. Also, coach
Mike Krzyzewski
notches career win No. 876 -- which ties him with
Adolph Rupp
, behind only
Bob Knight
and
Dean Smith
.
Butler drops to 4-3 on the season. But the Bulldogs will feel better about this loss, hanging with the No. 1 team in the nation, than they did about getting blown out by Louisville and picked off by Evansville.
HOMETOWN KID:
New Jersey product
Kyrie Irving
, who had the entire college basketball world buzzing after his scintillating 31-point performance in a win over Michigan State earlier this week, got off to a slow start on Saturday. He had just four points in the first half, to go along with four turnovers. But Irving was much more aggressive early in the second half, scoring seven quick points, and hit two huge 3s later on, finishing with 21 points.
CRAMPING THEIR STYLE:
This game was tied at halftime, and with 12:46 remaining in the second half Duke still led by only one -- that's when
Shelvin Mack
, Butler's best player, was forced to leave the game with severe leg cramps. Duke ripped off nine straight points after that, to extend to a 10-point lead, its biggest of the game. Butler battled admirably without Mack, even cutting the deficit to three briefly. But Mack never returned, and that really hurt.
SHOOTING WOES:
Duke got plenty of open looks in the first half, but couldn't knock many of them down -- they finished the first 20 minutes shooting just 12-for-31 from the field (38.7 percent) and 4-for-16 from downtown (25 percent). The Blue Devils were much better from the field in the second half (13-for-22, 59.1 percent) and from long range (4-for-10, 40 percent).
WHAT'S NEXT:
Duke will play Bradley at Cameron Indoor Stadium on Wednesday. Butler will play at Xavier on Thursday. And ESPNNewYork's next college hoops game is on Tuesday night at Carnesecca Arena, when 5-1 St. John's hosts St. Bonaventure.