New York Colleges:

Chris Obekpa
February, 24, 2014
Feb 24
7:57
PM ET
Update: Rysheed Jordan will play, but will come off the bench.
NEW YORK -- St. John's guard
Rysheed Jordan
may not play Tuesday against Xavier due to the death of a close female relative.
Jordan was home in Philadelphia on Monday to attend the wake, and was expected to return to New York on Monday night.
"I'll get together with Rysheed and approach the situation in an appropriate manner based on how he is navigating through this emotional minefield," St. John's coach Steve Lavin said. "It's difficult to speculate how a person is going to respond to losing someone they are so close to."
The
Philadelphia Daily News
reported that a murder-suicide took place in North Philadelphia on Saturday -- a 30-year-old female victim was shot by her 40-year-old husband, who then turned the gun on himself. A brawl then broke out outside the house where the bodies were discovered, and video footage from the
local ABC affiliate
shows several participants in St. John's clothing, including one person wearing Jordan's No. 23.
All this took place as Jordan was playing in his first college game in his hometown, scoring 13 points in St. John's 57-54 loss to Villanova on Saturday afternoon at the Wells Fargo Center.
Jordan, the preseason Big East Rookie of the Year, is St. John's third-leading scorer (8.9 ppg), leading assist man (3.1 apg) and has been a key part of the Red Storm's recent run of success. He has scored in double figures in six of the team's past nine games, as St. John's has won nine of 11 to get back in the NCAA tournament picture.
As of Monday, St. John's (18-10, 8-7 Big East) would be one of the Last Four In, according
ESPN.com's Bracketology
.
Tuesday's game is a critical one. Xavier (18-9, 8-6 Big East) is another team on the NCAA tournament bubble. The Musketeers defeated the Red Storm in Cincinnati on Dec. 31, 70-60.
St. John's forward
Orlando Sanchez
, who missed the Red Storm's loss at Villanova on Saturday due to the birth of his baby daughter, practiced Monday and should be available Tuesday. The same goes for center
Chris Obekpa
, who played against Villanova despite still recovering from a right ankle sprain and bone bruise.
"[Obekpa] looked good in practice today," Lavin said. "I wouldn't say he's at full strength, but he's at about 85 percent. His progress is encouraging."
February, 22, 2014
Feb 22
6:59
PM ET
PHILADELPHIA --
St. John's
is certainly one of the best 68 teams in the country, but it'll have to do more to prove it.
The Red Storm could have practically punched their ticket to the NCAA tournament Saturday, but they came up just short against No. 9
Villanova
, losing 57-54 in front of 17,124 at the Wells Fargo Center.
"I'm proud of our team's ability in a hostile environment to continue punching and counterpunching for 40 minutes," St. John's coach Steve Lavin said. "Disappointed that we weren't able to come out with the win."
It was there for the taking despite St. John's being without second-leading rebounder
Orlando Sanchez
, who missed the game after the birth of his daughter on Friday. The Red Storm were down one at intermission (28-27), never trailed by more than six in the second half and had the ball with 34 seconds remaining down 55-53.
[+] Enlarge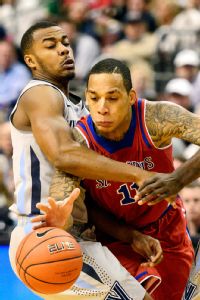 Howard Smith/USA TODAY SportsSt. John's squandered its opportunity to impress the NCAA tournament selection committee Saturday.
D'Angelo Harrison
had a step on his defender near the top of the key but passed to an open
Phil Greene
in the paint, and Greene was whistled for traveling with 14.1 seconds left.
"I came off the screen, and he was wide open," Harrison said. "He pitched the ball back up to me and they called travel. We can't control that."
St. John's had another opportunity to tie the game after Villanova's
Ryan Arcidiacono
made just one of two free throws, making it 56-53. But with 3.2 seconds on the clock and inbounding underneath the Villanova basket,
Marc-Antoine Bourgault
threw a pass to Harrison in the paint.
"We were trying to get a 3-pointer, but they had good coverage for the 3," Harrison said, "so I cut to the basket to try to get an and-1, but I couldn't."
Harrison was fouled, sank the first free throw and missed the second on purpose, but
Rysheed Jordan
was charged with a lane violation. Villanova's
Josh Hart
made one of two free throws with 1.5 ticks left, making it 57-54, and Jordan's half-court heave was off the mark (and waved off by the referees anyway).
St. John's shot just 19-for-59 in the game (32.2 percent) and just 1-for-10 in the final seven minutes, 59 seconds.
"We were getting stops. We were playing great defense," forward
JaKarr Sampson
said. "We just couldn't make a shot. Sometimes, that happens."
Sampson had a double-double, with 12 points and 10 rebounds. Harrison scored a team-high 15 points but shot just 4-for-15 from the field. Jordan, playing his first college game in his hometown, added 13 points but shot just 6-for-15 and committed an uncharacteristic five turnovers.
"Rysheed was emblematic of our entire team," Lavin said. "We competed and gave ourselves an opportunity to win, but when you're on the road in a tough environment, you have a razor-thin margin for error."
Center
Chris Obekpa
returned to the lineup ahead of schedule, just five days after suffering a sprain and bone bruise in his right ankle. Obekpa started, played 24 minutes and made his presence felt at the defensive end but finished with modest numbers -- one point, two rebounds and two blocked shots.
"He's not 100 percent," Lavin said. "But with some more treatment and with some more rest, I think we can get Chris back close to 100 percent. And then, of course, Orlando will be back when his wife and child go home from the hospital, so we expect him to be back in the fold by tomorrow."
St. John's (18-10, 8-7 Big East) had won six games in a row and nine of 10 -- and a three-point loss to Villanova (24-3, 12-2), on the road, is far from embarrassing.
But it is a missed opportunity. The Red Storm are now just 1-5 against ranked opponents and won't face another one the rest of the regular season.
Their RPI ranking is pretty good (53 entering Saturday), and they entered ESPN analyst Joe Lunardi's projected NCAA tournament bracket earlier this week. But they are surely back on the bubble after this loss.
"St. John's is, without a doubt, a tournament team," Villanova coach Jay Wright said. "Not because I say so. Not because of their record. They're just good enough -- they're gonna be good enough to win a lot of games."
But they better win at least two of their final three -- versus Xavier, DePaul and at Marquette -- and at least one game in the Big East tournament for good measure.
St. John's has proven it can play with some of the best teams in the country, but it hasn't proven it can beat them, with one exception.
The Red Storm belong in the Big Dance, but their fate is still to be determined.
November, 26, 2013
11/26/13
9:12
PM ET
NEW YORK -- A few quick thoughts on St. John's 65-47
win
over Longwood on Tuesday night at Carnesecca Arena:
What it means:
St. John's (4-1) won its fourth straight but played its second poor game in a row. The Red Storm had to scrape past a Longwood team picked to finish last in the Big South and missing its leading scorer due to injury. Not good. Not good at all.
The turning point:
Believe it or not, it took St. John's more than six minutes to score a point.
Chris Obekpa
finally broke the shutout with a dunk at the 13:50 mark. The Red Storm trailed most of the first half but scored the final four points to take a 27-23 halftime lead.
St. John's took a double-digit lead for the first time, 38-27, on a
God'sgift Achiuwa
dunk with 12:11 remaining. But Longwood did not wilt. The Lancers were still within seven, 44-37, with under eight minutes left. But a
D'Angelo Harrison
conventional three-point play made it 50-37 with 6:11 to go, and the lead never dipped back to single digits after that.
Star watch:
Harrison finished with a team-high 18 points but had a poor shooting night -- 6-for-19 from the field, and 3-for-11 from 3-point range.
Sir'Dominic Pointer
was the only other St. John's player in double figures, with 11 points off the bench.
Jakarr Sampson
scored just three points, shooting 1-for-8 from the field (although he did have 11 rebounds). Freshman
Rysheed Jordan
, returning from a one-game suspension, came off the bench and scored four assists and eight points in 17 minutes, shooting 2-for-7.
Number crunch:
St. John's shooting numbers as a team were brutal: 22-for-59 overall (37.3 percent), 3-for-19 from long distance (15.8 percent) and 18-for-30 from the foul line (60 percent). The Red Storm did tie a school record with 15 blocks.
What's next:
St. John's switches boroughs from Queens to Brooklyn when it faces Penn State on Friday in the semifinals of the Barclays Center Classic. Tipoff is at 7 p.m.
November, 8, 2013
11/08/13
11:00
AM ET
St. John's begins its 2013-14 season Friday night against 20th-ranked Wisconsin, in Sioux Falls, S.D. -- by far the most challenging opener in Steve Lavin's four years as coach.
That seems fitting, since this season feels like a final exam, testing whether Lavin really can turn this once-storied program around.
"If we stay injury-free and we continue to develop at the pace that this group has, I feel we'll have the opportunity to do something special come March," Lavin said at the Red Storm's media day on Oct. 10.
[+] Enlarge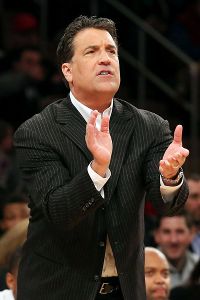 Anthony Gruppuso/USA TODAY SportsSteve Lavin needs to get the Johnnies to the Sweet 16 or he probably never will.
A return to the NCAA tournament would be nice, but that's not special enough. This team needs to make the Sweet 16. Anything less would be a disappointment.
Lavin was hired in March 2010, with St. John's having been absent from March Madness for eight consecutive years. He and his staff did an excellent job with the roster he inherited in year one, guiding the team to a 21-12 record and a return to the Big Dance.
The train went off the rails in year two. Lavin missed most of the season after being diagnosed with prostate cancer. The roster was wafer-thin and full of freshmen. Assistant coach Mike Dunlap did an admirable job under the circumstances, but the team still finished 13-19.
Thankfully Lavin made a full recovery, and St. John's made some progress in year three. The Red Storm improved to 17-16, but again missed the NCAA tournament.
We've now reached year four. The deck is full. No more excuses.
To put things in some perspective, Kentucky, the preseason top-ranked team in the country, has nine players who made ESPN's Top 100 as high school seniors. Michigan State, ranked No. 2, has eight of them.
St. John's is close behind with six -- three juniors (
D'Angelo Harrison
,
Sir'Dominic Pointer
,
Jamal Branch
), two sophomores (
Jakarr Sampson
,
Chris Obekpa
) and one freshman (
Rysheed Jordan
). That group -- along with
Orlando Sanchez
,
Phil Greene IV
,
Max Hooper
and
God'sgift Achiuwa
-- is good enough to make some serious noise over the next five months.
Harrison is one of the best perimeter scorers in the country. Sampson, at 6-foot-8, can score inside and out. Branch is an outstanding passer, and Pointer is an even better finisher. Obekpa led the nation in blocked shots as a freshman, and Jordan is the most-hyped St. John's freshman since
Felipe Lopez
.
They've got talent, they've got balance, and they've got plenty of minutes under their belt, other than Jordan. "It's time to win here," Harrison told me on Oct. 10 -- and he's right.
Wisconsin will be very tough, even on a neutral floor. But after that, St. John's plays its next 11 games in the five boroughs -- either at Carnesecca Arena, Madison Square Garden or the Barclays Center. They should win every one of them, with the exception of a game against No. 8 Syracuse at MSG on Dec. 15.
Big East play commences on New Year's Eve at Xavier, and the Red Storm -- picked to finish fifth in the conference's preseason poll -- can compete with Marquette, Georgetown and Creighton for the league title.
To be frank, barring major injuries, anything less than an NCAA tournament bid would be a disaster.
St. John's hasn't won a game in the Big Dance since 2000. It hasn't won two since 1999, when Ron Artest (now
Metta World Peace
), Marvis "Bootsy" Thornton,
Erick Barkley
& Co. advanced to the Elite Eight, losing by just three points against Ohio State with a chance to make the Final Four.
That team had three players go on to the NBA -- Artest, Barkley and
Lavor Postell
. This team could have even more. But there's no time to waste. Sampson flirted with the idea of leaving after winning Big East Rookie of the Year last season. Harrison could make the leap with another big year. And if Jordan is as good as advertised, he could be one-and-done.
Lavin has proved he can recruit elite talent to St. John's -- an accomplishment in and of itself. But now he needs to coach 'em up.
If he doesn't win -- and win big -- this season with the Red Storm, he probably never will.
October, 10, 2013
10/10/13
9:12
PM ET
St. John's held its annual preseason media day on Thursday afternoon at Carnesecca Arena -- 23 days before its first exhibition game versus San Francisco State, and 29 days before its regular-season opener against Wisconsin.
The players sounded very confident, and coach Steve Lavin was cautiously optimistic --
click here
to read my main story from the event.
Here are some other newsworthy items:

Injury roundup:
D'Angelo Harrison
is sitting out practice right now with a hamstring injury, but neither he nor Lavin sounded very concerned about it. Harrison said he expects to return to practice next week.
On the bright side, fellow junior guard
Phil Greene
said he feels 100 percent, after having surgery to repair a torn labrum in his hip in the spring. Greene played through the hip injury all of last season. And junior guard
Jamal Branch
said he feels 100 percent as well, after suffering a knee injury in February that caused him to miss four games.
When asked what returning player or players have improved the most during the offseason, Lavin immediately singled out Branch, and mentioned Greene as well.
Speaking of Lavin:
The head coach said he feels great, and he sounded fired up as he gets ready to begin his fourth season at the helm of the Red Storm.
This is a pivotal season for Lavin in his tenure at St. John's -- more on that in the coming weeks.
Where's Rysheed?
It was a little disappointing that St. John's did not make freshman
Rysheed Jordan
available to the media Thursday.
Lavin is clearly being protective of his prize freshman. "When you have a player as special as a Rysheed Jordan, who went through some tough times here, just on a personal level, with some issues his mother has faced, in terms of her health, and some other personal items -- it's a little like with your children," Lavin said. "You have a sense, you have a feel, it's instinct, like teaching and coaching, similar to managing people, you know what's best for them in a given situation. So we're just gonna wait."
"He's in a really good place with his academics, his health and his maturation," the coach added. Lavin said he plans to keep Jordan under wraps, mediawise, until around Christmas, right before conference play begins.
Mad Max?
St. John's was one of the worst 3-point shooting teams in the country last season, ranked No. 338 out of 345 Division I schools in 3-point field goals made per game (3.6).
Transfer
Max Hooper
, a 6-foot-6 sharpshooter from Carmel Valley, Calif., was brought in to change that.
Hooper barely got off the bench as a freshman at Harvard two years ago, playing just four minutes in two games. But he's confident he can make a significant impact with the Red Storm.
"I set my bar for what I want to achieve on a daily basis, and as a whole, very high," Hooper said. "But I feel like playing against guys like the roster we have here, guys who are so athletic and talented, I just have gotten so much better on a daily basis. ... I've put in a lot of work, and I'm just excited for the lights to finally be on, and ready to perform."
Encore?
Sophomore center
Chris Obekpa
led the nation in blocked shots per game as a freshman (4.03 BPG). I asked him how he was going to improve on that this year.
His answer? Win the national defensive player of the year award.
He said he's also been working hard on his offensive game, including adding a hook shot to his repertoire. We'll see how much he's improved come November.
March, 19, 2013
3/19/13
9:25
PM ET
What it means:
St. John's
finally won a game without D'Angelo Harrison -- on a buzzer-beater.
The Red Storm defeated Saint Joseph's 63-61 in the NIT first round on Tuesday night in Philadelphia on a fallaway jumper by
Sir'Dominic Pointer
as time expired. They advance to the second round.


St. John's (17-15, 8-10 Big East) had lost five games in a row, going from an NCAA tournament bubble team in late February to a No. 5 seed in the NIT. And they were 0-4 without Harrison, the team's leading scorer, who on March 1 was suspended for the rest of the season for conduct detrimental to the team.
Saint Joseph's
(18-14, 8-8 Atlantic 10) saw its season end in heartbreaking fashion on its home floor.
The turning point:
Things didn't start out well for St. John's -- coach Steve Lavin benched starting guard
Phil Greene
and starting center
Chris Obekpa
for the start of the game after they were late for a team meal. Walk-on
David Lipscomb
started instead, along with
Christian Jones
. Saint Joseph's jumped out to a 6-0 lead before Lavin inserted Greene and Obekpa in the game. The Red Storm rallied to take a 16-14 lead on Pointer's second 3-pointer of the first half. But then the Hawks drained three treys in less than three minutes, and led 32-26 at intermission.
Saint Joseph's led by as many as 12 early in the second half and still led by double digits, 51-40, midway through the second half. That's when St. John's went on a stunning 20-5 run to go up 60-56 on an Obekpa dunk with 2:05 left. The Hawks tied the game at 61 with 5.7 seconds remaining on two clutch free throws by
Ronald Roberts Jr.
The Red Storm quickly pushed the ball down the floor, and Pointer's jumper from the left wing went down at the buzzer, igniting a wild celebration.
Star watch:
Jakarr Sampson
had 16 points to lead St. John's, but Pointer was the game's MVP. The sophomore swingman tied his career high with 15 points, making six of his seven shots from the field, including 3-for-3 from beyond the arc. He also had team highs of seven rebounds and five assists, and added three blocked shots. Greene chipped in 10 points.
Carl Jones
had a game-high 21 points for St. Joe's.
Number crunch:
St. John's, which led the nation in blocked shots per game (7.4), had nine swats in the game. Obekpa, the second-leading shot blocker in the country, equaled Pointer's total with three. The Red Storm also had just seven turnovers, compared to 13 by the Hawks.
What's next:
St. John's will play No. 1 seed Virginia. The date and location of that game are yet to be determined, but it will be played sometime between March 21 and 25.